Hairstyling and grooming are taking new stances for men as you will see in this American Crew Boost Powder review. 
Walking the first steps out of the salon makes a man feel like a king of his hair-dom. How they wished it'd stay like this forever! 
But as talented women can, men can hardly recreate the salon-look, quite obvious to their wits and efforts.
What can help him in this regard, is good to go product and some expert advice. That is exactly what we plan on doing if you have the time and patience.
But before we begin, we need to have a quick prep-talk. Know that there is no such thing in the world that works equally great for all hair types. Classify hair as you may, to dark hair, blonde hair, curly hair or straight hair; each hair is different due to the texture, the weather, and climate of where you live, the proteins you have fed it and the troubles you have put it through. We tried to pick something that works for most and is versatile in application.
Now you may proceed.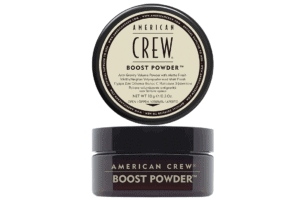 Men's Styling Products: Hair Powders
This is also something you need to know before you brush off the idea of putting powders in your hair, from the fear of dandruff, icky feelings or general discomfort. Also, you are not to confuse it with dry shampoo.
Now we've all been okay with the idea of putting gels, pomades, creams, waxes and even clay on our head. Then why not powders? That is poor logic. Think that you live in the tropical region and have hot and humid climates, or think that you are out on the beach, sunbathing. Don't opt for a swim if you are thinking of this example. Coming back, now you would not want to put thick creams and waxes on your head under the scorching, merciless sun. What you can have though, is a lightweight, mattifying, texturizing powder. They have no scent, are usually rice/silica derived, add great lift and volume, absorb oil and work in harmony with other hair products, coming in a quick-and-easy shaker.
Dry shampoos are of use for men delaying shower and not wanting their hair to look greasy.
About American Crew
American Crew is trying to fix your woes of having trouble recreating the salon look by working with and for professional men's hairstylists and barbers. They want to create (and have quite done so) by creating a landmark in men's styling and grooming to give them a salon-style feel. They just want men to put efforts and attention to grooming while being and looking masculine.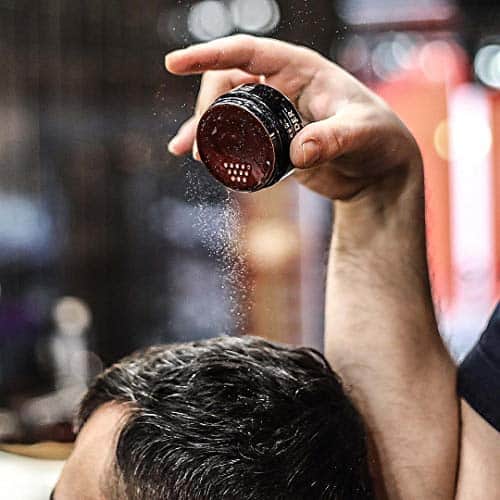 American Crew Boost Powder Review
What it Claims
The powder is said to fight against gravity for the hold and volume you want in your hair, finishing with a matte outlook. It will give you a lift and texture and works well with other layering products.
Ingredients
It features three main ingredients. One is propylene alcohol that will moisturize and soften your hair; the other is a Silica-derived ingredient that forms the prime powdery texture to hold and thicken hair; and lastly, citric acid that makes your hair look revitalized yet natural.
But we wished it were free from parabens.
Application
You have to shake or tap the container a few times before pouring it on. Instead of doing it directly on your head, which may cause uneven pouring, do it on your hand and then apply. But if feel confident, pour it directly and make sure it's evenly spread. Rub your hair and brush it upward for the lifted look. Don't use too much. 
Packaging
The packaging is first class, with the recognizable print of CREW. Although it is minimalist, you will instantly like the packaging for the sleek and stylish (and dark-themed) design.
Pricing
The pricing won't break your bank, to say the least. And how you comprehend the pricing depends on what you obtain from your purchase. With its durability, we'd say we're okay with the price.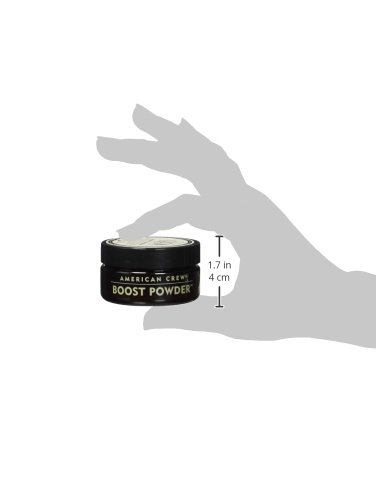 FAQs
Do I need to use any other products after it?
It is not severely mandatory for you to put something on your head after you have used the boost powder if you gave you enough boost already. But if you take our previous example of going on the beach and attempting a swim, we suggest you backup your hair, after the powder, with setting sprays or waxes. We hear defining pastes to go perfectly after it for the volumizing look. But if you already have the volume you need, you don't need to use anything else.  
What does it smell like?
As most hair powders, it has a very powdery-smell which vanishes as soon as you apply it. No interference with your cologne or personality whatsoever.
Does it make the scalp cakey if applied on dirty hair?
Think like this. Coating celery with thick oil and dusting flour on it, then rubbing it with your hand with not feel very smooth as dusting a celery stick with plain flour would. The cleaner your hair, the better it should look. But with a little oil, you have a good matte one. Too much oil on your hair and powder on top may make it obvious that you have tampered with it.
Does it cause dandruff/hair fall?
Not that we hear. It didn't cause scalp or hair loss issues from reviews we got.
What is the sequence of using this product?
You can check the "application" section again. But if you are too lazy, clean hair/on second day-hair, flip hair, shake the container, out just enough to add volume and brush it up till powders vanish. You can add other products after it.
Conclusion
So you did manage to reach the end of the American Crew Boost Powder review, well done! 
If you are looking for trying out something new or want a quick hold/quick volume product, we think it does just the right job for you, and you should purchase it.
You may also like: