Whether you are forming 360 waves or taking care of natural curls and coils, moisturizer is essential for all. Especially for people with dry and rough hair. Are you one of those looking for the best moisturizer in the market? 
If so, As I Am brings Double Butter Cream could be an excellent daily moisturizer solution for you. Whenever your hair feels a bit dry, this power-packed solution is a jar you need. 
In the As I Am Double Butter Cream reviews, we'll discuss what is inside, benefits, and more. So, read the article to get lavishing soft coils and curls.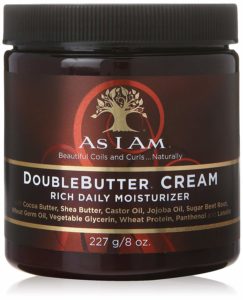 As I Am Double Butter Cream review
As I Am double butter cream is an excellent moisturizer for dry curls and coils. Let's find out what is inside and how it will be beneficial for your hair. 
What Is Inside The Jar?
As I Am double butter cream is a rich daily moisturizer. It includes a rich emollient blend of premium organic oils and natural butter. The solution is enhanced with Pro-vitamin B5 that repairs split ends. 
Pro-vitamin B5 has natural soothing and moisturizing properties that penetrate directly into the hair. It locks moisturizer into hair and helps nourish the scalp. Moreover, As I Am comes into an 8-ounce jar, which is enough for long time use. 
Key Ingredients
Cocoa butter, castor oil, shea butter, jojoba oil, sugar beetroot, sweet almond oil, vegetable glycerin, wheat germ oil, panthenol, wheat protein, and lanolin. 
Benefits of Using As I Am Double Butter Cream
As we mentioned before, As I Am double butter cream includes the finest range of natural butter and organic oils. It helps the rough and dry hair in the following way.
It helps to lock in moisture.

Makes your dry hair soft and manageable.

Bring shininess into dull and dry hair.

It helps to repair split ends. 

Strengthen hair from the root to hair tip. 

Keep hair adequately hydrated. 

Brings the best look that is needed.

Combat dryness and brings life to the hair. 
How to Use As I Am Double Butter Cream?
The direction of use depends on the type of you have. You may need to use more or less depending on your hair's need for moisture. Generally, you can try the following instruction for using As I Am double buttercream. 
Take an adequate amount of moisture and rub it with palms. 

Squeeze the cream onto hair gently. Make sure your curls and coils are not disturbed. 
You can also use it to set soft, shiny twists and twist-outs. But, you will need to mix twist defining cream along with As I Am double buttercream. 
Tips for Styling and Care
Use a mixture of little As I Am double butter cream with twist defining cream for the soft and radiant twist. Apply this mixture in between twist and twist-outs. 

Do not rub the moisturized over finished style hair too forcefully. It will deform your curls and coils. 

Please do not use too much of As I Am double buttercream. Overdose of cream will have a build-up of emollients that can work against your natural curls. As a result, your hair will look duller and tangled instead of looking sparkly. 

The cream is thick and heavy, so a little amount is enough for moisturizing most of your hair. 
Safety Warnings or Restriction
The moisturizer is made for external use only.

This can be used by 12 years old and over aged people. 

Watch out your eyes while applying. If it gets into your eyes accidentally, flush your eyes with cold water. 

Keep it out of reach of children.
Conclusion
Overall, As I Am double Butter cream is an excellent moisturizer for dry and rough hair. The cream smells amazing, so you can use it while you go outside. We must say this is what your hair might be asking for long. 
So, buy one now to make your curls and coils feel and look wonderful. We hope our As I Am double butter cream reviews were helpful.
You may like to know: