Are you tired of thick and curly hair that won't just listen to you? 
Well, quality premium grade pomades can play a huge role in terms of taming these naughty strands. They have better hold capabilities and can make styling considerably easier as a result. 
In our Baxter Cream Pomade Review, we'd be talking about one such item that can provide you with your desired styles without much trouble. Let's find out what this cream pomade has in store for you!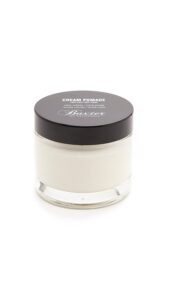 Baxter Cream Pomade Review 
So, we will now go through the multiple aspects of this item, including both its strengths and weaknesses. And thus, we should be able to give you a complete understanding of the product so that you can make your decision easier! 
What are Its Strengths?
Well, this is something all the customers want to inquire about. Especially when you're going to buy a product, you should check as to how it may benefit you and justify whatever amount you're spending behind it, so this is extremely important. We, too, for that very reason, compiled a list of several of its positives through which you can be benefited. Let's find out what they are:
Improves Moisturization 
Usually, pomades can come in different styles and settings. Some can have more of a matte finish than moisture, and some come with special properties to enhance moisturization. And this one by Baxter of California seems to be designed like the latter. So, yes, if you have a dry hair pattern, you'd always want the shiny wet appearance. Furthermore, moisturization helps increase the hydration of your scalp, making your hair healthier. 
It gives you shiny looking hair that makes your friends and colleagues go wow. Especially if you're all buttoned up and heading for the office, getting a shiny finishing is better. And also, when you're just spending your usual day but wish to have a more sharp appearance, getting a moisture-rich shine should be appropriate. 
A Light Hold 
This cream pomade has its specialties, and one of them is the light hold. Now, if you're someone who is looking for rough and touch hair pomades that can give the leaning hair a serious artificial lift or vice versa, then this is not for you. 
But, if you want light control for your thin and silky hair with a touch of shine, then it's for you. 
Also, remember that the strong ones provide you with looks that are often unnatural. But a light hold pomade would always keep things authentic. You can slightly style your hair and keep them in place. 
Softens and Smoothes 
Another good thing about this cream pomade is, it softens up your hair to a certain extent. Get a more comfortable and soothing sensation and avoid the irritating rough hair pattern. It also smoothens up your hair. As a result of which your hair looks naturally fluffy and beautiful! 
Fragrance 
As a hair care item, we should focus on the fragrance. Because you're applying it on your head and whether good or bad, you'll constantly be exposed to the smell. Furthermore, the friends and colleagues are also on the receiving end of whatever you're using on your hair. So, it is highly vital! 
Well, when speaking about the smell, we can only say positive. Because it has a sort of fragrance that a hair product should have. The subtle lemon fragrance shouldn't be too strong for anyone else around you, nor should it sound too bad. Just on the right parameters, giving off a pleasant soft smell throughout the period sounds perfect for a cream pomade! 
Some Drawbacks We Found
Besides the number of positives, we have managed to locate one or two minor issues which we'll be discussing right now
First, for some individuals, it can tend to be a bit sticky. Often, we witness such sort of negative phenomena in terms of hair care items. Most of the time it happens to people with an extremely oily scalp. Because of their high natural oil production rate, the cream's extra moisture can end up feeling a little sticky. 
Another thing some can encounter is the issue of flaking. Flaking can be a highly irritating factor because of it's awkward and embarrassing appearance. So, well, these are some of the negative issues that you can consider. 
Despite these small-scale issues, the pomade comes with an overwhelming number of positives, which we think ultimately outweighs it's one or two weaknesses and proves to be a standard, purchasable item you can go for. 
See also:
FAQs
Is pomade good for your hair?
One of the main positive features you find in pomade is, they are generally quality moisturizers. Now, we're not saying all the pomades should give you the hydration, but most should do. And you can also use them for styling your hair or beard as you want.
What does cream pomade do?
This cream is there to give your hair a good shine with a touch of soft and smooth hair. Its lightweight formulation should also give you a light hold for better manageability.
Is sleeping with pomade bad?
Sleeping with pomade may not be the best thing to do. It may lead to hair loss and clog your pores. So, we'd not advise it.
Is pomade better than gel?
It can depend; both have their strength in particular areas. The gel can be good after shower on damp hair, while pomade fits well with dry hair and gives a comfortable hold with both shiny or matte finish.
Does pomade make your hair thicker?
Yes, specially designed thickening pomades should provide you with a better thickening.
To Sum Up 
So, as you have seen throughout our entire Baxter of Cream Pomade Review, we've tried our best to locate each of its features carefully and in a detailed manner. Like all the products in the market it has, it's strengths and cons. 
But if you look at it from above, considering its capabilities on the whole, then we think this is something that stands out pretty well. From its outstanding hydrating properties and moisturization to extraordinary hair softening, smoothing, and fragrance, it performs outstandingly well on all the aspects and should be a good buy any day!