Have you ever been told that men have thicker skin than women? You may have heard it in any 21st-century product advertisement for men. But have you ever thought about why it impacts the face products you choose?
The answer is pretty simple. For a product to be effective on your manly skin, you need products specially curated to your skin type. A facial scrub or an exfoliator is one such important product that needs to be able enough to bring out the pore-clogging, debris-building mess that is on your face.
We decided to try out a cult favorite from the plenty of scrubs available, and here you have the Baxter facial scrub reviewed.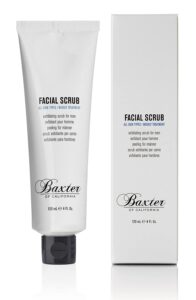 Why Is A Facial Scrub Needed for Men?
You may as well ask why don't men need it too? All women do! And they have thinner skin. So, it's a given that you need to add one in your routine too.
The thing men do about facial scrubs is that they either go all-out crazy about it or totally forget that this can be a part of their skincare routine. Gone are the days of only cleansing and shaving. Also, some men think that shaving the face is enough, and they don't need exfoliation.
But then again, do you expect that the dirt lodged deep inside the large pores on your face, the dead skin sitting on the top layer, the oil, the sebum, the blackheads, and blemishes be solved by merely running a razor across your face? You were wrong then!
All of these can be tackled by the effective use of a proper scrub. Is Baxter's one? Let's see.
Baxter Facial Scrub's Review
Product Description
Baxter's scrub has been built to even out men's complexion and helps in cell renewal by removing dry patches and dead skins off the face using walnut, chamomile, and honey blended with other ingredients.
Ingredient Highlights
Aloe
The most effective ingredient to soothe angry skin that contains enzymes and vitamins is aloe. Having this in your scrub already makes things better if you think of using it post-shave on your raw skin. It is excellent for acne, dry skin, and has anti-inflammatory properties that can calm your raw face.
Walnut Powder
There is plenty of debate regarding how good it is; some swear by it, and some hate it. Walnut has exfoliation properties that take away impurities and dead skins and has the power to instantly smoothen your face after the first wash. So, great for stubble and those who have beards. However, fine shell powder that can effectively exfoliate is better than having very gritty, coarse shell powder, which can cause micro-cuts. The inclusion of walnut powder in Baxter is for oily skin types with clogged pores and congestion.
Glycerin
Again, for the dry skin types, an excellent humectant makes sure your face isn't overstepped during exfoliation.
Sunflower Oil
It is rich in vitamins A, C, D, and E and is overall great for acne and bacteria on the skin. It is also a great hydrating emollient.
Honey
This is also another humectant that can retain moisture on your face, cut dirt, and act as a natural antioxidant source that can protect damaged skin. If you had never cared for your skin before and you're just starting, this is an excellent ingredient to include in your scrub.
Chamomile
If you're a guy that has acne spots or hyperpigmentation on the face and scars from previous acne, you will love chamomile in your scrub. It is also a great antiseptic for that shaven and cleansed face.
Witch Hazel
This is a natural astringent that can help you control all the oil and sebum that makes you want to clean your face with soap every other hour.
Others
It has added fragrance and lavender, rosemary, and thyme extracts in it. Are you allergic to any of these? We would suggest you avoid the scrub.
Application
It is unwise to use scrubs on your face daily even if you enjoy the after-skin, and you have the thickest of skins that you think can tolerate the grit. Also, two pea sizes should be enough to scrub your face and neck. 
Performance
Pros
Can be used post-shave to get rid of ingrown hair issues.

Helps with clogged pores.

Great smell.

Improves complexion.

Offers deep clean.

Creamy base.

Can soften stubble.
Cons
May be more or less gritty to some users.

Expensive than regular scrubs.
FAQs:
What is the purpose of men using scrubs?
If you want skin that is bright and free of dirt, whether you are a man or a woman, you will want to use scrubs. It can also help with blackheads and excess sebum oozing out of your face.
Can I use the facial scrub on a daily basis?
Nope. It is strictly forbidden to use a physical scrub like this one more than 3 types a week or every other day. Never go daily.
Is it necessary to have my face scrubbed from time to time?
Yes. It helps to bring out the better layer of your skin trapped under all that dirt.
See also:
Conclusion
If you have a dry or an oily, you can be benefited by our Baxter facial scrub review. This is because it contains ingredients helpful for both oily and dry skin types. 
So, unless you are over-exfoliating, you should be good to go. Skin is really personal, so if you think any ingredient is off-putting for your face, find a scrub that suits you best!