Why would you want clay pomade instead of hair gels? Well, the good thing about pomade is that it gives you a clean hold without alcohol, a harmful substance that does an excellent job of damaging your hair and scalp. 
So, today in our Baxter of California Clay Pomade Review, we're going to talk about one such product that comes without the severely damaging properties of alcohol and gives you a neat hold instead!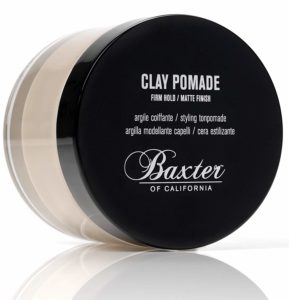 Baxter of California Clay Pomade Review 
Well, we have here for you this premium item, which we will go through in detail. We'll look at the many benefits which made it what it is and some of the drawbacks you should consider. So, let's begin our comprehensive guide! 
A Solid Hold 
Well, this is something you'd always want from your hair pomade, and this is what Baxter of California is here to provide you. Get your hair the way you always wanted them to be with this item. Many men are disgusted with their unruly hair. Especially when you're heading out to a friend's place, and you want to look good, one or two untamed curls can completely shatter your overall appearance. 
So, yes, in situations like these, Baxter's clay pomade can surely help you. Because of its firm hold properties, you should easily be able to teach those rebellious hair strands a strong lesson and get the perfect hairstyle you wanted! 
Classy Matte Finish 
If you're one of those who want excessively shiny hair, this may not be the thing for you. Because the pomade comes with a premium matte coating that looks unbelievably cool! Men who have a shorter hair pattern can look excessively attractive with the matte appearance of the pomade. Furthermore, if you want the carefree bad boy look, then this is something you should apply. 
Paraben and Alcohol-Free 
Sometimes harmful ingredients are used in hair care products for a better functional output temporarily. The consumers, being deceived by these products' tips and tricks, become highly enthusiastic about them and buy them for a better hairstyle they always wanted. 
But much to their dismay, they realize it after some time when they start noticing the damage that these harmful substances have caused, and it gets too little, too late for them because they have already used the product for months, and the damage would continue to be inflicted even if they stop using them. 
Well, such a tragedy shouldn't be something to worry you. Because most of the time, we see the use of either paraben or alcohol in the formulations. Both of which are strictly rejected by Baxter of California during the manufacturing of the pomade. So, as a result, we are positive that you'd be able to get the desired hairstyle without facing the tragic consequences resulting from the use of unhealthy ingredients. 
Health Enriching Natural Ingredients Used 
Like most of their other products, Baxter of California also uses natural health-enhancing ingredients in the formulation of this particular item. So, there are two items, especially which we'd like to talk about. 
First, they're using the bentonite clay, a natural substance directly sourced for the earth, and comes with multiple hair improvement possibilities. Some of its benefits include the detoxification of hair, removing buildups, and working as an antidote against flaking. Moisturization, conditioning, and softening are some of its other positives. 
Secondly, they're also putting in beeswax, which has tremendous health-boosting properties. This natural element is a standard item for improving your hair growth. They also play a huge role in terms of smoothing and straightening unruly hair. They're also good at sealing the strands to hide and repair split ends. 
So with the use of these two extremely beneficial organic elements, this pomade by Baxter of California can have a positive impact on your hair! 
Some Cons to Consider 
Besides plenty of benefits, this premium item also comes with some better consideration issues before purchase. 
So, well, one of the things that can give you a slight feeling of irritation is it's hard and stiff nature. It can seem difficult for some to apply correctly on the hair because of being a bit hard. As a result, the cream will have issues to be distributed equally in all the areas and may take a lot of time during application. 
Lastly, if you're too sensitive towards smells, then it can be an issue. Although the product has many good qualities, the smell can seem slightly displeasing to some. 
Despite the one or two minor issues such as these, we still think the pomade should perform outstandingly well to give you better hold and the hairstyles you wanted. 
FAQs 
Is Baxter of California Clay Pomade water-based?
No, it is not. Interestingly, it's an oil-based pomade.
How do you use Baxter of California Clay Pomade?
Take a very small amount (a fingernail-sized) and rub your palms against each other and apply intricately with fingertips on both dry and wet hair for your preferred look.
Is pomade better than clay?
It depends on many things. But most importantly, pomade focuses on a moldable hold which anyone can experiment with.
What is a clay pomade?
It's a special bond of pomade that uses the natural volumizing properties of the clay and also offers you a moldable hold at the same time.
Is Baxter of California cruelty-free?
Yes. They're a cruelty-free organization that manufactures beauty products.
See also: Best Wave Pomade
To Sum Up 
As you have seen throughout our smart and concise guide, we have spoken about the tonnes of benefits it comes with. And also analyzed a few of its downsides. 
As a result, we're highly positive that our Baxter of California Clay Pomade review can paint a complete picture of the item. We've shown you the inside of it; the decision now is yours. But, in the end, all we can say that this outstanding pomade with it's extremely strengthening natural properties and stronghold for desirable hairstyle is something that any man can and should go for!