Sweating excessively can become an issue for many men. It produces a bad odor, often difficult to be battled by body spray alone. It also makes you look incredibly awkward and embarrassing when you appear at your office with a disgusting smell and return home with a deodorant stained cloth. Well, in our Baxter of California Deodorant review, we want to introduce you with a commodity that can prevent such a humiliating experience.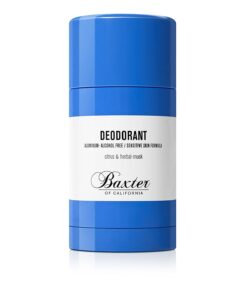 Baxter of California Deodorant Review 
Right now, we'll discuss the deodorant in full detail. Along with its strengths, we'd also discuss some of these issues that you may find challenging to deal with. So, stay with us for this informative session. 
Important Features to Consider 
Well, deodorants are extremely important in our day to day lives. With the extreme heat of summer that is sweeping through the states, there is no alternative for a quality deodorant that is free of harmful chemicals and with a soothingly attractive masculine fragrance. And we're positive that this deodorant has all the necessary qualities that you require. Here we'll discuss some of them. 
An Extraordinary Musky Scented Fragrance  
So, yes, it should be the first criteria for any deodorant you may pick and something that is very well present in it as well. The beautifully soothing fragrance is something that would create a positive image of you among the friends and your colleagues. The fine blend of refreshing Citrus and elegance of Herbal Musk gives you an outstandingly pleasing fragrance you always wanted. 
Stays Longer
The problem with the average deodorant is that they smell good when you're applying. But as time goes, it gradually starts to die away, and after some hours, your perfume is replaced with the bad old smell of sweat. This is something you don't want to happen at your office. 
On the other hand, Baxter's deodorant stays for a long time. It supports you for an extended period and protects you from awkward situations we just mentioned. 
Botanically Formulated 
This is something you'd find in the premium grade degradants. Usually, men care about the ingredients when they're getting products that are to be used on the face, skin, or hair, but not much enthusiasm is showed in terms considering the health risks using chemically formulated deodorants, and your average body sprays and deodorants are often filled with these harmful chemicals. 
This one by Baxter is almost the opposite. Its botanical formula includes a powerful blend of tea tree and hazel extracts, which has tons of healing properties involved. This unified strength of multiple natural ingredients disinfects your underarm from bacterias that cause odor, limiting the smell along with the negative properties of the sweat. The formulation also includes a mix of Chamomile, Comfrey, and Yarrow, giving you a soothing sensation and hydration at the same time. 
Quality Absorption 
Many deodorants or body sprays create a build-up on your underarm. But, Baxter of California's Herbal Musk Deodorant does the opposite. It follows a highly sophisticated course of action after application. 
The deodorant is designed to be lightweight in texture. As a result, it is extremely easy to be absorbed by your skin. After absorption, the deodorant leaves a clean underarm with a musky fragrance and gets rid of irrationally sticky feeling. 
Does Not Stain Your Clothes 
As explained earlier, the scientific formula is extremely effective in terms of keeping your underarm dry and non-greasy. So, it doesn't get mixed with your sweat and doesn't produce the irritating creamy texture that often ruins your shirt. When your shirt gets stained by these sticky stains, it is done. The chances are that you won't be able to get them off ever again. The cost of cheap deodorants has to be paid with your favorite shirts, and that is certainly the case with premium deodorants like this one from Baxter of California. 
Free of Aluminium 
Last but not least, the solution is formed without the use of Aluminium. Aluminum is an artificial sweat blocker. They clog the sweat glands and restrict the sweat from coming out. Although it sounds nice as it gives you super dry underarms, if you look at it from the medicinal and health perspectives, this is extremely dangerous. Sweat is meant to detox your body from harmful substances present inside. Through the process of body sweat, these substances get the chance to come out, making your body safer and refreshed. 
And such sort of blockage created by Aluminium hugely disrupts these natural ways of purification and detoxification, trapping harmful things inside your body and increasing the possibility of causing serious issues in the long term. 
Some of the Negatives 
Just like any other product, even this premium quality deodorant has one or two minor issues, which we think is something you should consider before buying. 
Despite being formulated with a natural blend and without Aluminum's presence, this deodorant can have some rash-related issues on some particular skin types. As a result, it can give you an awkwardly irritating experience. That is why we suggest you apply a tiny bit of it to test whether you face any issues or not. 
As it doesn't use the harmful substance aluminum, it falls short of being an antiperspirant. So, the deodorant may have some issues controlling excessive sweat. But it would do its job whatever. 
Despite the minor issues, we think the deodorant should perform reasonably well. 
FAQs:
Is this paraben-free?
Yes. This product is formulated without paraben.
Does this leave yellow stains on white t-shirts?
No. It is a stain-free deodorant, so it shouldn't leave any stains.
How long does the stick last?
If you use it twice a day, it should last you 6-7 months on average.
See also: 
Final Thoughts 
Well, we've gone through the deodorant, examining each perspective, whether big or small. Our Baxter of California Deodorant Review paints a complete picture of the item and carefully visualizes the different sides of it. Despite the minor weaknesses, the deodorant should perform outstandingly well, on the whole. This is something you must have during the hot summer days, from the longer-lasting soothing musky fragrance to the harmless aluminum-free botanical composition. So, get yourself one, and see it for yourself!