If you have enjoyed using body loofahs while in the shower, you know a soft skin feeling. Even though men have thicker skin than women, frequently exfoliating the skin with loofah has its own demerits. You could be causing micro-cuts in the skin, and all the tugging and pulling may leave you with fine lines and premature wrinkles. 
The solution? 
Exfoliating without using anything more than lather. You heard us; this is why we present to you the Baxter of California soap review so that you get the benefits of exfoliation without the possible harms from it.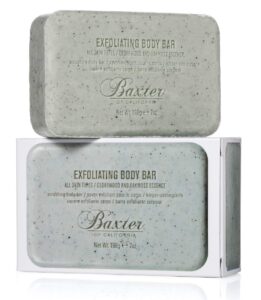 Exfoliation for Men
The bliss of exfoliation probably can only be understood by women who do it very often. For men, they don't exfoliate more than once a month, if they are doing it at all. One of our friends had a tough time explaining to her brother the positives of exfoliation, and he still wouldn't get it: it seemed like a lot of work to him, apparently. However, once you get hooked to the baby-bum skin feeling, even you as a man would run after the benefits of exfoliation.
By exfoliating regularly, you increase cell turnover. So the more you exfoliate, in moderation, the newer cells you are welcoming on the skin. This is why it works particularly well for those who have a layer of dead skin cells sitting on their skin, causing breakouts and dullness. Exfoliation is key, guys.
Baxter of California Soap review
Product Description:
This is actually meant to be a scrubbing bar. It will both cleanse and smoothen the rough skin of your body with its cleansing and exfoliating properties. The formula has been made so that the exfoliation from the soap can feel both rich and hydrating. But the hydration shouldn't confuse you as there is only so much hydration you can seek from a soap.
Baxter's soap is actually meant to get rid of dry patches on your entire body. Usually, products are made for the face to treat the patches, but the dry patches on the body do not get any special treatment. The Baxter soap has been made, keeping that in mind.
Jojoba Seed Powder
Jojoba seed powder or Jojoba meal is in the soap ingredient list. This is one of the chief products or powder that will help you achieve the physical exfoliation on your legs and chest that the bar of soap promises. It will slough off dead cells from the skin, leaving it fresh and mildly moisturized with jojoba's healing properties. 
Olive Seed Powder
This is another moisturizer-exfoliator dua from the ingredient list that carves the way for cell renewal once you are using it in the shower. It will buff away the crusty skin on your body and, at the same time, make sure that your body isn't getting over-stripped of moisture and natural oils.
Pumice
The presence of Pumice in the formulation ensures that rough areas on your body, particularly the knees, elbows, and other areas, get special attention during exfoliation. It can also soften corns and calluses on the feet, so use the soap well!
Glycerine
Glycerin acts as a humectant by drawing in moisture to your body as all the other ingredients are doing the hard work of removing dead skin cells.
Coconut Acid
You get this from the fatty acids of coconut oil. The inclusion of coconut acid increases the cleansing and healing properties of the soap.
Application
You may be lured by the ingredients to apply the bar of soap on your face. But BoC recommends against that. This bar of soap is only meant for bodily exfoliation. You will need to dampen your skin and the soap and then create enough lather to make circular motions as you clean one surface to the skin. Best if you use it in the shower once a day.
Performance
Pros
Has a pleasant wooden smell of Cedarwood and Oakmoss.

Exfoliation is good enough to get rid of dry patches.

Excellent cleansing.

The skin feels soft and fresh after washing.

Best high-end bar of soap for men.
Cons
Maybe a little aggressive for sensitive skin types.

Not for those who are allergic to chemicals in soap.

Expensive.

Doesn't last long.
FAQs
Can Baxter exfoliator help body acne and bumps?
It does, to some extent. If you are speaking about the big cystic or hormonal acne on the face and it is something that you have on your body, this product better not be used since it has tiny physical bits that may aggravate the situation. However, if you have small bumps like closed comedones, you may benefit from using an exfoliating soap, as the properties of it can get rid of the dead skin layer and promote new cell generation, helping your bumps and skin.
Will it be okay to put the exfoliator soap on my face?
It may be too much for your skin, having so many strong ingredients and physical components. If your skin is on the oilier side, you may at least try using it if you have no alternative for face washes. But if you have combination or dry skin, don't use it on your face. Even they have recommended against it.
Does Baxter soap leave an after smell?
Yes. It has a beautifully masculine scent, post-cleansing.
See also: 
Conclusion
You liked our review on the Baxter of California soap, we hope! As you may have read already, there is not much harm in buying the soap. The only significant cons that put us off was the money and durability. Both of which are solvable. If money is not an issue for you, you can readily go for it. But how do you make the soap last longer so that you can reap its entire benefit from it? 
Keep it in a dry place after showering so that the soap doesn't melt away with the water that there is when you wet it. If you can manage to fix these two, you have a lot to be impressed with.