Men usually care less about their beauty needs. But gradually, this trend is changing, and men, in general, are becoming more and more conscious about their looks. We see it from a health perspective and think every man should use products that can elevate their appearance and overall health on the whole. 
In our Baxter Oil Free Moisturizer review, we're going to talk about one such item that can positively alter your appearance. It is also proven that using a quality moisturizer with essential elements present can reduce the impact of aging, keep your face safe from the harmful UV ray, and many other benefits. Thus, it becomes necessary to have one for regular use.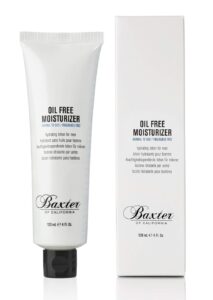 Baxter Oil Free Moisturizer Review 
So, having a standard moisturizer is vital for any man. And that is the reason why we have here an oil-free moisturizer by Baxter. Stay with us as we quickly go through all of its features and give you a complete picture.
Why Would You Need It? 
Yes. The first question anyone reading would ask would be something like this. And that is why we're here. In the following sections, we'd go through many of the outstanding characteristics that make it what it is.
Hydrates your Skin 
One of the main outcomes of using this particular moisturizer is the hydration of your facial skin. But how does it help you? Well, a sufficiently hydrated skin enhances the elasticity of the skin. Your facial appearance becomes more supple and plump. It also gives you a healthy-looking and less oily facial gesture. So, you get all these extraordinary outcomes with the application of this moisturizer. 
Helps You Reducing Signs of Aging 
Signs of aging are something hated by everyone, whether men or women. Because of using too much chemically infused products and not taking proper skin care, men can age earlier. Sometimes aging occurs before the correct time and makes you look older than your actual age. To reduce the possibilities of premature aging, you should take some valid steps. And one of those can easily include using this incredible formulation by Baxter. 
It gives your face the necessary nutrients and energizes the skin with special elements that can play an essential role in preventing and lowering the intensity of aging, giving you the more invigorating and younger-looking facial appearance you always wanted! 
Lightweight and Excellent Absorption Rate 
The things we mentioned earlier can be found in regular moisturizers in the market more or less. But this is something extremely difficult to find, and we don't think it is something your typical, primary grade moisturizers may fail to deliver. Yes, after using moisturizers in general, your face looks weirdly glossy and gives you an irritatingly greasy sensation. 
But with this premium choice, you're not risking such a fate, as it is formulated in a lightweight texture and not heavy like other moisturizers. It's subtle and intricate moisturizing technique hydrates your skin while at the same time not creating any extra oily residue on your face, and thus the naming was done as an 'oil-free' moisturizer. Furthermore, this oil-free hydration has an excellent absorption rate. This means it gets absorbed into your skin cells easily and gives it an inner glow rather than hanging on the outer layer like a sticky substance. This is what separates premium moisturizers from the average ones. 
Natural Blend 
As we always mention, it is vital to have a natural mixture of key ingredients in your care items. And it is far more important for facial skin than other body parts because your facial skin is much more sensitive. Any harsh chemical can irritate and even leave marks on your face.
Well, it's a pleasure to inform you that this oil-free moisturizer is empowered with a naturally blended formulation that gives you harmless healing. In this vegan blend, the main ingredients used are Aloe Vera and Chamomile extract, both of which are highly renowned for their outstanding skin elevating benefits worldwide. This non-artificial plant soothes facial inflammation with ease. Chamomile's wound healing properties and exceptional hydration and cleansing potentials energize your face like nothing else. Another natural ingredient in the list is green tea extract, which carefully gets you rid of any free radicals present on your skin!
Some Downsides 
Well, it is difficult to find any product no matter how good it is, to have no drawbacks. Every item has its strengths and weaknesses as well, no matter how little that is. That is why we'll discuss some of the minor issues that this moisturizer may have while using. 
One of its drawbacks is, it may seem slightly heavy on some skins, especially men who have oily skin. The problem with extremely oily men's skin is that it is already burdened by heavy oil naturally. And applying this moisturizer on top of that can make you feel slightly heavier and shinier than usual. So, yes, this is something you should consider. 
Another thing that you may not be one hundred percent pleased with is its smell. It gives off a slightly dullish sort of smell, which we think can seem displeasing to some men. Usually, men's product users expect their moisturizers to have a sort of masculine whiff, something you may not find in this pack. 
Well, we have discussed both the good and the negatives of this item. Despite the one or two minor issues, the moisturizer is well overall and should be a good buy any day! 
FAQs: 
Will this product help the dryness on your face when someone is using minoxidil?
Well, as it's a medical matter, we suggest you consult with your physician regarding the matter, and we expect he'd be able to provide you proper suggestions.
Does this product contain any sunscreen? What is the SPF?
The product does not have any sunscreen in it.
I don't like to use more than one moisturizer. Does this work well as an aftershave balm?
Although it is not specially designed for the purpose, we still expect to work well after shaving.
Is this for women too?
Women can use it, but they won't find their feminine fragrance, that's all. The rest looks okay.
Is Baxter of California cruelty-free?
Yes. Baxter of California completely discards and rejects the idea of using or testing products on animals.
See also:
Final Thoughts 
The daily moisturization helps the rough and dry face rejuvenate and supply energy, nutrients, and hydration, making your face attractive. In our Baxter Oil Free Moisturizer review, you have talked about one such item that gives your skin an inner glow that looks naturally gorgeous and charismatic. 
From it's extraordinary hydrating capabilities to unbelievable absorption rate, anti-aging mechanism, and the touch of organically blended healing composition, this is something any man should have for regular use!