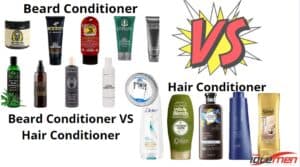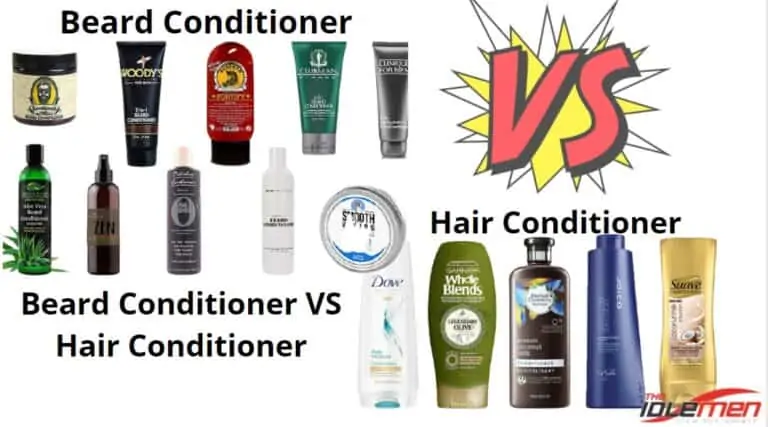 Beard conditioner vs. hair conditioner, which is the winner? 
In a nutshell, we use beard conditional for facial hair as a moisturizing wash-out treatment. On the other hand, we use a hair conditioner for the hair above our heads to improve hair's appearance and manageability. It is a hair care product.
These two products serve various purposes. For a start, the ingredients that made the beard conditioner are focused on nourishing the skin and hair. As a result, we get a healthier and more comfortable beard or mustache. The hair conditioner, on the other hand, is focused on reducing friction between strands of hair. Thus a smooth brushing and combing are achieved.
Here, we will learn more about them and why we men need them? Let us dive into it now!
What is a Beard Conditioner?
We have all used shampoo and conditioner when we are young. Those were not gender-based, but this one is! Beard conditioner is any product from beard balm to beard oil that smooth and condition your beard. That's it!
Why Do You Need a Beard Conditioner?
Let us ask this why we need a beard conditioner? We can answer it in many ways. Firstly, the beard will get wiry and flaky, and dandruff! My God! A beard conditioner prevents it by nourishing your beard and the skin underneath.
Secondly, there is a misconception that regular soap will do the work. This is very wrong. It is very harsh, dry up your skin, and might remove many natural oils from your beard. If you are so much used to this, consider a beard soap, not a regular one.
What does a Beard Conditioner do?
Now we answer why we use a beard conditioner. There are many benefits to this product as listed below:
Soften Stiff Hair – Your hair may still be stiff and wiry even if it looks silky and smooth from the outside. If you use it regularly, your beard hair will be softened with a bonus texture. You can now style it as you like and be cooler among your friends!
Remove Everyday Pollutants – No matter how careful you are, your beard will be in contact with the environment you roam around. From car exhaust to dust in your workplace or campus, your beard is in contact with the dirt and debris that gets left behind.
Beard Shampoo and conditioners clean these pollutants, so use them regularly.
Natural Oils are not Stripped – Sad fact- Not all shampoo are good and can strip the oil from your beard. Remember, natural oil keeps our beard soft, shiny, and healthy. A conditioner made specifically for beard care won't strip oils, and you will have a shiny beard every day!
Faster Hair Growth – One of the factors that stimulate more rapid beard growth is massaging. If you use your conditioner for your beard, you are also massaging your beard as well. So you have a bonus advantage!
Ream more: Top quality beard grooming kit for black men
What is a Hair Conditioner?
It is a hair care product. It contains a moisturizing agent for the sole purpose of soft, smooth, and shiny hair. Conditioner brings back moisture balance through cleansing.
Conditioner is used after the shampoo because we can only restore moisture after we clean. The way around will just make no sense. learn more
Why do You Need a Hair Conditioner?
Like we asked for the beard conditioner, let us ask why we need a hair conditioner?
There are three perspectives you must have a look at.
Colour Fading
You must be a victim of color fading like me if you had colored hair and not used conditioner. My hair got brassy and dried. I was shocked to learn about the reason behind it. Here you should know the purpose of using shampoo is to clean your hair of oils, dirt, and other pollutants. This disturbs the pH and moisture levels in your hair color. To bring every good thing that got disturbed, you need to use a conditioner.
No Roughed Up Cuticle
So what does a roughed-up cuticle look like? If you have a beard curl up that even breaks off sometimes, know this I have been there as well. This is due to your hair that turned like a tornado across the shingles. If there are several of them, they might get tangled, causing even more break-off. In times like this, a conditioner might help. It will untangle the hair letting the cuticle lays smooth on the surface.
Great Base for any Hairdo
It does not matter whether you would like to fight frizz or increase volume or style as you wish; a good base is a must. Conditioners are an excellent base for this because many of them come with extra benefits like essential nutrients and UV protection.
See also:
What does a Hair Conditioner Do?
Speaking plainly, conditioner's sole purpose is mainly two things- to restore hydration to your strands and smooth your mane. Hydration is needed, particularly in the dry region. Whether you have color-treated hair, frizzy hair, or find yourself heat-styling your locks often, using a conditioner is a must for everyone. Seriously! Use it if you need it, and do not fall for anyone saying otherwise.
Let's Wrap it!
Washing your beard is the most uncomplicated way to take care of your beard. Sometimes, only washing your beard and hair routinely with the right ingredient is all you need to achieve your goals. You use the wrong one and then wait for the consequences. 
That is why you must know the differences between hair conditioners and beard conditioners and why you use them.
Until you achieve your beard and hair goal, take care!