Agree or not, the beard is one most trending things for men right now. Beards have always been popular and give off a sense of masculinity that can't be matched without it. Look the Vikings had beards and it doesn't get more manly than them.
It's tempting to just let a beard grow in like a Vikings and just be done with it but that would be a major misstep. Women find beards attractive but an unkempt mess of a beard will do the opposite. We need to spend some time maintaining our facial hair to keep on looking our best.
These grooming kits are perfect because everything that you could want in beard maintenance is in one place and easy to keep track of. The simpler the process is the more likely will do it. Check out these kits that will up your style game and keep that hard-earned beard looking great.
5 Best Beard Grooming Kits for Black Men
We recommend..
Runner Up
Beard Growth Kit
Affordable
Shea Moisture Beard Kit For Men | Beard Wash | Beard Balm | Beard Oil | Beard Conditioner | Beard Grooming Kit | Gifts For Men | Gifts for Husband | All Natural Ingredients | Shea Butter
XIKEZAN Upgraded Beard Grooming Kit w/Beard Conditioner,Beard Oil,Beard Balm,Beard Brush,Beard Shampoo/Wash,Beard Comb,Beard Scissors,Storage Bag,Beard E-Book,Beard Growth Care Gifts for Men
Beard Growth Kit,Beard Kit,Beard Grooming Kit w/Beard Wash,2 Pack Beard Growth Oil,Beard Balm,Brush,Comb,Scissors Beard Care Kit for Men Stuff,Unique Christmas Gift Set
FULLLIGHT TECH Beard Kit for Men Grooming & Care W/Beard Wash/Shampoo,3 Packs Beard Oil,Beard Balm Leave-in Conditioner,Beard Comb,Beard Brush,Beard Scissor,Beard Grooming Kit Gifts for Men Husband
Isner Mile Beard Kit for Men, Grooming & Trimming Tool Complete Set with Shampoo Wash, Beard Care Growth Oil, Balm, Brush, Comb, Scissors & Storage Bag, Perfect Gifts for Him Man Dad Father Boyfriend
Best Beard Grooming Kit for African American Black Men
Like most ethnic groups, beards became a symbol of style and elegance among the African American population. Let's find out what we can do to keep them looking the best. And no normal hair shampoo and conditioner is not an answer for your beard care.
Shea Moisture Complete Beard Kit (We recommend👑)
Sale
Now we're reviewing the Shea Moisture complete beard kit. This four-piece set comes with beard balm and conditioning oil, a beard detangler, and a beard wash.  
Okay, the beard wash is a blend of Maracuja Oil and Shea Butter, which will leave your beard softer than before. The detangler is something that you'd always wanna have because it is mainly designed for men with a curly beards. With an added softness, it will nutritiously slicken your beard.  
Beard oil in the kit does an excellent job of keeping the moisture element alive in your beard while the extra super strong balm holds your beard nice and tight and lets you style your beard the way you've always desired!   
All in all, this is undoubtedly one of the Best Beard Grooming Kit for African Americans and worth a try! 
Isner Mile Beard Grooming Products For Men
Sale
Isner Mile Beard Kit for Men, Grooming & Trimming Tool Complete Set with Shampoo Wash, Beard Care Growth Oil, Balm, Brush, Comb, Scissors & Storage Bag, Perfect Gifts for Him Man Dad Father Boyfriend
COMMAND ATTENTION WHEREVER YOU GO - A perfect groomed beard will make you stand out from the crowd! The confidence you will get can make you conquer every goal. This kit perfect for all type of beards or mustaches, Long, short, thick, thin,coarse, tangled....you name it!
Are you looking for the best beard kit for black men? Then check this one out! 
TBH the way these beard kits are transforming the beauty industry is phenomenal. Like the previous sophisticated beard kits, this Isner Mile Beard kit is another enormous 9 in 1 outstanding beard care kit set! Let's see what they have inside.  
First, those who are super protective of their beard should love the beard guard that comes inside the box as it saves you from specks of dust and food stains. Like all the beard kit sets, the beard wash comes with the kit with Argania Spinosa kernel oil, Menthol, Jojoba oil, and Algae extracts, making your beard cleaner and dandruff and irritation-free! 
Beard conditioner oil equipped with Tocopherol and Tea Tree Leaf Oil is an absolute treat for a shinier and well-nourished beard. Beard wax is there in the kit for extra strength and holds while natural bamboo and boar bristle brush helps you maintain it as you desire! Other products also include a medical-grade SS scissor, a comprehensive beard guide ebook, and a travel bag made of reusable materials.  
And now this is undoubtedly one of the Best Beard Grooming Kit for African American men out there!  
Professor Fuzzworthy Deluxe Best Beard Grooming Set for Black Men
Well, let's start our review of the Best Beard Grooming Kit for African Americans with Professor Fuzzworthy's beard grooming kit. First, we'd like to go through what comes in this pack. Like most beard kits, you get beard shampoo and conditioner in the box. Further, they will provide you with a beard balm and a beard brush.  
Okay, before we begin the review in detail, we'd like to let you know that the shampoo in the pack is voted the best beard shampoo by Toolsofmen. This shampoo contains two key elements; one is conditioning olive, which boosts beard growth; another one is castor oil, which is known to work as a quality nourishment ingredient.  
The conditioner, on the other hand, is a key weapon that will help you detangle your beard any day. The beard balm that you find in the kit is infused with Kunzea oil for people with itchy beards and dandruff. This will also add gloss and moisture to make you look more elegant! 
The kit also comes equipped with a boar bristle beard brush. This will aid bead men to maintain their beards correctly.  
All the products in the kit are free of any sort of synthetic chemicals and have a woody fragrance that lets others discover the man in you!  
On the whole, this to us seems like an ultimate beard kit and should be an excellent buy! 
Best Rapid Beard Grooming Kit for Black Men
Second, on our list is the beard grooming set by Rapid Beard. Let's find out what's inside the box. The kit comes with a beard brush and a beard comb. Further, the kit also has beard oil and beard wax. Finally, the kit includes barber scissors for extra styling!  
The beard oil in the kit has a blend of various oils which include, Argan oil, Jojoba oil, Grapeseed oil, and Vitamin E oil. A mixture of all these essential beard oils helps your beard stay hydrated throughout the day. 
Now, the beard balm contains a 100% natural super blend of beeswax, shea butter, coconut, tea tree oil, macadamia oil, and almond oils, which would give you a new stronghold and let you keep your beard as stylish looking as possible!  
And With the boar bristle brush and wooden comb, you'd be able to maintain your beard the way you desire all the time! All in all, if you're searching for the Best Beard Grooming Tools for African Americans then it's a possible pick for you!   
Dovich 12 In 1 Best Beard Products For Black Men
DOVICH 10 In 1 Beard Kit for Men, Gifts for Men, Beard Growth Kit, Beard Grooming Oil Leave-in Conditioner, Beard scissors, Beard Shampoo, Beard Balm, Beard Brush
★ 10 IN 1 BEARD CARE KIT: Beard wash, Beard oil,Beard growth serum, Beard balm, Beard brush,Beard comb, Beard scissors, Beard guide E-book, a linen bag and a finger ring holder gift. Everything you need for beard care is included.
This is perhaps the best beard kit for black men ever with 12 different elements. Let's get straight into the review. First, the beard wash, is a fragrance-free growth-inducing beard wash, which will make your beard clean and tidy. Dorvich natural beard oil moisturizes the beard from underneath and boosts growth.  
Further, the beard balm lets you style the way you want while keeping stray hairs in check. The kit also comes with beard trimming equipment such as a protection cap equipped stainless steel razor, double-sided comb, and SS scissor. The boar bristle brush in the kit stimulates beard follicles aiding beard growth.  
Other items include a beard bib with multiple suction caps and a linen bag for carrying all this stuff. Strangely enough, the kit has a freehold for some reason. Finally, they give you a beard guide by Dovich, which enlightens your beard knowledge. 
Overall, this is a complete beard kit set and quite triable!  
Beard shampoo-Viking Revolution wash and conditioner 
All right, unlike the previous massive sets of beard kits, this small pack by Viking Revolution houses two beard kits for men. This simple beard wash and conditioner set can be a useful tool for your beard care.  
Let's first focus on the beard wash that comes in the set. This body wash is made of peppermint, which is a key ingredient in terms of giving you a healthy dandruff-free beard. While the eucalyptus present in the formulation is an excellent beard growth enhancer, which will help you get a thick and healthy beard you love!  
If the dry beard is your problem, then Argan available in the formulation will reduce it with Vitamin E. With a thick and quick lather Viking Revolution, beard wash gives you a deep wash. 
The conditioner gives you the extra moisture that you're looking for. It contains natural beard oil, which is a quintessential element in terms of providing extra hydration.  
Last but not least, this beard kit comes with an absolute Money Back Guarantee! This just shows their confidence in the quality of this kit! 
Overall, it's a highly well-received and one of the best beard shampoos and conditioners on the market right now! 
Beard Oil-Honest Amish for black men 
Sale
This, on our list, is one precious item for bearded men of color out there. If you're someone who likes to go full original, this premium quality Honest Amish beard oil is something that suits you!  
Honest Amish is one of those old beard oil manufacturers that value quality and tradition. Honest Amish often uses the phrase 'better than oil' because of obvious reasons. It includes over 7 vital oils that directly increase growth!
This incredible blend of vitamin-rich 7 vital oil is full of minerals and has ample antioxidant elements that nourish your beard. This premium oil is locally handcrafted and incorporates organic virgin Argan and golden jojoba, softening the beard to its maximum!  
Honest Amish goes as far as to issue a full refund if you're not satisfied with this splendid oil. This goes to show their commitment to this oil and how they prioritize customer satisfaction. 
Finally, if you're searching for a quality moisturizer for your dry beard, then this is perhaps one of the best beard moisturizers that you can find. 
At the end of the day, without a doubt, one of the best beard oil and this is the one that we'd recommend to you any day! 
Beard Balm- Scotch Porter Natural balm 
Well, as a beards-man, you know how difficult it is to keep your beard not getting out of shape. But this beard balm locks your beard in the manner you desired and adds moisture to that, giving you extraordinary looks.  
Key natural ingredients like Marshmallow Root and Slippery Elm provide you with the gloss effect that you're looking for! 
It has a blend of floral carnation and sandalwood fragrance, which is behind the masculine scent it has to offer.  
So, how can you discipline your wild curly beard? Apply this Scotch Porter beard gently on your beard. When the balm covers the whole beard then, brush it with a beard comb or brush and simply get a stylish-looking beard.  
Overall, if you're a beard styler and have a particular beard shape in mind, then this is one of the best beard balms you can try!
Beard Brush – ZilberHaar Beard Grooming Brush 
Sale
Now on our list is a German beard brush by ZiberHaar. Brushes are an integral part of beard care and can contribute highly in terms of maintenance and growth. Let's see what it has to offer you!  
First of all, this brush is made of all-natural elements such as boar bristles and Pearwood. We often get to hear about boar bristles, but why is it discussed so much? Well, the first thing about this type of brush is that they don't tear your hair. Instead, they gently massage the skin underneath your beard increasing blood circulation. It also boosts beard growth and gives you a healthier beard.  
You must have also noticed that ZiberHaar uses a wooden handle instead of plastic. Pearwood used in the brush handle also adds to the authentic naturalness of the brush and discards any plastic or chemical footprint that may poison your facial skin.  
All things considered, this brush is an optimum arsenal in the inventory of the beard army, and a must-try if you're searching for the best beard brush in the market! 
Beard Comb – Viking Revolution pocket comb for men 
Sale
This is another product by the beard care manufacturer Viking Revolution. This beard comb is for men who're obsessed with their beard and needs to comb it often.  
Beard is something that requires 24/7 care. If not combed often, it may go curling up. And that is why this pocket comb is so vital cause this dual-sided comb will give you time to time grooming and wiping out any knots or curls. 
It houses both beautiful teeth and coarse teeth without any static or pull. Beard type is out of the question with this pocket comb, thick or thin, long or short, you name it, this comb can deal with it.  
They're also giving you a handsome synthetic leather case that adds your convenience and keeps it free of any exterior damage. The comb is made of Pearwood, which is natural and way better than plastic. It's also perfect for applying beard balms or beard oils.  
This comb is quite standard and improves your beard health, stimulating the facial skin. So, overall, this pocket comb is one of the best beard combs and sounds like an excellent deal for beard lovers!  
Beard Wax – Honest Amish Original Natural and Organic Wax 
Sale
Hones Amish brings you beard wax for absolute control and extra hold. Beard waxes are highly sought-after items as they can quickly transform your beard look. Let's see what Honest Amish has to offer this time.  
First of all, as with all their products, this beard wax too, is locally handcrafted, giving it a touch of authenticity and originality. Assuming you have an unruly beard, this wax will help you tame them with ease.  
Softening extra tough beard ends is a difficult job to do with water or oil. Even if you do it, it returns to the previous state within minutes. But using this Beard Wax by Honest Amish gives you the best shot at softening tough beards.  
They use a blend of locally harvested beeswax, nut butter, and premium oils. This age-old beard wax recipe by Honest Amish safeguards your beard follicles and conditions your beard well.  
And just like all the Honest Amish products, it also comes with a full refund scheme based on customer satisfaction. All in all, given that you want the best beard wax, this is a beard wax that can be possible to pick a quality item for beard enthusiasts. 
Beard softener – Cremo Beard and Scruff Softener for coarse facial hair 
Sale
This beard softener by Cremo can be a sophisticated item for men who love to groom their beards. Many of us go through the issue of hard and stiff beards. So strong and unruly, it makes you wanna think as if the beards have a mind of their own and are determined not to stay soft and straight.  
This is where this softener comes in. This beard softener by Cremo relieves and conditions your coarse beard within only 30 seconds. This softener, with its calming touch, heals any sort of beard itch you may have had.  
Cremo's beard softener is also beneficial in terms of promoting beard growth. So, those with a thin beard and weak beard growth can utilize this beard softener for multipurpose use.  
This beard softener uses various organic elements such as Coconut Oil, Tea tree oil, and Aloe Vera, which conditions and nourishes your beard to a certain extent. Another thing that you should keep in mind is Cremo does not add any additional elements for artificial fragrance.  
Overall, this beard softener is quality stuff, if not the best beard softener, and a good deal for beards-men out there!

Read: Cremo Beard Oil Review
Beard Care Guide for African American Men 
Many famous black figures are going for facial hair recently in this recent trend, more and more black individuals enlisting their names. As many associate beards with masculinity, it has become a key symbol for men with beautiful and robust nature.  
Remember that beards have a shelve life and it gets tougher to grow big full beards as we grow older. Read this article to learn when do beards stop filling in to learn more.
Our beard care guide can enlighten you in terms of maintaining a cool and stylish beard. Let's begin!  
Don't mess around with your ingrown beard hair. 
For black men with curly hair types, ingrown beard hair can be an issue of much irritation. Thus, they tend to pick at ingrown beard hair, without knowing how bad this is for your facial skin and your beard overall.  
So, when you're picking your ingrown hairs, trying to wipe that out of your face, you're only making the situation worse. We'd suggest you leave them be. And see your doc and ask him for a permanent solution for this issue. Remember, it may feel satisfying today, but it will leave a scar tomorrow that you will regret. So, just don't do it! 
Treat Razor Bumps Quickly 
If you're a beards-men, you'd know the pain of razor bumps. Highly irrational, these razor bumps don't only make you feel uncomfortable throughout the day, but they also cause severe damage to hair follicles on your skin, making your beard dream a nightmare. 
So, we'd always suggest you not to be lazy on razor bumps and treat them as soon as possible for better beard growth. You can use a warm cloth to get the vapor to soften the dead skin cells, or you can use a scrub cream with caution and quickly remove razor bumps, letting your beard grow naturally.  
Care from Deep Underneath 
If you're only concentrating on the outer or the upper side of the beard, then you're doing it wrong. You must never neglect the skin that is holding the beard nice and tidy. Try exfoliating to reach the roots of your beard and let it strengthen your beard from deep within.  
We usually advise men of color not to use products that provide artificial fragrance as it can cause issues on darker skins. And don't forget to watch out for strong soaps, they will strip your beard of any moisture element and make it dry as leaves.  
It is best if you can brush your hair in a way that the teeth or brush of your comb touches the skin. This will stimulate the hair follicle as well as increase blood flow, which will give you a healthier and robust beard! 
Healthier and Dandruff Free Beard with Moisturizer 
As we have spoken about how dryness can harm your beard health, you now understand how important it is to get some sort of moisturizer for the beard. Another critical issue that we'd like to address is the issue of beard dandruff, it can occur due to having a dry beard.  
So, how to get rid of dry beard and dandruff all at once. The answer is moisturizer. The whole beard care industry is partially centered around the idea of moisturizing the beard. Where do we find quality moisturizers? 
Well, there are tonnes of products in the market targeting moisturizers. You can first use beard oil. Organic and nutrition-rich oils can lift the moisture element in the beard. You must also remember that moisturization should occur from deep beneath. Otherwise, outer artificial gloss will dissipate within hours, and you'll understand whether your oil is a pure moisturizer or just a gloss paint.  
Further, you can also use quality beard balms to increase moisture. Many beard wash and conditioners can improve moisture in the beard as well.  
Get a Complete Set of Beard Kit 
Although there are individual products like beard oil and beard wash, we'd always suggest you get a complete set of all the basic beard kits. Maintaining and caring for a beard can be a difficult task if you don't have all the tools in your hands.  
Starting from medical grade SS scissors to beard bib, you should have anything necessary for maintaining a healthy beard. You can buy refillable items such as beard oil, wash, conditioner, or balm separately when they're finished. But, tools that are always needed for beards-men should always be present in your hand.  
Wash Wash Wash! 
Like hair, it is recommended that you wash your beard every day with clean water. You can do this while you're taking a shower. It's better to wash your beard when you return from your work. All the dust and dirt can dry up your beard as well as block up hair follicles on your skin. So, washing your beard upon returning home is a good practice.  
Furthermore, we would like to suggest you wash your beard with a beard shampoo or beard wash twice a week. This will give you a deep clean and refresh your skin.  
Check out our guide on how often a black man should wash their beard to learn even more.
Oil Your Own Beard  
Using oil on a beard is not a new phenomenon, although beard oil started trending a couple of years back. Though hair oil can be applied to a beard, it is better to find oils that were manufactured, focusing highly on the beard.  
So, how often should you use beard oil? We say you should use it twice a day. First, at the beginning of the day and then before going to bed. It is best to apply beard oil after a shower.  
When you take a shower in the morning, let your beard dry out first or use a towel. Then apply beard oil and brush your beard afterward. Make sure the oil reaches the skin and do it both the times you oil your beard.   
Assuming you have a coarse beard using beard oil can be at your advantage because beard oil softens your beard. Oils also protect you from itch and keep you irritation-free.  
We'd like to suggest you follow all the procedures we've spoken about above. And upon following this instruction, we're positive that you'll get a smart and dashing beard anytime!  
Buying guide to Find the Best Beard Grooming Products for Black Man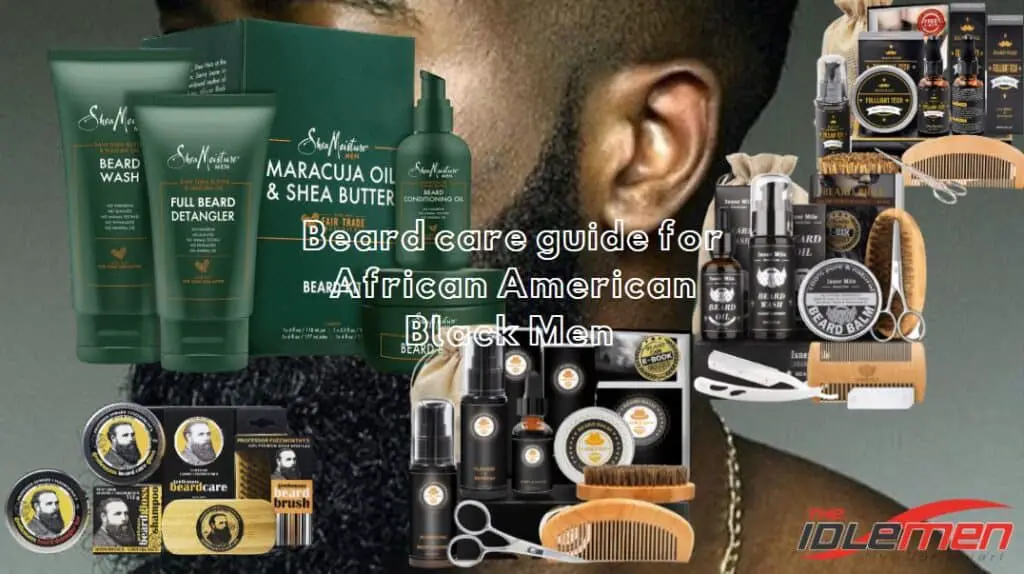 There are plenty of options in the market while searching for the best beard kit for black men. But how to select the one that suits you the best? Our buying guide answers that question and lets you find out the best beard products for black men. Just follow the guide below! 
Organic Ingredients 
Your facial skin is more sensitive than your scalp. So, if you're careful about your scalp, you should be highly conscious of what is being applied to your facial skin. Remember, whatever you use does not only concern the beard but also affects your skin, and If you are to get the best beard products for black men, you have to stick to the original!
So, it is best and imperative for you to find the best beard grooming product brands that use only organic ingredients. Chemicals no matter how safe that is can be a threat to the super-sensitive human face. Thus, try finding beard care products containing natural elements like shea butter, beeswax, coconut oil, and so on.  
Try avoiding Artificial Fragrances. 
Some beard care manufacturers may include an artificial ingredient to give you a soothing fragrance. The fragrance may sound good right now but can be detrimental to your beard and face. So, we advise you to find the best beard products for black men that do not use any artificial fragrance.  
Get a Complete Set  
We're not telling you to get a complete beard care kit set every month. But it's just a longtime investment if you're serious about beard grooming. It can be tiring to find separate beard grooming items in the market as well as a bit expensive. So, it is best to get a complete set of beard kits for once. Trust me; it will come in handy. 
Price Point 
Although it depends on people how they want to spend their money, we think it is better to buy the best beard products for black men even if it is a bit expensive. Why? Cause, as we said before, you're not buying a kit every month or week, you're buying it once that supports you for a long time. So, it's okay to go expensive to get the best beard care kits in this case. But it is also true that expense does not guarantee quality, so keep both of these in mind while choosing a quality kit set. 
FAQs 
How do you soften African American beard?
Beard softening can be done in many ways. But using quality beard oils and beard balms can do the job easily.
How often should you brush your beard?
It is better to brush it once. Brushing more can cause damage to your skin.
How often should you comb your beard?
You can comb your beard 3-5 times a day to stimulate blood flow.
How do you take care of African American beards?
Using beard brushes can be a good way to take care of your beard. They get rid of the dead skin cells and stimulate the hair follicle. Combine it with beard wash and beard oil, which will improve your beard with deep cleansing and moisture.
Why does my beard hair always get rough always?
Because it is dry, your beard needs moisturizers such as oil or quality beard wash.
How can a black man grow facial hair faster?
You can go for a growth-inducing beard product. You can also focus on facial skin improvement and regular beard cleaning and brushing to stimulate beard growth. Eating healthy calcium and vitamin-rich foods can also have a positive impact.
Is coconut oil good for your beard?
Definitely, yes. It is one of those natural oils that you can trust with your beard and hair both.
Can I use olive oil on my beard?
Without a doubt, this natural oil is a healthy tonic for beard nourishment!
Do beard straighteners work?
Yes, they do work, but to some extent. Beards can be tough to deal with, especially if you've naturally curly and coarse beards. Beard straightener tbh would not miracles but can do the job nonetheless with quality straighteners.
When should you start brushing your beard?
It is best to brush your beard after 3-4 weeks of growth.
To Sum Up 
Styling a beard is a must for the modern man and it's now on the mainstream. It doesn't only display beauty but also makes a statement of your strength as well.  
The beard is the ultimate garment for dark men! A stylish and properly maintained beard is incomparable to a shaved face, and you know it well. So, find out the best beard grooming kit for African American men today and get the bold style that you have always desired!