Well, the first thing that we know about these headdresses is that they're not the same as durags. But, they perform quite similar sorta functions. The best wave caps are expected to compress and keep your hair tight. 
Moreover, they're also now being used for waving and wolfing. There are some new and unique designs I've seen which look outstanding and you can wear them in the streets getting waves as well as showing your new looks! 
In order to find out the best wave caps, you'll need to go through some new wave cap trends in the first place. Let's look at some of the wave caps which are trending.  
8 Best Wave Cap (June 2021)
Top 8

Best Cap for Waves
 Now, it's time to dive into the review of the best cap for waves, ready? Here are the top 08 wave cap we're going to discuss now. Let's start!

1. Dream, Boo Boo Stocking Wave Cap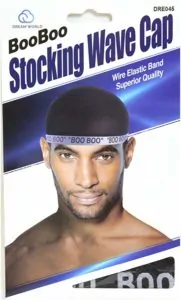 Dream brings you Boo Boo stocking wave cap at a manageable price and you have multiple options to choose from. They have colors ranging from black, royal blue, white to navy! So, you can get the one that suits you better.
Next up is the material. Dream claims their product to be 100% nylon. Whether Nylon is the best for the scalp is another matter of discussion. But you get it if you're okay with it.  
These stocking wave caps have elastic bands at the bottom of it so, you get to tighten the cap to your desired size by folding. Elastic gives you a better compression for your waves and wolfing.  
The white packaging it comes in is quite nice as well. The material used in the cap leaves it almost sorta transparent and it's pretty light. So, you can expect your hair to be shining after wearing this extra light stuff. 
Another thing that I should mention is the manufacturer. Many of the Amazon products are made by the random manufacturer. With Dream its not like that. They're a well-recognized brand in the waving community.  
They have their own website and all. So, I'd say they're a pretty authentic wave cap manufacturer.  
Drawbacks may include, tearing or ripping of small holes in the cap, as I mentioned earlier the material is quite light. So, it is quite fragile and can rip in tension. Depending on the brand and their reputation these can be regarded as one of the best caps for waves. 
These caps come in an economical price range. So, keeping the money factor in mind, the cap is not that bad. And you can use it on your wave and wolfing as well.  
So overall, this is quite good and worth a try!  
Pros
Light 

Airflow 

Shining hair 

Keeps hair oil intact 

Transparent 
Cons
2.  Silky Durags Pack for Men Waves, Satin Doo Rag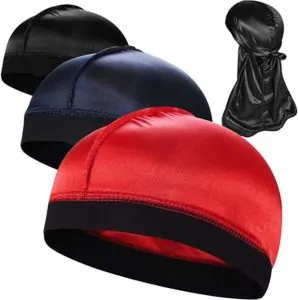 Roybens brings you new do-rag collection for you wavers out there! These durags come in quite several variations. So yall be able to choose from your desired colors. They offer an astounding number of 40+ different variations of do-rag and wave cap sets. So, that's a positive 
Let's come to the materials. The sellers profess to have used 95% percent Polyester and 5 percent Spandex. They claim their product to be silky and breathable. 
I like their honesty as they've already made it clear that they're not offering silk, so don't get your hopes too high just yet!   
These durags and wave caps are also expected by the seller to be really good for wolfing or sleeping. You're expected to have your hair moistured while your sleeping.  
One thing that should be talked about this is their color. They look cool and vibrant. It would be good for wearing on different occasions.  
They do well as gifts as well. You can send them as a gift to your closed ones on their birthday or anniversary. 
The package includes 2 pieces of Dome Caps. Sellers openly claim to provide you with a 100 percent full refund on their products. If you find anything that is not up to your expectation you're told to contact them and you'll be given a refund or a free replacement, just as you desire. 
I'm not too sure if they produce the best wave caps if what they're saying is true. Then I'd say that's incredible. And depending on this announcement I think you may give them a try.  
Pros
Variations 

Moderate price range 

2 pieces  

Can be used as gifts  

Colorful 
Cons
The fitting can be an issue  
3. WaveBuilder Wave Cap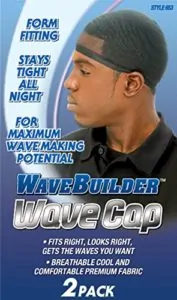 Wave caps are mainly used to get a quick and smooth wave on your hair. So, to get a wave fast you may use wave caps. WaveBuilder brings wave caps in price that are really cheap in the market.  
Wave states that their products are designed to get you smooth and uniform hair waves. Moreover, they claim their wave caps to have a fitting design which is supposed to give you maximum wave building potential. A good fitting is always required to get a good of wolfing. So, if what they're saying is true then it's quite good.  
WaveBuilder claims this wave cap to stay tight all throughout the night. Why is it important? As you're reading this your hair is growing. Its always on the go, we just don't notice that's all. Your hair grows even more when you're sleeping at night. If these wave caps are true to what they're claiming then, I think it is pretty good for your waves. Because if they stay tight while you're sleeping then your hair will grow in the manner you desire. The formation of the wave would, therefore, be nice and easy. But, you will only get this effect when WaveBuilder I 
One thing that I find positive about this cap is the brand. Wavebuilders are a renowned brand among the wavers around. It's an NYC based brand and has its own website and all. So, pretty authentic. Given the reputation and authenticity of the brand, this can perhaps be one of the best caps for waves out there. 
The price that it comes at also affordable. The packaging is something WaveBuilder gives emphasis on. Because the package it comes in looks quite good. It says to give you two caps in one package.  
Pros
Renowned brand 

Affordable 

Nice packaging  

Two pieces 
Cons
4. Durag, Luxury Velvet Durags and Stocking Wave Cap for Men 360 Wave Pack of 3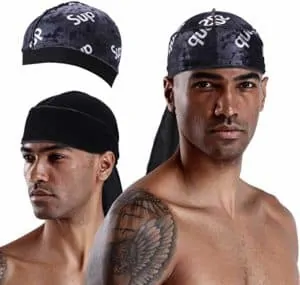 Yi Heng Mei's du-rag collection brings velvet durags and stocking caps for waves. These are velvet durags professed to be made of Polyester. They expect their durags to give you a softer feel and spread throughout your forehead.  
Not sure if the brand is that trusted but Yi Heng Mei does have a serious presence on Amazon, they are present on eBay as well. Apart from durags they also manufacture hair care products such as wave cap, wave brush. They say they have a team of American designers who works on their products.  
More about this du-rag is professed to be comfortable for your head. Many a time we see headmarks because of using wave caps and durags. Sometimes, you wake up with a serious headache in the morning because of wearing a du-rag which is tight on your head.  
Now, Yi Heng Mei claims their du-rag to be breathable, lightweight and softer. If what they're saying is correct then you can expect a headache-free sleep with this du-rag.  
Durability is something they say they're focusing upon as well. So, you may hope for a longer-lasting du-rag and wave cap, given what they say is true.  
Velvet is something that always looks good on the head. They're always classy and shows a sign of aristocracy, so, the look as shown in the picture is quite good. The design seems nice to me as well.  
This du-rag pack can be used as a gift as well. You can give to your homies this pack of 3 for his birthday or anniversary as well.  
Pros
Velvet  

Nice design  

Good as gifts 

Classy looks 

Pack of 3  
Cons
May have fitting issues 

Color can vary  
5. Unisex Nylon Bald Wig Hair Cap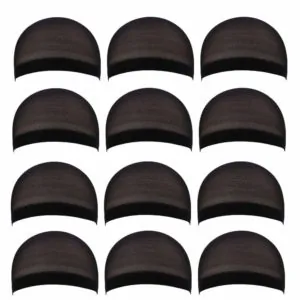 This is a big package! Bald Wig Hair Caps of 24 pieces. These caps are as claimed, unisex, so both males and females are expected to use these caps. All caps are black. But, you may find 3 other colors as well if they have in store, such as blonde, dark blonde, and brown.  
Materials that are said to be used are stretchy Nylon. XC SMY the sellers believe that these wigs of theirs are thick. The sellers, state that they've used wide elastic bands which supposed to aid in fitting your wigs.  
If you have long and thick hair, you're told to make ponytails and pin around your head flatly so that no hair is falling out.  
One thing XC SMY wig caps promises you is the elasticity. They say these caps are stretchy enough to fit various head sizes and multiple lengths of hair. If you think that you're cap is becoming too tight on your head, you're instructed to stretch band of elastic or attach it down ton your foam wig head for a couple of days. In this way, they are expected to be a bit lose and comfortable. 
Don't pull it too strongly or else you may risk ripping the caps. The sellers also claim this product to be easy to apply, they ask you to read the product operation warm tips for better information.  
Pros
24 pieces 

Can have different colors  

Simple design  
Cons
Color can be different 

The fitting can be an issue 
6. Silky Elastic Wave Cap, Stocking Compression Caps for Men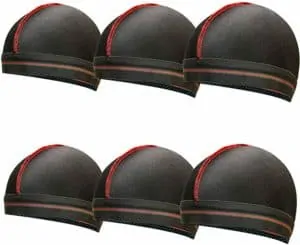 These wave caps by Force wave comes in packs of 2, 4 and 6 wave caps. Specially designed for men. So, girls are aware before trying one this out.  
Let's talk about the design of this product. Force Wave confirms that the middle line of their wave caps is on the outer side of the cap. They expect to aid pro wavers to maintain their waves in a static form.  
They also state that the plastic they're using in these wave caps is top-notch. Something that is expected to give you the sort of comfortability you desire whether you have a big head or a small.  
Now let's discuss materials. Materials are something that all wave cap manufacturers talk about. This is undoubtedly one of their selling points. The one who uses original materials is expected to get more permanent customers. 
Like the others, Forcewave also states that their caps are made of high-quality materials such as silk satin. Silk is something that is highly sought after and quite expensive. It'd be an awesome deal given their honesty in the claim.  
Let's come to the biggest selling point and the place where the users can trust. Buying products online is tricky. Gets even more difficult when you're buying hair care product. So, having a refund facility is a must IMO.  
Although professing to be a brand, I couldn't find any website that authenticates it. But, it is also okay not to have a website to produce something good. Having a website just increases the authenticity of the manufacturer. That's all.  
Force Wave claims to give you a full refund if the product that you have bought is not up to your expectations. If this refund policy is maintained I think you can give this a try and if things are not up to your taste upon receiving it in person. Then you can ask for a refund.  
Pros
2 wave caps  

Refund policy  

Claims to have used high-quality material 

Colorful  
Cons
May have issues with fitting  
7. King J –Stocking Wave Cap 
Like the previous wave cap this one by King J this doesn't have much detailed description either. This again makes the product posting a bit too eerie. This package has two caps per pack. That's a plus for you. These caps come in black colors.  
First of all, let's come to the texture. King J says these stocking caps to have a smooth texture. Having a smooth and easy texture will give you a better feeling when you are wearing a cap. Moreover, when you wear a cap with a good texture you're expected to wear it for a longer period.  
King J also stresses this wave to have ultra-stretching capabilities in it. This will give you a better fit, especially if you have a larger head size then you can stretch it to wear it if what they say is correct. 
Further, the sellers claim these wave caps to be breathable. When you sleep wearing a wave cap your scalp may sweat if they're too thick. This excessive sweating can cause hair to fall in the long run. Therefore, it's better to be careful about the type of wave cap or durag you're wearing at night. If these caps are breathable, as stated by King J, then you may expect a sweat-free wave cap sleep.  
Another thing about this wave cap is that it comes in a moderate price range. So, can be affordable to many of you out there.  
Pros
2 caps in one package 

Moderate price range 

 States to have stretching  capabilities
Cons
Not many color variations 
8. Durags, Velvet Durag Pack for Men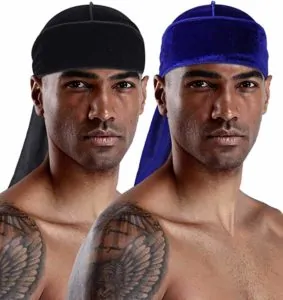 Velvet durags are always beautiful to look at. It gives you a classy outlook. Whenever you're going to a party or a function with your brothers and all you may think about putting some of these bad boys! 
Okay, lets come to the details of these durags. The seller states this du-rag to be 95% polyester and 5% spandex. Polyester is an effective and low-cost alternative to silk. Although they don't breathe as the more luxurious silk does, they're not that bad either.  
They also assert their product to be comfortable for wearing and breathable. So, you'll be able to wear it for a long time if what they profess to be is correct.
The different substances in contaminated air can form on your scalp and hinder hair growth.  
But using caps like these can help your scalp stay safe from all those. The package contains 2 caps. You're being instructed to wash it in the cold water. Doing otherwise can cause issues to the fabric of the caps, so better to be safe than sorry.  
You're told to check your mailbox and although they're not offering a refund policy or replacement, the sellers do ask you to feel free to contact about the product anytime.  
Color bleeding is something that worries the customers all the time. You won't want your clothes or pillowcases to destroyed another color. This is something that you should be careful about these products. Make sure you're wearing it dry.  
Pros
Color looks shiny

Claims to be breathable 

Protection from dust 

Defense against contaminated air
Cons
Buying guide to get the best wave cap for 360 waves
What is the best cap for 360 waves? Buying the best cap for a wave from thousands of different wave caps in the market can become tricky. 
You must know some of the basic guidelines to get a thorough understanding of spotting a good wave cap and leave out the wrong ones. There are some things that you should go through to achieve that understanding. Let's get into the discussion!  
Compression 
Compression is vital in terms of getting a good wave. Without proper compression, it will be really difficult for you to get good waves. Moreover, without compression in your wave cap, it may take a long long time for your waves to form. 
Therefore, you must find wave caps which has better compression. This will give you quality waves in the quickest of time. The main theory of compression is keeping your hair in the desired shape in a compressed fashion for a long time so that they form the way you want.  
Sleeping with Wave Caps 
Now, many of you may ask why do we need to sleep wearing a wave cap. The reason is your hair is growing more when you're sleeping. So, if you are wearing a wave cap the new hair that is growing will take the waveform you instructed it to be. 
Just as durags you'd want to sleep wearing your wave cap which has bought. Now, there are some issues involving sleeping with wearing a wave cap. First of all, if your wave cap is thick then and you're living in a humid environment, this can be a recipe for destruction for you. Because, while sleeping you'll sweat a lot cause the heat of the head is not able to get out given the thick wave cap. You may need the best stocking wave cap in terms of sleeping. And you will need to find a wave cap that is not thick and made with breathable materials.  
Color 
This is something that I should mention. Buying anything from an online portal does have its ups and downs. Color is one of its drawbacks. There are thousands of different color variations in wave caps or durags. But there are differences in the monitors and their picture qualities. So, whatever you're ordering may not seem completely the same when you receive it. 
You can adjust your monitor color adjustments to the most real of the colors possible for a more authentic color view. But again, no one can guarantee that you will get exactly the same color of the product as you have ordered, because of the differences in the picture quality or the mismanagement of the sellers. So, buy keeping that mind.  
Materials 
Materials are always important. Caps made of good quality authentic materials are expected to hold up longer. Try to inspect what materials your wave caps are made of. Sometimes, the manufacturers don't provide the materials which they have professed to give you. Be careful of that.  
Fit and Stretch 
Try getting a wave cap that fits your head size. Head size is another matter of discussion among the wave communities on the internet. If your wave cap doesn't fit on your head and is loose then it is possible that you'll not the desired wave in time.  
Moreover, when you're putting in wave caps which are too tight on your head. This can cause all sorta issues. You may get a serious headache because of the tightness of a wave cap. Further, your forehead may bear a mark as a result as well.  
What's the solution? Try getting a stretchy wave cap that fits in different head sizes easily, not to tight nor to loose. Being stretchy is one of the qualities of the best 360 wave cap.
Recommendation
I already have discussed the pros and cons of buying a quality wave cap now lets come to my recommendation. I'd simply pick a two-wave cap of my choice, one is Boo Boo Stocking Cap by Dream and Wave Bulder wave cap. 
First of all, the main reason why I picked these and not the other is their brand name and authenticity. Whereas both of them are from the renowned brand which has a reputation to protect here in the United States. So, making a sort of quality wave cap is not only needed for them but logical. 
Moreover, they have nice packaging and all. Both are pretty cheap to try as well. Boo Boo cap is the cheaper option of the two. So, that's my recommendation for yall, hope it helps! 
Related post:
Final Words 
Wave caps are now competing with regular durags in terms of 360 wave building. Wave caps or durags? 
This is one of the most discussed topics in the wavers club. Wave caps giving durags a run for their name nowadays. It may gradually become a new trend as it doesn't take much time for things to turn into trends and fashion nowadays. 
Building waves is not a fashion statement but a unique way to express your black identity in a society where representation and identity are given utmost importance. 
Wave caps just as durags are like a weapon in these modern ways of warfare, which enables you to get the look you want yourself to present in the society. 
So, get the best cap for waves and get good waves and be yourself!