At times wearing sunglasses can instantly change your appearance. Sunglasses can help you to transform your looks even without makeup or getup. However, when you wear Carrera sunglasses, then people are like "Whoa, who's that?" Can't you agree? Well, read this Carrera sunglasses review, you'll surely agree at the end. 
Carrera is leading the industry with its iconic details, refined shapes, and shaded lenses. They are top of the list among fashion-conscious individuals who seek to make a bold and impressive outlook. From casual to formal, frisky to classy, Carrera has better collections for every mood and occasion. 
Yet, there is a lot to tell about Carrera and its wide array of sunglasses options. That's why we are here. We'll let you know why we choose to do the Carrera sunglasses review. Among plenty of competitors, Carrera has been standing on top for many years. That is because we think it is the best choice for you.
Best Carrera Sunglasses Review for Men
History of Carrera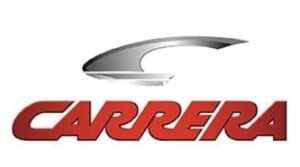 The story begins in 1956 in Austria when Wilhelm Anger decided to launch Wilhelm Anger Werker Company. Later in 1964, this Austrian founder developed Anger patented Optyl material. It's a new form of resin that was hypoallergenic, 20% lighter, and durable than other plastic sunglasses. 
That time, people were unaware of Optyl material, but now most brands use this material. However, the founder changes the brand name to Carrera International in 1974. They established Carrera's headquarter in Traun, Austria. 
Then they collaborate with an automobile designer Ferdinand Alexander to launch "Carrera Porsche Design." Later Carrera has sponsored different sporting events and launched its sunset collection. 
In 1996, Carrera International was sold to Safilo Group S.p.A. Their headquarters is in Padova, Italy. From then to now, they are manufacturing sports, eyewear, and sunglasses. They also produced premium Optyl sunglasses for brands like Dior, Playboy, and Dunhill. 
Carrera's Most Popular Collections
From the day Carrera was founded, they keep launching popular styles and new models. Whether you have a small-sized head or an average one, they have options for you. Carrera mainly includes three categories of sunglasses collections for men. They are;
Flag Collections

Signature Collection 

Active Collections
In these three categories, they have plenty of sunglasses to give you choices. All these sunglasses differ by their overall shape, lens feature, and frame color. 
According to Carrera, CARRERA 1014/S, CARRERA 173/S, and CARRERA 8028/S are currently their best-selling sunglasses. Besides, we'll review some other famous collections in the best part of the review.
Why Carrera Sunglasses Are Unique?
Let's be honest. You should know why we choose Carrera sunglasses for you! If we say in brief, they are damn cool. They are identical to flexibility, durability, style, and comfort for the person who wears it. Yet, Carrera sunglasses have more reasons, which makes them unique in the crowd. 
Excellent Shapes and Styles
When it comes to frame and lens shapes and styles, Carrera is undoubtedly the best choice. They have a range of shapes to get matched with every occasion. Carrera's existing shapes are rectangular, round/oval, pantos, pilot, navigator, square, and special-shape. 
Wide Array of Color Options
Another thing we like most about Carrera sunglasses is that they come in a wide array of colors. When you decide to buy any specific model, then you'll find lots of colors for both frames and lenses.  Some of their unique colors are; Havana, black, yellow, grey, green, gold, blue, brown, red, and white.
UV Protection or Polarized Lens
Carrera has both a UV-protected and polarized lens. Their wide UV-protected lens blocks any light to enter, which is a big plus. Your eye will stay safe even after a long day in the sun. Likewise, the polarized lens provides excellent glare protection. This lens has special filters to block any intense reflected light and boosts comfort. 
Lightweight
Along with excellent build quality, these lenses are incredibly lightweight. They are light due to the composite lens. You won't feel it heavy even after wearing these sunglasses all day. 
Celebrity's First Choice
Carrera sunglasses are one of the top choices among many celebrities across the globe. From Brad Pitt to Jay Z to Justin Timberlake to Robert Downey Jr., everyone's first choice is Carrera sunglasses. 
Carrera Sunglasses Review: The Winners!
1. Carrera Unisex Carrera 5039/S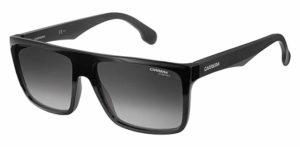 Carrera 5039/S comes with a youthful and confident design for all. These square-shaped sunglasses will surely grab the girl's attention. This may be what you are looking for.
Its substantial flat-top square-frame style complements any of your outfits. The frame is plastic made that light enough. So you can wear them for long. Then, it includes a tonal lens along with a blend of glossy and matte-black finishes. For long-lasting comfort, it features molded nose pads and tips.
Also, the sunglasses includes chunky arms and integrated step-hinge. It makes the pair extremely comfortable yet sturdy. The lens also has 100% UV protection coating, so a sunny place is not an issue at all. 
2. Sunglasses Carrera 1016 /S Yellow Gold / dark blue gradient lens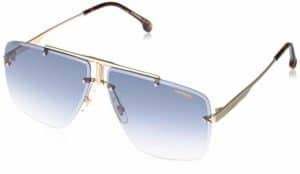 Carrera 1016/S sunglasses combines exceptional craft in its striking rimless profile. It is one of their new additions in their signature design. Carrera 1016/S features a gold-tone metal front and arm along with a plastic frame. 
Its composite lenses are made from impact-resistant material. These lenses are scratch-resistant and coated with anti-reflective treatments. Also, they are non-polarized means you'll get 100% UV protection. 
Moreover, the sunglasses have C-logo over the nose bridge, which makes it unique. It also includes adjustable silicone nose pads for assuring the perfect fit. Also, they look so stylish that you can wear than both casually and formally. The cherry on the cake is that people like this model than all. 
3. Carrera Hot Aviator Sunglasses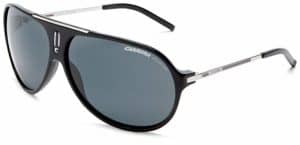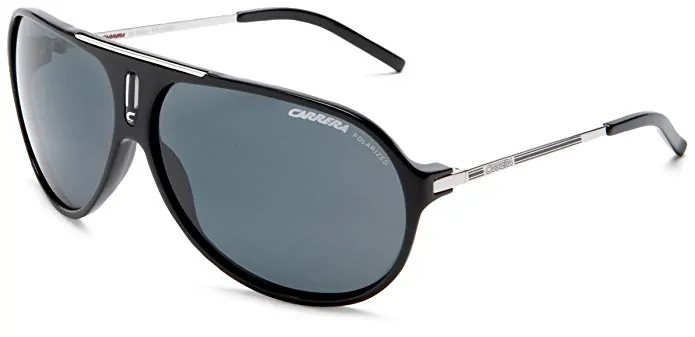 Stay one step ahead with our final pair of Carrera Sunglasses. These Carrera hot Aviator sunglasses provide a sport-like spirit with its stylish accents. It is one of the Carrera's all-time best sellers due to the affordable price.
These shield sunglasses include an oversized silhouette for the user's eye comfort. It has striped metal earpieces, which is not heavy but sturdy. Along with the lenses, its polarized gradient lenses are UV-coated. It means you can wear them on a sunny day for a more extended period. 
Over the bridge, it has a pill-shaped logo adornment. It makes sunglasses unique and stylish. There is a brand logo at the left arm and edge of the left lens. Its integrated nose pad makes it comfortable to wear. The cherry on the cake is that it comes with a protective cage for secure storage.  
4. Carrera Men's Carrera 166/s Aviator Sunglasses, GOLD RED
Whether it is spring or summer, Carrera 166/S adapted with any season with its glorious design. These finely rounded pilot silhouette sunglasses are the real deal to complement your style. 
These premium-quality sunglasses are made from a blend of metal and acetate. The frame and lens come in a rounded pilot shape. It also includes iconic flag stripes at the outer edge of the frame. Even after so many combinations, these glasses are lightweight enough. 
Besides, its polycarbonate lenses have mirrored bronze-tone finish to give a sleek outlook. The sunglasses have rubber side shields in between frame and lens. It ensures lateral protection and superior grip. Overall, these sunglasses have a perfect balance between performance and style. So, go for it!
Conclusion
Ok folks. So far, we can say Carrera sunglasses are the absolute best option you could get. All the sunglasses in our Carrera sunglasses review are undeniably the best pair out there. If you are in a sound mind to pick any one or more of these sunglasses, you can proceed. So, find the correct match with your outfits.