Are you a man of color and worried about clipping your black hair? Especially when going to the barber has become a lot more difficult and expensive, many opt to shape their hair at home. That is the reason you now should quickly find out the best clippers for black men. 
You should be able to style and shape your unruly black hair at home without the hassle of visiting a barber every time. And so will it save a lot more cash than you had to spend previously for each barber visit.
Best Clippers for Black Men (June 2021)
See also: 
How Can To Make Hair Clippers Last Longer?
Hair clippers are electronic devices, and they, like most electronic equipment, can wear out after heavy use. That is why it is necessary for your part to take proper care of it. There are some ways you can follow that should extend your clipper's life. 
Clean the Blades: If you want your blades to last longer than usual, you should clean them after each use. Many clippers come with added brushes. Use them to properly get rid of the remaining hair and dirt after use. You can also use a toothbrush for better performance. 
Oiling the Blades: You'd find a tiny lubricating oil bottle with most of the packages. It is there for a reason. You should use the oil regularly so that your blades remain smooth. 
Avoid Moisture: One of the main enemies of electronic goods is humidity. If kept in a humid environment, the possibility of your device not working is high. The moisture contents present in a humid atmosphere can often trap inside your clipper, causing electrical malfunctioning. So keep or charge your device at places that are dry, non-wet. It should significantly increase your trimmer life. 
Read the Instruction/Guide: Each trimmer comes with a detailed guide in English, and sometimes they have instructions in multiple different languages. Anyway, we think you must read it thoroughly. There you'd find key information as to how you should operate the device correctly. 
Check Whether it is Waterproof: This is something significant. Right now, many of the trimmer manufacturers are opting for waterproof technology. So, the idea of trimmers being entirely okay for use in the shower can become normalized in your perception. 
And it's a recipe for destruction. Because there are many trimmers out there that are not waterproof, so, if you mistakenly forget to make sure whether your trimmer is waterproof or not and start using it during the shower, the consequences can be disastrous. So now you need to pay close attention before use. 
How does Your Trimmer React to Your Skin?
As an African American Male, your skin is a lot more sensitive than others. You can quickly develop skin-related issues if you're not using the safest and the best clippers for black bald heads from the market. Scalp's exposure to unguarded trimmers may lead to developing different scalp issues you may not have wanted. 
That is why you must get trimmers that are ultra-safe on skins. Its design of the blade has to be safe enough so that it protects your skin from acting negatively. Trimmers with coated blades with guards are really good and should save your skin during the operation. Using trimmers like this will highly reduce the possibilities of developing itches, rashes, and irrational sensations that you may have faced after clipping/ trimming.
Best Clippers For Black Men
Right now, we'd be speaking in detail about the 10 best clippers from the market. Our researched and informative product ideas can make your purchasing easy. 
1. Wahl Professional 5-Star 8148
So, the first item we'd talking about is Wahl's incredibly highly famous 5-Star Magic Clipper. This is by far one of the best clippers for black men you'll ever find right now for shaping hair. 
It is powered by a strong rotary motor which should easily tackle this hairline. Gives you an outstanding 90 minutes of working time, enough for complete body trimming sessions.
One interesting feature it has is, you can both use it with or without a cord. If you've forgotten to charge before and run low on battery, then just plug in the cord and continue your business, highly convenient! 
 Plus, you get an effortless clipping experience with sharp Stagger- Tooth blades on the go. Instant clipping without pain as the blade guards are there for a safe, cuts-free shaping. 
Use the taper to have blended and faded, and use the six different combs that come with the package to style as you desire. Keep the clipper clean with the lubricator and brush anytime. 
Although it's hard to notice any drawbacks of a significant sort, it is better to know that all electric devices are prone to wear and tear, and this too can fall prey to that. So, better care is suggested. All in all, the item looks outstanding, and we'd highly recommend it any given day! 
Pros
Stagger Toth Rotary Blades 

Powerful Motor 

90 Minutes Work Time 

Both Corded and Cordless Use 

Blade Guards Makes Trimming Safer 
Cons
Can be Prone to Wear and Tear 
Bottom Line
Wahl 5 Star 8148 is a complete piece of equipment, from it's staggered toothed blades to study motor output, this can be a total game-changer for you any day. Comes with a long 90 minutes of long battery while you also get to continue safer trimming with the cord. So, a great pick for home hairstyles any day! 
2. OSTER 76023-510 Pivot Motor Clipper
Clipper guides are incomplete without Oster. That is why we bring you a highly well-received, one of the best clippers for black men, the Oster 7602. Why is it seen with such respect? 
Well, the first reason is the strong and effective motor installed in it, an essential part of any man's clippers. It helps you glide through rough and coarse hair patterns with ease. 
The almost quiet clipper can be used with an extended 8 feet cord. It will help you reach the difficult parts with ease. 
If you like clipping hairs wet, you can do it with this. One of the key issues some men face is the problem of moving the heavy piece of equipment while trimming. But with its ergonomic design and added grip, you get to hold it correctly and glide it through your hair without any difficulties. 
One of the downsides includes the possibility of pulling hair during use. Although it can be an issue, sometimes, this is an impressive device overall that you must have for a problem-free trimming experience. 
Pros
Strong Motor 

400;">Cuts Hair Easily 

Extremely Quiet 

Ergonomic Design Improves Handling 
Cons
Can Sometimes Pull Hair 

Can't Use Cordless
Bottom Line
Oster 76023 is a quality device with a powerful motor that comes without much noise that would have bothered you. Can be trimmed both dry and wet and has an 8 feet long cord for more flexibility. Can be an issue as it sometimes pulls hair during operation yet a complete clipper on the whole. 
3. Wahl Professional Balding Clipper 8110
If you want a professional-grade experience at home, then bring this Wahl Clipper because it has what it takes to be a pick for the professional barbers. Let's see what it holds in store for us! 
Get the precision of the barbers added with the extraordinary powerful motor with an outstandingly faster-cutting speed. It would surely quicken up the clipping/shaping session to a great extent. 
Improved precision blades let you style your hair exactly as you desire. The blade guard is there to make clipping safer and use the brush and oils that come with the package to clean and maintain this exquisite item.
This should be an easy device to effortlessly maneuver through your hair for an extended 50 minute working time.  
This quiet clipper comes protected under a year-long warranty, and you get a travel pouch with it as well to carry it wherever you want. 
Being a professional-grade clipper, it can be slightly difficult for regular users to understand crucial blade settings, which we regard as downsides. But overall, it can be seen as one of the best barber black hair clippers and a must recommended. 
Pros
Professional Grade Clipper 

Precision Trimming 

Extraordinary Fast Motor 

Lightweight 

1 Year Warranty 
Cons
Bottom Line
Wah's 8110 is a commercial-grade trimmer with unbelievably fast blades that cut like nothing else. Gives you a 50 min long cordless, safer trimming and doesn't make much noise either. This highly sophisticated item can be a bit difficult to operate for regular individuals as well. 
4. Andis 04710 Professional T-Outliner Clipper 
Here is another classy professional-grade clipper for your convenience. This unbelievably admired and sought-after item comes with almost all the possible features you may need in a clipper. 
You can use this incredible device to precisely trim the edges of your hair and other body parts. The rapidly moving magnetic motor comes with a long T- Outliner, fun to work on, quickly trimming down large hair areas within moments. 
Precision trimming isn't a dream anymore. Because of its fine-toothed blades, you should be able to efficiently perform close cutting for more accurate finishing. 
The housing is designed for maximum comfort while holding and maneuvering; it should be comfortable while clipping.
Although it comes with an extended 8 feet cable while having a hanger loop attached to it, it's still not as flexible as cordless clippers. 
Overall the device looks pretty sharp and can be considered as one of the best clippers for black men that you can get. 
Pros
Precise Trimming 

Magnetic Motor 

T Outliner 

Fine Toothed Blades 

Easy to Grip 
Cons
Corded Clipper May Compromise Flexibility 
Bottom Line
Andis 04710 is an extremely popular item with precise trimming done with it's T outliner. Comfortable housing and extraordinary fine-toothed blades make it a wonderful clipper to work with. It's an amazing clipper only; using it with a cord can be slightly restricting for you.
5. OSTER Classic 76 Universal Motor Clipper 
This has to be on the list! Oster classic 76 is a common name among men and provides you exceptional clipping features we should be going through. 
First, this incredibly accepted item has an exceptionally robust universal motor, which we think is a perfect match for rough, unruly black hair any day! 
Blade guards present in the device should offer you trimming sessions with maximum safety and make the whole experience irritation-free. 
Housing with special texture patterns makes you grip it with ease, thus making users able to perform hair shaping with great accuracy and flexibility. You'd also get the cleaning brush, blade oil, and clipper grease to keep it shining and well maintained for years-long use! 
The issues we found out are with the clippers. Sometimes they're prone to damage after heavy use. Apart from it, the clipper looks cool on the whole and can be a great item on the deck! 
Pros
Powerful Motor 

Blade Guards Maintain Easy Trimming

Easy to Grip 

Comes with Extra Items to for Maintenance
Cons
Clippers May be Prone to Damage After Long Use 
Bottom Line
The well-known Oster classic 76 comes equipped with a highly functioning universal motor technology supported with its blade guards for safer and quicker clipping. A textured exterior enhances grip while extra accessories help you maintain the device better yet slightly weak to damage after long time use. 
6. Remington HC4250 Shortcut Pro
How can we skip the legendary Remington HC4250? This futuristic-looking clipper is among the few incredibly admired choices in the hair clipper line. 
First, we'd like to mention the uniquely small design that fits in your palm, making clipping more comfortable than ever before! 
With a pull-free stainless steel blade, you shouldn't find it difficult to trim out those stubble black hairs within a few moments. 
Comes with a range of 9 different combs that allow you customizability to a whole new level. Unlike many of the trimmers in the list, it does come with a rechargeable battery inside, which should easily give you 40 minutes of flexible trimming without the need to be attached and entangled to wire all the time. 
Wide and rounded blade design gives you a complete contoured clipping you always wanted. You also get the extra goodies like combs, oils, and a travel pouch for easy carry. 
 This item being a rechargeable clipper is something that you should care about and maintain well because it is slightly prone to wear and tear after prolonged and heavy use. Apart from this minor issue, it should provide you special clipping sessions on the whole! 
Pros
Stainless Steel Blades 

Powerful Motor 

9 Different Combs for Customization

Rechargeable and Cordless 
Cons
Bottom Line
Remington's HC4250 comes with its unique exterior design and a pull-free blade technology for easy hair clipping. A variety of combs and a long-lasting 40 minutes of cordless trimming makes life easier. Contoured clipping with extra goodies makes an intelligent choice for men of color. 
7. Andis 01557 Professional Master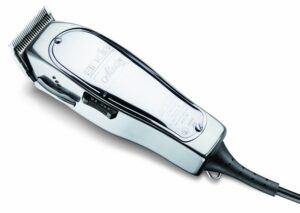 Now at the 7th spot, we have another Andis master professional class hair clipper. This shiny silver clipper is an all-around cutting and tapering expert and one of the best balding clippers for black hair.
You'd be surprised to learn that this outstanding piece of equipment can generate a great 14000 cutting strokes each minute, which should come quite useful for unruly black hair any day. 
An adjustable blade lets you customize your trimming from coarse to fine. This device also features a unique thumb-controlled side switch for a more convenient performance. 
This is perhaps one of the sturdiest clippers in the list, with its aluminum body, it should provide you with years-long service without any issue.
Despite the overwhelming number of positives, it does come with an issue, but it's not that serious. That is, while trimming, it may sometimes clog. We'd recommend you to clean and maintain it properly for smoother output. 
From unbelievably fast motor to quiet and clean performance, it's a special clipper for men of color on the whole. 
Pros
Professional Class Trimmer

Fast-Paced Motor

Adjustable Blade 

Sturdy Aluminium Housing 
Cons
Bottom Line
With a quickly performing motor having 14000 cutting strokes every 60 seconds, Andis 01557 is a powerhouse! Sturdy aluminum body backed up by an adjustable blade; this clipper should be a highly useful item to have. Although the positives are there, clogging issues can be a nuisance for you.
8. Wahl Professional Peanut Clipper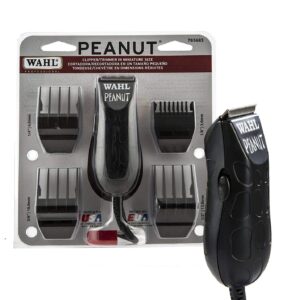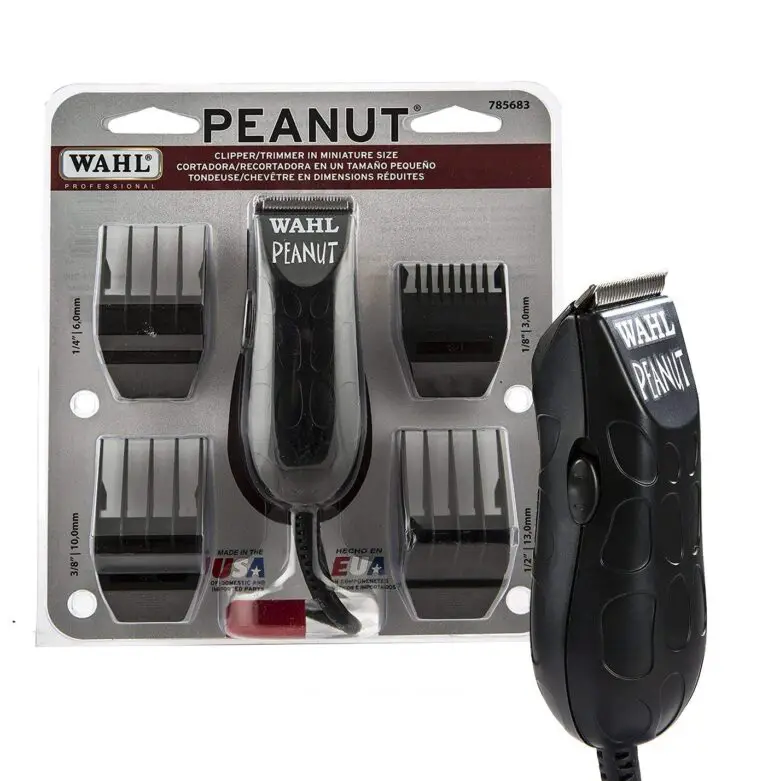 Now we'll discuss Wahl's much-revered professional peanut clipper/ trimmer that any man of color would find easy to use and can be used as balding clippers for black hair. 
First, this peanut trimmer comes with a powerful rotary motor that enables you to trim faster than regular usage. If you want to trim with the utmost accuracy, then this trimmer can help you because it has a precision blade installed, which should provide you with accurate clipping and trimming.
Another thing that seems interesting to us is the weight of this item. Weighing only about 4 oz, this ultra-light clipper should be unbelievably easy to hold and glide through dense hair for a long period.
Despite having multiple positives, this trimmer comes with a little issue. That is its medium-ranged cable. The trimmer isn't rechargeable, so it can be slightly difficult for you to operate with a cord that is a little longer than 6 ft. 
Except for this minor problem, we think the trimmer should perform well on the whole. 
Pros
Powerful Rotary Motor 

Trim at a Quick Speed 

Precision Blade Improves Accuracy 

Extremely Lightweight 
Cons
 Cord Could Have been Longer 
Bottom Line
Highly renowned Wahl's Peanut Clipper is unique and stylish. Powered by a fast rotary motor that is enhanced with precision blades. This lightweight trimmer is a highly useful item for a longer trimmer session. The short 6 ft+ cable is slightly limiting but not a bad choice on the whole.
9. BaBylissPRO Outlining Trimmer for Black Men
Here we have the stylish looking GoldFX clipper by BabylissPRO. First, the notable thing is its body. The whole body is constructed using metal. So, it should be a sturdy device to operate. 
Moreover, this professional classed clipper has a blade with serious specs. The blade is a Zero-Gap Titanium T Blade, which is a perfect item for styling hair with the tiniest details. 
Often cables can become a problem, highly limiting your flexibility during operation. Again, not having a cord gives rise to more problems as you cannot operate it if your battery is low. Both the issues are tackled easily in this clipper as you use it with a cord or go cordless. 
Battery duration is outstandingly well too. With an astounding 2 hours runtime, you should not have any issues trimming wherever you want at one go. 
Loaded with tons of features, it too has one or two drawbacks. One of the issues is it may seem a bit too delicate, so we suggest you use it with care and caution.
Except for issues such as these, we find the clipper fairly standard overall. 
Pros
Full Metal Body Makes it Sturdy 

Zero Gap Titanium T Blade 

Gives Detailed Trimming 

Long Battery Duration 
Cons
Can be Weak Against Rough Use 
Bottom Line
Gold FX by Babyliss is a heavily constructed metal trimmer that should perform exceptionally well with it's Zero Gap Titanium blade for a quicker and detailed trim. The cordless flexibility is doubled with an unbelievable 2 hours battery backup. The item though can be a little prone to wear and tear but still quite handy for any man. 
10. Braun All-in-one trimmer MGK3980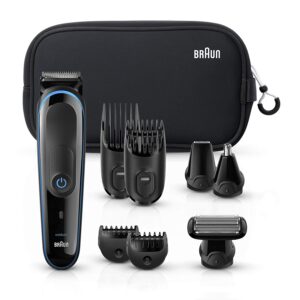 We're concluding our guide with one of the most renowned names in the clipper/ trimmer industry, Braun. Immensely admired, Braun's MGK3980 is a surprising 9 in 1 hair clipper. Loaded with numerous adjustability options, this clipper can be a game-changer for black men. 
You can use it for body grooming purposes and precision clipping as it comes with 4 different combs that offer an array of 13 exact lengths from 0.5 to 21mm. 
Exceptionally durable blades give you a long service time while on the other hand, it's intelligent power mechanism adapts to any voltage mark within 100 and 240v.
It also has a 1 long hour battery duration, a period that should be more than enough to trim all the body parts easily. Last but not least, the device is 100% waterproof making you able to use it in the shower and aid you in terms of cleaning it after use.   
You may find issues with the battery life though; chances are that the battery may tend to drain a lot faster after some time. Except for this, we think it is a pretty useful item overall. 
Pros
9 in 1 Clipper Provides Adjustability 

Multi-use Properties 

Durable Blades

Voltage Adaptability 

Waterproof Item
Cons
Bottom Line
MGK3980 9 in 1 clipper has a detailed 13 variety of style settings that can trim between 0.5 to 21mm. Heavy-duty sturdy blades with a quick voltage adaptation mechanism make it a highly dependable choice. This waterproof clipper comes with an hour-long trim time for complete grooming at one go. The battery quickly-draining is an issue to think about yet shouldn't be a bad pick. 
Buying Guide to Get the Best Clippers for Black Men
There is no shortage of clippers in the market if you're seriously looking for one. Every day the market is being bombarded with a new and unique set of clippers with a variety of features and functions. 
We're here to give you a shortcut that would enable you to find the best hair clippers for black males among hundreds of their choice. Below we are mentioning some key points you should check before finalizing the purchase. 
Go Cordless 
Most of the battery-powered trimmers usually hold out for 40-60 minutes, which is enough to clip your hair without any issues. Then what is the need for cords? Barbers use corded trimmers because they need to run it continuously, which is impossible without being connected to a power source always. 
But for individual use, we think it is better to go cordless. It lets you use it wherever you want to; you do not need to stand close to a power source always. You can shave in the bathroom even if there's no socket present inside. To find the best cordless hair clippers for black men and enjoy a cord-free trimming. 
Good Grip 
Another important thing is how good you feel holding it. Although it may not take hours and hours for hair, hair clipping may seem exhausting. That is why we need to get clippers that have a quality grip potential. It will make your long, trimming sessions easier. Further, it will reduce drops extending the life of your device. 
Sturdy Housing 
Make sure you get tough housing. It is the key component that protects the inner electrical components. Some devices we listed have tough covering formed with stainless steel, which we think can be a good add-on. 
Noise 
This is an exciting feature that you should pay close attention to. Because some devices are extremely loud and can be an irritating experience while operating. 
Furthermore, it can also irritate the people around you. If you're trimming early in the morning and the rest of your family are asleep, it would not be a soothing encounter afterward. Anyways, we'd thus, suggest you get devices as quiet as possible. It will make your operation, whether long or short, soundless and won't bug anybody. 
Motor and Blades 
These are the main parts of your trimmer. Try getting a fast and powerful rotary motor. Increasing operational speed will give you lightning-fast clipping within the shortest amount of time. It will ease your job to the maximum. 
Blades are another essential part. Try looking for trimmers with sharp and effective blades. It would make the unruly black hair disappear within seconds, making the tough job feasible for you.
Weight and Warranty 
Heavy trimmers would make your job of cutting down black hair even more difficult. That's why we suggest you check the importance of the device and go for lighter alternatives for ease of use. 
Having electronic goods with a warranty is best. Even if they're manufactured by renowned brands using the most sophisticated engineering, you may unluckily end up getting a faulty batch making you regret the decision. 
That's it; if you consider all the objectives mentioned above, we hope you'd be able to find out the best clippers for black men's hair easily. 
See also:
FAQs:
How do black men use hair clippers?
Try putting firm pressure when you start clipping. Start from the downsides and move upwards around the scalp. While you do the clipping, try holding the trimmer strongly with your hand. You can also use a comb to make sure you get an even finish.
What Clippers do professional groomers use?
Usually, professional groomers use high end corded devices. We have mentioned some of them in the list which you check out, for example, Wahl Professional 5-Star Magic Clip Cord, Andis 04710 Professional
How often should you change clipper blades?
The period varies between individuals, but mostly it is around 3 to 4 months.
How do you cut men's hair with clippers for beginners?
The main point here is to follow the hair growth direction and cut the opposite of it. It'd provide you with better precision. Try making a section with hair clips or brushes in the middle separating the two slides. You can then quickly try out the sides and the back. Then trim the middle portion to your desired level and keep it by the sides.
Is there a difference between human and dog clippers?
Yes, they're different. As the human scalp hair and the dog's body hair are of different shape and pattern, the clippers are also not the same.
To Sum Up 
Hair is one of the key identifiers of style for black men. It is the sense of their pride and identity! Furthermore, how you groom your hair says a lot about yourself subconsciously. 
If you have messy, under-groomed hair, the rate of your acceptability among your peers may go down where a finely tuned hair and groomed to perfection would indeed be admired by both people known and unknown. So, only hair clipping, trimming, and grooming is one of the essential things for men. 
So, what are you waiting for? Be your barber; design your own hair instantly with the best clippers for black men right now. Get a perfectly groomed appearance and elevate yourself among your peers.