Last Updated on
There are countless numbers of electronic shavers out there in the market. But which one do you buy? How are you gonna make the best use of bucks which you earned with patience and hard work? It gets even more difficult when you're buying electronic razors for an elderly man. To learn more about it, go through our short guide on buying the best electric razor for elderly man. 
5 Best Electric Razors For Elderly Man
Preview
We recommend..
Runner Up
Premium Quality
Under 100$
Affordable Price
Title
Braun Electric Razor for Men, Series 7 790cc Electric Shaver with Precision Trimmer, Rechargeable, Wet & Dry Foil Shaver, Clean & Charge Station and Travel Case
Panasonic Arc5 Electric Razor for Men, 5 Blades Shaver & Trimmer, shave sensor Technology, Automatic Clean & Charge Station, Wet Dry - ES-LV95-S
Braun Electric Razor for Men, Series 9 9370cc/9290cc Electric Shaver With Precision Trimmer, Rechargeable, Wet & Dry Foil Shaver, Clean & Charge Station & Travel Case (packaging may vary)
Panasonic Arc4 Electric Razor for Men with Pop-Up Beard Trimmer, 4-Blade Foil Cutting System, Flexible Pivoting Head – Hypoallergenic, Wet/Dry Electric Shaver – ES8243AA
Philips Norelco AT830/41 Shaver 4500, Rechargeable Wet/Dry Electric Shaver, with Pop-up Trimmer & Cleaning Brush, Frustration Free Packaging
 The Best Electric Razor for Elderly Man
The 5 best electric razors for an elderly man, we're going to do a review helping you to choose the best one.  
1. Braun Series 7 790cc Electric Razor (We recommend..👑)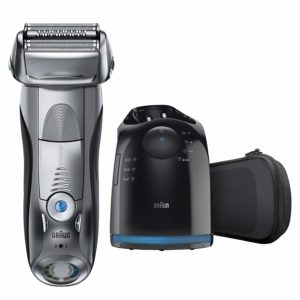 This one is another of Bran's top shaving kit. Before the 9 series, this one was their flagship model. Let's talk about the details of this particular Electric Razor.  
One of its features as Braun claims this to have is Intelligent Sonic Technology, similar to the 9 series one, this too is believed to automatically increase power where the hair is denser and decreases the power where the hair seems lighter. Pretty smart, we think. 
Another feature that Braun introduces in this electric razor is the ActiveLift. It is supposed to capture hairs that are lying and helps to cut them. Moreover, it also manages hair in problem areas.  
Their trademark Opti foil or Foil shavers are also installed in this7 series as well. They're expected by Braun to cut your hair as short as 0.05 mm.  
Braun holds that this shaver is 100% waterproof. So, you'll be able to clean it manually and expose this to the water if what they state is true.  
Finally, what's the clean and charge station? Well, they're something special by Braun, because this station can be used for smart charging as well as for automatic cleaning. Before you start the automatic cleaning, you'll have to insert the cleaning fluid from underneath the charging station and its ready to go. Then you'll have to insert the shaver upside down in the cleaner and press the power button, that's all! So, this can be regarded as one of the best electric razor for elderly man.   
But there's one tiny problem there. Braun recommends you change the cleaning fluid from time to time, as they will get dirty after use. So, changing the cleaning fluid frequently can both be costly and time consuming for you. 
Braun 7 series 

Well-designed shaving head 

Clean and charging station 

Opti Foil  

ActiveLift 
Changing the cleaning fluid can be tricky 

Expensive  
2. Braun Series 9 9290cc Electric Razor for Men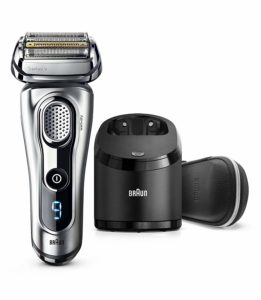 Well, before starting I'd like to shed light on the brand which is behind producing this item. Braun is a German giant who produces shaver to kitchen appliances. They're best known now for high-end expensive electric trimmers. Their German-made products are very well received among men from all walks of life. 
Lets, get into the details of this product. First of all, I'd like to clear one thing out. This is Braun's 9 series trimmer, before this one, they had 1,3,5 and 7 series and it's the last and the most recent one. So, understandably this would undoubtedly be one of the best electric razors for an elderly man and sensitive skin alike. The only con you'll find here is the price that it comes in and the performance compared to the price.  
It has a sturdy shaver head with 5 stages. The gold trimmer in the middle is what Braun calls is the hyperlight and cut trimmer which is focused to flat line hairs and trim them out. Above that there's a silver trimmer is the directing cut trimmer. After that, there is a straight line which is the protective skin guard. Opti foils or foil shavers are on the top and bottom of the shaver head for cutting the finer hair. 
Another selling point of this shaver is the directional shaving capabilities. All the 5 different shaving elements can easily move to different directions for a better and a smooth shave.  
It also has as Braun claims a SyncroSonic technology and intelligent auto-sense technology installed. Intelligent auto-sense technology is expected to understand the various factor regarding your hair and adjust the power simultaneously as claimed by Braun.  
It has an LCD screen on the handle area which tells you how much charge you have left and when you need to clean it.  
This also comes with a cleaning and charging kit.  
German made  

Positive brand image 

9 series Braun 

5 different trimming capabilities 

Directional shaving head 
3. Panasonic ARC5 Electric Razor For Men 
As my style goes, we always speak a bit about the brand the item is coming from. This time it's none other than Panasonic. Well, as some of you may already know, Panasonic is one of the top Japanese electric goods manufacturers with their headquarter at Osaka. It makes several home appliances and electronic shavers are just one of their many products.  
Well, let's get straight into the review of the product. This has what they say an ultra-sharp precision Nanotech blades which are expected to do a good job. They also have what they call ultra-thin ARC foil shaver which Panasonic believes will give you comfortable and premium shaving experience.  
Another selling point Panasonic talks about is its high-performance motor. The motor is important in any shave, your shaving time will depend on how quickly your motor moves. Well, Panasonic says its' 14000 CPM linear motor will give you a shaving that is efficient and quick. This is really good if not the best electric razor for elderly man.   
The sensor is something that is highly talked about nowadays in modern shavers. Well, Panasonic is falling behind in this either. They say this shaver of Panasonic has a built-in sensor that closely monitors the differences in hair density.  
Like Braun, they too have their own version of cleaning and charging station.  
Japanese quality  

Positive brand image 

ARC foil shaver 

Multiflex technology 

Charging and cleaning station 
Can seem expensive to some 
4. Panasonic Electric Shaver- ARC4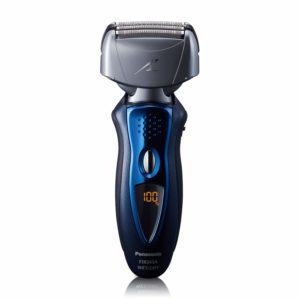 To end it, it's the Panasonic ARC4! It comes with an affordable price point and has a lot of things to offer. Well first things first, the blades. Panasonic ARC 4 has a 4 blade cleaning system. They claim that their foil shavers are micro-thin and therefore will give you precision and comfort. These are really good for sensitive skin as stated by Panasonic. Moreover, Panasonic holds that their foils are made of stainless steel which they hope to follow facial contours for closeness.  
It has what Philips calls a MultiFlex Pivoting Head which they say will give you a good bald head shaving.  
Another factor about this particular product is its design. It looks small and compact seems easy to carry. Moreover, its design has another factor to it. The shaving head of Philips ARC 4 is curved on the outside, so it will help you reach edges better.  
Philips says that you can use this shaver in both dry and wet conditions. It is amazing if what they state is correct because you then will easily be able to apply wet foams and shaving gels while using this. This perhaps may not be the best electric shaver for the head but overall it's pretty good.  
Furthermore, this too has a built-in LCD display which tells you how much charge you have left. It comes with a built-in pop-up trimmer, charging station and travel pouch. 
LCD display 

Cheap price 

Travel pouch 

Charging station  
5. Philips Norelco Shaver 9700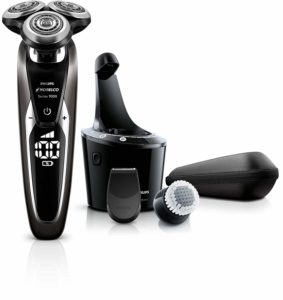 Well, when you think about electric shaver one name comes to mind most of the time. Yes, its Philips! Philips is focusing on electric shaver for some time. Various electronics including light bulbs and other home appliances are made by this Dutch giant which started its journey in 1891. Right, now they're a leader in the market of electronic shaver/trimmer. 
Philips Norelco Series 9700 is as they claim is designed for ultimate skin comfort and glides smoothly over the skin cutting all the hair perfectly.  
It has a very unique and stylish design. The look of this shaver is quite amazing. One thing that is unique to this electric razor is its rings.  
This shaver has a large display which gives you detailed charging information. Moreover, this display also shows if you need to clean the shaver. So, it's quite good. 
Another thing that Philips thinks can make a difference is what they call NanoTech Precision Blades. The blades which are installed in their rings are equipped with extra strength and sharp edges, as stated by Philips. So, Philips expects this to give you an efficient service through this.  
Other things include a precision trimmer that you can use for extra accuracy. Moreover, you're also getting a premium travel case which has two functions. It works as a protective agent from any outside force as well as helps you travel with ease and comfort.  
Dutch Quality  

One of the most recent Philips innovation 

Ring design 

Excellent shaving 

 LCD display
SOne of the most expensive in the market 
The buying guide on getting the best electric razor for elderly man
Electric razors nowadays are becoming more and more expensive. Yet, people want to get rid of the hassle of regular razors and use electric razors. There are some things that you must keep in mind before buying electric razors. Some of them are discussed in brief.  
Price 
As we said earlier trimmers and electric shavers are becoming more and more expensive each day. They're putting in several new features as well making the shaver more complex as well as giving a sort of uniqueness to it. 
Yet, we all mustn't forget about our price range, no matter how much a high-end shaver may offer, we are bound to follow our price range. Thus, the best thing to do is, to get a good shaver within what seems affordable to you. 
Blades 
The design and the materials used in the blades are something to look for. Almost all the electric shavers nowadays have foil shavers installed. Better to get which has micro foils. Further, make sure the blades are stainless steel. As many of these shavers can be used with water, they were stainless steel is a must or you risk your blades getting rust.  
Directional Shaving Head
To clean the different places and edges properly you'll need blades that are not static. Previously the blades of the trimmers were static sitting at the same place. But right now, more recent shavers are introducing multi-directional blades. Which will adjust itself in edges and ups and downs? This will give you better and proper cutting capabilities.  
Brand 
The brand does matter while buying electric shavers. There are countless electric shavers in the market. But you're not gonna try each and every one of them to see which one gives you better quality and experience.  
The first filteration any individual does is the brand. They will see what the top brand in the world currently is in the electronic shaver market. Brands too because of ensuring the quality over time builds a sort of responsibility to honor their name. So, they're sorta bound to make good products as well.  
Rotary vs Foil  
There is an immense debate about these two. Whether you should go for a foil or a rotary? Well, the main thing that these differ is the length of the hair. You may go for a rotary if your hair growth is good and have to cut longer hairs. Another strength of rotary is they're quiet.  
Foil, on the other hand, focuses more on precision. Foil's thin and tiny screens give you better closeness. So, you expect a more precise shave with a foil than a rotary. But, the foil has its drawbacks as well. They tend to struggle with longer hair and takes a lot more time to cut than rotary.  
Our recommendation 
There are many things which we discussed above, in terms of having a good buy. Well, lets come to the recommendation part. If you wanna go for the best in the market, then it's undoubtedly PHILIPS! 
Yes, its Philips Norelco Shaver 9700. It has perhaps all the things that you can expect from a good electric shaver. Although you'll have to pay a high price for this, it has most of the qualities to regarded as one of the best electric shavers right now in the world. This can be regarded as one of the best electric razors for sensitive skin.   
Next up in my listing is the ARC 4. TBH this one seems a lot more balanced to me. It has most of the features of top electronic shavers but the price is affordable as well. It comes with a charging station, foil shavers, LCD display and last but not least the trust of Japanese made electronics. With the price, We think it's good. 
Related posts: Best Trimmer for Balls
Final Words
Buying a product with your hard-earned money is always a bit difficult without some sort of assistance. So, there are buying guides and reviews for you. 
Electronic shavers are of many types and sizes. You are the one who decides what sort of shavers to buy based on your hair growth. 
Should you go for a rotary or a foil, is getting an economic choice is enough or do you need the high-end stuff? 
Learn more and understand more reading our guides and get the best electric shaver!
Was this article helpful?