Getting a proper dreadlock is difficult; maintaining one is even more so. If you followed our guide on how to get dreadlocks it will be easier. We all actually know how hard it is to look after your locs day in and day out continuously. 
That is why locking gels are incredibly vital. They help you get the hold you always looked for and let you shape your dreads the way you desire. 
You can use the best locking gel for dreads to make your locs more manageable and increase their shine, giving you the complete dreadlock workout you need. But, it can be exhausting for you to endlessly go through thousands of different items to find the one you require. This is where our guide comes in and points you towards some of the standard picks you can go for. 
Best Locking Gel for Dreads
Best Locking Gel for Dreads 
Our guide includes 8 researched locking gels that you can count as your options. We'll go through both the benefits and cons of each product so that you can pick one based on your preferences. 
Jamaican Mango and Lime Locking Hair Gel – Strong Hold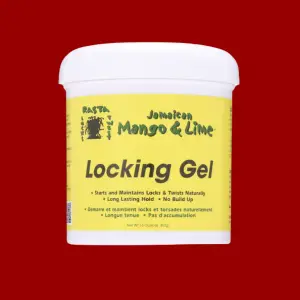 Jamaican Mango & Lime's locking gel is one of the finest dreadlock-friendly ones available. This item is made specifically to create dreadlocks.
The hair-restoring qualities of this locking gel are enhanced by moringa seed oil and manuka honey. The moringa seed oil has zinc, which helps to increase the amount of keratin in your hair. It also makes your hair smooth and shiny.
The Honey from Manuka trees is a great conditioner and has been found to promote hair development. This plus the beeswax gives it a nice scent. We appreciate the fact that this product is free of harmful chemicals such as petrolatum, mineral oil, sulfates, and parabens.
This lock-in-moisture gel does a wonderful job of locking in moisture, not to mention re-twisting locks. You won't have to worry about flakes, dust, or product buildup after applying this locking gel. Our hair never felt dry.
The product also guarantees a long-lasting hold and it delivered on that guarantee. When testing we found that this wax held up great. It helped to add weight to smaller-sized dreads.
Be careful with over-applying this product as we found it left our hair feeling greasy.
Pros
Gel specialized for dreadlocks

Doesn't leave the residue 

Flake free formula 

Long-lasting 
Cons
Greasy feeling with over-application 
Murray's Gel Loc-Lock
This is a well-known gel that provides lovely natural-looking dreadlocks. Sweet almond oil and olive oil are added to it for extra moisturization.
Olive oil is a wonderful hair moisturizer. It penetrates deep into your hair's shafts to retain moisture, making your hair glossy and promoting healthy hair development.
Sweet almond oil has excellent moisture-retaining effects and prevents scalp dryness and flaking. In our testing, we didn't feel any dryness.
This locking gel should give a medium hold for your locs. We found the formula of this product can get a bit watery, so be mindful of that. It has a pleasant smell overall and was very soothing.
Pros
Creamy hold 

Can be used on locs, twists, or braids 

Long-lasting 

Stops flakes 

Moisturizes scalp 
Cons
ORS Lock and Twist Gel 
The ORS lock and twist gel is a fantastic tool for anyone who wants to lock or twist their hair.
The texture is white almost like a jelly, and it has a light scent. The locking gel quickly gets absorbed into your hair to provide good effects. It's great because it didn't feel sticky and was very light on the hair.
We did find this left the hair feeling slightly dry though.
You won't have to worry about your hair looking greasy and this gel will not leave any flakes.
In testing, we found a little goes a long way for this locking gel. So for best results only use a small amount when applying. Test daily to find the correct amount for yourself.
This gel is also great for those who want to transition their hairstyle or have short natural hair. The best part is that this product is inexpensive.
Pros
Used natural ingredients 

Provides Moisturization

Improves loc manageability 

Tackles Flakes 
Cons
Bronner Brothers Tropical Roots Gel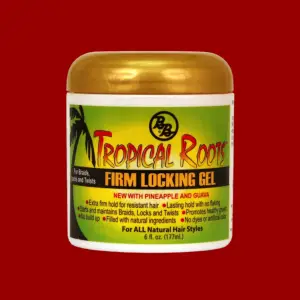 The Tropical Roots firm locking gel really gives you the sensation of being on a tropical island vacation without the travel. It's loaded with pineapple and guava fruit and that has a very exotic smell.
Look no further if you are searching for a locking gel with a firm grip that can handle your unruly hair. This gel provides you with a durable hold that endures whatever you throw at it. We found this gel to be one of the toughest in terms of hold.
It's also wonderful for those with sensitive skin because it washes quickly and cleanly, allowing you to avoid any buildup or residue that could be left behind.
This solution is comprised of natural ingredients that are highly beneficial to your hair. It does not contain any harmful chemicals such as synthetic dye or color.
We will always lean toward more natural hair products, as synthetic ingredients can cause dryness, itching, or even rashes in people who have sensitive skin.
This is an excellent product for maintaining braids, locks, and twists and with all the natural ingredients It also promotes healthy hair.
Pros
Strong hold

Lasts for a prolonged period 

No flaking

Less build-up 

Natural ingredients
Cons
It may not work on some hair types 
Jamaican Mango & Lime Lock Gel
We bring you another gel from the dreadlock expert Jamaican Mango & Lime. This one has its own unique properties, one of which is its no-itch formula plus cooling.
Gel up your locs without the irritation of itching and enjoy the long-lasting cooling sensation you always desired from the locs. The cooling feels very refreshing and will wake you up in the morning.
Its moisturizing properties are essential for reducing dryness from your dreadlocks. Once again the all-natural ingredients are present in this product so no worries about harmful chemicals.
Despite its moisturizing contents, we found it can leave your hair greasy with build-ups.
The bright color of the formulation can be an annoying factor as it can be visible within your locks. Once dried this isn't as visible.
Pros
No itching 

Gives cooling effect 

Moisturizes your dreadlocks 
Cons
Can be seen through the hair 

Can be greasy
AFRICAN FORMULAS Super Grow Hair Gel
This one by African Formulas is a trendy choice among dreadlock enthusiasts. This hair gel has some unique properties that make it into the list, such as its extra strong hold that locks your hair and makes your dreads stay where you want them to be.
We loved how strong the hold was on our dreads. Not only does it hold your hair in place, but it also boosts hair growth, prevents hair loss, and enhances a thicker hair formation.
This super blend of biotin and placenta extracts plays an essential role in terms of boosting new hair growth. It also reduces hair loss and supports thick hair formation. Though we did not use it long enough to see those benefits and would require continued use.
Despite its high hold and therapeutic capabilities, it can be slightly smelly, which was a minor drawback for us. 
Pros
Natural Formula 

Extra Tough Hold 

Boosts Hair Growth 

Reduces Hair Loss 
Cons
Stylin' Dredz Mouldin' Gel Wax 
Stylin' Dredz brings their mouldin' gel wax for your dreads. We begin with its extraordinary hold capabilities. It should last you all day long. And this item is specially crafted to be used on your dreadlocks.
Further, it gives your scalp a soothing sensation, increasing the hair's moisture. Shine comes with its softening touch, removing dryness and extra build-ups. 
This gel felt great on our hair and the shine it provided was an added benefit. 
Enriched with tea tree oil will leave the hair and scalp feeling moisturized.
Despite its healthy characteristics, it can have some issues working on fine and silky hair types. One of our testers reported that this product very heavy feeling and is too strong for their hair needs.
Pros
Tough hold 

Specially designed for dreadlocks 

Soothing sensation

Tea tree oil for moisture

Can soften hair 
Cons
Can have issues making it work on fine hair 
Locksteady Tropical Dreadlock Tightening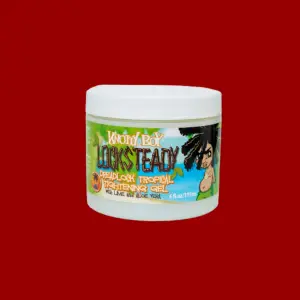 Knotty Boy's Locksteady Tropical is our final product on the list but still a great gel for dreads. 
As you perhaps already know, Knotty Boy is among the very few manufacturers who specialize in dreadlock products, and this gel prioritizes dreadlock hair. 
This natural formula provides you with the manageability that you require to keep the frizzy dreadlocks in control. Apart from it, the gel can easily be washed away because of its comparatively lighter weight.  
The tropical lime fragrance is very pleasant and not overpowering in our opinion.
This is why you can expect a cleaner dreadlock even after using it because it is not waxy, so you shouldn't be worried about its residuals. 
One of the issues we encountered is that may seem slightly sticky while using. 
Pros
Focused on building dreadlocks 

Natural ingredients used 

Easy to wash away

Increases locs manageability 
Cons
Is Gel Better than Wax for Dreadlocks?
This is a question many ask while using hair products on their dreadlocks. Although we try to tackle it, there is not a singular answer to this question. It depends on multiple factors. There are also so many options for dreadlocks instead of using wax.
So, wax is a much stronger, sticker substance and can be suggested when you need to hold your curls down. It is also difficult to get it off your hair as it's not water-soluble. It can often stick to your scalp and create a mess of buildup as a result. That is why even if you use it, go for small amounts. 
Gel, on the other hand, gives you hold but is not as strong as Wax. It is recommended for frizzy hair. It increases manageability while giving your hair a wet shine. The gel is water-soluble, so it isn't that hard to get it off through washing. 
Both can play their parts in terms of getting you a quality dreadlock, based on hair type and preferences. But we think gel is slightly on the safer side than Wax. 
If you are interested in learning more then check out our complete guide to using beeswax for dreadlocks. 
How to Get Gel Off Your Hair Properly 
Often it is the case with dreadlocks that you put in a few products, and then they tend to stay more than the period you want them to. The case can intensify with gels as they're slightly sticky. 
Some gels can also leave a residue, blocking your hair follicle and creating itches and irritations. To get rid of such possibilities, you need to learn how to get the gel off your hair properly. 
First, try getting everything removed from your hair like elastics or bobby pins, etc. Then put water down your head slowly. Make sure the water is slightly warmer to the point that you can stand it because the gelatin element in hair gels will melt in the warm water. 
Try using cleansing shampoos for dreadlocks and wash out. After it tries pouring some pineapple juice and rub on your scalp gently, make sure you're able to reach the scalp properly. The remnants of the gel can be left on the scalp, so it is essential that the pineapple juice reaches your scalp with the fingers' help. 
Now again use warm water to clean out the pineapple juice along with gelatin. 
Finally, use your shampoo to lather up. Do as mentioned in the previous steps and completely rinse out everything with water. Continue pouring water as long as your hair isn't totally free of any sort of oily or sticky substance. 
Buying Guide to Get the Best Locking for Dreads 
Getting the best products for starter locs can get slightly problematic as it is now difficult to find hair products that strictly focus on getting dreadlocks. That is why we have here some guiding principles, following which can lead you to purchase the right product you deserve! 
Natural Elements 
Having natural elements is vital. If your gel uses more chemical ingredients, it can have an adverse effect on your scalp in the long run. Try going through the ingredient list thoroughly and find items that are naturally good for your scalp. 
For example, Aloe Vera is a clean natural, that is packed with tons of benefits, like reducing hair fall, improving blood circulation, and many more. 
Coconut Oil, on the other hand, improves shine and moisture.
Almond Oil strengthens your hair with its many Vitamin contents. Whereas, the Olive oi purifies your hair with its rich antioxidant properties. Make sure key ingredients are present in your gel to a considerable amount. 
How Good it Can Hold
Although we care about the health perspectives, the main reason you may want to use the gel in the first place holds. Gels make sure your dreadlocks stay in place. So, if you want to design and keep your hair the way you desire, you must have a stronghold gel. 
Try to make sure the gel you're buying isn't something mild or soft rather, it is strong and tough in terms of a hold. It will offer edge management and keep unruly hair in a place. 
Easy to Wash Out 
Always try to find gels that are easy to wash away. If they leave a sticky, greasy feeling after use, it can be highly damaging for your scalp as it builds loads of residues. So, try finding formulas that are easy to clean. 
Avoid Chemicals 
Avoid scalp-destructing chemicals such as paraben, sulfate, petroleum, and mineral oil. Having these in the formulation can be detrimental to your hair. That is why you must make sure your gel is free of these chemicals. 
FAQs:
Can you use gel to lock dreads?
Yes. Gels are often used to lock in dreads.
Is locking gel better than Wax?
Using gel to lock is slightly better because Wax can leave a sticky residue because of its nature. Gels also leave some sort of leftovers but not as bad as Wax.
What is the best locking gel?
Best locking gel depends on 3 particular characteristics. One, it should have a stronghold. Second, it should have natural and scalp health-boosting capabilities. And thirdly, it should be easy to wash away.
How can I lock my dreads fast?…. (Mention here all about GEL)
Use your gel to saturate the lock. Now try to coil, wrapping sizable hair strands with your finger using gel. After completing the process, you'd notice that these strands have turned into dreads. Now continue doing the same until all your hair is done.
How can I lock my dreads at home?
You can lock your hair using specialized dreadlock gels at home. The sticky nature of the gel should help you get dreadlock more quickly than other hair products.
See also:
To Sum Up 
Haircare items are something you should always pay close attention to. If all right, it can help you get your desired dreads quickly, and if not, it will ruin your dreadlock but will also significantly damage your scalp health. So this is why you need to find out the absolute best locking gel for dreads. 
Check our list and do your own research. Get the best gel for your dreadlocks right now and style your hair the way you always wanted!