Finding out the one from the huge collection of what is branded as the best men's belts for jeans can be tough, we agree. We've come far from the concept of jeans being something you wouldn't find comfort in or want to wear all day. It is being worn in professional environments just as much as being casually put on for a night-in at a friend's. And other than comfort, jeans have added fashion to every outfit ever, thanks to the number of ways you can wear them.
This brings us to the need of using belts with jeans. Either to put the wearer at ease, to elevate the outlook, or just as an accessory that uplifts the game in the literal sense of the word.
But amidst all these things that you are trying to achieve, you have to make sure your jeans carry the right idea across. Let us help you with what we have got here.
Best Men's Belts for Jeans
Top 10 Best Men's Belts for Jeans (and What We Considered Before Choosing them)
In order to find you the best men's belts for jeans to go with your perfect pair, we had to do some hard work and we don't mind at all! We tried to give you a diverse collection so that almost everyone's happy. And these belts are chosen on the basis of the occasions you could face too. Other than that, there are a couple of factors including durability, material, and construction that we thought of while putting out the list. Hope you like this!
1. Journeyman Leather Belt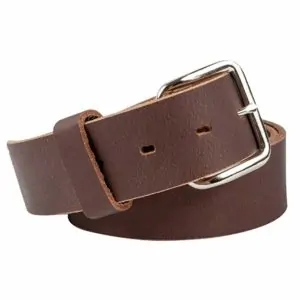 This leather belt from Journeyman is one of the best leather belts for men, available in 2 different colors: brown and black. It is said to be so comfortable that you can wear it every day, whether you're going to the office or at a casual hangout. It comes with a removable buckle. So if you love the material of the belt but aren't quite satisfied with this buckle, you can replace it with your old one.
The product is durable. So it will hold up for a good amount of time before you need to get a new one. You can be sure of its reliability since it is made using full-grain leather, which acts to make it a tough piece. It has a width of 1.5 inches. The fact is that it doesn't split or stretch with use. So you have quite a rigid, sturdy buy for a belt.
All in all, it is a solid piece built to last and takes the load of your everyday use. 
Pros
Comes with a great sizing chart with your comparative pant size so that you do not have trouble finding your right one.

Has quality full-grain leather in the making.

Holds up well with time.

Comes at a reasonable price.

The belt is thick and sturdy.

Great workmanship

Comfortable to wear
Cons
It doesn't stretch with time.
2. Mio Marino Men's Ratchet Dress Belt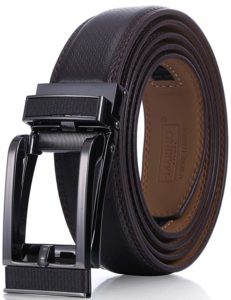 What's new and different about this one from Marino avenue is that you can use it very easily. We mean, belts are supposed to be easy. But it takes things one step forward. It comes with Linxx buckle-style. Here, you just have to lift the buckle and pull, then sweep the belt across to auto-lock the belt. Pretty sleek, guys. And it is as easy to remove as it is to fasten.
Another thing we found interesting about this is that it has no holes. Yes, a belt without holes. Instead, you have "adjustments" along the line that makes things more comfortable. The buckle is stylish and scratch-proof.
It comes in black, brown, mahogany, light tan, burnt umber, gun-black silver, and a couple of different styles. And you will find the piece inside a beautiful gift box. So it gets more points for nice packaging and being one of the best leather belts for men.
Pros
Exclusive and sleek buckle design and functionality.

Premium quality leather.

Classic collection.

Excellent stitching and craftsmanship.

Meets both sophistication and style.

You can customize the size of your belt for the right fit and no sloppiness at all.

Can be sent as a gift
Cons
Gliding the end of the belt to the buckle takes a little effort.
3. BS-40 100% Full-grain Leather Belt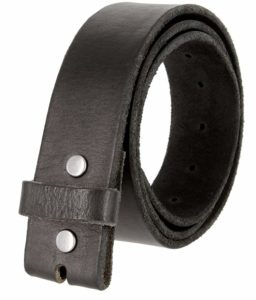 Who doesn't like uniformity? 
If you know that the clothes you wear, the paper you write on were made all from one single source, wouldn't you be amused and pleased with the buy? In making the belt, the same cowhide leather was used. So you have a uniformity of quality and production in it. Also, it is made from full-grain cowhide leather, and that's what we're seeking.
It has a snap system in it. So you can alter the buckles according to your needs. The belt has a "vintage finish" to it. And as old and gold things do, instead of wearing off with time, it ages nicely. Tell us about one of the best leather belts for men.
There are 7 holes in the strap in total and there's plenty of room for you to work things out or create new holes if you want to. For the best measurements, find out the distance between the folding of the buckle to the first hole that puts you at ease.
Pros
The full-grain leather received much appreciation in terms of quality.

The belt has a really nice surface to it.

Can be sprayed with varnishing spray to make it last longer without issues.

Looks buttery smooth

One of the strongest snaps that sit tight on the leather. 

A well-made belt that will last long

Good quality dye
Cons
Complaints about the leather quality.

Got smelly with time.

Snaps are too close for some users.
4. Mission Men's Leather Ratchet Belt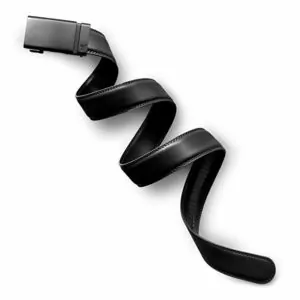 Mission says they've worked a lot to keep the design of their belts, their use and the style that comes with it. The belt will not just fit you well, but its sleek design will gain you compliments.
The ratchet belt comes with an easy buckle system for those who are tired of having to work with the holes of the belt. Sometimes the problem comes in the form of the fitting, the holes being too close or too far apart. And you do not have to worry about them wearing out. Here, you just have to glide the belt through the buckle and the lock will hold the thing in place. Then just pass the belt along with the loops. It is also easy to take off by pressing the metal lever behind the buckle. Quick work for those who do everything at the last minute, that is us. Easy-going, handy, removable buckle.
The belt is made from leather but has a synthetic coating on top.
And the last thing, with your every purchase, they pay to remove global hunger by feeding the poor.
Pros
One of the earliest manufacturers to sell ratchet belts, so you have originality

Great leather quality

Comes in simple designs

Comparatively smaller widths than other similar belts.
Cons
Rivets are poorly adjusted. 
5. Bulliant Men's Designer Ratchet Belt
Bulliant takes pride in not just simply making the belts but putting effort into designing them. The corners of the buckle, the back of the belt which people don't notice, are as important to them as the front of them, which is visible.
They like to use natural materials to make your belts. The belt is made of leather, needless to say; and the buckle is made of zinc and is resistant to scratches. Also, for those who worry about having the tail of the belt hand too down low, you can have a custom fit by cutting the belt end to your choice of length. The "top control" feature allows you to lift the buckle, glide the strap through, release the buckle and your belt is locked automatically.
The product comes in a stylish gift box which is great packaging to us. And this is, to us, the best men's casual belts that work great with formals too.
Pros
Feels and looks good.

Easy to put on and remove.

Easy to trim and customize with the given instructions.

No holes mean no wearing out.

Great for business or casual dressing
Cons
For those who can't cut to customize too well, it will be ruined.
6. Mio Marino Single Prong Buckle Dress Belt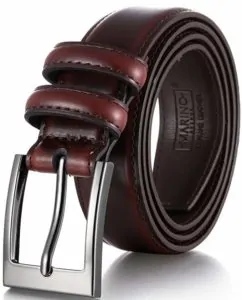 Here's another one from Mio Marino that comes in the shade Mahogany and different buckle design. The durability of Marino's pieces comes from using superb quality material and excellent craftsmanship, such that you can even wash the belt with your hands without the fear of ripping off the surface or bits coming out. This is one of the most durable leather belts.
The basic, single prong buckle is made using a zinc alloy so that rust can't form on it. This also adds to the strength of it and makes it corrosion-resistant. It has an excellent gunmetal color to it that attracts looks.
But wait, we can't call it basic to offend Marino. Because it is more than the basic belt, talk about the color, the stitching, the material, and more. We love the packaging too.
Pros
Premium look and premium leather.

Double-stitched for durability.

Fairly reasonable pricing.

Easy, basic buckle system.

Comfortable to wear, unlike other dress belts.
Cons
The sizing chart causes trouble for some.
7. Lavemi Ratchet Dress Belt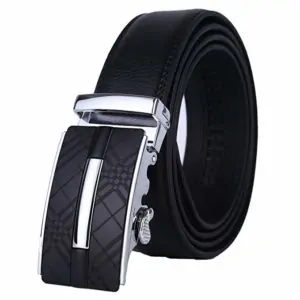 Since 1984, this brand has tried to make no-hole, perfect-fit/customizable, easy-click belts that will lure the lazy yet stylish people, which is us. It comes in colors such as black, brown, white, and blue with different styles to meet the user's taste.
It has a detachable buckle that helps you to cut the strap as you would like it to fit across the pant loops. It will give you a tailored look. They also provide you with instructions so you don't have to scratch your head to find out how.
The belt has thirty-eight ratchet adjustments to make you more comfortable while wearing it. Open buckle, slide, release, and lock for a swift experience. The buckle is made so that it can prevent rust formation, resist corrosion, and have zero-tarnish. Stays shiny all through the years.
Looks great with denim, this product, and overall it is one of the best men's casual belts that you could do with business casuals too.
Pros
Fits you perfectly.

The pricing is within a reasonable range.

With so many adjustments you have unlimited customization options.

The leather looks beautiful and is of great quality.

Appealing style.

Excellent buckling system.

Sophisticated patterns.

Quicker to take off than traditional belts.

Comes with instructions.
Cons
Not following the instructions will result in bad ways.
8. Hanks Everyday Heavy-duty Belts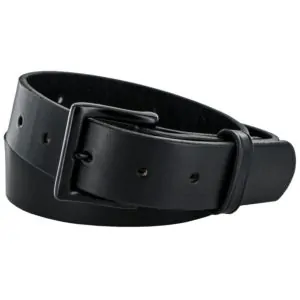 One of the best genuine leather belts made in the USA, we have a super-durable one from Hanks belts. It is made of full-grain leather so you can only wonder about the quality and durability of it. The leather is derived from the top layer of the hide, which is the strongest part.
The buckles have Chicago Screws on them, which are easily removable to allow you to add your favorite buckle to this belt by removing what they gave you. No harm in that. The good thing they have tried to address is that by making "heavy-duty" belts, they made sure your belt doesn't have weary holes or crack at places, even if you use it every single day for long hours. So you have the sturdiest belt made in the USA of single-piece, full-grain leather that is guaranteed against breakage, cracking, splitting and wearing off. We're not doubting at least qualities here.
Pros
The leather is super strong, thick, and heavy

Fit you with the right size better than the ones that have holes super close to the buckle.

Doesn't hurt your stomach if you are sitting or standing.

Made in the USA

Removable buckles.
Cons
No dye-painting/coating on top

A lot of holes make it a little too extra
9. Mio Marino Dress Belt with Open Linxx Buckle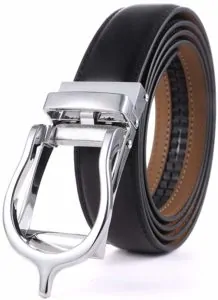 We're back with Mio Marino, this time with a different buckle style. As we said already, it features genuine leather and has a zinc alloy-made buckle that adds to the durability of it. There aren't any holes in the strap, but it does have 30 unique adjustments on it, with which you can work out your way. Also, for easy and perfect customization, you can trim the belt and control the length. The finishing look that you get is modern, trendy and a speaker of personality. It is available in different colors that can match your fashion sense.
We almost forgot. The unique part of this belt is the open linxx buckle. You will have it look like the traditional belts with an open buckle where you can actually see the strap that is inside it, but you're technically playing with a linxx buckle, not a normal one. So it gives out an illusion but puts you in comfort and control. Just lift, glide, release and lock!
Pros
Excellent concept and look.

Easily adjustable

Great functionality.

Excellent for a professional appearance

The simplicity of buckle design.
Cons
Wears out if not cared for properly.
10. Mio Marino Linxx Buckle Dress Belt
This is the last one from Mio and the last one on the list. By now, you've known how linxx buckles work so we're going to bore you.
The belt is made using genuine leather, has no holes in it, can be fitted to perfection with the adjustments and trimming and has a tough and durable zinc alloy-made buckle.
This is just like the Marino above, except the linxx buckle being enclosed this time. And did we say it comes in up to 44 waist size? Cool, right!
Pros
Quality is impressive for the price of the belts.

Looks professional

Super comfortable to wear.

Thicker and more rigid leather.
Cons
The buckle system is a little louder than the others
Match the Jeans with the Belt: How to Work It Out
Suppose you get yourself one of the best men's belts for jeans from our collection or one that you chose. How do you plan to match it with your jeans now? Match as in, not color-match; how do you work things out together? Here's how.
Shoes
This is an easy and quick tip. No matter what you accessorize with, take a look at your shoes. They will decide a lot on what fabric (and color) you should go for in the belt. Or you could do the opposite and balance things out.
If you have to wear leather shoes as a part of your office dress code, or to a formal event, the belt calls out to be leather. In this case, the color and material of the belt should match that of the shoes. If you are wearing black, glossy leather shoes, we want you to put on a matte black leather belt. The same goes for the brown ones. Also, you could play with texture and color. Instead of wearing suede belts with suede shoes and casual belts with sneakers and canvas shoes, you can wear a light brown braided leather belt and dark brown, high-shine tassel loafers. You'd look stunning if you know how to pull that off.
To dress for casual, with your pair of crocs or easy slides, wear something light instead of opting for leather. Think cotton or lighter fabrics.
Width
If your belt is more than 1.5 inches, it is wide. If it is less than 1.25 inches, it is considered narrow. For the versatile properties of Denim, you will look good with both sizes of belts. But if you still want the opinion of outfit experts scrolling through Pinterest, we want you to pair a narrow belt with dark-colored jeans and wide belts with those that have a lighter color.
Buckle
No harm if you want to match things up here too. Your buckle can hit it up with the color of your shirt's button or cufflinks or any accessory you plan to wear. Could be your watch too. But if you think that's too much to ask, there's no harm in not following this. Simpler buckles are sophisticated. Large, boxy, or shapely ones suggest that you are aware and confident of what you want people to see in you. With casual ones, you can always be creative.
Break the Rules
Whatever has been said above can easily be not followed if you look dapper while looking the opposite. Contrast brown shoes with dark leather belts, change the rules! If you can pull things off while being respectful to the -place you want to wear these to, no one's complaining!
Things to Consider Before Getting a Belt
There are a couple of things you need to know before you buy the best men's belts for jeans all by yourself. Let's take a look at them:
Measurement
You need to pay attention to the length and width of the belt. The length of your belt should be bigger than the waist of your jeans. Common sense. Go for 1-3 sizes above the waist size you opt for when buying jeans. The length of your belt size will also depend on how much "tail" you want to have hung after the buckling. Some prefer the tail to be longer, whereas some want it to be short and precise. And when you're wearing leather belts, you don't usually let it hang down too much. With casual belts, it is tolerable until you're doing too much.
About the width, we've told you already.
Watch out for the size of the loops on your jeans too. You don't want to buy a belt that won't go through the loops. 
Material
Your belt can be made of vinyl or leather, vinyl is the cheaper one. Most times, variations and modifications of leather are used when we mean belts because vinyl takes you too much on the informal side. Leather is very versatile in that case. 
Colors
You should have at least two belts if you own a pair of jeans. It does not only freshen up your look but also gives out the delusion of a new outfit with just a small change. You should wear colors that you are comfortable in. You can try out bolder, brighter colors like red, blue or even yellow. But it's hard to say if it will work out. Depends a lot on your style. The different shades of brown and even maroon or dark red works. Black is the best bet you have. Sometimes even white does the job. So try things out.
Buckle Style
Securing your belt with the right buckle that holds things in place while rounding up your overall look is super important. There are different types of buckles that you can have:
The one with a tongue. There's a tongue in the middle of the opposite side of the buckle that you have to enter through the holes of the belt.

The one with a  metal latch through which the belt slides and keeps things in place with the help of a peg.

 The one with a hook that attaches to the front of the belt.

Miscellaneous.
Dressy vs Casual Belts
The formal belts or dress belts shouldn't be wider than 1.25 inches to 1.4 inches. Dress belts are better off being leather-made. Genuine leather is a bluff if you ask us. It shouldn't be written on your belt or advertised as a part of it. Full-grain leather is the real deal. Your leather belt should be shiny and not have too much texture/designs on it. The simpler it is, the more sophisticated it looks. If you have black leather belts with silver buckles, or brown leather belts with golden buckles, you're doing formal well. You can have suede belts for formal occasions too.
Casual belts are wider than dress belts. They can be made of thinner versions of leather, vinyl or cotton; cotton being the most reasonable one. Men's casual leather belts tend to be less shiny and feature a stitching pattern. Buckles can be square to rounded or anything in general that makes sense.
Jeans
What belt you buy will depend a lot on what pair of jeans you own. So make sure while taking care of everything else, you don't forget what's going to set the base.
Environment to Wear to
As we've said it, the occasion, the environment, the culture and understanding of the people, the time of the day and may other environmental factors will come into play to make the right belt pop.
How to Care for Your Belts
Even the best belts wear off, so you need to care for them properly. This will make sure your ones last long. Here's how you can do that:
Cleaning
Stains are common to have on every piece of apparel; your belts are no exception. Instead of finding out ways to hide them (except for the time being) address them and try and clean them. A soft cloth, some water, and a leather cleaner should do the job with easy wiping strokes. You can use leather conditioners too to keep the shine intact.
Try cleaning your belt with saddle soaps once or twice every year even if it does not have the stain or dirt on it. Hang dry before storing.
Storage
Instead of just throwing them in the cupboard with other belts or in a random place inside your wardrobe, try to roll up your belt or hang it from a hanger. This just lets them be and does not compromise with the shape of it. Allow them to breathe.
Maintenance
Whether you are drying your belt post-cleaning or have recently dyed them, do not store them until they are completely dry. To fasten the drying process do not keep them near high-speed fans or dry them with a hairdryer. Wait for them to dry naturally. Also, make sure you don't keep it under the sun for fast drying.
Humidity Check
Excess humidity in the environment will make the leather damp because of the air being absorbed in through the pores. So do not keep your leather belts in humid areas.
Secret Tip
Rotate your belts. Get at least two of them. Instead of wearing one belt till it completely tears apart, with your jeans, rotate it with the other one. This increases the durability of both belts.
For the Confused Lot: Should I Get Suspenders?
We know. We're supposed to discuss belts that go with jeans, yes. But there are some of you, and we know how the brain works; some of you will be thinking of suspenders that could go with jeans. So a little enlightenment for those who seek it. Let's discuss suspenders for those who can't choose between belts and these.
When belts divide your outfit into sections, suspenders unite them. Come to think of it. With a belt, your segmenting the overall attention to:
Tucked in shirt

A well-chosen, good-looking belt

A good pair of jeans
Screams elevated fashion, right? You give off the vibe of someone who knows how to dress well.
On the other hand, if you get suspenders, you can look good too. But it isn't something you'd wear on a daily basis. And it is more common with tuxedos than with jeans. Also, suspenders are a great option for overweight people who have their pants fall far below the waistline with just belts. Suspenders make you look slimmer and improve posture, too.
Suspenders have a lot of good points but some bad ones too. Belts are more on the versatile side since you plan on putting them with denim. So for both formal and casual looks, we're thinking belts, not suspenders. We hope you're clear now on what you want and what you're getting.
Conclusion
We couldn't emphasize more how important of an accessory the belts are to men. So we want that if you're out there with your snug pair of jeans, get yourself one of our best men's belts for jeans and you're done! (Don't forget the shirt though.) Look trendy and manly and everything else that you want from your outfit. You won't regret the purchase, trust us.