Are you saving up for a new watch? Well, your timing could not be better. Due to easier access to raw materials and increasing competition, the price of a fashionable timepiece is very accessible these days. Also, manufacturers try to give the best quality, as it is one of the core requirements of a user.
Movado is a Swiss watch company that has a strong footprint in the industry, thanks to its vast collection of products. The price of their products is pretty reasonable for the quality they offer. To show you what we are talking about, we bring you this article on the best Movado watch review.
Best Movado Watch Review
Top 5 Best Movado Watch Review
If you're looking for a watch, that's not only stylish but budget-friendly as well, look up the list of products below. You can find all the considerable features in detail, and the strengths and demerits outlined in brief. Let us have a look at our top 5 picks for the best Movado Watch.
1. Movado Connect Digital PVD Smartwatch (Model 3660018)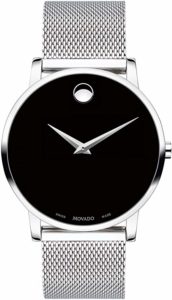 Wristwatches are such kind of add-ons in our outfit that never makes its presence irritable. Instead, they seem to be a silent companion of us that does not make us worried because of its existence. And any time of the day they keep us informed about the time.
Movado Connect Digital PVD Smartwatch has so many appealing features that people can't wait to make them their own. As a smartwatch, the timepiece can be paired with any smartphone, be it android or iPhone. And it keeps us well informed about the activities for which we had to check our mobile regularly.
It will notify you about your daily work and schedule, which we store in our calendar for being in time with our plan. It contains an active-matrix organic LED of 400 x 400 resolutions and 1.39″-screen, which makes it comfortable for our eyesight. And its outer look gives this an extravagant appearance.
This watch is secure to use. Nobody can exploit the data that you use via this device. It has a stainless-steel outer case. This case keeps the gadget safe. The silicon strap of this invention makes it more durable than any other time-telling tool. The battery can last up to one day.
It also has Bluetooth and Wi-Fi connectivity. Another thing that attracts the user is that it has 512 MB of core memory and 4 GB of storage. The buyer also gets a smart module charging cable. And for entertainment purposes, it lets the user play music through the device.
2. Movado Men's BOLD Evolution Blue PVD Watch (Model 3600520)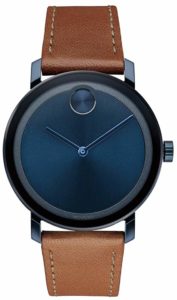 One can't deny the fact that a watch can be a stylish yet sophisticated add-on for a person. They can be worn to give our personality an enhancement. In this regard, the Movado Men's PVD Watch is astounding. They are comfortable, easy to wear, carriable, noticeable, and sleek.
The cognac leather strap of this watch makes it agreeable for its user to wear it often. It's very light weighted and user-friendly. We can assure you that its constant presence on your wrist will never make you uncomfortable. Instead, it will boost your confidence level in any public gathering.
The mechanism of this time teller is crafted very efficiently. However, the internal part of this is well secured by its stainless-steel case. Along with that, this fact also makes it waterproof. To get an accurate time, the makers used Swiss quartz in this product.
Not only that, but the craftsmen also thought about the durability of this watch. For this reason, they applied K1 mineral crystal in this. The specialty of this glass is that this keeps the timepiece scratch-free and shatter-resistant. Even in a very sandy environment, it stays in a great state.
When a buyer purchases this watch, they also get an assurance of longevity and a container to carry it. It makes it easier to buy it without any confusion. Besides, the appearance of this product is a significant consideration while purchasing.
3. Movado Men's Museum Stainless Steel Watch (Model 607219)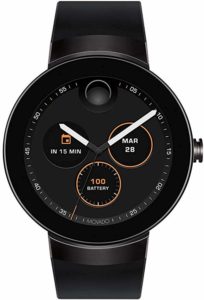 At present, when we talk about wearing a watch, we consider using them only as an add-on. But most of the time we take them with us because it is faster than other devices to show us the time. Also, it helps to maintain the formal appearance.
An elegant watch in this regard would be the Movado Men's Museum edition. This section of Movado watches is easy and standard to use in any situation. The impressive design and structure make it noticeable even in the crowd. The museum dial of this time-teller gives it a different look.
This watch is different from the other models that this brand offers. The stainless-steel case bracelet and silver dots provide a unique look to it. In this kit, instead of K1 glass, the manufacturers used sapphire crystal glass.
It is the second most durable glass of the world, which makes the time kit more reliable than other ones. It also includes the feature which shields it from being scratched from anything edgy.
Let's come to the point of its lifetime. The watch is long-lasting and durable. It has a sturdy and robust design that ensure top-tier performance for an extended period.
4. Movado Men's Bold – 3600259
Earlier people were compelled to wear this time-telling machine to count time precisely. But now it's not the same. Along with informing time, this kit completes our look and personality. The Movado Men's bold watch has a unique design that gives an amazingly good vibe to its wearer.
The materials used in this product make this more alluring. It has a stainless-steel case, which helps it to be irresistible in any weather or temperature. The dial of this timekeeper is numberless, and instead of numbers, it contains sun dots. The water-resistant quality of this is up to 30 meters.
We can wear this on any occasion. The K1 mineral crystal glass helps it to stay scratch-free. Other glasses used in watches shatter or get scratched very often. But this particular glass makes it shatter-resistant. You'll find this type of material in branded watches.
The eye-catching stuff about this watch is that it's more reliable than any other watch. Furthermore, the mechanism of this is made in such a way that it functions precisely in regular use. It's more durable and trustworthy. This machine is more affordable than any other branded time kit.
You can wear this watch in any casual or formal occasion. It's light and easy to carry. It can be taken on a long journey with us without any hassle.
5. Movado Men's Swiss Quartz Watch (Model: 3600366)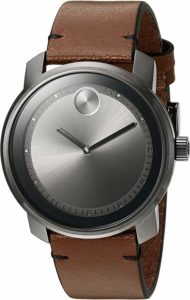 At present, along with style, the durability of a product is also essential for users. And that's what Movado Men's watch provides us. It works nicely even after using for it a long time. This time-teller can function smoothly every day without any interruption.
It will continue to work even after enduring splashes of water. The water-resistant quality of this watch lets us use it even when the weather is humid. You can use this continuously and will not have any drastic effect on it.
The conspicuous feature of this machine is the diameter of its dial, which is 43mm. Firstly, it's numberless, and secondly, the dials which are used in it instead of numbers are sunray dials. The carrier given with this benefits the user to carry it easily on his long journeys.
Another striking characteristic of this is that the watch can is aesthetic in any circumstance. It's suitable for people of any age. This timepiece can make the operator look different, classy, and more sophisticated than others. And thus, it's preferable than other ones.
The most highlighted thing about this kit is that it's cheaper than any other branded one. Furthermore, the affordable attribute of this particular model is what makes everyone want this item. Anyone can acquire this item.
Things to Look for When Buying a Movado Watch
Buying a watch can be quite a hectic process. Even if you are sure about the brand, there are some things that you must consider before making your final decision. In the following section of the article, we will list some tips that can make this daunting task easier on your part.
If you are a skeptic and meticulous buyer, then we encourage you to go through this section for more relevant information carefully.
Movado watches feature several different strap types that are all attractive and goes well with the overall design. However, some people like to stick by a specific kind of band. If you are one of those people, this is a crucial point to note for you.
Watch straps can be made of stainless-steel bracelet, leather, nylon, or even rubber in some cases. Each model comes with its own set of advantages and drawbacks. So, spend some time trying to figure out your preference before you commit to a particular product.
Movado watches usually use one of two movement types; either a Swiss ETA quartz movement or ETA 2824–2 automatic one. They are both excellent options for high precision, but if you are finicky about your watch, then you need to do some research on them.
In general, watches that use quartz movements are more on the affordable range. But you need to keep in mind that a quartz battery needs to be replaced after a certain amount of time.
This is the factor that contributes the most to your final decision. No matter what you like, you are always limited by the extent of your budget. So, when you pick out a couple of watches that you want, you can sort them based on your budget and narrow them down slowly.
But you do not need to feel gloomy. Plenty of Movado watches are quite affordable, and the build quality is never up for compromise. Even if you are constricted by your wallet, you can find a good quality of timepiece by Movado.
Frequently Asked Questions
Where are Movado watches made?
The company has its headquarters in New Jersey and has multiple facilities for manufacturing in Switzerland. These high-quality Swiss watches can be found worldwide throughout America, Europe, and Asia.
Is Movado considered a luxury brand?
Movado makes many high-quality watches and also some affordable luxury watches. However, due to its price range, it cannot be considered a high-end luxury brand like Rolex or Tar Heuer.
What movement do Movado watches use?
This brand of watch typically uses two movements in all of their watches. The choice is always between Swiss quartz or an Automatic mechanical movement.
Are Movado watches durable?
Movado watches are well-made timepieces that can last a lifetime if properly maintained. The batteries in quartz watches do need to be replaced. But they also come with decent durability requiring replacement after around 18 to 36 months of use.
Is Tissot better than Movado?
Both Tissot and Movado watches are Swiss-made, and both companies have something unique to offer to the table. It is hard to pick one over the other since both brands are innovative in their design and quality. So, it comes down mostly to a matter of preference.
Related post: Oris watches Review
Final Thoughts
Any man with a good fashion sense would recognize the appeal of having a beautiful wristwatch. It gives a finishing touch to your overall attire and subtly shapes your appearance. If you are a watch lover, the excellent quality and design of Movado should not elude you.
The purpose of this guide was to educate you in making a smart selection. We hope this Movado watch review was informative and could help you find the one from them.