Last Updated on
Kayaking is the safest and most secure recreational activity. People often hit the waters to escape from their monotonous life. However, kayaking becomes dangerous if you end up buying the wrong watercraft.
So, do not leave yourself susceptible to danger and choose a product that can serve you efficiently. In this regard, we have made an article to help you select a top-tier kayak.
Our best river kayak review contains all the necessary information about watercraft and how to buy them. Therefore, do not let your dreams be dreams; just do it!
Other than boating, one of the best things you can experience on a river or a lake is kayaking. It's fun, exhilarating as well as a healthy activity, which has a lot of benefits for your body.
However, before diving into it headfirst, you should know what products are appropriate for such an adventure.
Top Sellers on Amazon (This
Mon
th)
Top 10 Picks for the Best River Kayak Reviews
In this article, we will be covering some of the best kayaks for rivers, along with their specifications, drawback, and benefits.
POINT 65 SWEDEN Martini GTX Solo Red
If you're a beginner to the world of kayaking, there are a lot of factors you need to consider. There are different kinds of kayaks, based on their designs, sizes, and accessories. If you want a perfect blend of these features, the SWEDEN Martini GTX is the one for you.
For recreational activity, this kayak is undoubtedly one of the best kayaks for the river. One of the outstanding features of it is its portability is that you can disassemble it in two parts, which each weigh 25 pounds.
Unlike other kayaks, the ingenious design of this one allows you to carry and transport it around as well as store it with ease. The lightweight of the single units will let you take it over short stretches.
It comes with a snap tap mechanism, which will allow you to transform it into a tandem with the help of the center section. This equipment doesn't need more than one person to assemble the kayak, and one can do it within a few minutes.
Also, this versatile product is aptly suitable for both children and adults. Whether you want to go paddling or fishing, this sturdy and robust kayak is an excellent choice for a good time on the water.
The kayak consists of an air seat, which also features a flexible backrest so you can sit back and enjoy relaxing or just paddling in the water. The air seat is adaptable and is quite comfortable, and the covers come with honeycomb designed material and soft fabric that is constructed over the EVA foam.
Moreover, it provides braces for foot support, with an additional spray sheet that will keep you dry during a choppy ride.
Lifetime Tamarack Angler Sit-On-Top Kayak
There are so many activities one can perform while surrounded by water, like boating, surfing, fishing, etc. And if you happen to love fishing and have only done it from the shore, you'll realize how exciting and thrilling it must be to try it from the deeper parts of a lake.
A kayak is what you need for an excellent day of fishing since loud boats scare the fishes away. The Lifetime Tamarack Kayak is the best affordable river kayak that you can choose. Since it's an angler kayak, it includes a lot of amazing features that benefits you to fish in the open water.
It features a sit-on-top carrier, which ensures that you will remain calm and refreshed while relaxing in the water and not end up with perspiration. Also, it has high storability, which allows you to store bags, snacks, coolers, as well as beverages.
The compact length of the vessel comes with several benefits. You can easily carry it to your van or the back of your vehicle before you head off for the day. For beginners, this is the perfect kayak to practice since the short length of the hull helps with movement in the water.
If you're worried about where to store your fishing rods, you don't have to! This kayak features 3-rod holders; two are flush mounted and located on the sides of the kayak with one-rod holder on one side.
Moreover, the kayak has a paddle as well as side and front bungees to keep the paddle secured. To sit back and ensure that you go fishing comfortably, it includes a padded seat as well as five-foot well-made straps to help you enjoy kayaking.
Sea Eagle 370 Pro 3 Person Inflatable Portable Sport Kayak (Best Choice)
Kayaking, for the first time, can be a bit overwhelming. But what you will remember at the end of it is not how daunting it was but how amazing and exciting the experience turned out to be.
Choosing an inflatable kayak is preferably the best option if you're trying it for the first time. This particular design evolved a lot during the years and now performs as well as other types of kayaks. The Sea Eagle Kayak is an ideal and the best river kayak for beginners.
A notable and critical feature of an inflatable kayak is its portability. This kayak is extremely lightweight, you can deflate it in a matter of seconds and place it into the bag for carrying it around, which can be done by one person.
The kayak is so portable that you can toss it in the back of your vehicle. Also, you carry it in your luggage to take it to your fancy kayaking spots. The bag consists of front and rear handles so that the user can carry it as a backpack.
It is incredibly durable due to its strong tear-resistant element, which means that a small jab will not damage the kayak. Furthermore, it's protected against sun and saltwater, which completely exemplifies its durability.
Moreover, the five valves attached to the kayak ensure that you can inflate air in it in no time. Also, the valves are one way, so you don't have to worry about the air escaping. Its two molded plastic skegs at the rear ensure perfect tracking and are also very durable.
Furthermore, the two seats in the kayak are quite comfortable and include pouches for carrying snacks, phones, etc. You can also adjust the seats to your liking with the help of the straps.
Vibe Kayaks Sea Ghost 110 11 Foot Angler Sit On Top Fishing Kayak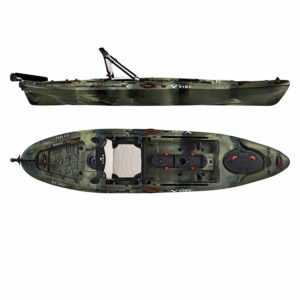 Kayaking has turned into one of the fastest evolving outdoor activities. You can perform several stunts like surfing, paddling, fishing, or just relaxing and exploring the lake or ocean around you. If you're looking for the best river kayak, the Vibe Kayaks Sea Ghost is the product that will serve your needs.
Numerous kayaks can take you across a river, lake, or sea, but only a handful of them are properly equipped as well as budget-friendly. This kayak features a rotomolded polyethylene structure, which ensures durability and also provides enormous impact resistance.
Its hull design is similar to a pontoon with many grooves, which makes it easier for fishing. The hull is also wide enough to provide stability. Moreover, the kayak consists of two small hatches that contain dry bags where you can store snacks, beverages, and other accessories.
The kayak's mounting ability is up to par, and it has four gear tracks, two on each side. You can use these tracks for holding the rods and even cameras if you want to record any footage.
Moreover, it also has a bungee paddle place at the front, which gives you comfortable hold on the paddles and two parks on the side to secure your paddles while you fish.
This kayak comes with a sturdy and comfortable seat featuring a vibe hero, which has a solid frame to provide lumbar support. Unlike other kayaks, you can change the position of your seat from low to high and also fold it up and down.
Intex Explorer K2 Kayak (Cheap Price)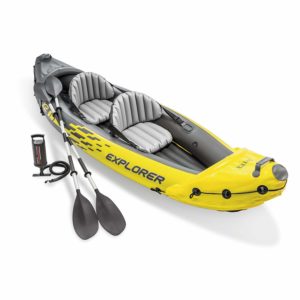 Generally, inflatable kayaks are not as available as their hard-shelled copies, but they are becoming popular day by day because of their easy portability. When you deflate them, the kayaks can fit anywhere from a trunk of a car to a backpack.
They are also quite easy to manage and, in most cases, very affordable, just like the Intex Explorer Kayak that comes with several unique features. It's a big inflatable kayak made of sturdy 30-gauge vinyl, featuring two seats.
One of the factors that you need to have while floating on a vast expanse of water is security. The yellow hue of this kayak might seem a bit of an eyesore at first, but this very element is what makes it significantly visible to other paddlers on the water.
Also, inflatable objects tend to bounce or flip quite often. However, you can be completely assured of the fact that this kayak is quite difficult to flip over while you enter or exit it. It consists of two different air chambers, so if you accidentally get a puncture, only one of the chambers will collapse.
Besides the kayak, you get a whole lot of additional accessories such as a repair kit, a manual pump for pumping air into the kayak, a highly informative manual as well as grab-lines attached to the sides for a smooth hold.
The kayak is incredibly comfortable and spacious, which gives you more than enough legroom. Its removable seats also have comfortable backrests so you can spend hours on the boat without straining yourself.
Vibe Kayaks Skipjack 90 Sit On Top Fishing Kayak (Best Rated)
Kayaking can be an astonishingly meditative and tranquil experience. It might feel like an extensive upper body exercise, but it is also a fun recreational sport. You can either enjoy it by yourself or with friends and family.
It is often difficult to find a kayak with all the features you're looking for, at an affordable price. So, without a doubt, you can hit the jackpot with the Vibe Kayaks Skipjack.
Although this kayak features a unique design suitable for fishing, you can also enjoy it as a recreational boat. The spacious length and width of the kayak ensure high stability. Moreover, the broad edges of the boat allow you to stand on it while casting.
Also, it can be maneuvered quite easily in windy rivers and has a high tracking ability. The razor shaped keel extending from bow to stern gives it a unique tracking power. It's also very portable and lightweight, so you can quickly put it at the back of your vehicle all by yourself.
The seat comes with an adjustable front and with UV protection belts at the back. A backpack that you can link to the rear end of the seat enables you to store snacks as well as other accessories.
Another versatile feature of the kayak is that it has plenty of space for cargo. There are two sealed hatches in the middle and on the bow to store paddling or fishing items. This equipment also comes with various types of mounting gears as well as rod holders, holders for navigating GPS, etc.
Vibe Kayaks Skipjack 120T 12 Foot Tandem
The best thing about kayaking on a river is the different types of scenery you get to see and experience as you travel along the vast expanse of water. Although the different kinds of environments make it an exciting and thrilling journey, you need to be equipped with a proper kayak to enjoy it.
And the Vibe Kayaks Skipjack 120T is the ultimate tandem kayak for you to paddle with your loved ones. It has two completely adjustable seats with inbuilt cup holders, so you can enjoy your beverage while you glide across the water.
You can adjust both seats to your preference by the help of the side straps. This kind of vessel is called a sit on the top kayak, so it means you're sitting at the top of the hull, not inside it. It has a lot of benefits such as higher flexibility, a clear vantage point, and an easy to access gears.
Its seats are also incredibly comfortable, which is quite essential when you want to be out in the water for a long time. Moreover, it has a high capability for gear mountings, and there are four kinds of them available. These will allow you to easily attach things like bait boards, anchor hooks, and many other materials to your kayak.
Furthermore, it includes two mounts for rod holders that are on the sides of the kayak and which run pretty deep. You can also cap them up when you are not fishing to prevent the water from entering. Also, it has a single bungee paddle pack on the sides to store your paddles in and very spacious cargo storage.
SUNDOLPHIN Sun Dolphin Aruba 10-Foot Sit-in Kayak
Whether you're an amateur or a professional, having a sturdy and reliable kayak is mandatory. This aspect will ensure that you have an exciting experience in the water and also remain safe the whole time. So, if you're searching for a fantastic river kayak, the Sun Dolphin Kayak is the one for you.
This kayak features a hull design that is optimal for tracking and turning. It has excellent durability since it is made of polyethylene, which has a high density so that it will withstand underwater difficulties. Moreover, the material will prevent tears and punctures when it occasionally has a run-in with a rock.
The stern and bow of this kayak are quite narrow, which keeps it on the track and also enables it to slice smoothly through the water. It's quite lightweight, which allows it to float effortlessly, increasing the tracking ability.
You can easily carry the kayak into the water or to the rear end of your vehicle as it's highly portable. It also includes a storage compartment at the back of the seat and has an average load capacity, which will allow you to carry a light load of snacks, and other accessories.
Moreover, the seats come with comfortable back support to let you sit back and enjoy the experience as well as flexible foot braces. You can improve your navigating with the help of these braces. Lastly, it contains an inbuilt spray cover that will help you remain dry.
ADVANCED ELEMENTS AdvancedFrame Sport Kayak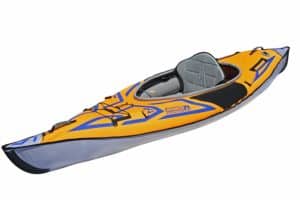 Having a kayak comes with a lot of advantages. It allows you to explore the vast expanse of a river or lake, and drink in the breathtaking views that are not visible from the shore. Also, it benefits your health by giving you a comprehensive workout as you paddle across the water.
The AdvancedFrame kayak is a surprisingly strong and sturdy inflatable kayak when it comes to sound quality. Its material is quite robust and highly flexible than other regular kayaks. Furthermore, the vessel is exceptionally durable due to its dual-coated fabrics, which maintain consistency.
To make this kayak even more durable, it contains stern ribs and aluminum bow. More so, the engineering is so unique that it has the perfect agility and navigation.
One of the most outstanding features of this kayak is its cockpit. As it's an essential space on the kayak, it has been constructed in such a way so that you can quickly enter and exit without having any difficulties. It also has spacious legroom, which the user can also utilize for cargo storage.
Moreover, the seat is quite comfortable, although a little packed. However, the cargo has a bungee cord that is laced over the head of the vessel, which will enable you to carry or transport anything securely.
This kayak also has more than one air chamber, which is quite essential. Remember, if one of the chambers gets damaged, you will have other air chambers to get you safely to the shore. It also has a large skeg that will enhance your tracking and improve your skills.
Oru Kayak Foldable Kayak
The most fantastic part about kayaking is how it takes you to one moment from the next. At one moment, you might be relaxing and enjoying the peaceful movement of the water, ideal for fishing. Also, at the next moment, you could be gliding across the water with full speed feeling the rush of adrenaline and excitement.
It's these instances that will make you want to have a boat like the Oru Kayak. This kayak includes innovative features that will not disappoint you. It has been specially designed for touring, and you can use it to explore all the recreational locations. The kayak is extremely portable and lightweight.
So, you can easily carry it on your own and assemble it for a perfect and casual paddling experience. It also floats excellently on water and unlike other kayaks, comes at a very affordable price.
What makes it versatile and different from the other models is its upgraded folding mechanism. This version has an easy-to-use seam material that you can slip over the other seam to construct a completely waterproof material. It goes under an immense amount of durability and strength experiments, which increases its sturdiness.
This kayak has an optimal turning capacity, and you can easily glide it through the strongest of currents with zero efforts. And you can do this in your comfortable seat with its foot straps that are quite easy to adapt to your preference. Moreover, it's design and structure make it very agile and fast.
Features to Look for Before Purchasing a River Kayak
There is a proverb that goes 'look before you leap.' So, before jumping into any conclusion, you must always judge every detail. In this regard, we suggest that you leave no stone unturned because it will lead you to purchase the best river kayak on the market.
However, the task of buying the right river kayak is not easy. There are many things that you need to consider, especially for such products as they come in different models. So, the first thing that you need to look after before buying a watercraft is its type.
There are many types of kayaks, and all of them have different purposes. Therefore, if you purchase the wrong one, then there is a good chance that it will not be suitable for your needs. Hence, we strongly suggest you check all the types and choose the one that serves your purpose.
Afterward, some other things play a significant role in choosing the best river kayak. So, without any further ado, let us move on to the different types of kayaks and how to use them.
Different Models of Kayaks
In this section, we are going to talk about various types of watercraft. All of them are unique in their own way. Some are easier to paddle, some have big spaces, some are good for fishing, and some are for recreational activities.
Therefore, if you read this section, you will have a general understanding of which type of kayak you must purchase for your activities.
If you are planning to use a vessel on whitewater, then you obviously would want to purchase the best whitewater river kayak on the market. These types of watercraft are specially designed for accurate navigating in clean water.
They usually have a curved bottom and comes in a compact size. On the other hand, sit-on-top vessels are also a good alternative for this kind of activity. So, your optimal choice would be a watercraft that is small and compact.
Nevertheless, this type of vessel is also considered as the best river running whitewater kayak.
These types of watercraft are the most famous on the market. They are the most common and people, especially beginners, buy such products. If you go to any rental shops or retailers, there is a high chance you will find this item for rent.
Usually, recreational kayaks are 10 to 12 feet in length. They do not have any exclusive features that may seem complicated. Also, they do not come with technical hull designs, and for that, their usage is quite straightforward.
Nonetheless, any sit-in vessel is considered as a recreational kayak. Sit-in means that you will be inside the hull, not on top of it. So, these products are incredibly safe to use.
On the other hand, if you are planning to hit rough waters then, sit-on-top models are the ones that will satisfy your needs.
If you are looking for the best kayak for river fishing, then try purchasing that comes with additional accessories or features. For instance, fishing watercraft must have a big storage space, bait wells, and rod holders.
In case your kayak fits all the criteria, then it can be considered as a suitable watercraft for fishing. You must also keep in mind that these types of products come in different designs. However, try to purchase a one that is stable and can handle rough waters.
The sit-on-top model is an excellent choice for fishing activities. Therefore, this type of vessel is also considered as the best river fishing kayak on the market.
Touring watercraft is almost the same as recreational vessels. However, they provide better performance than the former but, on the downside, they are more expensive.
Regardless of their cost, touring vessels are usually 12 to 17 feet in length. Moreover, they are much narrower than recreational kayaks. Therefore, these types of watercraft are much faster and can pierce through the water effortlessly.
On the contrary, touring kayaks are specially designed for experienced paddlers who enjoy the fast speed. Furthermore, these vessels require a little bit of control or stabilizing; therefore, it is best suited for people who have experience.
Nonetheless, touring kayaks are also an excellent option for paddlers who plan to travel a long distance and for a long time. However, if you are inexperienced then, we suggest you check a vessel that is easier to use.
If you are planning to hit the water with a partner, then tandem watercraft can serve you the best. It has a lot of seating space for you and your comrade. If you are a family person, and you are looking for something ideal, then a tandem kayak can be the product of your dreams.
People often confuse themselves with river and sea watercraft. However, they are not the same thing. A sea vessel can handle the rough waters and big waves, whereas; a river watercraft cannot.
For dangerous waters, we suggest a good and sturdy sit-on-top model. On the other hand, if you are planning to travel for a long distance to an island or deep into the sea, your priority choice should be a touring kayak that is made sea ready.
There are some pros and cons to inflatable watercraft. As for advantages, they are much easy to carry, you can store them anywhere, even in a bag, and the good ones inflate within a minute.
However, on the downside, they are not as stable as sit-on-top vessels. Furthermore, they lack durability and security.
Recently, the upsurge of inflatable kayaks is taking over the market. The old watercraft are now being upgraded to better ones that are much more durable and stable. Moreover, they provide exceptional comfort to paddlers with their padded seats and backrests.
Therefore, in the past, choosing an inflatable kayak was not a smart move. However, in recent times, these vessels are considered to be one of the best products on the market.
These types of watercraft are different from sit-in models. In the former one, you sit inside the vessel. However, it is not the same case for sit-on-top models as you will take place on the kayak, and only a part of your legs may remain inside it.
The best thing about this watercraft is that they are easy to paddle. And the sit-on-top ones roll on the water more effortlessly than sit-in models. Additionally, it is much safer and more stable than other kayaks. Therefore, these vessels are an excellent choice for newcomers or inexperienced people.
Nonetheless, there are some drawbacks to this watercraft. First of all, they are not covered, and this becomes an issue if you are paddling out in the cold. On top of that, they lack speed and cannot keep up with touring kayaks.
Besides that, a sit-on-top model is perfect for recreational activities. It is much safer and convenient for a newcomer. Therefore, if you are planning a relaxing weekend on the waters, then, these vessels are your optimal partner.
So, we are done with the types, let us now move to some general things that you might want to have with your kayak.
Durability
After choosing a type, the first thing you need to look for before purchasing a watercraft is its durability. We are all concerned about our security, so this aspect should be your top priority.
While kayaking, there is a high chance that you may bump into rocks or other steep surfaces, and only a durable vessel can protect you from such danger. The durability of the product depends on which materials are being used. We suggest you buy an item that offers heavy-duty PVC plastic or polyethylene plastic.
Stability
The best river kayak on the market should be stable enough to handle any obstacles or harsh conditions of rough water. If your watercraft does not offer stability, then it may end up losing balance when it faces irregular water or weather.
Usually, wider vessels are more stable than thinner ones. However, they lack speed and cannot keep up with narrower watercraft. On the other hand, you do not require speed unless you are racing with your kayak.
So, we recommend you buy a product that is stable and can handle rough waters unless you plan to enter a competition.
Shape
Different kayaks come in various sizes and shapes. The design of a watercraft matters as they determine its speed, maneuverability, and stability.
If you are buying a product for recreational purposes, then your first choice would be a kayak that has a flat-bottomed hull. They are very stable, and you do not require a lot of training to use them. So, these vessels are perfect for inexperienced paddlers.
Watercraft that offers round-shaped hulls are less stable than flat-bottomed ones. However, they are a bit faster and suitable for medium-expert paddlers.
On the other hand, V-shaped kayaks are the fastest ones, but they are quite unstable. If you are not an expert paddler then, you should not purchase these vessels. These are essential elements that you should look for before getting a kayak. However, you can always check for additional features for further convenience.
General Safety Guidance for Kayaking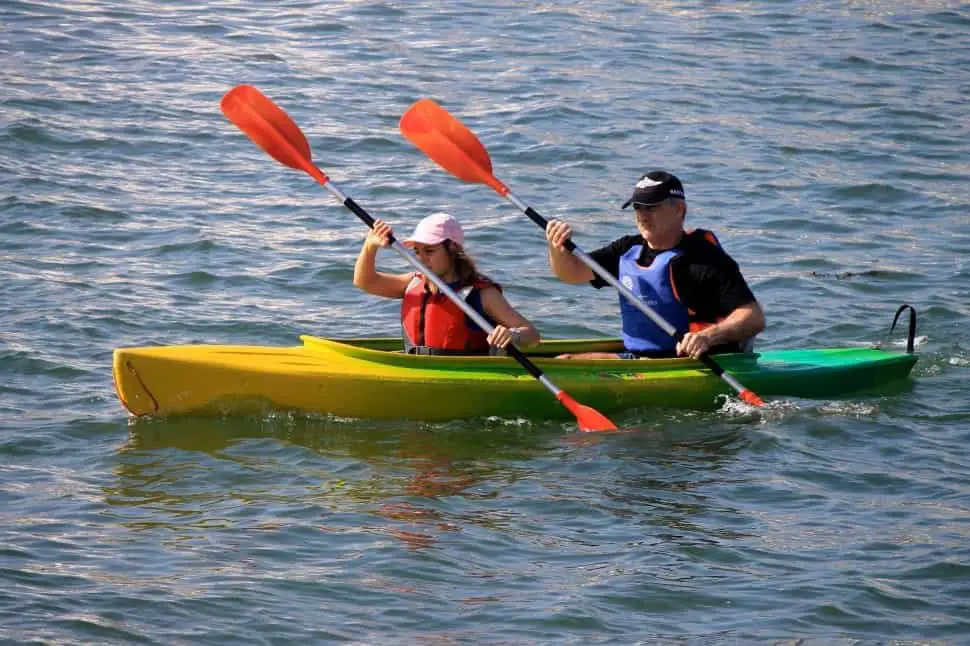 Before going down to the river, always remember that danger does not come with a notice. Therefore, please follow some rules that may save you or your partner from injury.
Wearing a life jacket is the most crucial thing before kayaking. So please, do not forget to wear a life jacket as it is the only thing that will save your life. You should always take enough food and water to stay hydrated.
It is better to check the weather report before kayaking. If it is cold, wear dry outfits that can keep you cozy. In case it is warm, wear long-sleeve shirts to protect yourself from the sun.
Always share information with your partner. If you do not communicate with your partner, then there is a high chance your kayak will be unstable. Learn the basics of paddling from professionals. You should never exceed the weight limit of your watercraft. Also, check if there are any problems or tears with your equipment.
If you are paddling in the surf zone, you should wear helmets to keep yourself safe.
Frequently Asked Questions
Here are some of the most commonly asked queries regarding the best river kayaks:
What sort of kayak is right for rivers?
Well, it depends on your choice and your activity. If you are looking for fishing kayaks then, a sit-on-top model should meet your needs. On the other hand, if you are planning to travel for a long time or go long distances, then a narrower touring watercraft is your ideal product.
If you are entering a competition then, purchase a kayak with V-shaped hull design as they are swift and offer extreme maneuverability.
Can I use a river kayak on lakes?
Yes, of course! You can use both sit-in and sit-on-top models for lakes. However, a whitewater watercraft can serve you the best in these situations.
How can I carry a vessel?
Well, if it is an inflatable kayak then, you can deflate it and store it in a storage bag. However, if it is not, then you must use a vehicle with a classical roof for transporting it. On the other hand, some kayaks are much bigger and require a trailer for portability.
Final Thoughts
Kayaking is, at times, fun and relaxing. However, it soon becomes annoying and frustrating if you have a poor-quality vessel.
We hope our best river kayak review was of help. If you have anything to share, then feel free to comment in the section down below. We love reading your comments, and it brings nothing but pleasure to us.