Do you need to travel to another time in your life? Well, Vince Camuto cologne can help you in this case. You need to go through this Vince Camuto Cologne review to find out how!
Vince Camuto cologne has a transformative quality that wakes something in all of us. That's why it becomes a top choice among men in their fight for female attention. Someone said it right, a perfume can be a symbol of one's personality. 
Vince Camuto cologne is one of the masculine and robust colognes available today. They have an extensive collection of cologne to match men's style and fashion sense. Each of them is the best pick for any trendy people. 
The aroma of Vince Camuto cologne will take you to your favorite time and place instantly. Needless to say that it works as a confidence and mood booster for all. That is why we choose this brand for you. 
In this article, we'll discuss everything about Vince Camuto and one of their best-selling colognes. Hence, what you have to do is to read in the article. Let's get started!
About Vince Camuto Cologne
Fashion designer Vince Camuto launched his namesake fragrance line in 2011. He is also a former CEO of renowned brand Nine West. Vince Camuto has already established clothing and accessories line, but cologne is his recent addition. 
Vince Camuto has launched a cologne lineup in collaboration with perfumers Harry Fremont, Le Guernec, and Steve Demercado. This U.S based company offers different fragrances for both men and women. Their men's fragrances include; 
Moreover, these are available in eau de toilette perfumes and sprays.
The specialty of Vince Camuto Cologne
First and foremost, all the men's Vince Camuto Cologne comes in a beautiful bottle with a fragrance profile. Their cologne has a balanced combination of different aroma and flavors. Vince Camuto Company distributed these favors into three notes, including Top, Heart, and Base notes. 
Vince Camuto's fresh and woody scents with enough longevity are excellent options for any occasion. All their outstanding collections are designed and signed by renowned perfumers. In short, Vince Camuto Cologne will take you to a place where you always want to be. 
Best Vince Camuto Cologne Review: The Winner!
 1. Vince Camuto Eau de Toilette Spray for Men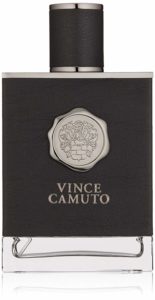 Vince Camuto Eau De Toilette spray is one of the top-selling colognes by Vince Camuto. The famous perfumer Harry Fremont has created and launched this cologne in 2012. Lots of heavy-hitters like it due to its exciting combination of fragrances. 
What's inside?
This Vince Camuto cologne opens spicy and citrus flavors in its top notes. The top note includes the scent of mandarin orange, bergamot, and bracing black pepper. 
Here, bergamot offers a unique yet complex freshness and bergamot flavor Earl Grey tea. Its top note is round and vibrant compared to other citrus notes.
When these three scents of top notes fade, then, they convert into heart notes. The heart note of this cologne is dominated by deep and rich leather. Along with leather, it includes additional flavors of sweet and spicy lavender and nutmeg.
At the end of the day, this cologne is settled down into its base notes. Base notes include a perfect blend of precious wood, patchouli, vetiver, and mask. 
Overall, this excellent cologne is as polished as fine leather. It's bold, fresh, and woody fragrance provides a seductive and powerful message. Indeed, this masculine spray will make you feel sexy and the opposition in control. All you'll get without being too perfumed and too cloying. 
How to Use?
You can apply Vince Camuto Eau De Toilette spray directly to the skin. But, you need to spray 3-6 inches away from the surface.
2. VINCE CAMUTO Homme Eau de Toilette Spray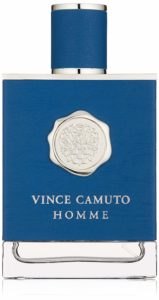 Our second Vince Camuto fragrance for men comes with the same of the modern flacon. Vince Camuto Homme is covered in navy blue leather, and the brand seal is highlighted in a metallic silver form. This tempting spray evokes the sensuality with its distinctly masculine and alluring fragrance. Perfumer Steve Demercado signs it.
What's inside?
This seductive composition is produced in the Mediterranean style by following fragrant coast and intense color. It starts with the blend of intensive lemon, gin, and ozone in the top note. This fusing pressed citron, and iced gin will surely give your day a fresh start.
After that, Vince Camuto cologne features fennel, lavender, blue cypress, and juniper berries in its heart note. This combination will give you a comfortable and sweet gesture.
Lastly, all these flavors will rest on the base note of Atlas cedar, hot musk, white birch, and Artemisia. It will boost your spirit and take you away to a land cherished and gorgeous landscape. Overall, it's a fragrance that you'll always love to wear.  
How to Use?
You need to apply this Vince Camuto Homme Eau de Toilette Spray directly to the skin. Spray this about 3 to 6 inches away from the skin.
3. Vince Camuto Solare Eau De Toilette Spray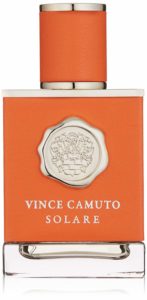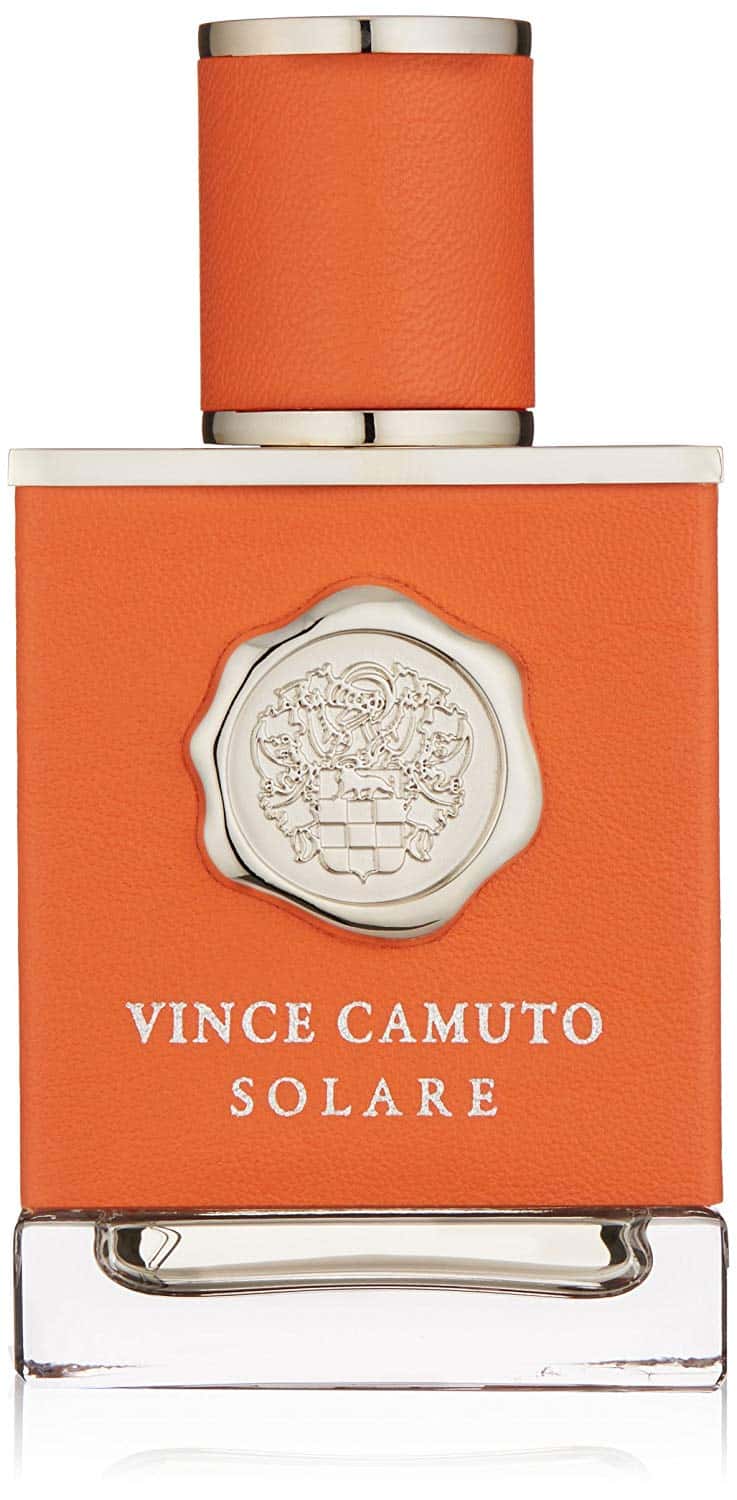 Vince Camuto Solare is the third edition of Cologne by Vince Camuto for men. This spray is dedicated to men who love to wear an oriental-woody fragrance with character. This cologne is active and prominent, so it is perfect for confident men.
What's inside?
The bold Vince Camuto Solare is a celebration for strength and originality. Besides, it has mandarin orange, fresh lavender, and red apple in its top notes. This blend provides a zesty, juicy, and a little sweet flavor. That's why it's a great option to start your day with confidence and enthusiasm. 
After when the top notes fade away, you'll get the fragrance of wild sage, cardamom, and pimento. This provides the heart note or middle note a spicy character. 
Finally, it's base note features sensual musk, Tonka crystals, creamy blonde wood, and cashmere wood. In the end, you'll surely get a woody and robust finish. In short, it conveys a robust yet fresh scent profile.
How to Use?
Like others, Vince Camuto cologne can be used to the skin but 3 to 6 inches away from the surface.
Conclusion
Now that you know the best collections of Vince Camuto cologne from this Vince Camuto cologne review. It's your time to choose a cologne that fits your choice and recommendation. Remember, your selected scent will tell a lot about your personality. 
A quality cologne is what converts the man into a gentleman. So, choose wisely!