When we talk about quality professional grade trimmer manufacturers, Wahl should be at least among the top three. Undoubtedly one of the most reliable clipper manufacturers around the globe. If you didn't know, they would hold the patent for electromagnetic trimmers, which they obtained long back in 1919, when they first started the company. 
Over 100 years of expertise in the clipper industry have made Wahl an absolute giant. So, today we bring you the best Wahl clippers you can get from their hundreds of different models. 
Best Wahl Clippers in 2021
See also:
Best Wahl Clippers 
Our brief yet detailed guide features 13 different Wahl clippers, which you can pick any day for a clean and clear trimming. Let's find out the best from the best! 
Wahl Professional 5-Star 8148
First, it is the long-trusted Wah's professional and one of the best Wahl clippers for professional 5 star 8148. Let's go straight into its specialties. 
One thing that we'd like to focus on is it's staggered tooth blades. It should be a good add-on for you to get a concise cut. It also makes your job less time-consuming. 
Above that, 90 minutes long battery duration helps you get a complete trimming without the hassle of getting tangled in wires. You also get to use it cord if your battery is running low. 
Added with the convenience, you get the much-needed accessories and attachments for more hair customization and better maintenance. 
Despite the positives, we'd still ask you to be cautious during use as it can be weak under heavy and long-term usage. But all in all, it should be a good pick.
Pros
Staggered Tooth Blades 

Use it Both with Cords or Without 

Long 90 Minutes Battery Duration 

Added Attachments for Enhanced Customization 
Cons
Can Malfunction After Long Term Use
This great clipper is equipped with staggered tooth blades for a nice and clean trim, while can be used with or without cords for the most convenience. Extended 90 minutes battery and extra accessories make it the right choice for home clipping any time! 
Wahl Clipper Elite Pro High- 79602
2nd in our list is another Wahl's much well-received clipper. The Elite Pro High- 79602 is one of the best Wahl clippers for barbers. Time to find out the different specifications found in the device. 
Well, the clipper comes armed with precision blades to give you detailed trimming. You can use the taper for better fades and blends. 
A long range of stainless steel clips helps you try out new styling ideas into practice without an issue. The quiet yet powerful motor gives it overall flexibility and soundness during operation. 
Above all, the trimmer comes with a limited lifetime warranty. Except for being slightly prone to wear and tear, we didn't find any issue with it. So overall, an outstanding clipper you can go for any day! 
Pros
Precision Blades for More Accuracy 

Taper Lever Makes Fading and Blending Easy 

Large Array of Clips 

Quiet Device 

Powerful Motor 
Cons
Detailing is not a farfetched thing with the precision blades and taper lever that comes with Wahl 79602. Try out hairstyles like blending and fading at home and add more variety to its multiple clip choice. This quiet and limited lifetime warrantied product is highly recommended for daily use. 
Wahl Color Pro Cordless
Color Pro is one of the best Wahl clippers you may find right now. Let's check out the features that set it apart from the other quality Wahl trimmers. 
So, the thing that sets it apart from the other clippers is the outstandingly wide choice of trimming adjust abilities. It comes with various color-coded guide combs, which should be a game-changer for ultimate customizability for hair stylers. 
To add more to the convenience, it offers you cordless trimming with an hour-long battery duration! Quickly removable blades make it more hygienic since you're open to removing and cleaning it whenever you think it's unclean. One issue you may face is the slower cutting speed, which can extend the operation duration. But apart from tiny matters such as this, it should provide you with a satisfactory output overall,
Pros
Ultimate Adjustability Options

Color-Coded Combs for More Convenience 

Long Battery Duration

Hygienic Properties 
Cons
This is Wahl's one of the most popular devices with extraordinary adjustable properties for an enhanced diversity in hairstyling. Color-coded combs make your job off clipping easy, and its long battery further supports it. So, it's a complete clipper to have in your house for regular use. 
Wahl Stainless Steel Hair Clipper 9818
At the fourth spot, it's Wahl's stainless steel 9818, one of the best Wahl clippers for home use. This clipper features a unique patented blade technology for ease of use. These self-sharpening blades should make fine compatible tools for a more precise clipping experience you always wanted. 
It also comes with various extendable heads like T blade, detailer, nose trimmer. It will allow you a more fulfilling grooming experience than other clippers. 
A rechargeable battery gives you cordless convenience and more flexibility during runtime. One issue that can be a matter of irritation for you is, it can have charging related issues. But apart from these separate incidents, this stainless steel sturdy clipper looks quite good overall. 
Pros
Stainless Steel Housing 

Cordless Convenience 

Self Sharpening Blades 

Variety of Trimming Areas Supported 
Cons
Can Cause Charging Issues Sometimes 
Strong and sturdy built with stainless steel housing Wahl 9818 comes with the extra self-sharpening blade mechanism for a quicker clipping session. Trim multiple areas around the body with its cordless convenience and make life easier!
Wahl Professional Peanut Classic 8685
Right now, it's a clipper from Wahl's famous Peanut Series, the Classic 8685. This aesthetically unique piece of the device comes with the precision of professional grooming. So, you can expect a cleaner and detailed styling from it, giving you a sharp look as a result. 
The design is distinctively positive, makes it easy for you to hold, and glide through your head without complications. 
The clipper is powered with a heavy-duty rotary motor and should help give you a quicker cutting potential than regular trimmers. 
One of the problems we found with it is the cord. Yes, you can use it for an unlimited period as you're connected to power, but the wire can be an irrational factor during complex turns and curves. Despite this, the trimmer should perform well on the whole.  
Pros
Compact Design

Easy Maneuvering 

Accurate Trimming 

Heavy-Duty Rotary Motor 
Cons
Has to be Connected to Power Always 
Wahl's Peanut 8685 is a good choice for precise clipping experience with great looks, easy grip, and flexible maneuverability options. Add to this is its extra powerful rotary motor; it should be a complete pick for normal day to day clipping.  
Wahl Clipper- 79600-2101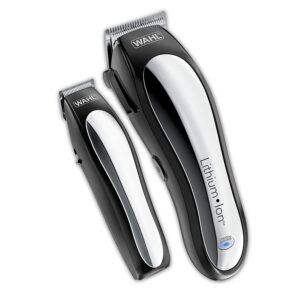 Here are another recent quality and highly admired device if you were looking for quality Wahl clippers for fades. The 79600 comes with tons of features for your convenience. The ergonomic design, to start with, is something that you'd find uniquely interesting, as it will provide you a natural grip so you can easily move it for a longer period. 
The trimmer is equipped with detail trimming technology, blades are self-sharpening, and on top of that, it comes with 15 minutes quick charging capabilities- just wait for its outstanding performance when you bring it home. 
This professional, smooth-cutting, rechargeable smart device can be used on other body areas with ease and a must recommended! 
Apart from the incredible number of positives, you may find the batteries to be short-lasting. But, still considering the unbelievable positive properties, it's always recommended. 
Pros
Self Sharpening Blades 

Distinctive Design 

15 Minutes Quick Charging 

Detail Trimming 
Cons
Batteries may last Comparatively Short 
The beautiful looking ergonomic Wahl 79600 can be a good pick for daily use because of its self-sharpening blades, which will get your job done fast. Charge it up with its speedy 15 minutes quick charging and all over body grooming with detail- all in all; it's just incredible! 
Wahl Professional 5-Star Balding Clipper 8110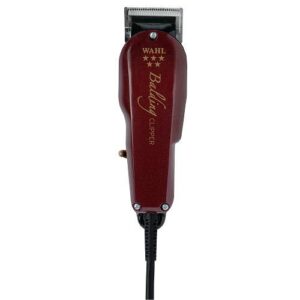 Wahl professional 8110 has to be there without a shadow of a doubt if you're compiling a list of best Wahl Clippers. This clipper is specialized for balding, so bald men would find it extremely useful anytime.
You'll get the professional cutting experience with its titanium self-sharpening blades, which are built to last. You should also consider the heavy-duty electromagnetic motor, which is faster than the regular pivot ones and should make hair clipping a lot less time-consuming. 
Although it comes with several positive traits, you may find it slightly short-lasting because of its weakness against long term use. But, overall, the device should give you an acceptable performance any day! 
Pros
Titanium Blades 

Heavy Duty Electromagnetic Motors 

Less Time Consuming 

Specialize Blading Properties 
Cons
Wahl's 8110 is a versatile clipper that comes equipped with heavy-duty titanium blades and a powerful electromagnetic motor for super fast and cleaner performance. Get your hair cut within a short period and use it for an easy balding experience anytime. 
Wahl Professional Peanut Clipper 8655
This is Wahl's second Peanut Series clipper on the list. Time to inquire more on 8655. 
This compact and small-sized trimmer should be easy on your hand and give you an uncomplicated clipping session. 
If you're a perfectionist and seek a close and more detailed style of hair trimming, this is something you can go for. This lightweight trimmer should give you a smooth output on the whole. Furthermore, it's quite powerful and doesn't pull your hair during operation. 
One of the issues that can bother you much while using it is the noise that it produces. Except for it, this should be a good item to have on the deck. 
Pros
Compact Design

Easily Maneuverable 

Lightweight 

Powerful Motor 
Cons
Designed short and compact, Wahl's Peanut Series 8655 is easily maneuverable, giving you comfort during operation. This lightweight clipper should be fun to work with and comes with a powerful motor installed for a faster hair cutting experience. Despite the noise, it looks satisfactory overall.
Wahl Clipper Home Barber Kit Model 79524
Are you looking for a complete trimming kit that would fill all your hair shaping needs? Then this is something you can count on. This astounding 30 piece kit comes with 3 different devices for special needs. 
It has a PowerDrive cutting mechanism installed, which would give you ultra-fast trimming with 35 percent more powerful trimming than usual electromagnetic motors. So, you can have a lightning-quick hair shaping you always wanted. 
The self-sharpening blades present in the trimmer are durable and give you smooth cutting for a long. 
For more adjustability and better hair grooming, the trimmer comes equipped with the taper levers. 
One issue you can find irritating is with the small trimmer. It may seem a bit too delicate for heavy use. Other than this, it should perform well on the whole. 
Pros
3 Different Devices 

30 Piece Kit for Ultimate Adjustability 

PowerDrive Cutting Mechanism 

Self Sharpening Blades 
Cons
The Small Trimmer Can be a Bit Too Delicate
The 79524 comes with a large 3 device kit and an astounding 30 pieces of various attachments to give you the utmost diversity in terms of practicing hairstyles at home. On top of it, PowerDrive technology, coupled with self-sharpening blades, makes it an undeniable choice while choosing a clipper. 
Wahl Chrome Pro Complete 79524
Our next pick is the Wahl Chrome Pro. Packed up with multiple features, let's see how it will aid you in shaping up your hair. 
To begin with, the motor of this device has exceptional power output. PowerDrive technology enables the motor to make stronger while being 15% less heat-producing during operation. So, you can use it for a longer period without the fear of overheating. 
For a better adjustability and texture experience, you get the taper lever. 10 different convenient snap attachment guards are just the perfect items for quality hairstyle variety. 
The self-sharpening blades should be usefully add ons for a quick and smooth hair shaping experience. 
The device has so many benefits to talk about yet sometimes it can pull hair during operation. Besides this issue, we think it should perform as desired overall 
Pros
PowerDrive Enabled Motor

Prevents Excessive Heating 

Taper Lever Improves Adjustability 

10 Different Snap Attachment Guards 
Cons
The Pro Chrome Complete 79524 also comes empowered with PowerDrive activated motor technology for quicker and cleaner performance. Use the taper lever for more diversification in styling while the device remains cool during the process. Finally, use the attachment guards to bring out complex yet attractive styles. 
Wahl 79467 Self-Cutting Clipper
Right now, we'd be speaking on the clipper with extraordinary self-cutting properties, the 79467. It has a range of adjustability attachments which you can use for a personalized hair trimming you always wanted.
First, the trimmer is extremely quiet, giving you the much-desired pleasure in hair shaping while not waking the whole house up! The adjustable taper does an excellent job of lending you a hand while you do the complex necklines, head, and ears. 
This 22 piece hair shaping kit comes at a smaller and compact looking design, making it a handy item for any hairstyles out there. 
Accessories such as storage bags, combs, brushes, and scissors are some things that you get as extra add ons. Although it comes packed with tons of positive aspects, it can be prone to wear and tear after long term use like many other electronic devices. 
Pros
Ultimate Adjustability Potentials 

Taper Gives Detailed Trimming 

Compact Design 

Extra Add Ons
Cons
Can be Prone to Wear and Tear 
This smartly designed Wahl 79467 clipper gives you detailed and more complex trimming capabilities with its trimmer. You get much extra stuff for maintenance, and it's 22 piece adjustability kit gives you the freedom to go for unique looking hairstyling.
Wahl Professional Super Taper II-8470
At the 12th spot, we have here the Wahl's 8470. It features a 1006 blade; one of this particularly designed blade's main functions is the ultimate smoothness it has to offer. Furthermore, you also get super precision clipping with quicker performance, highly decreasing the painful clipping time. 
The clipper also comes with 8 different attachment guides, which enlarges the options for a variety of hairstyles. 
It also features an 8 ft long chemical-grade sturdy cord and offers a convenient thumb taper of a more detailed output. Finally, the clipper houses a powerful V5000 electromagnetic motor for faster operation. Sometimes the heavy vibration can make you feel slightly disturbed but should be a good pick on the whole. 
Pros
Super Precision Blade 

Quick Cutting 

Variety of Hairstyle Potentials

Long Sturdy Cable 

Powerful Motor
Cons
Heavy vibration can Seem Irritating 
Wahl 8470 is a complete clipper with super precision blades that gives you detailed yet quick clipping. Also comes equipped with a powerful motor for smooth operation and a long powerful cable makes your job even easier. Should be suitable for home clipping. 
Wahl Professional 5-Star Magic Clip 8451
We're ending with Wahl's professional-grade 5 stars 8451. Let's look at some of the key features it comes with. 
It features high precision zero overlap blades; they will easily glide through your hair super fast, making your job of clipping a lot less time-consuming. 
Moreover, the powerful V9000 motor provides you with 50% more efficient than regular motors, making your job of shaping hair easier than before! 
You also get the thumb taper lever for a better and more personalized texture you always wanted. Despite the number of useful traits, the clipper blade does seem to be slightly shorter; thus they can end up blocking the blade. But overall, it sounds like a standard piece of equipment. 
Pros
Zero Overlap Blades 

Quick Trimming 

Power V9000 Motor 

Thumb Taper Lever 
Cons
Wahl Magic Clip 8451 is an outstanding clipper with high potentials for a quality clipping like Zero Overlap Blades for ease during cleaning rough hair. While the V9000 Motor can be maneuvered by the Thumb Taper Lever for extraordinary professional-grade hair styling at home regularly.
The Story of Wahl 
How and when did Wahl begin? You may ask. Wahl started its journey way back in 1919 and quickly became famous. From day one, they continued producing quality clippers and reached where they are today. 
But why does Wahl continue to receive such a positive response from the crowd? Well, there are some reasons behind it you perhaps may not have known all this time. 
1. They Focus on Quality 
Ask any professional barber about Wahl; most of them will have something positive to say. The reason Wahl enjoys such a reputation is because of their quality. They also have trained professionals and smart engineering teams. 
Furthermore, as we understand, they like to experiment. If you search the market for Wahl clippers, you'd be amazed to find the number of different varieties of trimmers they offer. Thus, continuous experimentation coupled with the constant output by the professionally trained individuals working day and night- provides world-class quality output. 
And because of this outstanding quality, Wahl is as highly regarded as they're. 
2. Extraordinary Motors
Each Wahl device comes equipped with different sets of motors. Usually, Wahl uses motors of two particular sort. One is electromagnetic motors; another one is rotary. Most of the time, cordless devices use rotary motors. These are powerful, and you should easily be able to glide through your hair with devices using such motors. 
Electromagnetic motors are usually used in corded devices. These are powerful but quieter than rotaries. Known to be energy efficient, these motors should also do a good job. 
Some of Wahl's motors feature PowerDrive Technology as well. It makes the motors perform extremely fast while keeping the heat levels at low.
So all in all, motors are one of the secrets behind Wahl's worldwide success. 
3. Tough Blades
Finally, Wahl's construction of quality blades is something that can be considered one of the leading properties that boost their performance. Made using quality steel, they're equipped with individual teeth preventing each other from overlapping. Tapering levers, on the other hand, help you maneuver the blades properly for detailed personalized hairstyling. 
Buying Guide to Get the Best Wahl Clippers 
Although Wahl usually manufactures quality trimmers, it is still better to examine and find the best among them after all. For that we have compiled a list of features that you should have in your Wahl trimmers. Let's find out what they are and how you can be able to find the best Wahl cordless hair clippers. 
Motors 
Yes, the first thing that you should focus on is the efficiency of the motor that is installed in the device. Because the motor is the chief driving force of any clipper. Try finding motors that are quick and powerful. Weak motors would consume disturbingly longer time. Further, it would make your job of cutting through coarse and rough hair more and more difficult. 
Recently some of the trimmers are using Wahl's PowerDrive technology. We think it should make a good addition and better than motors without such technology. 
Finally, if you have thick and rough hair, it is best to go for rotary motors and quieter and energy-efficient performance and pick trimmers with electromagnetic motors. 
Design and Housing 
How the clipper is designed is important. If it has an ergonomic design, then it would be easier for you to grip and handle it easily, and you get to use it for a more extended period without tiring your hands. 
On the other hand, housing is a protective barrier that safeguards the internal parts of the trimmer. Try buying clippers with sturdy housing because when and if you drop it accidentally during use, the housing will cushion the crucial parts inside the clipper. 
Blade 
The blade is the most important part of a quality clipper. Try getting clippers that house tough, self-sharpening blades, because they seem to age up quite quickly, depending on the use. 
Lightweight Clipper  
Weight can seem to be a contributing factor, as well. Because if your trimmer is too heavy for you to hold on to. You won't have the satisfaction or the comfort to use it on your head for a more extended period. Plus, making complicated contoured turns and breaks would become more difficult with a heavy trimmer. Thus, we suggest you check the weight of your trimmer before you get one. 
Warranty 
Warranty is a highly important factor for any electric good and certainly is significant for trimmers. Wahl trimmers, although it performs well in general yet some units can show issues. In this case, the warranty comes in handy. Because you never know when an electric device may malfunction.
Cordless or Corded?
It is always better to find the best cordless Wahl clippers as they give you more freedom and flexibility to work on, unlike the corded ones who have to be connected to a power source always. 
Some Wahl trimmers you'd allow you to use it both ways, whether that be corded or cordless. We think this should be the wisest pick as you get to connect it to power when the battery drains out. 
If you somehow end up buying only corded ones, then at least try finding the best-corded Wahl clippers and the ones with a long cable. 
FAQs:
Are Wahl hair clippers any good?
Leo j Wahl was the first individual to invent hair clippers, which slowly led to Wahl clippers. So, we don't think there is any question regarding Wahl trimmers.
What Clippers do professionals use?
Professional barbers use Wahl clippers widely. It is an extremely common name in the haircare industry.
Is Wahl made in China?
It depends. Wahl has several manufacturing plants across the globe. From Illinois to Germany, Hungary, China, and England. So, different units can come from different regions, but they're all under Wahl's name.
Who owns Wahl Clipper?
Founded by Leo Wahl, this world-renowned trimmer manufacturer is now run by Greg Wahl, Leo's grandson.
Final Thoughts 
Clippers are things that can transform your outlook any day. Furthermore, you can get haircuts by yourself without spending a hefty chunk on the barbers. Wahl is no doubt one of the best clipper manufacturers right now.
So nothing gets better if you get the best of the best. As we have talked comprehensively on a variety of Wahl devices, your job is now easier. 
So, get your hands on the best Wahl clippers right now and get groomed up instantly!