A few words of wisdom on this Saturday morning: the best wave grease isn't greasy. You heard us right. It may feel like grease on hand, but when you apply it on your head, your hair should not, for the best reasons, look like a freshly-oiled engine. No. There are a couple of things your hair could look like.
Think Beckham's outstanding comb-over/blowout or Zac Efron's messy tousled hair, anything except Professor Snape's dark greasy curtains that fall over the sides of his forehead.
We will try, with the array of products we mentioned here, to find the right one for you; so that you look more like a stylish star than someone who doesn't wash his hair. (We love Snape though.)
Best Wave Grease (June 2021)
Top Pick
Runner up
WAVEBUILDER Cocoa & Shea Wave Butter Moisture Revitalizer
COLDLABEL Hair Wolfin Pomade - Natural Organic Mens Hair Balm - Strong Hold, Full Shine Hair and Scalp Care - Made with Vegan Ingredients, Shea Butter, Jojoba, Lavender, Honey, and More
As I Am Double Butter Cream - 8 Ounce - Rich Daily Moisturizer - Soft and Shiny Curls and Coils - Repairs Split Ends - Strengthens Hair - Enriched with Pro-Vitamin B5
Blind Barber 60 Proof Wax - Matte Styling Wax for Men - Medium Hold, Workable Matte Texture with Volumizing Hops Extract - Water Based & Free of Greasy Oils (2.5oz / 70g)
Lusters S-Curl 360 Wave Control Pomade 3 Ounce (88ml) (2 Pack)
In this article, we review the following 15 wave grease and Pomades
TOP 15 Best Wave Grease and Pomades
Here we will talk about the top 15 best wave grease that stylish men seek, and you should too …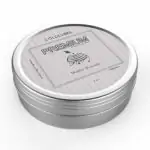 To discuss the best pomade for waves, we have one from Cold Label. This is from the best wave grease for nappy hair as the coiled-hair men say.
We love the packaging, let's clear that out first. It is shiny and an eye-catching piece. If you have thick hair, you'll love it for more than just the package.
If you want to apply this to your hair in the morning, you do not have to worry about moisturizing your hair throughout the day as a retouch. It will take care of that. The best thing about it is that the ingredient list contains no mention of petroleum, and we know it stagnates hair growth so we're better off without it. It is lightweight, smells amazing, and keeps your hair in place. Basic yet useful.
Pros:
The pomade gives you a decent shine on your hair.
It generates a good hold standing against the weather.
Great for regular pomade users.
Great for both the scalp and the hair. Felt great on the hair.
Rubs in smoothly in the palm.
Doesn't make the hair cakey or greasy.
Cons:
The texture is a little hard for us.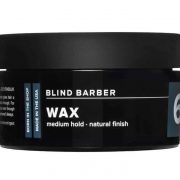 Blind Barber is also a great player in designing the best wave cream for black hair and more. Of their different formulas, this is the 60 Wax.
The formula is for those who do not want more than a medium hold in their hair. While it remains workable, it will not feel like a hardened gel on your hair once it dries out. It was easily washable, the water-based nature of the pomade is also a good side to it. It has hops in it, to allow your hair that definition and texture to it.
And the mild blend of tonka beans in the ingredients gives it a nice scent that makes you think of vanilla when you're playing with it. It was unexpectedly good. It also contains pro-vitamin B5 and keratin, as you would expect from good hair products.
So for a weightless, smooth styling, we think it is a great go-to. If you want something to put on your hair every morning you're rushing to the office, scoop out a dollop and use it on your hair to have a medium hold/low shine look.
Only a little bit is needed here. We got by only using a pretty small amount.
Pros:
Doesn't leave any residue behind after washing.
Great smell.
Has a sticky formula that softens with the application.
A little goes a long way.
Doesn't make the hair stiff.
Cons:
It is not for those whose hair produces a lot of natural oil.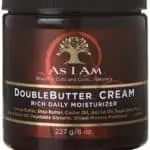 The motive of this product is to deluge the curls with moisture and nourishment, as you would expect from the name they gave their product.
For the guys that have splendid coils and curls on their heads, it is essential that the hair can be moisturized and tamed with a proper something. Taming the bush of rough and dry curls is a nightmare, ask us! The emollient-like texture of the cream made with plant-based butter and oils allows you to take care of your hair by giving you control of it.
The nicest ingredients that we found here that make it one of the best wave pomade for coarse hair include shea and cocoa butter; beeswax; castor, sweet almond, coconut, and jojoba oil; beetroot extract and tangerine fruit extract; and coconut fruit powder and turmeric root powder. Besides these, there are other natural and chemical ingredients that make it one of the best wave grease for nappy hair, too.
The smell of the cream is also pretty sweet. We blame tangerine for this. Not that we are complaining! It's lovely. The cream works well to control frizzy hair and leaves you with many long-term benefits thanks to the ingredients. However, the ingredients we are raving about may contain one that isn't meant for you. So don't forget to patch the test before fully using it.
Pros:
Helps you to lock in moisture.
Makes curly hair manageable.
Softens dry hair.
Contains deep conditioning pro-Vitamin B5.
Gives you shiny and soft hair.
Makes hair look hydrated.
Not too heavy.
Can be used daily.
Works great with waves and curls.
Cons: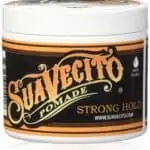 Gives off some Despacito vibes in the name maybe, but if you are thinking basic-effective this is the best wave cream for black hair and more, that we will be talking about in this list.
Suavecito has one principle. They want to give you something affordable but make you look salon-styled with their professional products made with high-quality ingredients.
The Firme Hold in the name is referring to the stronghold that this certain one is built to provide. If you want sleek side-parted hair, rebellious pomp or a slick back, you can achieve that by just scrunching this beauty across and under your hair. You'll be left with hair not too shiny, held as high as you want, and an easy-to-wash formula. Did we mention it is water-based? Obviously.
It has a fresh aroma and the huge tub, when opened, looks like it contains a gel version of coke. Such is the color. The consistency is more inclined to the thicker side and dries quickly, making the application harder than you would like it to be. But the later results are no-fuss, stunning outcomes of what you wanted to create. The strength of the hold is the identifying characteristic of the Suavecito Firme, standing up to its name.
It works with hair thick like wires, so we would say that also makes it the best wave grease for coarse hair.
Pros:
Can be washed away easily without any special shampoo or products needed, with just plain water
Leaves no buildup or residue on the scalp.
Smells like expensive men's cologne.
Works great for frizzy, thick, straight or wavy hair.
The product is sweat-proof and wind-proof
Affordable to buy
Gives you a basic yet raw performance
Cons:
Dries too hard
The smell is too strong for some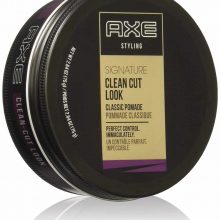 So we did come to AXE, Would be heartbreaking for some fans if we didn't take one from the classic fragrance makers. Also, it has some great pluses, the pomade. Let's find out.
The Signature Clean Cut is AXE's classic pomade. It gives you a polished, "clean" look, as the name would suggest. It is best for those to have short hair to mid-length hair. Without weighing your hair down, if you have slightly longer hair, it will provide you great hold and not make it look greasy.
If you want to slim down your thick mane of hair with something sleek or add definition and texture to your very fine hair, it is possible to do both with this classic.
And it wouldn't look like you have put gel or wax on. The outlook is pretty natural. If not anything, at least you wouldn't feel like you're wearing a helmet on your head, as it sometimes happens when strong-hold pomades dry with the day.
Pros:
Gives your hair a little shine when applied on damp.
With a bit of hairspray, it can last you as much as fourteen hours or more.
Is not sticky.
Provides great value and quality.
Works well with slick backs and pomps.
Cons:
Need to use a good amount before application.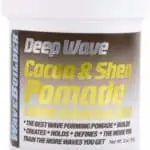 A blend of cocoa and shea butter, this cream is screaming nourishment and hydration for your hair as well as your scalp. It is non-greasy and has the consistency of a thick lotion that melts on your palm.
Wavebuilder calls it a moisturizer revitalizer in the sense that it will not only add moisture to your dry, dehydrated scalp but also revitalize the deadened look that your frizzy, rough hair had prior to it.
The shine that you get from the butter is very high. The product also results in no buildup post-application. If you are someone who has to tame hair or create patterns using wave brushes, you can use the butter while brushing or apply it after you have brushed. Either way, you will get the desired look from this best wave cream for black hair.
Pros:
Smells good.
Holds your hair down.
You need very little to style your hair.
Leaves hair very soft.
Cons:
May cause breakout if your oily skin can't tolerate the combination of cocoa and shea butter together.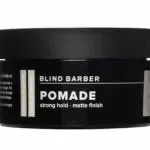 Here's another one from Blind Barber. When we first came across this, to be honest, we were amused by it. Imagine having your hair styled by a blind barber. But what if he's one of the best in town? You'd give it a try, right? We did too.
This is the 90 pomade, and as you expect from the number, the last one being the 60 pomades, this is the advanced one. It gives you a stronger hold than the 60.
The thing with pomades that give you a stronghold is that they make your hair stiff. But it doesn't and you can actually run your fingers through your hair without guilt, although the hair wouldn't damage by wind.
Also, it is for those who do not want any shine on their hair. Great for those whose hair already produces a lot of natural oils to make it look greasy. With this product, you can tame it for a natural, weightless look on the hair.
It is water-based with the same Tonka beans and hops they had included in the 60 pomades.
Pros:
Stays in hair all day.
Do not make hair look or feel crunchy.
Has a very natural, firm, and pliable hold.
Easy to wash out.
Cheap with great quantity and quality.
Cons:
Clumps thick hair of some users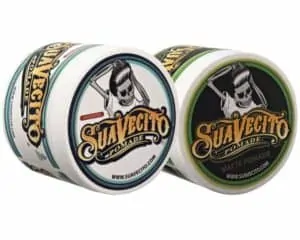 On the list for the Best pomade for 360 waves, here are two other contenders, both from Suavecito. We couldn't separate them because we wanted to treat you with a duo bundle.
The first is the Original Unscented one from Suavecito. All of those who liked the previous product from, that we just mentioned in number 2 can now rejoice. Because the Original one is just a little less from the Firme Hold in terms of strength (since it gives you not that high hopes) and is out of the list when it comes to fragrance because this boy is unscented.
If you like yours a little fragrant, there is one available that has a musky, manly scent to it. The dark amber color and texture feel honey-is. Not too thick, but soft. Those who do not like their hair products' scent contrasting with their cologne will love this unscented version.
The Original pomade allows you to keep your hair up and straight with ease. But the shine continues to lessen with time. It doesn't give you that hard feel when it dries, so you have some room for movement. But it is super hard to apply it on dry hair.
The second is the Matte Pomade from Suavecito. They claim that it is so good, you don't need to think about an even distribution of the product on your hair, but can actually focus on styling it. The Matte one has a different color and texture than the other ones from Suavecito. It is a cream/off-white color with the consistency of a body lotion that thickens with rubbing. Okay, maybe not so liquidy, but that light. The hold lasts pretty long and you have a natural, no-shine look. It is also easier to restyle upon the application of a little water and combing.
Pros:
Easy to wash formula.
Gives you a natural low-shine to no-shine look.
Is workable for all hairstyles from retro to modern.
Doesn't leave residue behind as water cleans the product.
Is available in both scented and unscented version.
Great for Hispanic hair.
Cons:
Left hair too crunchy for some users
Long-length hair has difficulty holding up all-day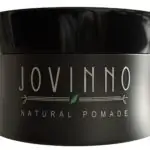 Again on the best pomade for waves, there is one from Jovinho. This is also the best wave cream for black hair for some users. Even those with lighter shades love it. Why so? Let's see.
The sleekness of Jovinho doesn't stop in the artsy, black container. It flows inward to what it is made of, too. The naturally sourced ingredients from France and the absence of any sorts of harsh chemicals inside makes your hair grateful for not being damaged. Jovinho gives you both control and flexibility on what you want to create.
The ingredients we absolutely love from the pack include hemp seed oil, marshmallow root, calendula, rosemary, and flaxseeds. The hemp oil with the omega fatty acids enhances hair growth and keeps the hair healthy by providing a keratin-rich formula.
Marshmallow root extract containing ceramide complexes hydrates the hair, repair the barrier and makes it thick, not just as a part of styling, but from the insides. Being slippery, it stops hair from tangling. Calendula and rosemary work on dandruff, itchy scalp and gray hair so that they don't disturb your styling.
Lastly, flaxseed plays well to maintain the elasticity and overall nourishment of hair. So that's everything you would want from a hair product.
Pros:
Gives you a good hold.
A natural matte, low-shine finish.
Washes out easily.
Non-sticky feel on the hands after application.
Adds a lot of volume to hair.
Cons:
Holds great on cooler days than a hot one if you are thinking really long.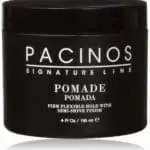 Almost all of the wave creams have a word or two on how you need to apply it. But Pacinos does it both ways. Whether you are someone who likes to apply on dry or someone who likes it wet, Pacinos is a great option for you.
Say you just found out that you need to have it styled and there's no time to waste. You have to apply it on dry hair, right? Count on Pacinos to take care of the style.
It moisturizes, conditions, adds texture and volumizes hair to make it look defined, attractive with a semi-shine while keeping things subtle and refreshing. That's a whole lot you're getting from a tub of pomade. It will hold strong and last long too.
Pros:
Light, not too strong smell.
Easy to shape bushy hair with.
Gentle for everyday use.
Can be used with other styling products or singularly.
Cons:
Some People not like the smell of this pomade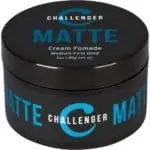 The cream pomade from Challenger is a really refreshing one for pomades and is the best wave butter we found; we don't get to see something with this kind of packaging very often. They say it locks your hair all day long, in a manner that looks very natural and not as if you have put a tonne of cream to achieve the hold.
This cleanses out easily and it is easier to re-apply the next day. It has a clean scent to it, which makes you and those who walk past you, assume that you just finished your appointment with the barber and smell clean and fresh after your time in the salon.
The natural/matte finish on the hair by the pomade is super helpful, because of one, it allows others to think you have nothing on your hair. And two, they know something is different because your hair looks better and you smell nice and look tidy, so it keeps them confused while you stay stylish.
It has a very buttery consistency that glides easily as soon as you put it and warm it on your fingertips. But let us warn you, the scent doesn't last or remains insignificantly. It comes in a travel-friendly size so that you don't have to worry about carrying it in a separate tiny container as you roam the city. Lastly, this washes off with plain water pretty fast. So you don't need to use shampoo or hard-working cleansing balms or oils to get it off.
Pros:
Very strong hold that lasts all through the day and is also workable, even though it claims to be medium-hold.
Matte finish.
Leaves no odor.
The scent will get you compliments.
Preps and styles thick hair well.
Does not feel grimy.
Cons:
Some didn't like the bouncy cream formula.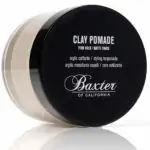 The Clay styling products from Baxter are customer favorites and have naturally won multiple awards, defining beauty for men's hair since forever. This firm hold/matte finish clay pomade keeps your hair in place as if molding it to a natural, good-looking state. You get a strong and pliable hold from the pomade.
It has two special ingredients, kaolin clay, and beeswax. Kaolin clay elevates blood circulation in the scalp. Also, it deep cleanses your scalp as you wash it, detoxifies and doesn't make it dry in the process.
So, you get clean, strong, repaired and fluffy hair that keeps growing. Also, beeswax keeps hair shiny, healthy and moisturized. That said, you don't get a glossy finish from this hair wax. This is little to no shine. The good thing is that you'll find no parabens here.
The application of clays is a little different from hair gels or waxes that you typically use. Designed keeping the ones with thin to thick hair, clay hair products are meant to be applied a little differently. You'd usually work the product in your hand, rub and sweep across the hair. But now, you will turn your head down so that the hair is towards the ground and apply starting from the hair on the neck and above. So you are working it up and above, but starting from the down. Previously, this was only from up and above.
In this manner, you can create any style that you like, full of volume and bounce.
Pros:
Gives you a high hold.
High hold that allows pompadours to last all day.
A great option to add volume to straight hair.
Made with natural ingredients and no paraben.
Cons:
May leave specks of clay if you don't warm it enough before applying.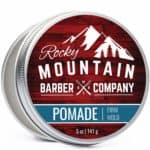 Crafted specifically for amateur and professional athletes, and adventurous extroverts, these barber products are well-loved in the hairstyling industry. They are safe enough and good enough to be used on a daily basis for regular people like you and us, who aren't climbing the mountains too soon.
As you'll see from the packaging too, this pomade serves the rugged, adventure-seeking, passionate, hairstyle-enthusiast men, but that doesn't mean we will be left out!
To ensure maximum quality in the making, these products are made in small batches compared to regular continuous batching. In this manner, you only get the fresh additions in the batch and no "leftovers", making the pomade healthier and more desirable. Although they are created in small batches, the containers themselves are quite large: almost 20% bigger than the regular ones. So you get more for what you are paying.
This is a water-based pomade. So it won't clog your scalp to create dandruff or allergies and washes off easily with plain water. The ingredients used here are naturally derived from plants and vegetables. So, you don't need to think twice about the sourcing or the harming of animals in the making of the product. Feel good about what you are using and putting on your hair!
The scent from the pomade is also natural and not too overwhelming, another plus. All in all, this is a great pomade made in North America, if you need a high shine, stronghold and an all-edgy, non-greasy look
Pros:
Has stronger hold than major "strong-hold" promoting companies.
You get way more for your money.
Really nice metal container.
Has a natural scent.
You look great with hair being in place.
Cons:
The hold doesn't last all day as would have been preferred.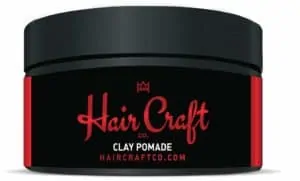 This clay pomade looks like a square, tiny Dracula as a pomade. The contrasting red against black brings back memories of the classic Dracula stories, and you'll find white fonts on it as if the Vampire's teeth! Anyway, we need to talk about pomades so coming back to the realms of the mortals.
Hair Craft actually handcrafts the styling creams for the men. They put enough care and attention in the making. And no matter how evil the packaging looks, they do no harm.
You'll be glad to know they don't test their clay pomades on animals. Their clay gives you a natural final look, a medium hold that supposedly lasts all day and zero scents or BS.
The base of the ingredient in the pomade is earth and clay and the results are a "true matte" finish. If you have straight/curly/wavy/short/thick/thin hair, you can achieve a medium hold that will last you for quite some time. You can create wavy, messy looks with it or a back-combed sleek hairstyle; it's your call.
The thing we like about it is that you can style it without worrying about a resentful shine. And since this is clay, you will get a lot of texture from it. The best wave grease for wolfing is the great for those with thin/thinning hair. Also, you won't need to work it up multiple times a day. It comes in a handy, travel-friendly jar and yet lasts pretty long. So, if you want something that gives you the desired look without breaking the bank, with natural ingredients and lasts well, get this!
Pros:
No re-application.
Holds good on a humid day.
Hair feels dry yet soft.
Good for windy days.
Cons:
Emulsifies fast.
May clump if you don't warm it up fast.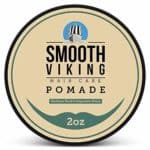 Starting with beard care first, Smooth Viking is upping the sails (or should we say sales) by expanding their territory to hair care.One of them is this water-based pomade that is good for medium hold, doesn't claim too much on the shine and is easy on the pockets.
They also vouch for the easy washability of the pomade. So, say goodbye to bad hair day, modern Vikings!
The product smells clean if you know what that means. It feels fresh and hygienic somehow. It is the best natural pomade for waves and a mild one, so you do not have to worry about it staying for very long. Also, the finish is such that you can work it out with your fingers but the wind will not be able to tamper with it. That's a good pomade! But it isn't sweat-proof if you've been doing that for the whole day. Or if you live in an extremely humid climate.
Pros:
Works well as a conditioning hair product besides the styling function.
Zero greasy feels, but gives you the benefits as if so.
Little goes a long way.
Helps control frizz.
Isn't rock solid while drying out.
The pricing is pretty reasonable.
Cons:
Users wished it came in bigger sizes.
Before You Start On The Best Wave Grease
The best wave grease is actually a hardworking pomade. Wanna know more about them? Let's look into this product we have on hand today.
What is Pomade ?
However hard and technical it sounds, pomades are just styling creams. It is a generic term given to all cream-like hair products when discussing hair, of course (and can refer to cosmetics to, but let's leave it for another day to discuss). It can be oil-based or water-based.
Water VS Oil-Based Pomades
Water-Based Pomades
Water-based styling pomades are of 2 types:
orthodox/original
unorthodox/modernized
The original/orthodox pomades have the following features
Redefine the original grease formula of pomades
Easily wash away
Become hard when dry out
Need to restyle with a wet comb
Are gel-like and easy to use
They have a flexible hold and provide a high shine
They work well under the sun and heat
The modern/unorthodox pomades have the following features
More similar to oil-based pomades
Don't become hard when they dry out
They can be easily restyled
Wash out well
Are easier to style with the next day after shampooing in the first.
Oil-Based Pomades
Oil-based styling pomades are the original ones. This was their identifying criteria. The other features of oil-based pomades include
Average shine
Light to heavy hold
Are workable throughout the day but the shine and hold continue to decrease with touch-ups
They do not wash out in one shampoo session
Hold more strongly than their water-based parallels
Product buildup that doesn't go away from the first shampoo is vital to restyle the hair the next day
They can be used for days without additional grease or with little of it
MATTE POMADES
Other than the two common types, there is another pomade that is quite famous. So we decided to discuss it separately. As the ladies know better, matte texture is no-shine and almost natural. A matte pomade gives you just the same. You will get yourself a non-shiny finish, so the hair looks like it's your own, but better styled. Who doesn't want that?
Your water-based pomades can be matte. However, the gel-type water-based pomades may give you a little shine. But the clay-like and fiber-like pomades will give you a no-shine finish.
GEL POMADES
Provide superb shine
Supply a great hold
Rinse well
Contain no alcohol so no chance of dandruff and hair flakes here and there across your black shirt.
Can be actually "gels" instead of a water-based inferior trying to achieve the superiority of it
Give you the highest holds sometimes
CLAY POMADES ARE
Dry
Easily applicable
Low-shine
Volumizing without weighing the hair down
Easy to control frizz with
Versatile; working from fine/thick, straight/curly hair
Also used pre-styling, post-styling or additionally
FIBER POMADES HAVE
Super stronghold
Matte finish
A fuller look to add to the hair
An ability to texturize hair
A great grip on styling short hair
Almost no issues with filling thin hair or taming coiled ones.
Those with ash-blonde/blonde/greyish or lighter hair shades may look too oiled up if they but the shiny wave grease on their hair. In that case, they can go for a matte. But it also looks superb with black and other dark hair shades. It actually depends on what look you want to create from the grease.
Can Clay/Fiber/Gel Pomades be the Best Wave Grease Too?
Yes. The best wave grease can be gel-like and clay-like in texture. When we are saying grease, don't think of oil or lubricants. It is only a generic name and can hence cover the likes of gel, clay, and fiber.
What You Can Expect
Besides the two common words, "hold" and "shine" that you are reading on and off in this article, a pomade can give you much more. You can expect to not only have your hair in place but also thicken it, boost the appearance of your hair (and your face and personality 10 times), smooth the jungle that you have on your head, fight frizzy/dull hair. Any hairstyle you have ever dreamed of is achievable with a little (or more) wave grease and dedication.
Application
You can use pomade in two different ways. One is after you have showered, on your amp (not dripping wet, or wet) hair. The other is after your hair is completely dry.
If you apply pomade to damp hair
It will make your hair look shiny
The finish will be smoother
The hold wouldn't be as good
Best for fine and/or short hair
If you use pomade on dry hair
It will give you a more matte look
You will get a better and higher hold that could last longer
You will get a layered finish
Best for men with long and/or wavy/curly hair
You can use it in both manners to create the look you want. On damp hair, the application is smoother since everything is just gliding along with your fingers through the hair. But know that if you are applying pomade on wet hair, you're diluting the content so whatever it is supposed to do, it will do weakly.
Follow these steps to apply pomade well
Air-dry or blow-dry hair until it is damp and not completely dry.
Use your fingers to take out the product, leave it on the palm and keep rubbing with both till you have warmed the product. This allows for swift application.
Apply from near the roots (not scalp) and work to the tips. You can turn your head upside down for ease of application.
Abstain from putting more pomade where there is less hair and less pomade where there is more. Follow step 3 and even out, not leaving lumps.
How Much to Use
There is no regulation on how much pomade you should be using. It varies depending on the length and texture of the hair. But not using too much in the first go is common sense. You want to take a little, then add up as you go. Instead of carving it out of the container. This isn't Nutella, boys.
Frequency of Use
Pomades can be used daily. But using oil-based pomades sometimes leaves residue from the day before. So you will need a little product to touch up than before. But it is hygienic and advised that you take a break from using these too often, to repair damaged hair.
Side Effects
Pomade doesn't do your hair harm if you are selecting the ones that we suggest or those that have conditioning and protein-rich formula. It is the buildup that you can't or doesn't wash, that makes your hair go crazy. It results in dandruff, itchy scalp, and dullness of hair.
To reap the benefits of styling and having healthy, nourished hair, take a break from all these at least for a day, avoid build-ups by thorough cleansing and opt for hair masks.
How to Remove
If you're worried by now, water-based pomades are super easy to take out. If you have problems, you're going to have them with oil-based ones, which do not come off with a shampoo that easily. The secret? Using liquid dish soap on your hair. Because it can break-down the "grease". Only this time it isn't from the dishes, but your hair! You'll need some serious nourishing after this though. You can also apply a good amount of olive oil on your hair before you apply dish soap to reduce the damage and clean up better.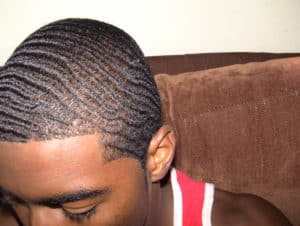 Buying Guide for The Best Wave Grease
In order to buy the best wave grease, whether you want one from our recommendations or one that you want to try out yourself, look for the following points:
Quality
We don't think we need to warn you about this. We've seen brothers, boyfriends, and husbands of friends who will do anything to keep their hair from balding, and the last thing they'd do is buy cheap hair styling pomade.
But if you never really cared about your hair and need to style it despite having no interest in it whatsoever, you shouldn't buy something that only does the job somehow, you know. It will have harmful effects on the scalp, not to mention hair, and may result in hair fall/ hair loss and other damages owing to using poor-quality ingredients. So whatever you put on your hair, and skin for that matter should be safe and of good quality.
Techniques
The application technique is different for different wave greases. And the results will differ just so. Read the details carefully before selecting your preferable one.
Budget
Quality products need not be pocket-emptying, stressfully expensive pieces. You can invest in a reasonable hair grease to obtain fruitful results.
Label
Check not only the price and the application technique/requirements when purchasing hair greases. You need to know more than that. The ingredients that are being used, and other safety and precautionary instructions or side notes should be read carefully before selecting the right hair grease.
Benefits of using Wave Grease
How does our beautiful collection of pomade bless you? Like this:
You can get a stunning shine that you have been seeing on the hair of runway models of late. Time to get it done with the pomades and some practice! If shine is not what you want, we have matte options too.
The water-based pomades will ease your shampooing woes as they rinse off with plain water only. Again, if you don't mind shampooing, you can pick oil-based ones that last effectively longer. Two separate benefits, but you get the point right?
For a styling product that holds your hair but doesn't feel like a burden, you can get yourself some pomades.
Some pomades come with moisturizing benefits. So if you're not into attracting attention through styling, you are at least doing your part to help your locks remain healthy.
The natural ones protect your hair from damage due to using harsh chemicals.
FAQs:
Can I use pomade on my hair daily?
It actually depends on which pomade you are using, the type of buildup it is leaving and how fast your hair dries after cleansing. If everything is normal and tolerable, you may do it. But it is ideally advised to use every other day.
How do I make waves on my hair?
By being committed to regular, routined brushing and taming the coarseness of your hair.
Do pomades actually harm hair?
Not the water-based or natural ones.
Is wet hair good to apply wave grease on?
Yes. The moisture sometimes helps to style it better.
Can those with thinning hair use wave pomades?
Yes. Some pomades help to add volume to your hair so if your hair is thinning or fine in general, a pomade could help to do some tricks.
Related posts:

Conclusion
Buying the best wave grease should be super easy now that you know what it does, what you can expect, and everything else related to it.
Have great fun styling your precious locks!