Beard has always been a sign of masculinity in almost every culture; it is something that differentiates and defines a man! But for the last one or two decades, the beard was considered slightly informal until recently; it again started gaining worldwide popularity. In our Billy Jealousy Beard Control review, we're going to speak about one such outstandingly well-performing item that is still contributing to this trend with its extraordinary beard improving characteristics.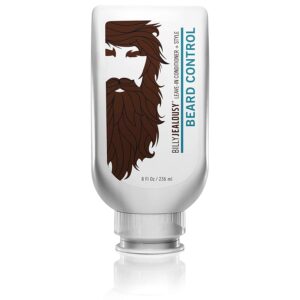 Billy Jealousy Beard Control Review 
Today we'll intensely examine this particular leave-in conditioner by Billy Jealousy and try to find out the main benefits it can offer you and downsides that you should consider before buying. 
Let's Look At The Positives
Just, generally speaking, Billy Jealousy is one of the premium beard care items that should and must come with some excellent beard maintaining properties. Let's not wait more and quickly find out the interesting features! 
Organic and Curative Ingredients
Looking at the ingredient list, you'd be pleased to find the presence of nutrient-rich organic elements. Well, what are these ingredients? 
So, to start, it has Aloe Leaf Juice. This aloe leaf extract in the formulation is rich in natural enzymes that are extraordinarily effective in soothing up your facial skin. The curative properties of this juice also include relieving itches from your beard. This humectant is filled with 3 different vitamin types. Blend of Vitamin A, B and C makes this an exceptionally powerful conditioner that boosts your growth and fights beard inflammations. 
Another important ingredient that you'd find in this leave-in conditioner is Jojoba Seed Oil. Jojoba Oil has been known for its high health-enhancing qualities. The fatty acid present in Jojoba makes the oil easily be absorbed in your skin and thus lessens the possibility of a greasy feeling. It is also a cure for dry beard and issues related to it, like breakage and split ends. Finally, Vitamin B and C rich, strong Jojoba oil can give your beard a positively different look overall. 
The formulation also contains Panthenol, although a chemical ingredient, it is safe for your beard and contains tons of benefits instead. The main feature of this emollient is brought up the moisturization in your beard. Apart from volumizing and repairing breakage, it also helps bring elasticity.
Softens Up Your Beard 
This Billy Jealousy leave-in conditioner is an appropriate pick if you're tired with your rough beard structure. It does a great job of softening the tougher strands. You get a softer, more comfortable feeling, and having a softer beard also makes it easy for you to manage and style them properly. So it allows you to have a more comfortable and complete appearance easily. 
Beard Strengthening 
Another positive trait of it is the strengthening of your beard. After days of mismanagement and carelessness, your beard can develop patches in it. It can also be internally damaged, which often goes unnoticed on the outside. 
Well, nutrient-rich vitamins play their part here. They go into the roots and make them stronger from within. Also, the minerals present in the solution does a deep strengthening to wipe the hidden damaged particles. Makes your hair look naturally strong and keeps it healthy! 
Tame the Wild Beard Strands 
This is a common and highly annoying issue that almost all the bearded men regularly face. Often one or two strands of long facial hair takes an awkward form that the whole face looks funny. It completely deforms your beard structure and ruins your style. 
But those days are gone with this conditioner. The styling properties involved in the conditioner helps you manage those disobedient beard strands and show them their right place. It wipes out the abnormality and provides a completely groomed appearance. 
Some Drawbacks to Speak About 
Besides its numerous positive features, this beard oil also comes with one or two drawbacks that we'd like to shed some upon here. 
Having a fragrance is no crime. In-fact many prefer a well-scented beard product for regular use. But the issue you may face with this conditioner is, it has a slightly stronger fragrance. It shouldn't be an issue for regular individuals. But those who are easily bothered by a constant scent around his nose all day long then, it can be a bit troubling for them. So, yes, do consider that it has a slightly powerful fragrance before you make the purchase. 
Another issue you may find with this conditioner is that it can create flakes on some skins. It can irritate and give you a bad appearance. But considering all the aspects we have discussed throughout the guide, except for these teeny tiny issues, the conditioner should perform outstandingly well on the whole and can recommend any day!
FAQs:
Is Billy Jealousy cruelty-free?
Yes. All Billy Jealousy items are cruelty-free, and PETA certified.
How can I control my beard?
You can use the beard control after a clean wash and then drying the beard. You don't have to use a lot, just take a little amount and work through the beard with palm and fingers. Then, you should be able to control it the way you desire.
Why is my beard hair so rough?
Most of the time, your beard tends to get rough because of the lack of moisture content in it. Add oils or conditioners for better hydration.
See also:
To Sum Up 
From the corporate world to sportspersons and influential individuals, men, in general, became unimaginably enthusiastic about facial hair recently! And along with that, the beard care industry grew exponentially all across the globe. 
Oils, shampoos, waxes, balms and gels, you name it, each and one of these is specially designed for facial hair. Our Billy Jealousy Beard Control Review revealed how it is one such premium classed product. From its Vitamin-rich formula to outstanding moisture-enhancing properties and light hold, Aloe and Jojoba's natural blend is something that every beard lover should own!