Started back in 2004 Billy Jealousy has a16 year-long beard product manufacturing experience under their belt. They're known for their cruelty-free and vegan-friendly care products and using natural elements in their formulation. They also have a stance against harmful substances such as sulfates, parabens which are often used by many beauty manufacturers. So, here we have today a billy jealousy beard oil review for you, something which can improve your facial hair, raising the moisture level to a certain extent. 
In the following sections, we'd discuss the item more and go through a detailed examination. Let's find out how it would perform for your beard right now!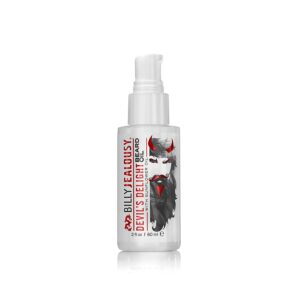 Billy Jealousy Beard Oil Review 
Like all the beard oils in the market, Billy Jealousy has its fair share of benefits and drawbacks. Right now, we'll look at both perspectives vividly so that you're able to decide whether you should go for it or not. 
How Would it Perform 
We have found that this particular brand of beard oil has not only one but many characteristics. So we have decided to look at each one of them and see how it would adjust with your beard type. Lets' begin! 
A Rich Blend of Pure Naturals 
First of all, this oil is a mix of multiple natural ingredients with outstanding facial skin and beard health benefits. The soybean oil present in the formulation promotes better hair growth with its rich fatty acid contents. While on the other hand, Sunflower Oils GLA contents help to volumize. 
Jojoba Oil is filled with antioxidant properties and offers curative treatments against flakes and itches. Finally, natural Avocado Oil helps you find the required manageability and control. Almond Oil is organically empowered with Vitamin E. The Vitamin E nutrients from the Almond Oil will do a great job at strengthening the facial hair. In the end, it softens up your hair for increased breathability, comfort, and maintenance! 
All in all, this is an item unbelievably rich in pure organic elements. The incredible blend of 4 different natural oils makes it a premium classed oil you can buy over and over again for serious beard care! 
Therapy Against Itching and Flake Development 
Well, itching is nothing new for those who have a beard. As someone who is wearing a beard for a long time, it can be said that itching can sometimes become one of the most problematic issues. The intensity of itching depends on skin and beard type and differs highly among individuals. People with denser beard patterns mostly prone to such issues. And if you add to it the irritation of flakes, your beard dreams can easily transform into sweaty nightmares. 
Well, Billy Jealousy offers you a solution to both the problems at once. It has intelligent moisture inducing capabilities that prevent your facial skin from dryness and resolves itching and flaking that could result from it as well. 
Controls your Flyaways 
Yes, as people who have a beard, we know how it feels to have one or two weirdly shaped, uncontrollable beard strands that negatively transform the beard structure. So how to manage these annoying flyaways?
Well, Billy Jealousy's beard oil smoothes up every hair individually and softens them to a certain extent. Thus, it gives you the ability to tame unruly hair like nothing else. It makes your twisted and curled up beard be kept in the manner you desire! Thus, providing you with an outstanding appearance overall! 
A Pleasant Smell 
Due to sweat build-up, smoke, and other elements, your dense beard can sometimes have an unpleasant smell. But this is something you shouldn't be afraid of while using Billy Jealousy beard oil. 
The whiff of black pepper scented fragrance would release you from this constant irritation. Furthermore, it also makes others around feel better! 
Growth Inducing 
This oil is a growth inducer as well. Breakage is an extremely common issue among the bearded men. But, with the natural sunflower oil in the oil's composition, it reduces hair breakage. On the other hand, the rich natural properties of soybean make it easy for you to grow new facial hair and give you a complete beard shape! 
Some Cons of This Oil 
We have mentioned many benefits this oil comes packed with. Right now, we'll go through some of its drawbacks. 
Despite the overwhelming number of positives, you may find it slightly greasy after use. Especially if you have oily skin where the natural oil generation capabilities are pretty high, then it would seem a little too oily. 
Although commonly known to be exceptionally well fragrant, yet the smell may seem different based on individual preferences. Similarly, the oil performs quite well in general. But there can be individuals with extremely sensitive skin. And thus, it may seem a bit hard to adjust the oil on their beard. But apart from these minor issues, the oil should perform outstandingly well, and we do highly recommend it any day! 
FAQs:
See also:
Final Thought 
We have discussed the premium Billy Jealousy Oil that does an extraordinarily well job at maintaining your beard. Our Billy Jealousy Beard Oil review contains all of its positives, and it also outlines one or two tiny issues that some skin types may face. 
So, now it's your turn. Go through all the information, consider your preferences, and get your hands on this high-quality premium oil right now. Start using it from today and get the shiny, strong, tailored beard instantly!