Why do you need to wash your beard? Well, hygiene should be the first reason, and apart from that, it is something highly essential for a well-groomed outstanding looking beard structure. You should make sure the products you're using on your beard have key capabilities to clean not only the beard of excessive oil and dirt particles but also exceptional healing properties. Our Billy jealousy beard wash review reveals how it is one such item that you can depend on for regular wash. It comes packed with deep cleansing and anti-occidental properties that should make any beard lover make a run for it.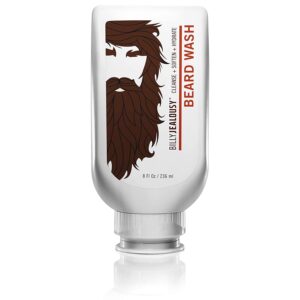 Billy Jealousy Beard Wash Review 
Well, right now, we'd go through the many unbelievable and unique characteristics of this beard item in detail and explain them as to how it may suit your facial skin and hair in particular. So, stay with us through a brief discussion. 
Things that Makes it What it is
So, this premium beard wash definitely has numerous benefits and potentials that makes it positively popular among its consumers. Let's find them out one by one. 
Ingredients are Rich in Natural Nutrients
As we always say, it is best to have care products that use natural elements more. They improve your hair and skin condition without the risk of side effects in the short or long term. 
So Billy Jealousy Beard Wash also comes with plenty of natural ingredients that can quickly transform your beard looks for the better. 
Aloe Leaf juice is equipped with its highly effective enzymes; it helps to clear out dead skin cells and unclog the pores. It is also an anti-fungal and outstanding beard growth enhancer. 
Soy protein, on the other hand, has a naturally rich vitamin nutrient content. Its tiny molecular pattern can easily penetrate through dense beard structure and helps to activate the collagen that improves your skin. 
Finally, the green tea extract present in the formulation is an excellent stimulus for your beard follicles. Its high antioxidant-rich capabilities cure damaged beard with ease! 
All in all, this extraordinary blend of naturally rich ingredients can only improve your beard with every wash! 
Deep Cleansing 
This is the principal function of any beard wash. When you're going out, you may wear a hat to protect your scalp hair from the UV rays and other pollutants present in the air. But your beard is left open for any of such contaminations. Sun, wind, dirt/debris, food particles, and beard remain exposed to each of these. 
Billy Jealousy Beard Wash performs an exceptional job at wiping out these bad particles making your beard cleaner. Apart from cleansing, it hydrates your facial skin and removes excess oil, giving you a neat and sharp beard structure that everyone likes! 
Helps Your Beard Grow 
Usual beard wash would only clean your beard, and they can end up making your beard drier than before on top of that. But, Billy Jealousy Beard Wash does the opposite. Along with giving you a good wash, it also helps your beard grow. How does it do such a thing?
Well, it travels deep into the roots of the hair and facilitates the sebaceous glands' sebum secretion process causing build-up near the hair follicles, which increases your beard growing rate! Thus, if you regularly wash it, your bear starts thickening up gradually as a result!
Relieves Itches and Flakes 
Our Billy Jealousy Beard Wash also performs an excellent job at relieving itches and flakes. Because of regular and continuous exposure to multiple pollutants in the air can cause severe build-up inside the thick hair formations. Not washing them can slowly lead these build-ups to a bacterial infestation and can then cause serious itching. Not only is it irritating, but it also looks awful when you're itching your beard in front of everyone. 
Billy Jealousy beard wash is an ideal agent that can go into those dense areas and clean out all the unhealthy substances from the skin. Because of this purification technique, it does an excellent job of relieving your itches and flakes from your hair. 
Some Drawbacks 
Although there are a number of positives, it does have some problematic things as well. Now, we'll look at some of them. 
Some can experience their facial hair being more tangled after use. It can be slightly problematic, especially for men who have drier facial hair than usual. If the natural oil production rate of the facial skin is low, it can dry up a little bit and tangle up the beard. 
Although the woodsy scent may seem nice to most, the fragrance's strengths can sometimes be bothering for some men. Some individuals dislike a strong fragrance, no matter how good it is. So, it can be slightly difficult for those men as this beard wash is powerfully perfumed. 
Despite these one or two minor issues, we think the beard wash is an absolute killer, given the tons and tons of benefits and curative properties it possesses. So, overall, this is something you should definitely give a shot! 
FAQs:
Is Billy Jealousy cruelty-free?
Yes. All products are made in a way that is free of cruelty or animal testing.
Do I really need a beard wash?
Well, given the number of benefits you're getting from Billy Jealousy Beard Wash, you should have one for a healthy and clean beard.
Can I wash my beard with water every day?

Notice: Undefined index: answer in /home/customer/www/theidlemen.com/public_html/wp-content/plugins/structured-content/templates/shortcodes/multi-faq.php on line 31

Does washing your beard help it grow?
It has been known for a time that washing stimulates the hair follicles and thus improves your beard growth.
What happens if you don't wash your beard?
It can develop all sorts of bacterial and fungal infections giving you itches and flakes as a result.
See also:
To Sum Up 
In this extremely precise and detailed Billy Jealousy Beard Wash review, We have tried to go through almost all the necessary information related to this product. Not only did we talk about the positives, but we also tried to look at a few of the negatives as well. 
Our overall judgment clearly notices that the benefits significantly outnumber its skin-specific minor issues and make it one of the most highly effective items for better cleansing and growth. So, the time for the wait is over. Get your hands on this beauty, combine it with the other supportive oils and conditioners, and get a stylish and healthy beard every day!