Today we will be telling you about how a business idea from 5 years ago changed the lives of men who suffer from skin aging, in this Brickell anti-aging cream review.
The Story Behind Brickell
It all started with a bright idea. High school buddies and business partners Josh Meyer and Matt Bolduc were brainstorming ideas of their next business venture after a failed software-business investment. Meyer had attended an event lately with his girlfriend who had later edited the pictures before showing it to him, to post it on Facebook, with smoothed out the lines on the face. Since Meyer was only 19 then, this concern about his skin made him self-conscious. He tried to look for natural products that would literally buff out his facial lines, and using women's products wasn't a solution. And that is when the idea of Brickell started.
5 years since inception, their line now carries products for face, body, shaving and beard care, etc.
About Brickell Anti Aging Cream
Brickell's anti-aging line is equally popular among the young and the elderly. Their anti-aging line, of which the star is the cream, revolves around two central concepts: antioxidants and anti-inflammatory.
They may seem similar to the average buyers. But to skincare experts and gurus who have read and worked with it, each has its own distinctive action. An antioxidant releases free radicals, which are responsible for cell damage. This weakens the integrity of the DNA of the cells. This accelerates the occurrence of aging and dull skin. Many things can be held responsible for this outburst of free radicals and increased oxidative stress; including pollution, sugar consumption, plastic, drugs, alcohol, smoke from cigarettes and stress. Anti-inflammatory agents, on the other hand, try to reduce bodily inflammation, which can sometimes reach chronic heights. This triggers cell regeneration and more free radicals.
Brickell's anti-aging cream works by not only stopping these but improving skin condition at the same time. The product contains other gents like collagen boosters and humectants than the former two, which aid the overall process for the better.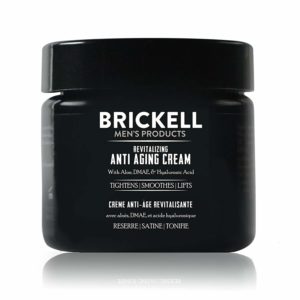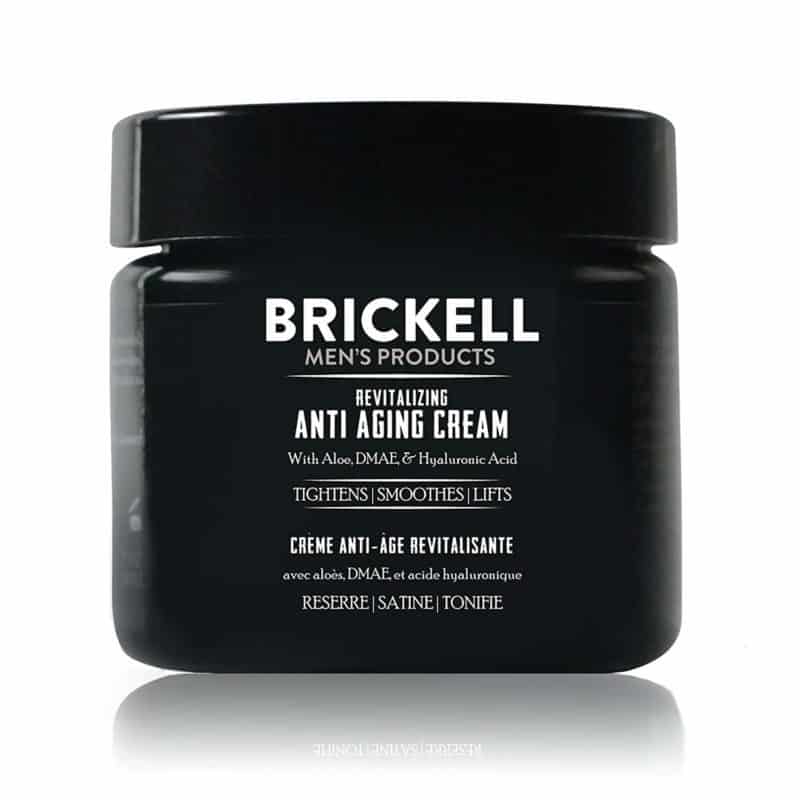 Brickell Anti Aging Cream Review
What it Does
This all-natural anti-aging cream for men has been built keeping on the list some potent and natural ingredients, that have been mixed together to create a cream for the ultimate firm, tightened and smooth, supple skin which the aging-skin wants to reach. Fine lines should be visibly less and noticeably reducing with the use of this cream, overnight. It aims to reduce mainly wrinkles and other signs of aging.
Ingredients
The cream has vitamin C in it which is an antioxidant itself and boosts collagen production. It also protects against further oxidative damage. Then there is Hyaluronic acid which can hold 1000 times its own weight worth of water, which helps to retain skin moisture inside. The Co-enzyme Q also acts as an antioxidant here. Matrixyl 300 is another collagen booster on the list. The Green tea extract again provides the much needed anti-inflammatory properties.
The other 3 key ingredients include DMAE, MSM, and Aloe. DMAE naturally occurs in the brain and can be found in Sardines and anchovies. It helps to tighten sagging and aging skin. MSM is extracted from superfoods like kale and spinach. It helps to reduce age spots and dark spots in general. And there is nothing that can be said on the vast and beneficial properties of aloe for the skin. This is a one-for-all remedy for all skin types, all skin concerns.
Other than these star ingredients, we have Shea butter, Evening Primrose oil, RoseHip seed oil, Willow bark extract, and jojoba extract.
How it Works
The naturally occurring ingredients deeply penetrate the skin, to give you dramatically reduced signs of aging. It absorbs fast on the skin. It has been made 100% natural and 81% organic and is therefore fast enough to do its job of nourishment all through the night. The 3 prime areas that the cream targets are:
Reducing aging

Tightening the skin

Hydrating the skin
Directions of Use
You can either choose the unscented one or a scented cream with a blend of essential oils. From the essential oils, you can choose from eucalyptus, peppermint, and lemongrass for your desired smell.
It is basically for men of all skin types. Be it dry, sensitive or oily. Since it has been made anti-inflammatory it should not trigger or cause breakouts on the skin.
Pros
It is free from petrochemicals, sulfates, parabens, phthalates, silicons, colors and fragrances.

Features a lot of key ingredients that soothe, moisturize, protect, tighten and improve skin.

An all-natural solution

Relaxes the face muscles.

Lightweight and non-greasy

Heals blemishes.

It can be used in the morning.
Cons
Some prefer the scent-free version to this one.
FAQs:
Do I need both the moisturizer and anti-aging cream from Brickell?
If you think about the necessity of using the two, it is better to use the moisturizer during the day time and the anti-aging cream during your night time, since that is the best time to have damaged skin repaired without interruption.
Does it get rid of under-eye bags and lines?
About eye-bags we aren't so confirmed, but it does help to get rid of crow's feet and line lines around the eyes. This is because it bears the similar composition and anti-aging properties of the eye cream.
Where is the product made?
The cream is made in the US.
How long will it last?
If the cream is used as per instructions, it should supposedly last two months.
Conclusion
We hope the Brickell anti-aging cream review was of help to you! Since there are heavy complaints everywhere that men do not have enough natural skin-care products, let alone high-end organic products, it is high time you invested in something that covers most of the areas. 
The good thing is that with the aim of tightening skin, this won't make you look like a mannequin but make skin plump and supple. You can try it out for the best results!
You may also like: