If you are an ardent ad-watcher like us, you must know from commercials that the first signs of aging appear not on your sagging skin with fine lines and wrinkles, not on your neck, but around your eyes. In this Brickell Eye Balm review, we will see if a cult favorite like Brickell stands up to its name of reducing all sorts of aging problems related to the eyes.
Popular Eye Balm for Men
The Story Behind Brickell
Brickell's founder Meyer, one day out of self-consciousness about his photoshopped skin, wondered if it actually could be done so and thus started looking for high-end organic products. Failing to find one that fitted the need for men's skin, the created one for himself and thereby all men, by commercializing his idea with his business partner. That is how we got the Brickell that it is today.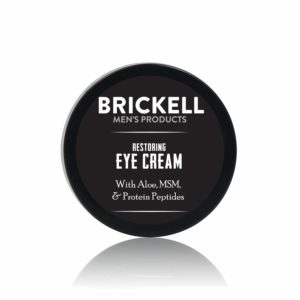 Brickell Eye Balm Review
Brickell eye balm works 2 ways. How it does so is by tightening the skin around the eye area and reducing under-eye dark circles: 2 of the major concerns faced by the eye areas. This potent and powerful under-eye cream is also aimed to reduce puffiness and eye bags, 2 other enemies of aging eyes.
Ingredients
There are 4 main ingredients of the eye balm. Those include MSM, Matrixyl 3000, Caffeine and Hyaluronic Acid.
As you would know, collagen is the main structural unit of the skin. As we age, the skin produces lesser and lesser collagen. This causes our skin to get saggy and wrinkly. Matrixyl 3000 that we just talked about, is a collagen booster that allows collagen to break down easily and when we are without hope. This increases cell elasticity and reduces wrinkles in only 2 months, by almost half the percent. Then comes MSM. This is actually a superfood derivative, found in kale and spinach, bearing good news and well as nature for the skin. This helps to reduce pigmentation and spots on the skin due to aging.
Then, caffeine. What does coffee intake do? Awaken and rejuvenate you. Topically, it is just the same. It makes your eyes look more twinkly and bright, and it works by reducing puffiness around the eyes and bringing blood circulation near the areas.
Last but not least of the majors, hyaluronic acid. What is a plumping balm without this elixir! The acid that can retain a thousand times of its own weight worth of water is necessary to keep it looking supple after all that tightening and accelerating.
Direction of Use
It is directed to be used twice in the daytime and at night to be used under the eye and around it. You would be good enough applying a pea-sized amount since a little of the balm goes a long way. Word of advice: we suggest you use it at night times mostly to let it do the job perfectly.
Application
The application of eye cream should be near to the end of your skincare steps. After you are done with regular cleansing and toning, and while you are moisturizing, it is the right time to apply eye balms. As you are moisturizing your face, leave out the area around your eyes and apply this eye balm instead. Since eye balms are usually made lighter and quick-absorbable, applying eye balms around the eyes is easier to get results with than applying moisturizing creams around the eyes. Also, remember that you can moisturize your face after exfoliation for the best results, but exfoliation isn't so necessary around the eyes. This is because the skin there is delicate already and can do with only cleansing.
Performance of Brickell Restoring Eye Balm Review
Reliability
From the reviews that we studied, many users said that they noticed a smoothened under-eye, thanks to this balm. And not just months; it shows results even in a month or less for those who are diligent with it. Whether you use it for weeks or even years, the fact that you're sticking to it and that it is working is all that matters.
Comfort
The comfort of not just application but of results was seen with continued use of this cream. Users said they felt that wrinkles and dark circles were visibly reduced. The texture gets on smoothly without feeling like grease. To be more specific, it feels safe to use the product.
Design
This is greatly designed for anyone looking for eyes that look and feel young. The under-eye looks so fresh and hydrated you would be tempted to try it on your face (and you surely can use it though). This is designed to make your eyes look brighter.
Storage
One of the finest things about it is that it comes in a tub. The problem with eye creams that have to be pumped out, is that there is some amount of product that always remains stuck at the bottom that nothing can move. The seemingly small container is travel-friendly and lasts you long enough too. Storing it in the refrigerator before use gives the best results.
Ease of Use and Feel
The product is very easy to put on and disappears fast into the skin. Very easy to apply! It feels very thin and non-greasy on the eyes. 
Pros
It lasts for a long time.

Easy to apply and use.

It contains natural and potent ingredients to reduce wrinkles.

Effective with puffiness

Brightens eyes.
Cons
You need to be very regular with the balm application.
FAQs:
Can women use it too?
Of course. It has nothing that should stop women from using it!
Will it clog pores?
No. It is not made of comedogenic products.
Does it work on men of color?
Most certainly. Dark-skinned men are not seen to age as fast as the rest, but if they do, it will still be useful.
Read more: Brickell Anti-Aging Cream Review
Conclusion
The Brickell eye balm reviews that we read and just gave out, point towards one direction: there's no harm in trying! All the skincare enthusiasts, no issues if we are men. We must protect our skin; and if that comes at the cost of applying eye balms sensibly, so be it!