Are you tired of those body spray cans filled with gasses that fly away after you spray? Yes, many men are just exhausted using body spreads that last minutes and wears off, leaving you with the sweaty smell that others despise. 
Well, apart from the unrealistic commercials, there is one cologne we'd like to discuss in our Burberry Touch for Men review that can remove all the frustrations you have after using the average sprays. Built to last, Burberry is one of those cologne manufacturers that you men still remember with awe!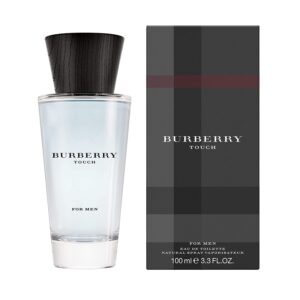 Burberry Touch for Men Review
So, as with all the products, this has its fair share of strengths and weaknesses. Right now, we'll strive to point you out both the perspectives, so you have a perfect idea about it. Let's begin! 
The Strengths 
It is natural for you or any consumer to inquire about the possible gains from a particular product. We, too, appreciate and advocate such a notion because it is always best to know about the thing behind which you're spending your hard-earned cash. So, in our Burberry Touch review, you now will find those positive characteristics out! 
 A Powerful Fragrance 
Why would you use a cologne? Well, cologne is an essential part of men's styles. Although you cannot see it, others do feel it! And when you have a premium fragrance like this one, they'd notice it even more. It completely transforms others' opinions about you in a positive manner. 
When you go to a gathering where you meet people from different walks of life, you know it is time to make others notice your presence. Colognes play an essential role in forming positive opinions about you, making you heard without words, and, most importantly, building up your personality as a man! 
Well, if you've been looking for something that we described above, then you can count on this bad boy from Burberry. With a top note of violet leaves, artemisia and mandarin, you'd get an instant lift. 
Then slowly, as the headnote subside, you'd start radiating the complex blend of heart notes of geranium and Virginia cedarwood. And finally, you get to seal the deal with the Vetiver base notes. This distinctive arrangement of unique fragrances makes it a wild mixture and gives you a precise and powerful scent that everyone notices! 
A Subtle Touch
Another thing that we'd like to focus on in the Burberry Touch perfume review is the subtle nature of its fragrance. Well, some men love a strong fragrance. But if too strong, then it can sometimes irritate the people around you. If you don't already know, wearing colognes that are too strong can be highly offensive. 
First, it looks a bit odd in different situations. Second, many individuals are susceptible and allergic to many perfumes used in colognes, causing them difficulty breathing and can also develop into headaches later on. 
So if you don't want to end up in a situation like this, then Burberry Touch can lend you a helping hand. Often, the light scented fragrances can wear off quickly, but this premium designed piece is not one of those. You continue to release subtly pleasant aroma in a concealed manner, which is way more classy than straight-up oddly strong colognes. 
Stay for Longer Duration
As we already mentioned in our Burberry Touch cologne review, it's an Eau De Toilette. So one of the critical features of Eau De Toilette is they are formulated with a 4% minimum to a 15% maximum solid perfume substance, which is quite good and should give you a longer-lasting performance throughout the day. 
We often hear complaints regarding the duration of body sprays. The gases fly away into the air and leave very little on your skin. You go out confident wearing them.
But as you sweat, your sprays get lighter and lighter. The moment when you're meeting your friends or colleagues at the office, you're perhaps smelling of sweat. Making it an utterly mortifying experience you never wanted to have. One such event can completely shatter your image in the office.
Well, if you do not want that to happen with you then, you can expect this one by Burberry to back you up for a long time. Easily applicable before you're heading out to something essential or meeting special people. 
Make your presence known throughout the day with a highly enduring hold and overshadow your sweaty smell with the fragrance of elegance.
A Classic Touch
Composed by the famous Jean Pierre Beathouart, this is one classic perfume you'd love to put your hands on. It was launched back in 2000, and the fragrance has a definitive touch in it that makes it a more suitable item for men. 
This premium fragrance defines you as a man of elegance and taste. It completely transforms your image and makes you stand out from the crowd. So, yes, if you want the more premium standard classic touch, then this is something you should go for. 
Some Cons You May Consider 
If you look closely, you always can find or two flaws, even in the most highly sought after items like this one. So, as a part of our guide, it is upon us to bring out one or two possible issues that you may examine before you go ahead. So, here are some of them. 
You should consider that some may find it a bit too old or a man-like fragrance than boys. Again, the taste is complex. The way it is formulated sounds more like a fragrance for men than boys because of the subtle and classy nature. Although this is nothing terrible, yet people from the younger age group can be discontented.  
Despite the tiny issues, the cologne would perform well on men. Every product has its fair share of weakness. But in this premium Burberry Touch Men's Cologne review, we find the strengths to overwhelmingly outnumber the drawbacks. And thus prove to be a highly desirable item among men. 
FAQs
What does Burberry Touch smell like?
Burberry touch comes with an astoundingly pleasant smell. It has notes of Virginia cedarwood, geranium, and vetiver.
How long does Burberry Touch Last?
Well, there is no way to answer it accurately. It depends highly on how much it has been applied and upon the individual who is using it.
Is Burberry Touch good?
Yes. It has a subtle and premium fragrance that people will notice makes you separate from the crowd. So, yes, this is quite, and you can go for it.
Which is better, Burberry Brit or touch?
Well, there is no hard and fast answer to this question. One reason is they have different fragrances and each with their distinct whiff. So, one must try both of them to see which one he likes. But both are good and come from the premium Burberry fragrances.
When did Burberry Touch come out?
Burberry Touch was first released in the year 2000. So, it has been 20 years since it first unveiled.
Final Thoughts 
As you might have noticed already, here in our highly comprehensive Burberry Touch for Men review, we tried to study the different aspects of this premium fragrance. Each item has its sort of unique characteristics, whether good or bad. Similarly, this cologne by Burberry is no different. 
It has all the possible fragrance factors that you'd want in a quality cologne. And like all the other products in the market, it has few drawbacks that you can consider as well. But if you look at the cologne on the whole and examine every single thing that it has to offer you, then this becomes something too pleasing not to have. 
This is an absolute beauty from it's delicately pleasant fragrance to the classic touch and long-enduring continuous action! So get your hands on this powerful piece and make people go crazy around you!