Are you up for a change? Do you want to quit the ordinary fragrances and switch to a more superior taste? 
If you're one of those looking for a touch of diversity and elegance in the scents they wear, then our Calvin Klein Eternity for Man review can give you a solution. Calvin Klein or CK, as we know it, is one of the highly well-renowned perfume manufacturers worldwide. 
Founded in 1968, Calvin Klein has been a premium manufacturer of lifestyle accessories, watches, and perfumery. Today, we will discuss one such item that would bring a sense of luxury to your room with each spray!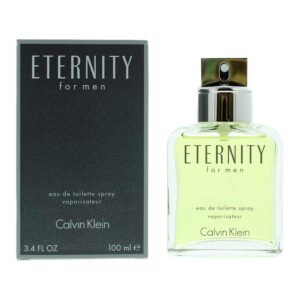 Calvin Klein Eternity for Men Review 
Here, we'll go through this premium item in full detail. We'd try to find all the positive characteristics it has and locate the downsides also. Thus, we believe it'd be possible to form a complete picture of the item. It will aid potential consumers like you to make a decision quickly! 
Several Positive Characteristics 
Any item that you buy has to have some attributes that make it the correct item to buy. Without the presence of these qualities, there is no point in going for it. Similarly, this Eternity by Calvin Klein has several key traits that we'd like to outline here: 
A Fragrance You'd Love!
Whenever you're talking about a cologne, the first element that comes to mind is the fragrance. No matter what other unbelievable stuff it has to offer, if the scent is not pleasing, then the entire bottle is of no use. So the fragrance factor is the most important, and that is why we're talking about this in the first place. 
Well, how should we define the scent that it has? 
Let's get into each of the notes and see what you get at every stage. While spraying it the first time, you'd instantly be awed with the top notes of Lavender, Mandarin, and Green Botanics. 
The complex mixture should give you an instant feeling of goodness. Then it slowly develops into the alluring Sage, Basil, and Geranium blend. The moment when you feel it couldn't get any better, the woody base of Amber, Sandalwood, and Rosewood appears for a more lasting effect. 
This beautiful blend of 9 different pure aromas makes it an incredible cologne that you'd love to wear every day! 
Make Your Presence Known in the Classiest Manner 
Cologne can serve unique purposes. Especially while going out for a professional gathering or dinner, this is something you can wear any day. A gentleman has very few things that he can focus on before any social occasion—an elegant outfit, a good watch, and a fragrance that can light up the room. Well, you can expect Eternity to look after the fragrance department in this case.
A Subtle Indirect Nature 
Another thing that we'd like to mention is the nature of the fragrance. You see, some people wear a too strong cologne in a highly professional gathering, entirely singling him out in the most awkward of manner. 
The same happens when you apply too much cologne before heading out. Like the sweaty smell, a heavily strong cologne can also make you feel out of place and humiliating. It is thus crucial to understand the mood or the setting of the meeting you're attending. 
All the problematic issues mentioned earlier can be countered if you're cologne has a pleasantly subtle fragrance. By this, we don't mean that it won't radiate the aromas. But what we're saying is the scent is so light and pleasant that it would not bother or seem overpowering for anybody. So, you're letting people breathe also and adequately maintaining the premium aroma! 
Masculine Aroma
Men, in general, despise fragrances that do not seem manly to them. This is a natural reaction, and nothing wrong with it. That is why you'd always want an odor with a clear and definitive scent, unlike the women's sweet floral fragrance. 
Well, if you're someone who wishes to have this sort of macho smelling aroma, then Eternity can back you up quite right. The woodsy amber base is something that any man would love to wear any day! It brings out the man inside and boosts your personality with its premium touch! 
Some Downsides to Consider 
Along with the positives, each fragrance item has its drawbacks. In this particular section, we're going to highlight some of those.
First, you should keep in mind that a fragrance's choice depends solely upon the individual who is using it. Although generally known to be a highly well-performing masculine flavored cologne, some may find it contrary based on their taste. 
Being a premium grade cologne, everyone would naturally want it to last for an unbelievably extended period. But some may feel it to be short-lasting. 
We've tried to look at some of the negatives of this item. But the sheer number of positives highly overwhelm the drawbacks it has, making it a desirable thing among many. 
FAQs
Does Calvin Klein Eternity smell good?
The luxury manufacturer's premium fragrance is a great scent that makes you noticeable in others' eyes, and you get compliments worth remembering.
What does Calvin Klein Eternity now smell like?
It smells terrific, starting with the headnotes of Lavender and Basil Heart notes. And ends with a woodsy Amber.
Is Calvin Klein Eternity for Men?
Interestingly you get both types. It is manufactured for both men and women.
When did Calvin Klein Eternity come out?
Calvin Klein's Eternity was first released in 1988.
When did Calvin Klein Eternity come out?
Apply cologne on the warmest body parts like wrist, forearm, neck, and chest.
Final Thoughts 
In the Calvin Klein Eternity for Men Review, we have tried our best to highlight all the cologne aspects, from all it's unique features to the minor drawbacks that you can consider. But overall,