The Elemis pro-collagen marine cream review is about one of the best elemis products that bring the luxury of British heritage to your bathrooms pretty effortlessly. So, if you ever make a list of the skincare must-haves, somewhere down the list, we think we can expect to find this high-performance spa-feel inducing product. 
This heart-throb from Elemis combines indulgent formula with innovation in skincare and body care routines. Also, this beauty brand has won a couple of awards for being able to encourage and enrich self-love in the form of beauty.
Today, we'll talk about the one everyone falls in love with, their Anti-Wrinkle Marine cream.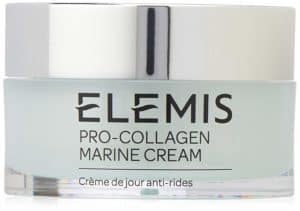 Elemis Pro-collagen Marine Cream Review
What is it?
The Anti-Wrinkle Day Cream of Elemis Pro-Collagen Marine Cream brands itself as something that can make your skin firmer, more hydrated and radiant. It is clinically proven, with the help of its powerful anti-aging ingredients, to reduce the appearance of deep wrinkles on your face. 
And they say it takes as little as 15 days for that. So you get a skin that looks plump, has not sagged from wrinkles and fine lines and glows. That's a triple win, and that's exactly why you'll find this best-selling cream in the handbags and beauty cabinets of skincare junkies
Key ingredients

The ingredients used in the making of this cream are chosen specifically for dry and dehydrated skin. Often, people confuse dry skin with dehydrated skin. You may think your dull skin that lacks glow and is full of fine lines is both dry and dehydrated. Yes, that can be true and you can have both. 
But here's the deal. Your skin can lack oil and/or may lack water. If it lacks oil, it lacks the glow and elasticity, making it dry and dull. If it lacks water, is nowhere near plump or supple or bouncy, and you're getting crow's feet around your eyes and your smile lines are settling deeper than ever, you have dehydrated skin. It is essential that you balance both the oils and waters of your skin and here are some helpful ingredients we love in the cream:

Firstly, Mimosa absolute, which has antibacterial and antivenom properties. The astringent properties of it allow to make skin firmer and tones the skin. This is also another ingredient that fights with inflamed skin. Secondly, Rose is a great addition for dry, eczema-prone, dermatitis-ridden skin. This helps to get rid of oil and dirt, mildly treat acne and redness, and make skin glow. 
The nurturing properties of rose are even elevated with its calming properties. And the fragrance needs to new introduction! Thirdly, Padina Pavonica, which is better known as Meditteranean Algae, is known for its anti-aging properties, which is the chief function of this cream. It inhibits the enzymes responsible for breaking down the collagen on your face. Sometimes, it also aids the Hyaluronic acid to stay longer on the skin, keeping it hydrated.
Other than the main three, it has Ginkgo Biloba that stimulates skin cells and Chlorella that keeps skin healthy with vitamin B, zinc and magnesium. Porphyridium helps to increase cell turnover too. Jojoba oil, Carrot seed extract and shea add a protective layer on your skin. The saddest thing for those with sensitive skin is that it contains fragrance and parabens.
With the help of these essential ingredients, Elemis can reduce the signs of your wrinkles by 19% and increase moisture in your skin by 10% and all of these within 15 days of use! We love numbers.
Who should use it?
The following people will benefit from the Marine cream:
You suffer from fine lines and wrinkles too deep under the skin.
Your skin is dull and lacks luster.
And your skin needs elasticity and oils.
You need toning and firming your face.
You're too tired looking for the thousands of moisturizers for dry skin that actually work and need something that is lightweight, proven and quick.
How to use it
Since this is a day cream, you have to make sure to use it every morning. If you want, you can use this cream in the night time too, if you aren't a fan of sleeping with heavy moisturizers on your face. Since it absorbs quick, you can dab it on and sleep without risking the product getting on your pillow.
It is suggested that you put a pea-sized amount of the cream on your palm, warm it up with both hands and glide along your face, neck and lower until the cream vanishes. But note, apply on a clean face. We don't want clogged pores.
Why is Elemis your hero?
Even one of Vogue's directors uses it and likes to call it a dream, not a cream. She says she keeps returning to this "dream" no matter the hundreds of new products she tries. This light gel-like cream is super moisturizing and has anti-aging benefits with several other benefits that give you a quick pick-me-up. We don't know why this couldn't be your hero.

Frequently Asked Questions: FAQs
Will this cream both prevent and protect?
We are sure that it will protect, thanks to Jojoba oil, shea butter, and glycerin. It should also prevent since many of the ingredients have antibacterial and antivenom properties that save from germ buildup. So, yes.
Can those with oily skin type use it?
Yes, the light gel-like texture allows oily-skinned women to use it too.
Will it irritate the face if used right after deep exfoliation?
No. The calming rose and algae will reduce irritation. But since there is fragrance here and parabens, we suggest if you really want to see if it suits your skin, put on a calming toner first, preferably aloe, then apply the moisturizer.
How fast can you expect to see the results?
As they say, 15 days!
Conclusion
So you see why the Marine cream is a part of the best elemis products? 
Time to get one for your beauty closet!