Don't we all want American-made shoes? Good stitching, quality design, and standard leather within the desired price- these are something that we all fancy! Well, GR can be an option. Our Gordon Rush shoes review is going through 5 different shoes made by GR, you may give it a look as well!  
Top Sellers on Amazon 2021
Gordon Rush Shoes Review 
It started in 1998, since then they've made a quite variety of shoes and have got a large collection as well. Lace-ups, sneakers, boots, slip-on, and what not? They got it all. Let's talk about some of their collections…  
1. Rush by Gordon Rush Men's Ethan Ankle Boot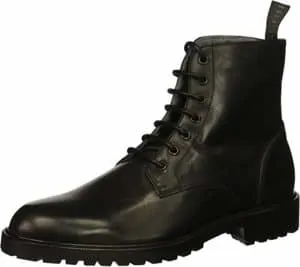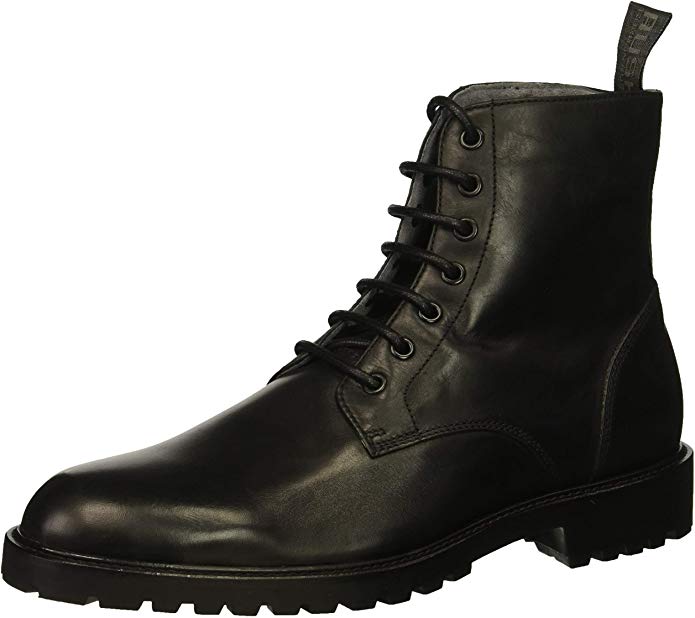 This one would fall under Gordon Rush boots review, and this is what GR is calling the Ethan Ankle Boot. Well, this Ethan Ankle Boot has many features. Lets dive in deep shall we? 
These are work boots can be worn for heavy-duty chores. 
You can expect this one to be a bit heavier than other types of shoes. Built to protect your toes, this boot can give you safe working experience.  
One thing that is quite noticeable about this boot is its design. 
Because work boots are often too clunky for office space while on the other hand fashion boots are often too dainty to be used as work boots. 
The design of this boot we'd say is a hybrid of all these different types. And gives you the flexibility to wear it for styling as well as for heavy-duty works.  
In terms of color variation, this boot has none and comes in only in black.  
GR claims to have used leather on the upper. Looks shiny and classy from the outside. You may wear this on different occasions with ease. 
The rubber sole is always important in terms of boots. 
In this boot to Gordon Rush states to have used a rubber sole which is believed to increase the longevity of the sole given the validity of their claim.   
Further, this is also claimed to be a grip lug sole.
 Lug soles are designed for better traction and control. It will be safer and flexible for you given the validity of the claim.  
The shaft is measured from arch to ankle-high. 
This boot also has a back-pull tab and a lace-up which will help you pull your boot up and give you a better fitting for more flexibility. 
Pros
Work Boot 

Lace-up 

Hybrid design 

Back Pull Tab 
Cons
Not much color variations 
2. Rush by Gordon Rush Men's Auden Wingtip Derby Oxford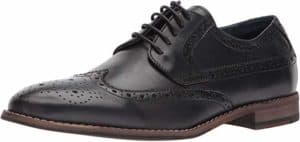 Gordon Rush brings the classic derby which they call Auden Wingtip Derby Oxford. It's the only derby in this Gordon Rush shoe review.
 Well, first in the discussion that often surfaces is, how is a derby different from an Oxford?  
One of the main differences that are found between these two is the lacing. Oxford has a close lacing where the derbies including the one that we're talking about, have an open lacing system.  
Because of this, derby tends to not as sleek and slim as Oxford and is a bit less formal than Oxford. This makes this shoe more casual. This shoe can go well with chinos and trousers.  
This can be a good choice for people with bigger feet. 
The design of this shoe quite good, resembles a classic derby.
All the features of the derby are there the only thing that matters is how you feel wearing it and the price compared to the quality.  
This comes both in black and grey. Black one is kinda shiny and grey one is a suede.  
GR claims to have used 100% leather in this shoe which will surely strengthen the build of the shoe given the validity of the statement.  
Further, the sole is professed to be made of rubber. The rubber sole is always good for grip and flexibility. 
They're strong and durable as well, would be good given the information is accurate.  
GR profess the footbed of this shoe to be leather-lined and cushioned which will give you more comfortable if they're correct in the claims.  
Pros
Classic design 

Open lacing  

Casual shoe 

Local Brand  
Cons
3. Rush by Gordon Rush Men's Davison Slip-on Loafer 

Gordon Rush men's shoes! Talk about branded shoes within an average price range and GR is something that may pop up. The shoe that we're gonna talk about is called the Davison Slip-on Loafer. It's a loafer so no laces and flat design. 
Let's come to the color factor. There are two different colored designs available.  
One is base dark brown with sand-colored leather design around the topline and a similar colored leather strap across the vamp.  
The 2nd one is base sand color with light brown leather across cuff and saddle strap across the upper with the same color.  
Both the colors come with suede finishing.   
Both the upper-straps has a typical loafer decoration, something that we call the beef rolls. This gives the shoe an enhanced look.  
Moreover, it has a contrast stitching beginning from the toe-cap to the top piece to give the loafer an edge in terms of appearance.  
This loafer has a low-profile heel it is almost hidden underneath and a raising upward design from behind the heel counter.  
Well, let us dig deeper into this. GR says this shoe is 100% leather. 
So, they expect you to get extra strength and durability. Pure leather also breathes well, thus keeping your feet odor and irritation-free. 
Hence, it's pretty good given the validity of their claims.  
Sole is said to be made of rubber. The rubber sole is right now preferred by many because rubber as a material is quite flexible thus making it invulnerable to being damaged easily.  
GR also states that the footbed of this shoe is leather lined as well as cushioned. If what they say is accurate then we consider this a good buy in the price.  
Pros
Suede Finishing

Local Brand

Appropriate for both casual/formal 

Standard Design 

Inexpensive 
Cons
Good fitting Can Be A Problem 
4. Rush by Gordon Rush Men's Austen Oxford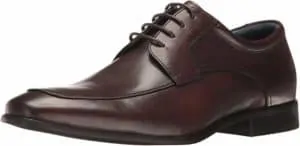 This is the second shoe in our Gordon Rush shoes review and it's an Oxford, a classic, a timeless piece of style that a man can and should have. It's not a toe-cap Oxford rather a plain one.  
Well, let's dig deeper into this. 
Gordon Rush says they have used 100% leather in this one as well. If what they're saying is correct this Oxford should give you a long service because of the strength of the pure leather. 
Rubber sole again is quite tough and lasts longer. If Gordon Rush has used rubber in its soles – then we'd say it's pretty good.  
One thing that Gordon Rush use as their selling point is their Italian made leather. In this Oxford too they state that they have used smooth Italian grain leather in the construction of its upper.  
Italian leather is one of the most premium leather types around. Gordon Rush says they've used grain leather which is the most resistant and stronger one.
 The shoe is expected to be durable if what GR profess is accurate. 
The leather looks quite shiny and the finishing seems good on this one. Further, It comes only in one color that is Espresso. 
GD also states that the footbed of this shoe is leather lined as well as cushioned. If what they say is accurate then we consider this a good buy in the price. 
Pros
Local Brand 

Oxford Shoe

Classic design 

Lace-up 
Cons
5. Rush by Gordon Rush Men's Damian Slip-on Loafer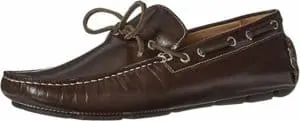 This is another slip-on loafer in our review. It's not suede rather a glossy kinda leather is used on the outside. 
The design of the loafer is quite unique and unlike the usual loafers.  
This loafer comes in two different colors. One in Espresso and the other one in Bone.  
Another thing that makes this loafer stand out from the other is the tie driver. It has a tie driver that gives a nice look.  
This shoe has quite a unique design around the topline. On both sides of the topline, there are three leather straps, that make the design of the shoe more complex and detailed.  
Contrast stitching is also present in this loafer giving it a stylish look.  
The heel as like most of the loafers is a low-profile and almost covered by the whole upper body of the shoe. Its heel is similar to the one mentioned earlier rises from behind the heel counter.  
This loafer too is also 100% leather and imported as stated by Gordon Rush. Construction of the sole is a matter of much discussion and debate.  
But, rubber sole is often preferred by many for their durability. In this loafer to Gordon Rush claims to have used rubber in the making of its soles. Which will add more durability to shoe, if what they say is true?  
The footbed is leather lined and cushioned as stated by Gordon Rush. It comes at a moderate price point. 
Pros
Shiny Outlook

Unique design 

Different color choices 
Cons
Problems may arise with fitting

Color may seem different in person
Gordon Rush Shoes Review- Buying Guide 
There are a couple of things that you should always consider before getting your favorite GR shoes. We have compiled some of them and made a buying guide to assist you in your buys:  
Design 
While buying shoes this is something that you'll always be thinking about first. Getting a shoe that suits your appetite is necessary. There are some designs in each and every shoe brand including GR which may not be suitable for the surroundings you're living in. You must have a deeper understanding of the styles around you to make the best design choice.  
You can't just wear an Oxford with a casual outfit. Try to get shoes that match your dress-up and lifestyle.  
Fitting 
Finding a design that you like is something but get a completely desirable fitting is something else. You'll always need to wear the shoe and walk around a bit to really understand how it fits.  
One thing that you should always remember while buying a GR or any other shoe, that the shoe may open an up a bit later on, so buy shoes keeping that in mind. Also, try shoes while wearing your socks on, so that you don't get surprised later. 
Soles and Lace 
Try getting shoes with rubber soles. All the shoes that we talked about today are professed to have rubber soles, which is great if GR's claims are correct.  
Moreover, we'd like to recommend you getting shoes with traditional lace-ups. Because you'll get extra comfort and better grip.  
Our Recommendation 
Well, in this Rush by Gordon Rush review we've talked about 5 shoes in particular. Out of the 5 shoes, we have picked two pairs of shoes in particular. One is Davison Slip-On Loafer. It comes with a nice, classic loafer design. The heel has a raising style from behind the heel counter. The price is quite reasonable as well. So, you may give it a go.  
The second one in our recommendation is the Ethan Ankle Boot by GR. It can be used on various occasions. From works to styling, because of its hybrid design, you will be able to use it in multiple settings. Add to that the price point- overall, it seems cool!  
Last Few Words 
Now in this day and age as all the works are outsourced to either China or other Asian nations some brands are sticking to our country. 
Local companies are something that we should always look forward to. Like many other companies, Gordon Rush is upholding the Americanness of our culture. Hence, promote local goods and enrich our markets!