If you are tired and stressed out from searching the Guilty by Gucci review all over the internet that covers all information in one place, you've come to the right article. We did a thorough study on how this boy behaves and has decided that you need to know all about it too, from the right source.
If you didn't live under the rock for decades, you must know the recognition and fame that Gucci carries in the world of fashion and handbags, shoes and accessories, and a lot more. It shouldn't be a surprise if they came up with a stellar yet basic fragrance now, should it? So, which one is this Guilty by Gucci Eau de Toilette? A basic cologne, or your persona in a bottle? We're here to help!
Sale
About Gucci's Perfume Range
Let us break down Gucci's stance in the perfume world a little. Their first fragrance for the femme launched back in 1974. Since then they have over 80 different fragrances to cover, for both men and women. This one here is designed for the home. The men's one was launched two years after the women's, and we daresay this is a perfume not for the adventurous, purposefully women-seeking men; but it is a soft and subtle, gentlemanly smell, that has moderate wear and is easy on the nose, being romantic and sensual in a fresh, delightful way. That's Guilty in one sentence, let's move on to the breakdown.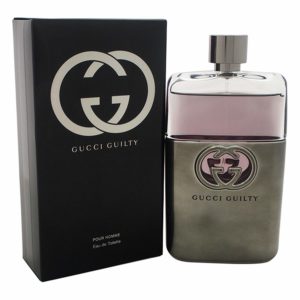 Gucci Guilty Eau de Toilette Review

Packaging
The packaging speaks volumes about Gucci's luxury-protruding built. But that's Gucci for you. The mauve-toned bottle with hints of dark silver and the emblems of Gucci right at the center is very spectacular yet calming. It doesn't look too fancy but sophisticated, it does. We are as happy as we could be with this bottle.
The Fragrance
We have so much to say here. First of all, there are two kinds of men that we've seen to attract attention. One kind is that which sends off a gentle, dreamy, romantic, decent and subtly sensual vibe, be it Austen's ruffled-shirt, playful-hair, amiable men or Keanu Reeves, the internet's boyfriend. The other one is biker-jacket, bored-eyed, witty, adventure-loving, party-animal. While the same man can be both, this perfume is more for the first type than the second.
And for the ladies, if you love your man's fragrance and want to use it, that is no crime! A beautiful scent is a beautiful scent, no matter who the bottle belongs to. We love a bottle that works two ways, and this Guilty by Gucci bottle is just that! Our friends and their wives have raved about how good the smell works for both of them and how they pleased they are with it.
The fragrances cover notes of Lavender, Orange Flower, Lemon, Cedarwood and Patchouli. The Lavender smell is calming for the nerves. And the floral yet earthy smell speaks of serenity that the wearer brings. Thanks to Orange flower, the summery and fresh attachments to the perfume remains. This sweet and honeyed smell is very responsible for this gentle scent to be unisex. A smell that works for both genders! Would you believe it comes from a bitter orange tree? Lemon for invigoration, Cedarwood for the Woody base, and lastly Patchouli to build on the strength, exotic feel and intoxication that the perfume carries: these are what makes the scent so loved.
Fabric Care
Of course, you should be checking the base chemicals that this perfume is built upon to see if it does harm to the fabric you are wearing. And it is safe to say it didn't harm nor stain the clothing of any wearer.
Longevity
We have two users divided here. For one, this scent is long enough to last their work and gets then compliments throughout the day. So this must be lasting for long hours. And that implies that the scent does linger for long.
But there is this other type, which complains that longevity is not what they would want. And neither is the scent.
Your idea of longevity depends on which occasion you are wearing it to, how long you would stay there, the number of people there: is it too crowded with everyone's smell mingling, what time of the day you are wearing it, how many spritz did you use and how sweaty are you, of all things. These will determine how long your perfume lasts. So we aren't complaining unless we know all the facts.
Usability
This is available in a couple of bottle sizes and can be used by both genders with ease.
Pros
Has an excellent combination of notes to captivate the senses

The smell isn't too overpowering.

Reasonably priced for the masses to try out the Gucci tag on perfumes.

Unisex

Comes in a generous bottle.

Versatile for both day and night events

Will get you numerous compliments
Cons
The smell is moderately strong for those who sweat a lot.
Frequently Asked Questions:
In terms of hours, exactly how long does the smell last?
It should give you a three to five hour worth of scent depending on how many sprays you're willing to go for.
Is it safe to buy it from elsewhere than the Gucci website itself?
It should be. We can't guarantee if the sellers will give you counterfeit products, but try to buy from sellers that have established, real buyers. Order it after you've seen positive reviews from buyers, off this *other* site that you wish to buy from.
Should I go for Eau de Toilette or Eau de Parfum?
Eau de Parfums are actually long-lasting ones than the Eau de Toilettes. The former carry up to 14% of the essences while the latter carry max 9%. There you go about longevity.
Can teen boys use it too?
Of course, they like it! As we've said already, this is no overpowering smell and is rather easy-going. Lower ends of the teen-years spectrum are more welcome, though.
Conclusion:
Starting from leather/wool to fragrances, Gucci does everything with finesse. So, this Guilty by Gucci review concludes that you may try this out as your new go-to perfume. 
Although this isn't a must-have item in your fragrance closet, it is something that you can wear daily without the fear of finishing too soon, and is fresh, light and simple; not too over-the-top. But the icing on the cake remains the Gucci tag, and you not having to pay an arm and a leg for that!