Let's face the fact; not all men have the same taste in the beard. Some like it straight; others prefer it curly. Both of them have natural advantages. Even though a curly beard makes it more voluminous, a straight beard can quickly bring the expression that your beards are organized and cared for. So, what about you? Do you have a curly beard? How do you take care of a curly beard? If the answer is no and you are looking for guidelines, you are in the place where you should be. Here, we will give you guidelines on taking care of your curly beard. But, first, we will answer, "why is your beard curly".
Why is your beard curly?
We can put many reasons for your curly beard. But the obvious answer would be age-old Genetics. Your hair can be either super straight and lined up or wavy and curled up, depending on your DNA. It is seen hair follicles also controls your beard style:
Asymmetrical Beard follicles: It produces an oval-shaped and curly beard.

Symmetrical Beard follicles: It makes hair that is round and straight.
In addition to genetics, diet can also play a vital role in beard curliness. However, the whole story is that almost 90% of beard curliness can be assigned from genetics.
How do you take care of a curly beard?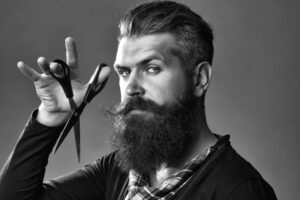 There are many ways you can take care of your curly. Here we will be sharing my favorite 5 ways to straighten your curly hair.
1. Wash the Beard regularly Using beard Shampoo & Conditioner
We all wash our beards every day to remove elasticity by cleaning dirt and dust. While washing the beard, it is better not to use regular shampoo. Our facial skin is not the same as facial skin. Regular head hair shampoo strips away the natural sebum oils from the face, which is a must for the face as well as beard.
2. Straighten Up your beard with a Mini Beard Straightener Iron
Still, the beard has not straightened and got curled up. Okay, the game isn't over. It's time for the big guns. What I mean actually here is the beard straightener iron. At that moment, the only solution will be the beard iron.
So, how to use a beard straightener?
Pull some small streak of beard and put them in between the iron.

Gently and slowly rub-down the iron and do this for the full face.

Be cautious! Don't burn your skin.
If you don't like using a straightener, there is a faster alternative. It's called the beard heat comb. However, your kind information is sadly not as effective as an iron.
3. Adopt a Healthy Diet 
This is something highly overlooked by many. They tend to forget that growing hair requires a certain amount of nutrient supply behind it, just like any other part of the body. If you're not putting in enough protein, biotin, calcium, and Vitamin A, then the beard will remain relatively malnourished. For a well-nourished, naturally-healthy appearance, you'd need to have foods like berries, eggs, milk, and nuts in the diet. If you manage to build a super healthy, beard-promoting diet such as this, you'd have a stunning natural beard everyone gets jealous of.
4. Comb, Oil, & Blow it dry: Combine these 3 Actions! 
We assume you have done washing. Your beard is clean, fresh, and of course, it's wet. As the beard will soak down, they will automatically curl up. So, now it's time for you to Oil, comb, and blow your beard.
After finishing showering, gently dampen your beard with a towel to confirm your beard is no wetter but relatively moist and soft.

It's time to seal in the moisture. To do so, apply some beard oil to your skin.

Now hold your comb in one hand and dryer in the other hand. Switch on the dryer with the cold air option. Start combing your beard with a blower from underneath your beard. Go from down to top. Follow the same process this time from top to bottom.
Following these steps will straighten the bottom of your beard and finish by aligning the rest from the top. While doing so, try not to use too much beard oil and always use the cold air option.
5. Brushing the Beard Down With Beard Balm 
Let's recap. You have washed your beard, given some oil, brushed it down while drying, and even you have used the iron too. Ironing is time-consuming. The last solution is beard balm. Easy to use and stay long until you wash your face. So, how to use beard Balm?
Take your favorite beard balm and put a small portion like a pea-nut onto your face.

Using a beard brush, pull down your beard in your desired direction.
For a more beneficial effect, try to use a boar bristle brush. It is often seen this type of brush works actively for curly hair.
Are Chemical Beard Relaxers good for you?
You will find a chemical product in the market called "Beard Relaxer". They are super useful. Definitely, you will get your straight beard. But it has a dark side.
These products actually work by breaking down your keratin bonds that curl up your hair. Soon you will observe hair loss. Let alone curly or straight if you have no beard, they mean nothing.
Conclusion
So you have probably understood by now that taking care of your curly beard is neither impossible nor hard. The thing it needs the most is a little care, regularly. The biggest challenge here is patience. But don't be hopeless. With determination and perseverance, you can have the beard of your fantasy. Since you already know, how do you take care of a curly beard? I wish the way forward for you will be on your side. Adios, and Keep grooming!