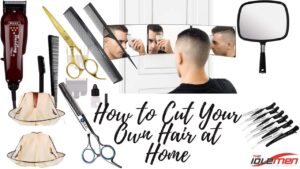 Want to cut your hair yourself? Not just you, in this home quarantine, everybody is willing to learn this new skill.
If you're a man, often you'll need to cut down your hair. Indeed, going to the barber frequently for cutting your hair enhances your expenses.
Moreover, some of us don't get the proper time to go to the salon to cut our hair. Possibly that's why you're looking for how to cut your own hair for men?
But should you compromise your hairstyle when giving the first haircut to yourself? Of course not!
If you don't want to damage your hairstyle, you must learn the correct way of cutting your own hair.
So, how do you cut your own hair for men? Look, it is not that difficult. Still, if you're doing this for the first time, or trying to give a new hairstyle, stick to us.
How to Cut Your Own Hair for Men?
How to cut your own hair for men? Frankly speaking, it depends on what type of hairstyle you want to have.
Still, there are some simple procedures that you must follow no matter what hairstyle you want. All these procedures will make it easier to give any styling on your hair.
Let's see how to get an outstanding hairstyle by cutting your own hair at home.
Tools You'll Need
Hair clippers
Hair scissors
A Handheld mirror
A large mirror
Cutting cape
Comb
Hair clips (Optional)
Hair thinning scissors
Own Hair Cut Related Tools
Things to Follow…
Step 1: Choose Your Favorite Hairstyle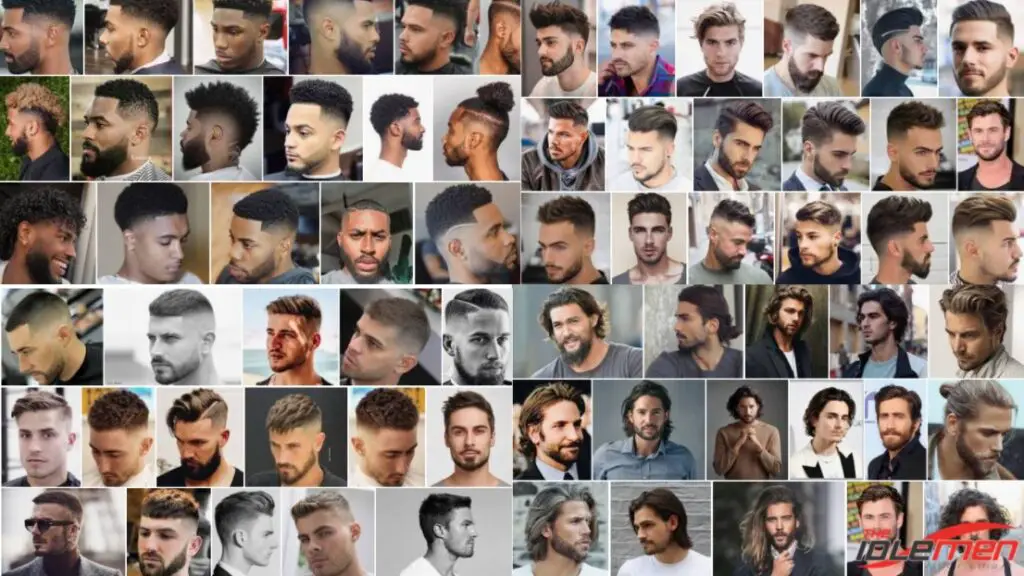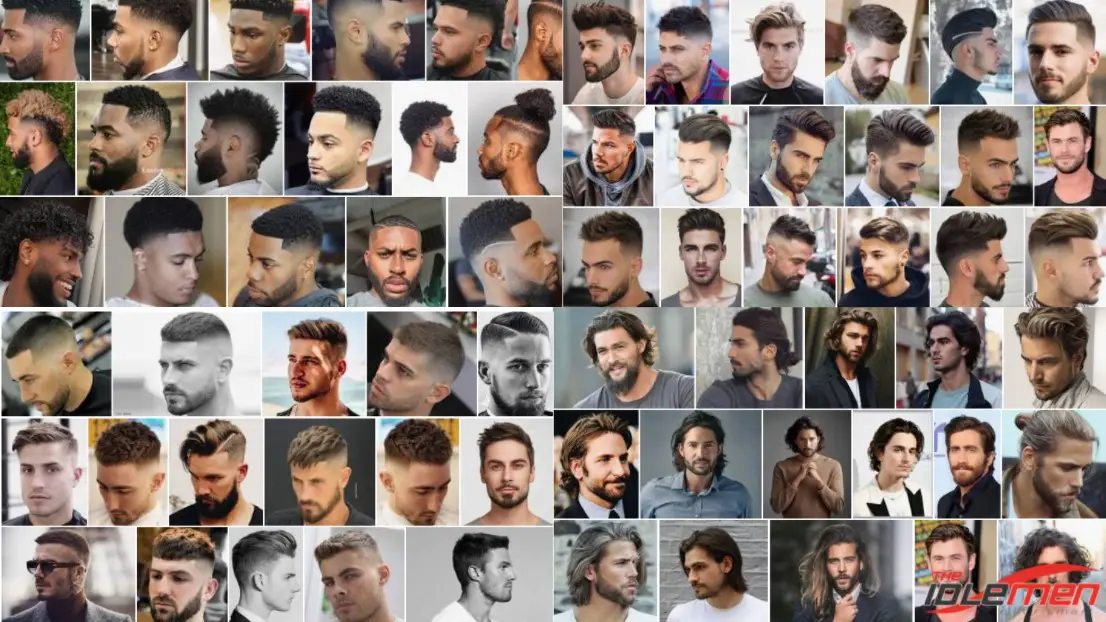 Pick a hairstyle depending on your personality and the shape of your face.
Even though you're cutting your hair on yourself, you must want to take the latest hairstyle.
But we would prefer to choose the easiest hairstyle as you're cutting your hair for the first time. The easy hairstyle doesn't require so many techniques and efforts.
When you succeed in cutting your hair, it will make you courageous to apply the toughest hairstyle.
Step 2: Properly Wash Your Hair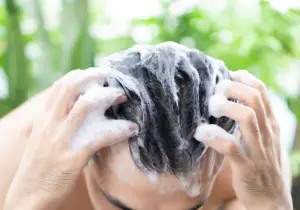 The regular lifestyle makes your hair filthy, dirty, and sticky. Indeed, it is difficult to cut the sticky and filthy hair without washing.
So, the first step of cutting your hair is shampooing and conditioning them. Shampooing the hair makes it clean, contrariwise, conditioning makes it smooth and silky.
However, the silky and smooth hair is straightforward to handle than the rough and dirty hair.
Step 3: Wipe Your Hair Properly
After cleaning the hair, wipe them with your soft towel. The wet hair is difficult to cut. Most importantly, it becomes difficult to give any hairstyle on your wet hair.
So, properly wiping the hair is mandatory. Make sure your hair remains between a little wet and almost dry.
Step 4: Open the Knots of Your Hair
Opening the knots of hair is the most difficult task when you have bigger hair. But in the small hair of the men, the knots are too easy to open. And this is the most crucial part to cut the hair evenly.
Use the hair comb with larger teeth to open the knot. You'll face less difficulty opening the hair knot with the long teeth hair comb.
Step 5: Choose A Suitable Place to Cut Down the Hair
After getting ready, choose a suitable place to cut down your hair. A suitable place means standing in front of a large mirror where you can see yourself properly.
Usually, the washroom has such a large mirror that shows your reflection accurately.
But if you don't have such a place, then you can use your handheld mirror to accomplish your work. Although, it is somehow difficult to cut hair using the handheld mirror. Nevertheless, things can become easy if you have a helping hand.
Related: Best 3 way mirror for self hair cutting
Step 6: Cover Yourself Up to The Neck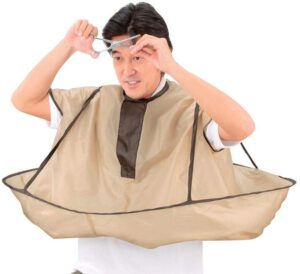 Bring out an old shirt and tie it under your neck. This old shirt will cover you and protect your body from getting messy. Therefore, this is a crucial step before you start to cut your hair.
Step 6: Divide Your Hair into Two Parts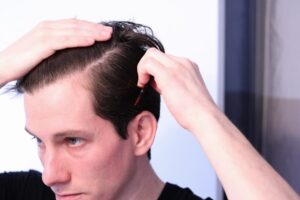 Divide your hairs into two parts by running the comb on them. If you want to keep your middle hair long, do the sectioning on both sides of your head.
Tie the middle portion of hair with the hair clip, especially when they are large enough to disturb your work.
Step 7: Cut the Hair Near Your Ear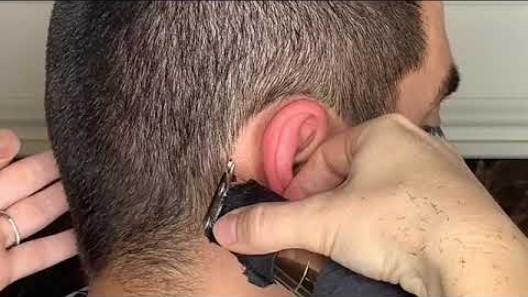 Take your trimmer and test its sharpness. To cut the hair at the same size, you'll need a trimmer that is too sharp.
Cut the hair near your ear against the direction of hair growth. Try to control the pressure of the trimmer as much as possible while running it on your hair.
Cut the hair from the bottom to the upwards of your ear, slowly moving the trimmer. Similarly, cut the hair on another side of your hair. Give the correct shape according to the hairstyle that you have chosen for your hair.
Step 8: Cut the Neckline Hairs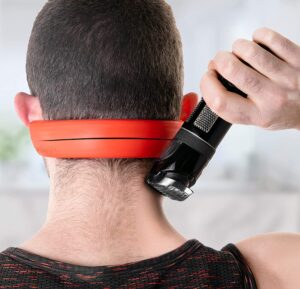 Move to your backward in front of your washroom mirror and hold the handheld mirror. In this way, you can see in the mirror what you're exactly doing.
Now, Apply the trimmer on the hair near your neck and make it smaller. Cut that hair at an even size. But that's not mandatory!
You can also keep the neckline hair square, rounded, or tapered. So, it is up to you!
Step 9: Cut the Hair of Your Head 
Open the hair clip, which was controlling the middle portion of the hair. Notice the hair carefully and hold them between your two fingers.
With a scissor, cut down the hair in the middle of your head. Instead of using a finger, you can also hold the finger and cut them straight.
Don't skip the backside of your head while cutting the hair with a scissor.
Keep the size of your hair according to your chosen hairstyle. Don't worry, even though the hair becomes smaller or bigger, unlike your selected hairstyle. Just make sure the size of the hair doesn't get uneven to each other.
Related: Best hair clippers
Step 10: Trim the Hair
Run the comb through your hair and see whether all the hair is the same length or not. If not, then cut the bigger pieces of hair with the scissor.
Step 11: Cut the Side Burn in Front of Your Ear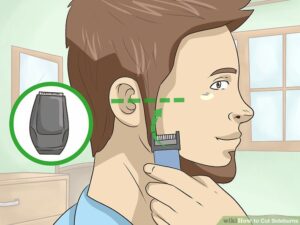 Come to the mirror and look at the hair in front of your ear. If there is growing hair in front of the ear, you must make them even.
Apply the trimmer on the hair at the sideburn of your ear. Look at the mirror when cutting the hair in front of the ear. Otherwise, you might miss cutting them at even size.
Step 12: Give A Fade on Your Hair
Now, you have to give the right shape to your hair. But before that, clean the hair from your head and neck with a cloth. Completed?
It is time to learn how to fade hair? Fading the hair means setting the hairstyle you've chosen for yourself.
Set any hairstyle using hair products like wax and pomade. If you don't want to apply any chemicals on your hair, just wash the hair and wipe it.
Some Tips of Cutting the Men's Hair on Right Way
Tip 1:
Select a perfect cordless trimmer that features a complete clipping kit to cut your hair. It is most important to get a haircut like professionals without experience.
Tip 2:
Cut your hair in the opposite direction of its growth. This process offers counterforce to cut the hair easily. Consequently, you'll quickly get a desired cut on hair.
Tip 3:
After cutting the hair on one side, directly move to another site instead of going to the neckline. If you go to the neckline after side hair cutting, you mightn't get a symmetric cut at your other side.
Tip 4:
Use two mirrors to cut your hair on yourself, particularly when cutting the neckline's hair. It is impossible to cut the hair backward without watching.
Even though using two mirrors becomes difficult, you can seek the help of others to cut your hair. Just give him proper instruction to show the hairstyle. Also, make sure he's not a kid.
Tip 5:
Before starting to cut your hair, you should practice the skill on others. It will ensure to get an excellent hairstyle on yourself like the professional barbers.
Of course, you don't want to miss the opportunity of getting a marvelous haircut, do you?
Best Self Haircut Tutorial for Men (Video)
FAQs
Is It Possible to Cut Your Own Hair Male?
Of course, it is possible to cut your own hair, especially when you're a male. That's because a male has short hair, which is easy to maintain and cut. So, a little bit of practice and the use of the right tool will ensure that you can cut your hair at home.
Is Cutting Your Own Hair Hard?
Cutting your own hair doesn't need as much expertise as the barber. If you're a man, then cutting your hair becomes easier compared to women. Just make sure you have the necessary gear, and you know the right process of cutting hair.
Is It Worth Learning to Cut Your Own Hair?
If you have the right hair-cutting gears and a large mirror, you don't have to go to a barber. Using those gears, you can cut your hair yourself, which will save lots of your expenses. Furthermore, you can learn various hairstyles and cut like a professional barber. Therefore, you can cut your hair anytime at home if you stay busy with your regular work.
Does Cutting Hair Save Money?
Of course, you can save your money cutting your own hair at home. You frequently don't have to spend money behind the barber to cut down the hair. Instead, a one-time purchase of the hair cutting gear will be your long-time investment.
The Sum Up!
Not everyone among us has the strength, time, and effort to often go to a salon for cutting hair. But letting the hair grow continuously is also not a wise decision either. Not everyone likes long hairstyles.
If you also don't like that, you should learn how to cut your own hair for men. Nothing goes in vain if you always try to learn new things and skills in this COVID lockdown.
Learning the skill of cutting hair, you can at least cut your hair at home whenever you get time.