Once in a while, every man touched their shaved chin and asked – "how do I look if I grow a long beard?" That baby step often headed for a never-ending beard obsession. 
In 1873, a peculiar event appeared in London's newspapers. It was a beard competition named "The First Beard and Moustache Show." This was the first action by the beard fanatics. Since then, the passion and craze about beards are growing by numbers over the decades, and now, men from every generation want to have a stylish beard.
Growing a beard is a commitment. You have to be calm and patient while you are ascending towards the goal. And trying something new is always fun.
Here are some expert's guidelines on how to grow a beard.
How to Grow a Beard?
You want to grow a beard; that's cool. I appreciate it, but before that, consider facts like your face type, beard's density, or the specific beard line. Try to visualize everything before you execute the plan, and that will help you in the long run.
What's your Beard Type?
Almost no one can try all the beard styles that are available right now. So the majority of us have to make calculations that help specify a beard style that suits our face. Some of the fundamental aspects you have to reflect upon before choosing a specific beard fashion.
Beard Growth
Most men need two to six months to have a full-grown beard. Many factors work behind the process, but genetics is the vital one. It grows in multiple stages, starts in the first week when the growth is not that visible and keeps growing if you don't trim. It is better not to trim it and let it reach the gull growth within the time range. Trimming before that will hold up the process and disrupt your schedule. However, it is your call whether you maintain it from the beginning or wait till entire development. 
Face Shape
To attain a particular beard style, face shape plays a vital role. For every face type, there is a beard style. Identify and choose a type that will look better on your face. Usually, men possess five shapes- Oval, Rectangle, Triangular, Round, and Square. Let's find out which shapes go well with which beard style.
Oval
Congratulations! 
Those who have an oval face, these are the lucky ones and can get whatever beard style they want.
Rectangle
Do you have a long face? Then you possess rectangular type, which means avoid anything but goatees or those pointy beard styles that make your face longer. Grow a beard more above your cheeks to give them some width.
Triangular
This type of face often looks good with a hybrid beard, which means a combination of a short mustache with a wide beard. Always avoid thick beards around your chicks. It will make your jaw-line more attractive.
Round
Keep the beards longer on the chin and shorter around the cheeks. This will make a perfect beard style for you. 
Square
You have an excellent jaw-bone structure; make it more demanding by having a goatee. This style will help the other features of your face to make a statement.
Density
People have quite a diverse beard density. Some are denser than others. If your beard is thick and shiny, then follow the style which suits your face better. On the contrary, if you own lighter facial hair, go for the patchy beard.
Don't Shave and Let It Grow

.
Shaving is counterproductive for beard growth, yet do it once and let the razors rest for a while. To grow a full-size bushy beard, patience is the key. Grow it for at least two to three months. After that, you can trim a bit or give them shape. You might get surprised at the end when you see your patchy spaces become invisible by thick, healthy facial hair.
However, it's always easier said than done. It can be challenging through these cultivating times, because a thick beard often creates itchiness and uncomfortable commotions, especially if you are new to this. The first month is difficult, and most of you will quit this month. So try to remember the commitment that you did earlier.
Time to Trim the Beard
The growing part is most complex and time-consuming, and if you completed this phase, pats yourself on the back. It's time to have fun and become creative. Create the lines to outstand others.
Give your beard a proper cleansing, and don't hold yourself from using a conditioner. It's always easy to work with hair when they are soft. Comb your beard downward, so that the split knots and unhealthy hair falls off. To cut off the stubborn beards, use scissors. Every good trimmer comes with multiple clippers, use those and give your beard an excellent stylish trim. 
Hattteker Men's Hair Clipper and Panasonic Men's All-in-One Electric Trimmer, these two are dominating the market with good ratings from users, buy and of them and finish what you started two or three months ago. 
You have another option if all this seems a burden to you- simply go to your favorite barber and ask him to do the trimming for you.
Maintenance
At this point, you achieved the desired length and the style that you should feel proud of. Now maintain what you pull off from scratch and cherish it.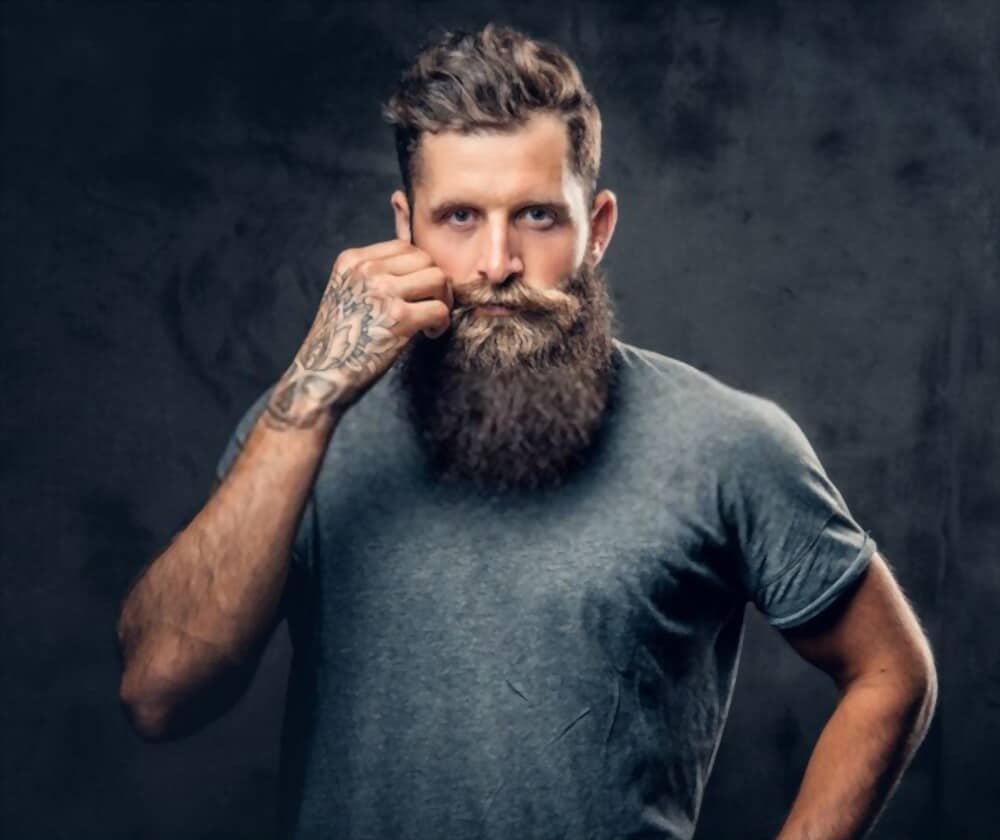 Use the Right Products
Don't get confused by the title. Using the right products doesn't mean you need to use expensive goods. Pricy shampoo and beard oils won't make a difference. Just go for regular stuff, but make sure that you use them. Shampooing will help to cleanse the beard from excessive facial oil and dust. Always use beard oil after washing. Thus it will moisturize the facial skin underneath that healthy facial hair. Beard oil also keeps the skin and beard hydrated, which helps the growth a lot.
Brush it Everyday
No matter what type of beard you have long or short, don't forget to brush them at the end of the day. Brushing will make the beard prepared for the next day, also keeps it clean and healthy from brittleness. It maintains good blood circulation at the bottom of each bead. Problems like the split end, beard dandruff, and fragile beard can easily be solved by brushing every day, so try to get this habit. 
Eat the Right Food
Every food you eat reflects on the outer surface of your body. Make an upright relation with the right foods. A nutritious diet helps to flourish your beard like a bloomed flower. To produce a healthy beard that's totally in shape you need to create space for these foods in your diet list- 
Sweet Potatoes

Oysters

Eggs

Spinach

Liver

Cinnamon.
Produce More Testosterone 
Your facial hair is nothing but the bi-products of hormones called testosterone. If your body produces more testosterone than a hundred percent chance, you will boast shiny beards. What you need now is a list of to-do's, which will boost that hormone, and we are providing that right now.
Sleep a lot. Sleeping at least 7-1- hours at night would produce a good amount because that hormone tends to increase during sleep time. 

Experiment with your body and make a routine. That means put a spotlight on your muscle-building training. Join the gym, start morning walk, do whatever necessary to keep your body in shape.

Lifting weight is a great exercise for increasing testosterone. Make it a habit.
Pay Attention to Your Facial Skin
Take good care of your facial skin. After all, those hair coming out from that skin, and if you keep it clean, the beard will also gleam. Wash the face twice a day, once after waking up and later at night before getting into bed. Use natural men's scrub for cleansing and moisturizer to hold the moisture in a balanced way. 
Common Beard problems
Growing a beard is quite tricky when it comes to issues like itchy beard, dandruff, split ends, losing hair, etc. sorry to mention, but there is no such thing as a perfect beard. Most of these problems are self-created research shows it, that means you are the enemy of your beard. Using rough beard products, unhealthy lifestyles, and lack of grooming cause these issues. Solving every issue at once can be tough, but you can get rid of them once by one. How? Let us show you-
Itchy Beard
Dry skin and roughly cut beards are the reason behind the itchiness. Use beard oil or moisturizer to keep the skin hydrated and soft. Use a razor instead of trimmer at the first shaving before the longing process.
Dandruff
Sebum is an organic oil produced by your face, which causes dandruff. Brushing before shower can prevent dandruff from increasing.
Split Ends
Split ends occur when your beard turns into a brittle mess. The main reason behind this is the lack of moisturizer. Moisturize the beard follicles and stop touching them too often. Let them breathe.
Beard fall
Most of the time, scientists relate hair fall to genetics, and it's true. And we can do very little about it; however, if it's not genetically caused, you can prevent it by growing a short beard. The shorter beard won't require too many nutrients, which is often effective in these cases.
Related Post:
CONCLUSION
Successfully you came this far without losing patience, hats off to you. A long beard is going to charge you a lot, your appearance, style, and confidence. It's not like you have not shaved for a long time, and that's it, there are a lot of things behind that, and you already know it. Keep our beard long and healthy, and don't forget to let people touch it. Because by touching it, maybe someone gets inspired and starts growing, you never know.