Two in one multi-purpose body washes are high in demand. It comes in handy, especially for men, who don't want to spend loads of time buying different products for different areas. 
A quality body wash can quickly meet your overall cleansing needs making things less and less complicated. Here in our Jack Black Black Reserve Review, we here have one such body and hair cleanser for your convenience. This premium item comes with breathtaking physical benefits anybody would love to enjoy!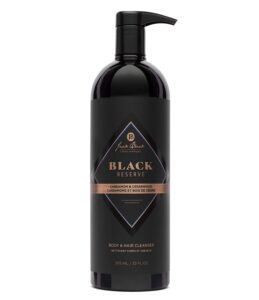 Jack Black Black Reserve Review
Right now, we'll go through Jack Black's Black Reserve and try to bring out its benefits and shed light upon some of its drawbacks. We believe the multifaceted nature of our guide will give you a complete understanding of the product. Let's begin! 
Several Benefits It Offers 
First, it is upon us to show you some of the critical characteristics which make it a highly admired piece among its users. Let's find out what these extraordinary features are: 
Deep Cleans Your Skin 
Yes, this is a deep cleanser you've been looking for all these times! Average soap bar may not give you the deep cleansing performance that you want. So, you can bring in this Black Reserve to fill in that gap. 
Dirt build-up on the skin can cause several skin-related problems. It becomes either too oily or too dry, both of which can lead to longer-lasting consequences. Then you can get extreme itching because of fungus and yeast development on the outer layer of your skin. Bacterial growth is another common outcome of unclean skin. 
But this unique limited edition body cleanser has natural purifiers like Cardamom and Cedarwood, which are tremendously useful in washing away dirt and sweat build-up. It recharges your skin cells and invigorates your body on the whole. So, for a morning refreshment or a divinely purified before sleep, this is something you should employ, without a doubt! 
It Doesn't Eat Up Essential Body Oil 
Most mediocre, ordinary bars give you a lower grade cleaning, which is harmful to the skin. They can sometimes perform well in washing away dirt, but they lack the intelligent mechanism of compromising the essential oils. As a result, you get this excessively dry sensation after a shower. 
Well, you don't want such an issue with the premium Black Reserve Body Cleanse. Unlike your average bars, it won't strip you off of moisture content. Instead, this highly well-manufactured piece would bring in extra hydration making your skin glowing with radiance. Not just the looks, it also helps repair the cell shedding effects. So, for an attractively gleaming appearance, this is a must. 
Fragrance Factor 
As you're applying it all over the body, the fragrance is one of the most important things to consider here. Without a beautifully fragrant smell, the body wash would give you a touch of irritation continuously, no matter how good it is. 
But, we expect that you won't experience such a state, at least with this Black Reserve Body Wash because it has an outstandingly pleasant smell! A complex blend of Lavender and Bergamot gives you a delicate whiff to remember. Coriander and Patchouli, in the mix, stand out and create a distinctive fragrance that your friends would notice! Therefore, if you consider the fragrance factor, this is undoubtedly one of the best! 
Dual Performance 
Men, in general, detest complicating things. And it gets even more so when it comes to using cosmetics. Even a couple of decades back, using cosmetics was a taboo for men. Anyway, to relieve such complex issues of applying various items for different body areas, Jack Black fuses hair care and skincare into this Black Reserve Body and Hair Cleanse. You don't need to again apply shampoo and then conditioner to clean dirt from your hair and remove odor. This sulfate-free, nicely scented Hair wash would clean your hair without making them dry. Thus, you can count on this multi-purpose body and hair cleanse for a convenient cleaning! 
Rich in Naturals 
The Black Reserve comes packed with tons of naturals. These are highly beneficial for your body and hair with no side effects to worry about. The antioxidants in aloe vera help you fight skin inflammation. Jojoba is suitable for both hair and skin; it aids repairs and conditions damaged hair and brings in shine. Add to it the skin-softening smoothing properties of Pro-Vitamin B5 present in the formulation. Finally, the healing properties of shea butter help support both hair and skin protection! Overall, this ultimate blend of 4 essential naturals makes it an unbelievably useful item in the market. 
Some Downsides 
Along with the positives, it has one or two drawbacks as well. Let's briefly look at some of them. 
First, the smell is highly pleasing, but some men can find it slightly womanly. Again, this is a highly individualized field, and in general, the scent is pleasant yet, some may find it girly depending on their taste. 
Except for this minor issue, we don't have anything significant to talk about this premium item. And if you consider the body wash, on the whole, it would perform exceptionally well! 
FAQs:
Does it take a lot of soap to get a good lather? Considering the price, I would like this to last a while.
Well, we think you'll not be displeased with the output. Because a 33oz bottle can last you several months using two pumps each time. Depending on the intensity of help, it can last longer or shorter.
Is this going to make me smell like a nightclub, or is it more subtle? At this price, I just want to make sure the smell is tasteful.
If you're considering the strength of the smell, it is nothing to be worried about. It's more of a subtly pleasant smell than strong and irritating.
To Sump Up 
As you have noticed, in our Jack Black Black Reserve Review, we have gone through the tiniest of details of this premium dual-action body wash. Apart from the minor issue related to the choice of smell, this outstandingly formulated body wash is way superior to your ordinary bars. 
It gives you deep cleaning, and the unique blend of four powerful naturals makes it a suitable item for regular skin and hair care. So, nothing should stop you now from getting your hands on one of these. Bring it home today and transform skincare right now!