Men usually have a rougher and coarser skin pattern than their counterparts. That is why body lotions are of extreme importance. They seal in moisture content and soothes your skin like nothing else. 
Today in our Jack Black body lotion review, we'll discuss one such lotion that can improve your skin conditions to a certain extent. Outstandingly admired and well-accepted, this can be the go-to lotion you can use every day. Let's find out!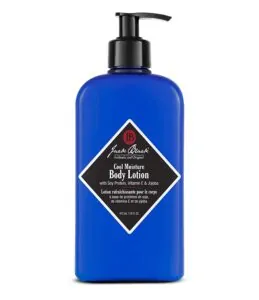 Jack Black Body Lotion Review 
Just like all the previous one, here too, we shall focus on each of these lotion's core characteristics, bring them up and analyze them critically. So you get a comprehensive overall picture of how this lotion would work on the skin. 
Several Good Things You Should Know 
Well, in the beginning, sections, we'd like to talk about some of the health-enriching attributes this lotion comes equipped with. Let's not waste more words and get directly to our subject matter.
Hydrates and Soothes Your Skin 
If you're a man with dry skin and facing innumerable issues as a result of that, then this lotion should come in handy! Having dry skin can be extremely irritating. This type of skin is eczema-prone and vulnerable to develop all sorts of rashes and itches. 
How to deal with such a problematic skin type? 
One of the solutions is proper hydration. If your skin gets adequate water substance, it will be smoother and relieve you from rough and brittle skin. Well, this premium formulated lotion by Jack Black is something that offers you just that! Its matchless hydrating properties should be a fitting remedy for dry skin related problems. 
Tones Down the Heat with A Tenderly Cooling Sensation 
This is something unique about this lotion. It has a distinctive specialty of cooling up the outer layer of your skin. Especially during the hot summer days, it gets extremely difficult for men. While being under the hot sun, you get a burning sensation on the skin because of immense heat. Well, this intelligent lotion knows how to counter this heat. It relieves your skin of this feverish warmths with a pleasingly cooling sensation you'd love to have over and over again! 
Exceptionally Health Improving Organic Substances 
Always check the ingredients list for quality natural substances that help your skin glow without any side effects. The same goes for this lotion too. We have located some crucial naturally enriching substances that can have a positively transforming impact on your skin. 
For example, soybeans present in the formulation can be a good source of moisture and hydration in your skin. It also is a quality ingredient that increases the anti-aging resources of your skin. Vitamin E, on the other hand, is a quality antioxidant that can reduce skin-irritating issues. 
Finally, in this extraordinary solution, Jojoba Oil is a quality element that tackles many of the skin-related problems such as eczema, rosacea, chafing, chapping, and redness. It also helps in removing the detrimental impacts of drying. 
Rejection of the Damaging Chemicals
Having sensitive chemical ingredients in body lotions can be a nightmare for anybody. You don't want them in lotions that are applied all over the body. Just imagine yourself putting in deadly chemicals on the skin that forms the entire appearance. That's why Jack Black rejects the idea of using these sorts of unsafe substances. 
First, the lotion is free of paraben, one of the most disliked chemical substances in beauty products. They also refrain from using surfactants, long term exposure to which can build up skin irritations. Moreover, they also drop colorants from their menu, immunizing you from acne and blemishes to a certain extent. 
Some Negatives You May Observe
No product, no matter how premium made, is not above flaws. Each item comes with its fair share of drawbacks, whether minimum or many. Similarly, this body lotion by Jack Black has one or two slight issues that we'd like to shed some light upon. 
So, one issue you may find slightly troublesome is the fragrance. It doesn't smell that bad, but the fact is, it's a bit too strong. If you're too sensitive to smells that it may seem slightly problematic, but otherwise, it should be completely fine. 
Another little issue about it is the design of the lotion's bottle. The nozzle seems too fragile for travel or heavy use. So, we'd suggest you use it with caution and not be too harsh with it.
This extraordinary lotion has minor problems like these, which we think is not a big deal at all. And overall, this heavily admired item would surely be a game-changer!
FAQs:
Is this good to be used as a face lotion?
It can depend on your skin type. If your face accepts it then it should be okay. But it can be slightly oily and greasy afterward, so keep that in mind.
Where is this product made?
We understand your concern. It is better to have an idea for users to know where the product is coming from. This lotion is developed and manufactured in Texas.
Is it Alcohol-free?
Yes. Like all the other products by Jack Black, this lotion too is free of alcohol.
Is this good for sweaty skin? If not, any recommendations for people who sweat easily and often?
It isn't an extremely heavy formula. So it won't leave your skin greasy or sticky after use.
Is this strong in menthol, and would it wake me up?
No, but it is not overpowering. It refreshes you.
See also: 
Final Thought 
As you have gone through our detailed Jack Black Body Lotion Review, it should now be clear how we emphasized every aspect of it. We portrayed both the positives and the minor weaknesses it may have. Its strengths highly overpower its drawbacks and are the dominant factors that define this lotion. 
It is abundant in naturally rich elements with a tender cooling sensation, softens, smoothes, and hydrates the skin most intelligently and gently. Free of hazardous chemicals and filled with plentiful skin-enhancing benefits, this is something you should have for healthier and smoother looking skin!