Soap and water have been man's best friend just as much as dogs have been. A cleanse in the shower has always been just about enough for men's skincare. Moisturizing comes if you're on the drier side; if you're a guy with oily skin, chances are you don't even care for a moisturizer. But guess it's time for a change, lads!
To let you show the right TLC to your skin, we brought you Jack Black Double-duty Moisturizer review. It features ingredients such as blue algae, vitamins A and E, and phospholipids to quench the thirst that your skin has been missing all these days.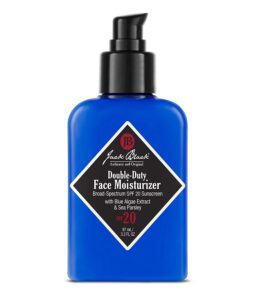 Why Men Need Moisturizer
Moisturizer isn't gender-specific that we need to tell you why you need to moisturize, why everyone needs to moisturize! Moisturizer is one of the keys, if not the single most important thing for your skin to look healthy. 
And when your skin is more beneficial, you are more comfortable in it. You are frequently losing the moisture from your face due to the showers and cold air—also the washing with soap-and-water strips your face of the natural oils. So, a moisturizer can save you from losing that and replenish what you lost on the skin.
A good moisturizer also helps slow down aging by taking care of fine lines and wrinkles, and one with SPF may even save you from sun damage.
Jack Black Double-duty Face Moisturizer Review
Here's the complete review:
Product Description
The beautiful product in the blue pump bottle is marketed as a lightweight emollient. It focuses on two issues: offering hydration to your face and improving appearance. A hydrated face will naturally enhance the appearance of faces, given that both are correlated; the more hydrated your face is, the better it will look. So, we think the claim may work.
The product also has broad-spectrum SPF 20 that is supposed to protect you from the sun, environmental stress, and pollution, somehow. Let's break things down.
Ingredient Highlights
Blue Algae
If you want to tone and lift your face, this is a great ingredient. It is high in proteins and fatty acids that give your skin a healthy, rejuvenated look. The fatty acids help with the lines we previously talked about. It also contains vitamin E, which is known for making your skin supple and less-inflamed.
Sea Parsley
Sea parsley is packed with a star ingredient of 2020, which is vitamin C. In case you didn't know, it boosts collagen production in unison with vitamin A and reduced unevenness in the skin, making it more glowy and brightened. This is also good for controlling excessive oil production in your skin, which is why oily skin types like the product too.
Vitamins
It has 3 major ones, A, C, and E. These are important to protect your skin from the free radical damage and offer your skin the thing that you had been holding back for decades now: moisture and health. 
Phospholipids
There is no point in a lot of great ingredients in a product if you can't get the benefits of skin barrier protection from it. Thankfully, this moisturizer has the effect of barrier protection. 
Due to not using moisturizer, your skin barrier already stands at a compromised position, so when you have the backup of things like phospholipids, you are moisturizing the skin and, at the same time, protecting your skin from future damage. 
Actives
The moisturizer also has Avobenzone and Octinoxate in it to offer the sun protection that you need.
Others
Other notable ingredients that we liked on the list include rosemary to ward off bacteria, sodium hyaluronate for the added hydration, apple extract, and glycerin. The product also has essential oils, which may be irritating to some.
Application
After you have shaved and cleansed your face, it would be the right time to use the product on your face. If you're staying home, there's no time constraint. But in case you're going out, apply the thing on your face fifteen minutes prior in order to reap the benefits of sun protection.
Performance
Here's what we think about it:
Pros
Great as a daily moisturizer.

Doesn't leave a greasy feeling on the skin.

Easy spreadability.

Great absorption.

Little to no smell.

Great ingredients for plumping skin, reducing lines, and fighting free radical damage. Also has healing properties.
Cons
Drier skin types need backup hydration.

Not enough SPF.
FAQs
Can it be used with those that have a combination skin type?
You may use a pump if you are the combination-dry type. If you are on the combination-oily side, you can try their oil-free moisturizer.
Can I use it for both day and night?
How much Should I be using?
Any moisturizer, when used in a pea-sized amount, does the job. Too much application may leave your skin greasy, and too little might not cover the entirety. 1 or 2 pumps should be enough.
What can I add to it to increase the hydration powers?
If you are on the drier side and think this isn't doing enough for you, you could add the Clean Break Oil-Free Moisturizer of the same brand to your routine, so lock in the moisture.
Can I use it as sunscreen on my face when I golf?
This face moisturizer is a good one if you are going out for your errands to the mall, going out to eat, or just a small detour with your friends. However, if you expect to be exposed to the sun for a long time, as in playing golf, then you can't use it as a standalone sunscreen. You need something between SPF 30-50 on top of it.
See also:
Conclusion
We hope you liked the Jack Black double duty face moisturizer review that we presented here today! Given that you didn't know much about moisturizers and if you did, you never cared for one, this might seem like a lot of information to take in. 
However, we have told you what's good and what's bad, so you should be able to pick this one or one that you like, after your research!