As men tend to be slightly less careful in their skin caring activities, they may tend to look a bit older than their actual age. Furthermore, the ongoing competition for career-related projects requires men to take in much more psychological strains, often making their skins show signs of ageing quickly. 
This Jack Black Protein Booster Skin Serum review looks upon an item that can care and fight ageing, giving you a younger appearance. It is a great way to look sharp and robust, which is crucial for any man. As a man, you'd always want to look neat and healthy, and to achieve this. A particular regimen should be followed, and useful elements need to be used.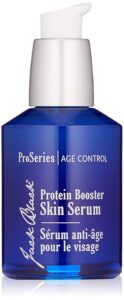 Jack Black Protein Booster Skin Serum Review
Here we'd talk about the different aspects. We'd try to bring the potential positive factors to regard it, and we'll also inform you of some of its drawbacks. But we're optimistic that we'd be able to give you a complete understanding. 
Positives Worth Mentioning 
Any item you buy should have some things to count on. Without the presence of some of the more vital characteristics, you'd never be able to understand the reason behind spending on it. So, now let's discuss some of its qualities. 
Skin Enhancing Ingredients
How to understand that a particular item can offer beneficial features for your skin? The first and most effective manner you'd realize is by reading the ingredient list. Here we talk about some of the key ingredients it comes equipped with. 
It uses a protein substance called Matrixyl 3000, which is endowed with anti-wrinkle properties and should be an active agent to look your face younger. They also have another element present in the formulation, which is known as Renovage. It is a patented element that works effectively in terms of removing pigmented spots. 
Thirdly, the solution contains natural green tea. This organic element is an outstandingly effective ingredient that can have a detoxifying impact on your skin without any side effects. 
Finally, the organic Omega-3 fatty acids are there in the formulation to give the face a brighter and invigorating appearance you've always wanted. 
Overall, look at these active ingredients in this anti-ageing cream. It'd be pleasing to find tons and tons of other skin health-enhancing features that can play a significant role to fight off the irritating effects of ageing from the face. 
Control Your Age In A Critical Manner 
This serum has an incredibly intricate way of function. To reduce ageing, you'd need things that are intelligent enough to go deep down and work from deep within to give a natural-looking younger appearance. 
Well, this serum does just that. This peptide-rich serum can penetrate through tiny skin holes and go deep within to work on the anti-ageing functions. The silky liquid has a smart absorption mechanism that can pierce through your skin's upper surface and give a powerful workout that the skin needed all these years. 
Well Fragrant 
Despite the anti-ageing capabilities, there is one thing that you'd always look at. That is the fragrance factor. No matter how useful an item is, you'd never want anything on the face that smells awful. You can somehow do away with applying bad-smelling products on the body, but it is unbearable on the facial skin. 
To counter this awful experience, Jack Black intelligently designed this formulation that is effective on the face and pleasing to your nose at the same time. You have this rosy geranium aromatic flavor that would make anyone whenever being applied. You'd continue to smell beautiful well even after application, giving a more refreshing and energizing sensation.
Some Cons You Can Study
Besides the countless number of positive features, this anti-ageing serum can have one or two minor issues, which we'd like you to notice before proceeding. 
One of the issues that you can encounter is the issue of adaptability. Although the item is considered an outstanding product for anti-ageing treatment, some men can find it almost inapplicable because skins react differently for each individual. 
Those with an extremely sensitive skin type may face an allergic reaction to it. This is why it is better to apply a little potion on a safe spot to see how it reacts. If all is good, then move ahead; if not, then discontinue. 
As we have mentioned, it is generally perceived as a great item, but in some extreme cases, it can seem otherwise, and that does not and should not define this product. 
FAQs
Which brand of face serum is best?
There are plenty of different brands in the market. But if you're a man, then, Jack Black serum can work well as their products are specially designed to meet men's needs.
Can I mix the serum with moisturizer?
Serum and moisturizers may contain many ingredients that are similar to nature. But it can be slightly greasy if your skin is too oily. Other than that, it shouldn't be an issue.
How long do you wait between skincare steps?
It is better to take some breaks between the application of different products, as each solution takes some time to work on the skin.
Which is better, serum, or lotion?
Both have different functions to perform. Lotions or moisturizers are often used to hydrate your skin, where the serum can have various medicinal properties like anti-ageing or skin enhancement.
How long should you wait between serum and moisturizer?
Wait for your serum to be absorbed and processed by the skin. You can wait for 5-10 minutes after serum application then you can go ahead with moisturizer.
To Sum Up 
Jack Black, as you all know, is a group that always focuses on men's needs. And no wonder they have an extensive line of products entirely direct for men. In this Jack Black Protein Booster Skin Serum Review, we portrayed how different protein-rich substances, coupled with the health enriching natural ingredients, can perform exceptionally in terms of reducing the effects of ageing in men. 
Say goodbye to these early wrinkles, take temporary measures, and delay your ageing as soon as possible! Maintain a healthy and robust look that attracts people and reinforces your masculine nature. So, don't wait for the wrinkles to appear; bring it home and defeat them before they defeat you!