With over 20 years of experience, the Dallas based care manufacturer Jack Black focuses especially on men's beauty needs. 
After noticing the overwhelming presence of women beauty care items in the market and witnessing how men's beauty needs are being completely overlooked, they decided to take up their journey and started producing quality men's care items that use standard ingredients and were made cruelty free. 
Today in our Jack Black Turbo Body Spray review, we're going to talk about one such item, which is a result of their continuous effort through all these years. Loved and admired by the users makes us want to find out what qualities.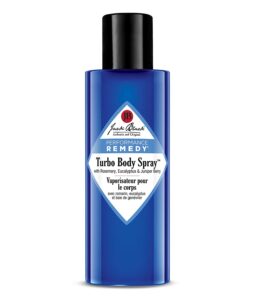 Jack Black Turbo Body Spray Review 
Right now, we'd have a quick and in-depth analysis of the body spray and find out some of its specialties. Let's begin! 
The Positive Features 
It is quite natural for any potential consumer to investigate what the product has to offer that justifies their spending. Well, we'd like to look at those particular characteristics that make it buyable. 
Outstandingly Pleasing Fragrance 
When you enter your office, you don't want others to be bothered by the smell released by your sweat. Air-conditioned office spaces would make highly unbearable for your colleague because of circulating air and closed spaces. 
If you do not want such an awkward event to take place, you can depend on this formulation by Jack Black. The great whiff by the body spray would replace bad odor and shape your image into something positive. 
Absence of Harmful Ingredients 
This is something we always notice, especially in the fragrance industry. Usually, we are too careful about our hair and skincare products because its effects can be seen, which is why we don't want to give much attention to body sprays or deodorants. But having harmful substances can damage your underarm skin as well and provide you with irritation and itches, which is utterly embarrassing in the public sphere. And this is why you should also try finding body sprays and fragrances that refrains from using damaging chemicals. 
This cruelty-free Turbo by Jack Black is formulated in such a way that should give you a non-damaging, healthy fragrance. It's not a bottle of chemical, to be exact. They're excluding harsh substances such as surfactants, artificial colorants, and parabens. So this vegan body sprays something you can rely upon without the possibility of any negative experiences in the long run. 
It's Soothing and Lightweight 
If you're extremely sensitive to strong fragrances, then this can be an appropriate option for you. Because the fragrance of this item isn't like one of those gassed body spray bottles; rather, it gives off a subtle, classy whiff that is ever-pleasing to you. The elegant, lightweight body spray is for people who are looking for a smart, lightweight scent. 
Natural Ingredients 
It also uses several different natural ingredients, such as Rosemary, Eucalyptus, and Spearmint. Among them, Rosemary is rich in anti-inflammatory properties preventing puffiness and swelling of the skin. 
Eucalyptus, on the other hand, helps moisturize your skin for better hydration. Spearmint is also a skin-friendly element. So, the main fragrance making ingredients in the list are all-natural and health enriching for your skin; thus, these naturally balanced elements in the formulation can be healthy. 
Some of its Downsides 
First, we have already mentioned the fragrance is not strong rather a subtle yet nicely blended perfume. So it can seem to last slightly less than the irritatingly stronger ones. Another thing is, although it has a soothing fragrance, it is a bit different from the smell of the body wash of the Performance Remedy Line. 
Despite this one or two small slight complications, we think the body spray should work well; on the whole, can be a good item on the deck! 
See also: 
To Sum Up 
As you have witnessed, we went through the product in its entirety, and not only did we focus on its exceptional positive features, but we also highlighted some of the drawbacks that you can consider. As a result, we believe our Jack Black Turbo Body Spray review gives you a thorough conception of this extraordinary product. 
Well, now, if you look at it from a neutral perspective, you'd easily observe that this has some key and unique properties that set it apart from the average body sprays in the market. This cruelty-free, premium fragrant body spray is subtle yet attractively pleasing, has health enriching natural ingredients, and, lastly, abstains from using skin damaging chemicals, making it a highly sought after item. So, what are you waiting for?