This Just for Men beard review isn't only for ailing men who have a grey beard or some salt-and-pepper they would like to even out. It is also for those who at a young age are securing their options to look up to when they have a greying beard. You must think of the future now, shouldn't you? But let's face it. It is not only due to old age we have greying beards. It can be stress, hormones or genetics. Anything can be the culprit to lose your natural facial hair-color off your face. Or it could be that you want to dye it to another color, say after bleaching? Or, from a totally different angle, maybe you just don't want to shave but don't want to grey either. So you chose to color.
Whatever be the reason from the countless we can come up with, whether or not this product is handy enough for your needs is the question and we are about to answer that after a whole lot of breakdowns.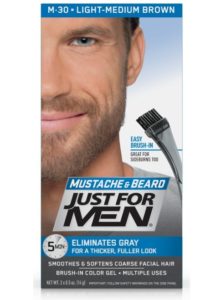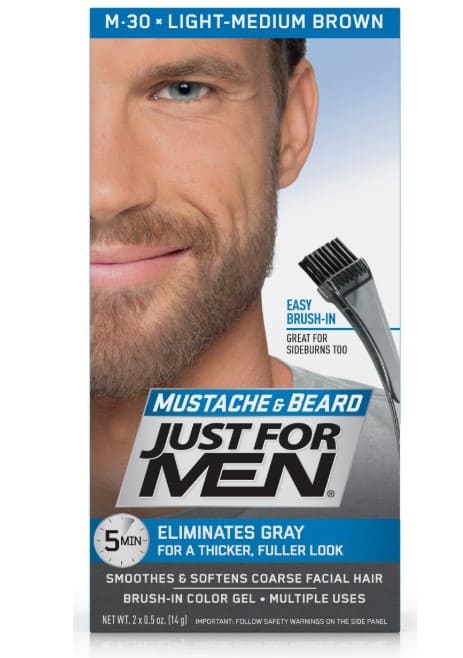 Just for Men Beard Review
About the Product
This is branded as a "beard and mustache" color. It is available in ten different shades, including Deep-dark brown, Light-medium brown, good old Blonde, Dark Brown, their Darkest Brown, a perfect Jet Black, Light Brown, Medium Brown, Medium-Dark Brown (so many browns to choose from, we know!) and a natural Real Black.
This is a personal care product which is designed to be used on your facial hair only. So you can work things out and settle the greying business with your beard and mustache. For the overly enthusiastic and adventurous lot, don't use this on your head (although we aren't specifying you shouldn't). But, come on guys, there's hair color available on the market!
Anyway, they claim that the coloring agent makes your hair look fuller in terms of volume and gives off an even coloring.
What It Includes
The color comes with three things:

The obvious and mandatory Color Base and Developer

A mixing tray so that you don't hunt the house for a bowl to misuse

And a brush so that you don't ruin your wife's comb.
Key Features
It works to remove grey hair for a naturally dyed look

After coloring, leaves your hair easier to handle and control, with the leave-in conditioner making it softer and workable.

Application with the brush takes as little as five minutes to close the drama

Can penetrate and color coarse hair too
One thing that is very funny about it, is that they tell you that the color lasts as long as they greying returns which is hilarious and obvious. Because, naturally a color does last as long as you see the greys, the guys here are not giving us an actual, set time till it will last. So that's nothing to brag about or include in the specifications.
Working Procedure
Just like any other hair coloring product, to be honest. But if this is your first time coloring your hair at home, we have got you covered!
Wait, that's wrong. You're not coloring your hair; but your beard (and mustache while you are it at, considering that you have it). The process is the same, just the areas are different. Also, it is easier for coloring your hair. Whatever you get on the scalp you just scrub and rub with shampoos till it all goes off. But while coloring beard, your skin, facial skin is at stake. Lucky for you, this isn't a permanent beard coloring agent as it lacks ammonia. Guess what you'd be stuck with!
So, yes. Since there is no natural-color removal of your hair, you can expect something that doesn't look artificial. But your final look depends on how long you are willing to put it on. They say you need as little as five minutes to look evenly colored. But you can do a bit more than that for darker shades.
Ease of Use
It is super easy to use; you couldn't get wrong here. And it doesn't take much time too!
First off, take out all the things that are included. Take the colorant and the developer and the mixing tray first. Pour out the developer on the tray and then keep adding the colorant till you think they are in equal parts. Now, with the brush, keep whisking and mixing. The color that you see first darkens upon mixing. So, don't get alarmed. It's pretty natural.
Now, apply it on your beard and mustache. Use the brush to make it reach the tips of your beard so that you don't have any half-colored area. After combing and sealing things properly on, wait for the color to soak in and it'll take you five minutes or so. Wait longer if you need it. But don't darken it too much as it may come off as artificial.
One helpful thing you can do as you wait is to clean out your brush and tray. Why not use the spare time up? You may need it in the future if you have some colorant and developer left, in case you have stubble or a goatee only to color.
Wash off to see the results.
FAQs:
When do I shave with it?
Of course, before. You shave to have your desired look first, then color. That way, you don't waste it.
How frequently do I use it?
When the greying comes back or a few days before that. Usually, it's between 2-3 weeks.
Will it even work with my stubble?
Why not! Just make sure not to stain your skin.
Conclusion
We hope you liked our Just for Men Beard review. If you did, get ready to flaunt non-grey and natural-looking beard till 2 weeks!