Fragrances are always a luxury, especially for men who want to maintain a certain standard in terms of how they appear in society. In the world of luxury perfumes, Lacoste is one of the names that everyone remembers with great admiration. 
Started way back in 1933 in France, Lacoste has been known for its premium-grade sportswear, watches, and fragrances. In our Lacoste pour Homme Review we will talk about one such high-end cologne that you'd love to have any time!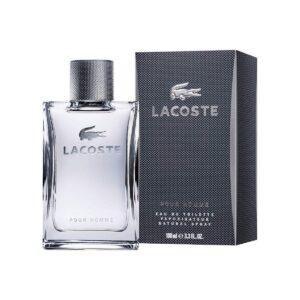 Lacoste Pour Homme Review
Each product has it's a fair share of strengths and weaknesses, and to have a thorough understanding of the item, you should know both. That is why we've compiled a list describing each of its characteristics, whether good or bad. 
Some Positives Worth Mentioning 
While buying a cologne, it is quite natural for you to inquire about the possible positive outcomes of it. Here we list some of them vividly so that it gets easier on your part to comprehend. 
A Rich Blend of Powerful Fragrances 
The aroma is the first thing that one should focus on while buying a cologne. This is something that can easily catch the attention of the people around you. When you're attending a professional gathering, this is something you rely upon. Because the three-layered aromas are always a surprise for anyone around you, how does it deliver?
Well, first upon application, you'd notice the Italian Bergamot instantly, giving you and the people around a touch of freshness. It would also provide you with a refreshing feeling of apple and plum. 
Then the heart notes of Juniper will gradually appear for a beautiful mix. The heart note also contains an attractively pleasing combination of cardamom, cinnamon, and pepper.  
Finally, the fragrance would rest upon the sandalwood, and vanilla comes powered with Musk to give you a finish that people remember the day in day out. 
Durable Fragrance 
One of the issues men face while using any fragrance is the issue of endurance. Average grade body sprays and deodorants aren't supposed to back you up for an extended period. 
As a result, it can start giving off an awful smell, just as the fragrance wears off. Imagine you attend a severe meeting, and your body spray starts wearing off, and the smell of sweat appears gradually. It'd be highly detrimental to your image. 
On the other hand, Lacote's premium Pour Homme isn't similar to these ordinary fragrances. It doesn't wear off quickly and provides you with a lasting scent that you can be confident with. Now, you can face the crowd with self-belief and strength, knowing that your cologne will back you up! 
Smells Masculine 
As you already know, men tend to be too picky in terms of fragrances. They always want to make sure the perfume or cologne they're buying doesn't smell bad or, most importantly, Girly! This is something men hate the most, and it can also be seen even when they're buying shampoo, conditioner, or a body wash. They'd always make sure whether it smells manly enough. 
So, with this particular Eau de Toilette, you'll get what all men ask for. The masculine fragrance is something that would doubtless define your personality in the crowd. This elegant fragrance is what you get to bring out the man in you! 
Several Cons You Can Consider 
With each item, there would always be something to be sceptical about. No matter how premium the product is, you'll be able to find out at least one or two drawbacks. So, nothing is beyond criticism, and Pour Homme is no different. Let's find out some of the things you can take into account before you move ahead with it. 
One of the issues that you can find a slight problem is strength. The fragrance is slightly lighter than usual. So, those who love to wear a more intense cologne can find it displeasing. 
Another thing that we'd like to look at it is the issue of personal preference. Usually, the taste for fragrance or the subject of endurance varies from man to man. So, some can find it to last less than what they have expected. 
Despite the minor issues mentioned here, the cologne is considered a highly well-received premium item by Lacoste!
FAQs
What does Lacoste Pour Homme smell like?
Lacoste's premium Pour Homme is an elegantly attractive masculine fragrance, specially designed for men of choice. They are coming with a blend of apple, plum, Juniper, cardamom, and cinnamon. And finally, you have the base notes of creamy Sandalwood, Vanilla, and Musk, making it an outstanding fragrance.
What Lacoste cologne is the best?
There can be many mentioned. For example, pour Homme and' Homme can be considered one of the highly admired Lacoste scents. Live and Essential are also known to be very popular among men.
What does it mean, Pour Homme?
These are french words—the words 'Pour homme' means 'For Men' in English.
Does this smell like old and musky?
No. It has a pleasing fragrance with Plum, Juniper, and Cardamamou notes.
How long does Lacoste cologne last?
Lacoste is a premium manufacturer, and their colognes should perform as you expect. The issue of duration can vary by product. It depends on the capability of each item to stay present for a long time. Eau de Toilettes usually lasts 4-5 hours, whereas Eau de Parfum lasts way longer with 15-20% pure fragrance substance.
To Sum Up
Fragrances are always a thing of standard and class. You'd still want the best quality item while going for a cologne. A beautiful bouquet can attract when you're meeting new people. In our Lacoste Pour Homme review, we've talked about one such item that can transform the way people see you. 
With subtly attractive notes of Juniper, Cardamom, and Musk's woodsy combination makes it a highly desirable cologne that can offer outstanding performance. 
So, what makes you wait then? Get the premium fragrance now and experience the mind-boggling aroma!