If you do not know where to look for, you may end up buying gears and gadgets that could rip you off. Thankfully for our Lifetime Triton Angler Kayak review, you will be spared the trouble of hunting down reasonable, durable and workable kayaks. 
The Triton Angler 100 fishing Kayak is very much within the budget and has great performance, as you will soon find out. Let's get to it!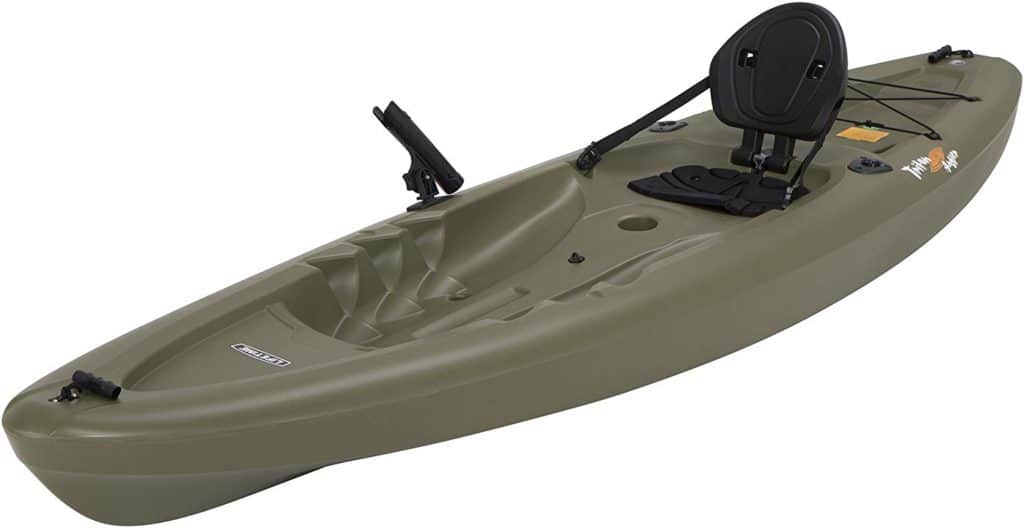 Why Lifetime Kayaks?
Kayak/Fishing Kayak market has a separate fan base for Lifetime. Blame their expertise, experience, and affordability. Building plastic products that can tolerate an outdoor lifestyle and the merciless hands of wild children, other than their added features for storage, foot support, rod holders, sit-in and sit-on kayaks make them very likable, not upsetting your bank account at the same time.
Specifications:
The Triton 100 has a little less than 13 feet of height and 31 inches of width. In length, it measures 120 inches. It can easily carry 275 lbs.; enough for a single angler and quite a good load of fishing gear. 
The kayak itself is 49 lb. You'll find this in one color: Olive Green.
Features:
Quick Overview
The kayak construction features a UV-protected high-density polyethylene built and a stable hull structure. For easy maneuvering and tracking performance, the integrated skeg comes in great use. To drain water from the cockpit and tank well, there are many self-bailing scupper holes in here. 
Also, the multiple foot-resting positions allowed for easy movement of the angler on the kayak allows you to carry multiple-sized paddlers easily. The quick-release seatback and padded seat add to the comfort of the angler while fishing (or not). The front and rear toggle handles make transporting the kayak itself a lot easier than you'd think it to be. Basic and likable, overall.
Included Rods
There are 3-rod holders in the kayaks to make things okay for you. Two of the mounted flushes are hull holders while the third one is top-mounted. 
This one is also adjustable and can stay between the legs of the paddler if there isn't much room elsewhere. But the positioning of everything is quite well with respect to room available.
Storage Facility
As we just said, there is plenty of room here to keep your fishing gear. The big tank compartment gives you just about the right storage facility. Since it is sit-on-top, you'll save your things from getting wet inside the hull compartments. You can also place your kayak cooler there, especially during the summer.
The bungee cord is the mom of everything, keeping your stuff together and happy. You can be safe about your things not falling apart, thanks to these, even when you are paddling and moving about.
Adjustable Seats
Sitting in the same position for hours when you are fishing doesn't just look and feel boring, it is harmful to your body. Let it move a little or a lot, with the adjustable, quick-release seats. Much more to your satisfaction, the seats are padded. Say goodbye to cumbersome fishing!
Hull Design
The stable hull design or the very stable hull design as we should call it; has superb construction and adds strength to the entire thing. 
You can easily do whole-day fishing with it, not to mention for weeks, without facing any trouble. That may make you think cleaning this hull would be a stroke. But no. Cleaning is as easy as it could be. It is resistant to cracks, so you have nothing stuck in the cracks and unreachable corners. And the natural flexibility allows you to bend and curve your cleaner to wipe away the dirt. The protective coating works and gives in really well in terms of performance, and maintenance.
UV Protection
Your kayak isn't just safe from harmful UV rays damaging and weakening it, it is made weather-safe and water-friendly.
Lifetime Triton Angler Kayak Review Based on Performance
:
Design
The overall outlook from the Kayak is very beach-like and makes you look quite a tough angler. Appearance-wise and feature-wise, customers love the design.
Balance
What is the point of a kayak if it is shifting and swinging left and right on the water? None. This one here is very stable and well-balanced. The safety features with the compartments, cords and lines keep things in their place. 
No fear of tipping, therefore. But if you are willing to make sharp turns or flash-like movements, this won't be so much of a friend. You're not supposed to ride it for fun other than fishing fun.
Durability
The high-density polyethylene construction and the five-year warranty join hand-in-hand to claim its durability.
Lifetime Triton Kayak Final Verdict
Pros
Has perfect beginner kayak dimensions.

Is not too heavy to carry around after you are done.

Great stability and durability.

Excellent hull construction and design of compartment.

Very roomy.

Has adjustable seats with padding.

Great tracking performance.
Cons
A little hard to maneuver.

No paddles included.

Is more of a fishing kayak than a touring kayak.
FAQs
Does this come with paddle and anchors?
No, it doesn't have an anchor. But the paddle is sold separately if you want to have one.
Where do I get replacement parts from?
Very easy. Just call their customer services department to lay your hands on replacement parts.
Is this an Ocean-friendly Kayak?
Although saltwater is not supposed to pose a threat to the Angler 100, it was originally tested for flat water. However, users like you have used it for ocean water and raved positive about stability.
You'll Love to Know: Best River Kayak
Conclusion
Considering everything else,  this Lifetime Triton Angler Kayak review concludes that as an entry-level hobbyist, who takes much joy and pleasure in fishing, you will have great fun with it. It may not have the stunning features that a few others do in the market, but that is because you have to compromise a little looking at the affordability. 
But this doesn't, in any way, mean that it isn't good enough.