No hairy business, hairs have been protecting, empowering, and beautifying the likes of fairytale Rapunzel to modern times' Rihanna. For men, as will be addressed in this Nair for men review, just the same goes, from captain Li Shang to '90s Brad Pitt-golden locks. 
But that is the case with the hair on your head. What about the rest? 
While women, fortunately, have to tackle less facial hair than men, coming to body hair, men have had little to worry about showing it in public or at least keeping it.
But the times are changing, with men giving in to having a "hairless" body, as you would see in the beastly built of Cristiano Ronaldo.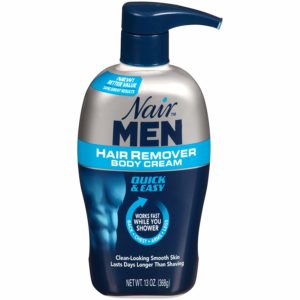 Body Hair Removal for Men
Men used to have to remove body hair too. Think cyclists, exotic stage performers, and swimmers. But boys next door almost always had body hair untouched. In fact, facial hair or a hairy chest separated a boy from a man. 
But even full-grown men are opting for hair removal now. If not whole, but trimming, thinning and taming it is present in some form. The trend has been increasingly common in young Brits of ages sixteen to twenty-four. But as globalization works, the idea is traveling pretty fast. Athletes, male models, actors with perfectly toned, brick-ly bodies are to blame. 
Now, the men don't, but the women know the pain waxing can give. So we are leaving you out of that hassle. You could use razor too. But we'll let ourselves be a little kinder and we present you the concept of men's hair removal body creams.
Nair for Men Review
Did you know there are men that are super scared of using razors on their face, let alone their body? And let's face it, women have so many different options to choose from in the market for such purposes. 
What about the confused, hairy and hair-removal wishing, average man? 
For them, Nair has a very clean product range. Designed for the thickest of man-hair, the toughest and stubborn ones that somehow escape the razor glide, Nair has three different product types, called a Speed cream, a spray, and a body cream. We will speak of Nair's body cream.
Quick Details
The body cream by Nair for Men is designed and created to help in hair removal from large surface areas, think about your back, chest, and legs. 
It can cover the area and remove hair without the possibility of ingrown hair or the chance of hair falling out of eyesight only for you to discover later. It takes as much as ten minutes to give you the hairless body for weeks.
Application
Hair removal creams should be harsh-acting, from the idea of it. What is tougher than removing something from their naturally adapted habitat? (Unless you're a monster.) This is why specific hair-removal creams are designed for specific purposes.
And so you will have to refrain from using it on sensitive areas, including your face. (But some rebels did use it in such areas, as is the nature of man, without troubles.)
Your result of application depends on how your skin reacts. Do a patch test of 24 hours on your skin to see if it reacts.
What you need to do is apply it evenly on your back, arms, legs or chest. But make sure you do not rub the thing, as you do with applying creams, just let it sit. It should sit for as long as it takes to make the hair roots weak. For most, it takes up to ten minutes or less. You can straight up walk in and to the shower without removing it with the towel first or do both, as you like it.
Working Caution
All the powerful chemicals in it are strong enough to make hair roots weak. So remember not to keep it for longer than ten minutes. And wash your hands as soon as you are done spreading it on your skin. Also, you should not use it again within the next 72 hours if you need to reapply it.
Side Effects
Keeping it longer than the recommended duration will cause adverse effects on the skin, with possible chemical burns and rashes here and there. If the patch test is done before application shows negative results, rinse off with cold water until it feels okay. Consult doctors if required. Also, do not use it if you have cuts and injuries or irritated skin. 
Effectiveness
The results of the removal last long and well. Shaved hair grows back more coarse and quicker than before. But by using hair removal creams, your hair grows softer and slower back. So it is pretty effective.
Packaging
It comes in a very useful pump-dispenser. So there is less possibility of spillage if you slip in the shower and the bottle flies off your hand. Just saying!
FAQs
Can I use it to shave my facial hair/beards?
Lesser men have used it on the face and whoever has, saw negative results. So, no.
What does it smell like?
Really bad, as most hair removal creams do.
Can I use it on my pet?
We don't think you should. Consult your vet before any such attempt.
Are you supposed to rinse it off?
If you mean rinsing it off with water, yes you can. You can directly shower after the appointed time.
Does it cause permanent hair removal?
No! Hair will grow back with 7-9 days. But it delays the process compared to shaving.
Related Post: Best Hair Removal Cream For Private Parts
Conclusion
We hope all worrying men are now at relief after reading our detailed Nair for men review on their body cream. You know, you should try it out because not only is it a popular one, but an effective one. You have nothing to lose!