We'll take you to the Neutrogena Dark Spot Corrector review but wait. If you don't think you need tone correcting, we need to prep you about something first. 
Thanks to the Koreans, everyone is jumping on the bandwagon for the multi-step, scrupulous skincare routines. But no matter how religious you are with it, you may still have to encounter baddie spots here and there on your face. 
These dark spots are pretty pigmented and can be a trouble to hide or fade, and may even take a leap at your confidence. The solution? Dark Spot Correctors. This is why we tried to write up (after reading countless Neutrogena Rapid Tone Repair Dark Spot Corrector reviews and testing out the product ourselves) this piece for you.
Sale
About Hyperpigmentation and dark spots
Hyperpigmentations would top the list of skin woes (probably next to fine lines) if ever made. These cause your skin to look dark in some areas and light in others, creating an uneven tone. This overproduced melanin is commonly referred to as age spots or sunspots. 
Sometimes, these are the post-acne spots that stand as proof of damaged skin. Otherwise, melasma or skin traumas can also give you dark spots. But what to do about it? Thankfully, there are some natural and chemical ingredients that fight dark spots.
Best ingredients to tackle dark spots
The best ingredients that we know to fight dark spots well and remove the root cause of dark spots are as follows:

The millennial's star-ingredient for every skin issue ever, for the unearthly glow and healthy look, is vitamin C. It prevents the free radicals from oxidizing the skin, acts as an antioxidant itself, and inhibits the production of melanin to some extent, reducing discoloration. And the good thing is that it targets the problem areas first and the rest of your skin later. So your skin first becomes even, then brightens as a whole.
Other majors include hydroquinone, kojic acid, soy, azelaic acid chemical peels. But the issue with hydroquinone is that it can leave you with ghosted skin, lightening both the problem and normal areas of your skin. Also, it can make skin dry and red. Kojic acid from fermented rice/mushroom or azelaic acid from oat/rye/wheat is good alternatives. But the star remains vit-C.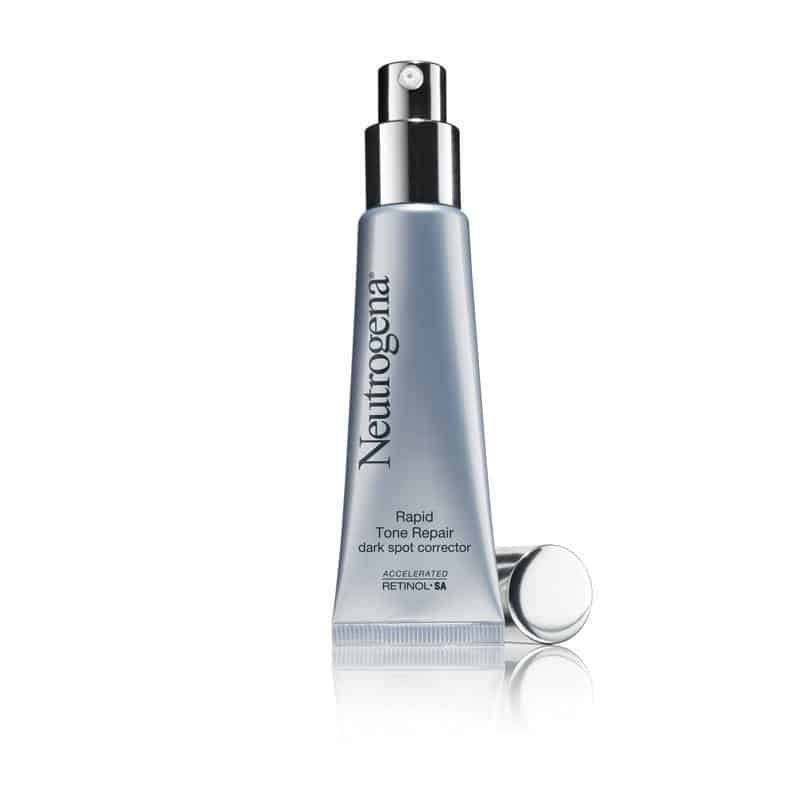 Neutrogena Dark Spot Corrector review
Product Overview
This is Neutrogena's top dark spot corrector that is quickly absorbed, brightens the skin in the process and is very potent in its purpose to reduce discoloration. It has a high concentration of vitamin C (we told you!) and Accelerated Retinol SA as two main ingredients. Their goal at Neutrogena is to give you an anti-aging formula for even, hydrated and healthy skin.
Other features include:
Gives you instant brightens.

With continued use, skin becomes youthful, free of discoloration and even.

Takes as little as a week for you to see the results.

It's gentle enough for all skin tones. 
Ingredients
The presence of humectants such as Sodium Lactate, Sodium Hyaluronate, and Glycerine are excellent inclusions for treating dehydrated and damaged skin from dark spots. 
Other than that, the Hydrolyzed Myrtus Communis leaf extract is known to increase cellular longevity and elasticity, making skin look more youthful. 
The two-star ingredients of which vitamin C we already discussed and the other remains retinol. This retinol stimulates collagen production, increases cell turnover and fights fine lines, wrinkles, and patchy skin.
The product has added fragrance to it.
Application
After cleaning your face properly, you have to dispense a pea-sized amount from the near-30 ml tube, and gently massage in circular motions on your face and neck until it absorbs. It can be used as a primer before moisturizer and applying makeup.
Safety Warning
If your skin starts to become red, tingly, irritated or inflamed after application and you can feel the heat emitting from your face, stop using it immediately. Wash face with cold water and discard the product.
Final verdict
From all the Neutrogena Rapid Tone Repair reviews we have studied this far, here's what we can say:
FAQs
Are you supposed to use it with sunscreen?
You aren't supposed to use it with sunscreen, but we don't see any reason why you can't do that. Since it has both retinol and vitamin C, we suggest it is used at night time. But if you are using it twice a day and need to go out, please apply sunscreen.
Can it be used with other acne treatments?
There are ingredients reactive with each other such as vitamin C/A with AHA/BHA. So, unless you are totally sure the ingredients won't react, don't combine with others. If anything, use the other acne treatments on alternate days.
Can I apply makeup on top of it?
Yes, why not! Don't forget to prime your skin though.
How does it work on women of color?
Good enough. We've seen some users glow on the use of it.
Conclusion
From this Neutrogena Dark Spot Corrector review, you may have mustered the courage to try it out. Because from the many products Neutrogena has produced over the years, we can say that it is worth a try. 
And the pros always weigh heavy compared to the cons. Seeing the pricing and the potential benefits from a  trusted brand, we'd say you should give it a try. But remember, skin first. So if you are uncertain, steer clear, and look for something else that can help to reduce dark spots.