Electric shavers have given way to body trimmers with the likes of the Philips Norelco Bodygroom 7100 reviewed by us; the latter gaining huge popularity among modern men. 
This one here is one of the best of its categories and comes with beautiful features at a reasonable price for the quality and performance. But there are bad sides to it too despite being a stand-out. We will tell you everything about it in this detailed article now. 
Be ready! 
Philips Norelco Bodygroom 7100 Review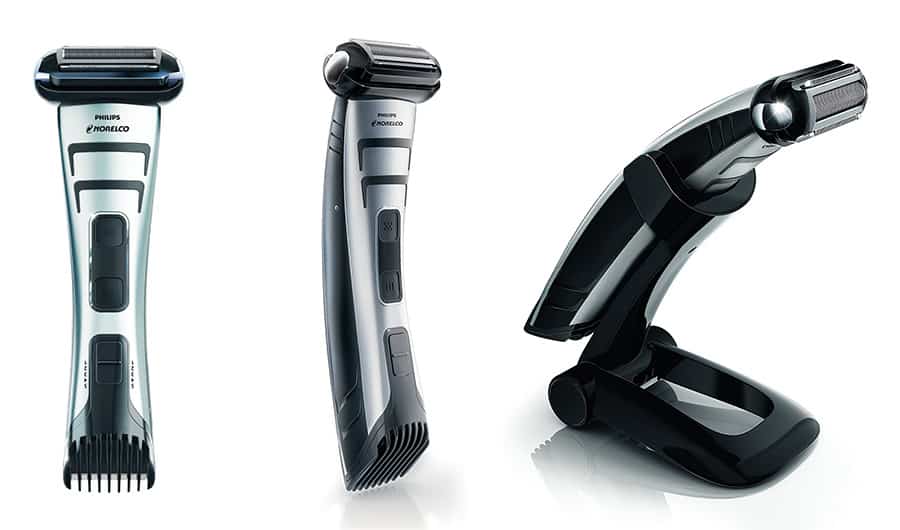 Feature Summary
If you hadn't known, Philips Norelco makes hair removal products for men. The Bodygroom 7000 is one from the range to make you appear less like a chimpanzee. For those of you who have trouble with their skin while shaving, making it sensitive and bruised, and those of you who want a "clean" clean shave, this product is a star. Without wasting time, let's take a quick look at the features:
It is a waterproof foil shaver and trimmer in one.
Works both in wet and dry conditions
Is washable

Can operate without a cord

Needs an hour to charge itself and runs for 50 minutes at a stretch

Has a Nickel/Metal-Hydride battery that can be recharged as needed

Can be used for whole-body hair removal

Has a 3D pivoting shaver head

Comes with an adjustable comb and 5 different trimming lengths

Features a plastic and rubber grip

Has a 2-year warranty period and money-back guarantee
Who Need It
If you don't want to break your bank but want a shaver/trimmer that gives you the feel and experience as if you just broke it to get a premium one, buy it. Just get it already. And you know how shavers have trouble getting all the hair out properly sometimes, then you need a groomer. That lets you reap the benefits of both a trimmer and a shaver without you buying two different devices. And most importantly, it does the job of easy cleaning.
What You Get from the Package
From the package, you will get the groomer itself, storing and charging stand, an adapter, and a cleaning brush. Pretty thoughtful with the last one here, aren't they?
Feature Details Philips Norelco Bodygroom 7100
Here, we will discuss the features of the groomer in detail. Let's get started.
Dual-end Design
This is what sets apart this body grooming device from that there are. Since Philips tried to make it as an all-in-one solution for grooming, they gave it all. All as in, the two most important aspects of grooming: trimming and shaving. The dual design works to give you a shave that won't trouble your skin. The 3D head can twist and turn with all the waves and edges of your facial structure. This is why you get a super close shave and you don't need to go through the same spot twice.
Near the end of the shaver, is the trimmer. With rounded blades and scratch-preventing combs to help you, you get a superb trim. And did we mention yet that you can choose from 5 different trimming lengths? The lengths range from 1/8 to 11/25 inches.
With the shaver, you can easily shave at skin surface while with the trimmer you can go above and beyond! You can switch easily between the two and get your desired one according to your shaving preferences. For those of you who have a hairy chest, you can do with the trimmer. And assuming your underarms aren't hanging curtains of hair, you can use a shaver to shave the armpit. Anything goes.
Blades
Imagine a nail clipper with its two teeth or cutters separated and flanked by foil in the middle. This is how the shaver looks in the groomer. But instead of the linear cutters on a nail clip which are rectangular, the ones in this shaver are rounded. This reduces the possibility of cutting and bruising your skin from shaving and lets you shave easily without the fear of nicks and pricks.
Adjustability
This is about the trimmer that can be adjusted as per need as we discussed already.
Cordless Functioning, Battery and Charging
As you bring the thing home, you have to charge it first for 24 hours before using it for the first time. After that, before each use, you just have to charge it for an hour. This will let you use it in the bathroom or anywhere without the cord for fifty minutes at a stretch. Well, this claim we will put to test anytime now.
It comes with 2CR Lithium-ion batteries. There is an LED indicator on the groomer that lets you see the status of the charge: full, low or in charging state. You have to use the charging stand to let it charge. But you can't use it when it is charging. The charger looks like a good one, built strongly and has a better grip on the surface with its rubber feet.
Replacements
From what Philips says, you need to change the shaving head after six to twelve months of first use, depending on the frequency of use and foil condition. We suggest you change it sooner than when you feel it should be replaced.
Ergonomics
The first and most obvious thing you notice with it is the shaver at one end and a trimmer at another. A very likable and convenient design. Just switch sides and you're ready. It looks like a solid piece with excellent quality materials at the core, inside-out. It has rubber on both sides to give you a better grip on the product. And the curvy design helps a lot to let it move along the shapes. Since it is waterproof, you can easily use it in the shower.
 The product itself is quite styling and has the aesthetics with the silver and black sheen across it. The finish is quite metallic and can fool you there with the brushed-up look. The comb attachment is also not flimsy but sturdy with a matte finish. It has an overall round profile that lets you hold and work with it naturally.
Shaving Performance
Now it is time to put everything to test and see how they stand up to their claim.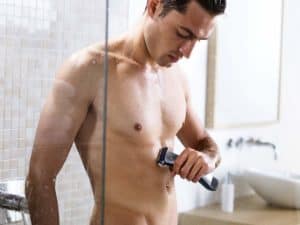 For whatever hair type we threw at it, the trimmer did okay. It didn't stumble and fall on the goal of trimming and shaving with ease. Different lengths and thicknesses of hair did well under the cutters and we're glad it did. The foil head works well with most of the types. But with very thick hair, it may need more than one pass. So, their "with one go" and "not needing to come back another time in the same spot" doesn't work for particularly thick hair. You can easily trim your belly and chest, where most men fear and feel ticklish.
Although this is meant to, like water, move with flowy shapes of your face and body, there is an issue. When you are using the device, when it is running, the head will vortex. As a result, if you start dragging it along the curves, the hair corresponding to the edge of the head will feel a tugging sensation. So, the pivoting head isn't so big of a deal as you need frequent readjusting to make sure you get the maximum comfort. You could do with a fixed shaving head instead. But don't get us wrong. You can swipe it but you will feel a little tugging if you are shaving dry and it might hurt you. So, if you don't mind bearing the pain and will do things after wetting the hair, you will have issues with the pivoting head. But if you are running out of time, you may feel like crying. Be a little careful. 
Cleaning and Maintenance
You should obviously clean it after every use for the sake of hygiene, if not for following the manufacturer's instructions. Since it is waterproof, you will not have much problem cleaning. Separate the parts and hold them under the tap water to let things flow away. You can use liquid cleansers too. With the brush that comes along, you can clean the groomer when it's dry. When cleaning the trimmer, don't forget the comb! Let it air dry instead of wiping with a cloth to dry it. Rejoin everything and store it.
You'll Love to know: Best Trimmer for Balls 
Conclusion
Considering the quality, function, and pricing of the whole thing, we'd say that according to our Philips Norelco Bodygroom 7100 review, and from the ones we have read about it, this is one of the best groomers in the market. We don't see any reasons for you to not get it! Do give it a try if you want.
Related posts: