When it comes to producing electric shavers and trimmers, Philips is one of the most well-known brands. Below, we will take a look at the Philips Norelco Multigroom 7000 review, which is considered Philips' best in the line. 
This is quite a handy trimmer that can be used for nose hair and eyebrows besides the regular body and face grooming. It is a way better option (that lasts long) than the cheap alternatives we naturally use.
The Philips 7000 7750/49 is an updated version of the previous shavers. There are a lot of stand-out features of Philips Norelco 7000 that we plan to enlist today. Let's dig in.
Philips Norelco Multigroomer All-in-One Trimmer Series 7000, 23 Piece Mens Grooming Kit, Trimmer for Beard, Head, Body, and Face, NO Blade Oil Needed, MG7750/49
The all in 1 trimmer for your choice of beard, head, body, and/or face hair styling with 23 pieces for all your trimming needs
Best Sellers on Amazon
What is included?
The product comes with the following items:

A power cord

A cleaning brush

A storage bag

2 bodyguards

2 stubble guards

6 extra-wide hair guards

2 beard guards

A nose and ear trimmer

An extra-wide hair trimmer

A precision detail trimmer

A precision foil shaver

A full-size trimmer

A stainless steel handle.
Who is it for?
If you like yourself trimmed and shaved for a clean/sleek outlook, this is your deal. Also, for those who don't like to cram their bathroom cabinets with more than dozens of individual grooming devices, this all-in-one solution is a very handy one.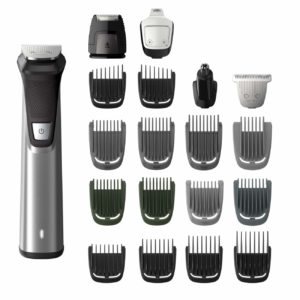 Philips Norelco Multigroom 7000 review: Key Features
Quick Overview
If you don't have enough time to read the whole thing out, we have a solution for you. We'll present everything very briefly here:
This trimmer has the maximum precision you can get out of a trimmer thanks to the dual-cut technology.

All the "accessories" it comes with are easily cleanable with water.

The blades remain sharp for very long.

You can have multiple settings and lengths from the 23 pieces of attached accessories to get the desired look.

You can use it on your face, head, and body.

The rechargeable battery is the best in performance in the market.
If you have the time, let's move on to the details.
Battery
From one hour of charging the Li-ion battery, you get five hours of trimming/shaving. The best we have got from one-hour charging till now, considering the other shavers/trimmers we reviewed, is 50-80 minutes maximum. This is a lot less than what the Norelco 7000 gives you. Also, with this amount of charging hours, you can use it for five days without guilt since you obviously won't need to spend five hours of usage in one day.
Dual-blade system
All the precision that the Philips Norelco 7000 brags of, comes from the dual-cut technology. The blades here, made of stainless steel, are two times sharper than regular blades. 
Their building is so perfected that it can last for up to three years maintaining the sharpness you got when you first bought it.  The blades are "self-sharpening" for that matter.
Accessories
We have already mentioned what accessories it comes with, but let us talk about a few we absolutely loved. Firstly, the nose and ear trimmer steal the show, Because these places are very sensitive and we tend to almost cry when cutting them/shaving them, the delicate yet intricate design of the said trimmer gets rid of this unreachable and sensitive hair with ease. 
There's also an extra-wide hair trimmer that comes with the lot and it can be used if you want faster and cleaner trim, hair cut or fade. It gathers a lot of hair at the same time and does the job.
Built
The stainless steel frame of the Norelco 7000 protects it from when you get too clumsy and drop it or any accident occurs. This increases the durability of the product and ensures long-lasting performance. Also, along the sides of the steel frame are rubber grips that make it easier to handle.
Trimmer
The non-corrosive steel blades give a clean cut through thick hair easily. Thanks to the precision trimmer, you can shave off the small and intricate areas to give your bear some design and style.
Trimming guard
The 14 reinforced trimming guards that the Norelco 7000 gives you allow your skin to remain safe and sound from irritation and razor burns/cuts as much as possible. They are individually calibrated for you to get the desired look on your face, body or head.
Shaver
With the foil shaver head, you get a lot of comforts as you shave. The final shaver is clean and safe. It may not be as perfect since we have seen better, premium quality foil heads than this, but it is good enough to work in harmony with the trimmer.
Washability
All of the trimmer/shaver attachment that comes with this is water-proof hence you can easily wash them underwater and have things cleaned.
Final verdict:
FAQs
How do you know when it is charged?
An orange LED indicator lets you know when it needs recharging.
Can I use it when it is plugged?
Yes. If you find that your battery is dead but you need a quick shave/trim, you can plug it in and use it with ease. That's one superb feature!
Can I use it in the shower?
Just because it is waterproof doesn't mean you should use it in the shower if you want a longer life span. The washability comes in help when you are done using it and will be cleaning soon. It is easier to clean for this feature. But we recommend you don't use it in the shower. Also, do not charge or use until all the attachments are fully dried.
What is the shortest length I can use with it?
You get from 1mm to as much as 16 mm of shaving/trimming setting from it.
Conclusion
We hope you liked the Philips Norelco Multigroom 7000 review that we just mentioned in detail! You can do your own research to decide if you want this cult-favorite trimmer or shaver. If not, you probably need something different or maybe better. 
It has a lot of attachments to do a lot of your jobs that would take up both money and extra time. So we are planning to save a little and invest in this gem of a groomer!

Related posts: