Trimmers, shavers, razors: we'll try to talk about and compare a little bit of everything against and on the so-called Philips' star in this Philips OneBlade review.
From men who want a basic everyday shave to those who want to bring out their inner Biker-chic style with Mutton Chops, or those who love the Olde English turned stubble, this hybrid gives it all. Philips says the modern men will be satisfied with the service of the OneBlade. But do modern men say? A lot of things that you'll shortly see. OneBlade helps maintain facial hair just as much as it helps to remove it (whether you want a close shave or trim).
With its multipurpose strike, Philips brought together a two-in-one groomer that sits perfectly in our primping routine. Or does it? Let's find out.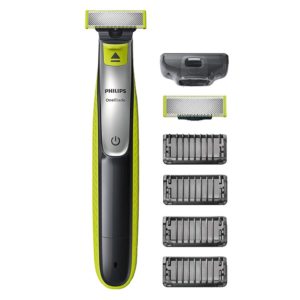 About the Philips OneBlade
Here, you'll get the product details.
But What Do You Call a Hybrid Trimmer?
The Oneblade in our Philips Norelco review is a hybrid trimmer. But what does it mean? This s a fusion of a razor and a trimmer. The will and the result of this combination have been around for quite a long time, but not many have stood up to the performance. It has some superb razor-thin plates that can cut without scratching and blades that give you the feeling of using a shaver. Ergo, a hybrid.
Key Features
The key features of OneBlade include:
Trimming and shaving hair of any length whatsoever

Making sure your skin feels comfortable during the shave

Different combing options for hair of different lengths for a better trim

A dual-sided blade for precision edging

Replaceable blades

Face-contouring built

45 minutes of styling at a stretch

Wet/dry options if you want to shave in the shower or your bedroom pre-shower

Intended for facial use only.
Philips OneBlade Design

The design of the OneBlade is more sporty than sleek. With a burst of lime-neon color against black, it is a curvy, slender and nicely-designed piece that can be manipulated for the desired precision. It weighs less than three hundred and fifty grams, which isn't the lightest we've held. But this isn't uncomfortable to hold. The colorful rubber edges on both sides of the black bridge give you a great grip. If you want to remove the head, there is a power button and an eject slider. On the bottom of the whole thing, we have an easy charging port.
According to Philips, rotary tech and trimming tech have come together to make the OneBlade, but this does not have a rotary head. It doesn't have a foil head too for that matter. It uses a single blade giving us a huge sigh of relief because the trend now is becoming the more blades you put on, the more you have evolved your trimmer when actually they don't do much. Anyway, the super-fast blade moves at the speed of 200 times per second. That may make you think it will shred your skin if you're shaving too close. But thankfully, surrounding the blade are multiple neon-colored rubber teeth to make sure you're comfortable while shaving.
The pivoting head adds the cherry on top by being maneuverable enough for you to make your blade dance across your facial structure.
Are There Other Versions of OneBlade?
Yes, there are. There is a version for "face+body" that allows you to do much more with better features, settings, and battery. This one looks quite similar to the OneBlade "face". Other than that, there's OneBlade Pro with a sleeker design (a very sophisticated black) and with much better storage, settings, features, and battery. It is a hybrid of the OneBlade face.
What's it Best For
Like we've said, it is for the groomers who have and want to have different styles of their facial hair. If you have been using regular straight razors or double-edged ones, you may have trouble balancing comfort, close shave, and irritation. With the OneBlade, you will get a closer shave, but a gentler touch. Again, those who like a little control over their shaving will love it too.
Thanks to the teeth-like tiny rubber combs around the blade, your hair will be guided to fall under the blade as opposed to arbitrarily pulling hair and skin. Great contouring all over the face, isn't it? Now those with dimples and an elevated chin can have fun.
What's Included
The Philips OneBlade comes with 3 stubble combs of length 1 mm, 3 mm and 5 mm for a tight trim, stubble or longer. It also contains a lithium-ion battery, 2 blades and a dual-voltage power charger and one handle other than the product itself.
Philips Oneblade Review Based on Performance
Here we will see how well the OneBlade has performed to give out the final verdict.
Closeness of Shave
We tried to see how close it shaves compared to similar other devices. From what we read, a volunteer tested out different trimmers, shavers, and razors with and without shaving products and in dry and wet conditions, doing multiple attempts. He also tested how taking more than one pass affects whatever hair is left on the face: does it come off? What length of hair is left out? Since we can't use microscopic measures to complicate things, for the ease of understanding, OneBlade, of all the rest, leaves out and can't pick up more hair than the stubble you grow after eighteen hours of a clean shave. So we must say, we're pretty satisfied with that. It did previously mention it will shave until your skin isn't irritated.
Dealing with Ingrown Hairs/Razor Bumps
If you didn't know, ingrown hairs are the absolute worst after-effects of a smooth shave. The hair that is shaved below the skin-level, instead of growing upwards, grows sideways, inside your skin and curls up there. People who have or grow coarse or curly hair often face this difficulty. And it readily leads to scarring, pimples or inflammations, and can be really hurtful. It may or may not be accompanied by razor bumps or hair follicle infections.
Does OneBlade reduce that or have a chance against them? Well, it depends. You have to keep the bores on your skin clean and undertake a routine pre- and post-shave. Compared to the other, trimmers don't give you a razor bump, very obvious; shavers may give you bumps as it depends on your technique of use, and OneBlade again doesn't give you bumps because it doesn't shave skin-deep. However, other single-blade razors can give you bumps depending on how you use them. So, OneBlade gives you a shave that stops close enough of your getting a razor bump or having ingrown hair.
Irritation on Skin
Generally, it doesn't give you irritation. Well, generally because if you attempt a super-close shave, you need to press the OneBlade flat on your cheek gently and go against the grain. If you're pressing it too hard, you may see redness, and therefore an irritated skin.
If you have super sensitive skin that is prone to razor-hit irritations, we suggest you don't use it dry. Only use it after you have wet your face. You can also use shaving cream to let it glide better. Compared to shavers, this is just the same experience.
Charging and Battery
Since the blades move at a really fast speed, it does drain out quicker. You need to charge it for a minimum of eight hours to get a 45-minute operation. So if you take 10 minutes to shave and have charged it only once, you can cram almost 5 morning's shaving by charging once.
We didn't like the battery life as much as we liked the other features because Philips has given us better groomers with an even better battery life where one hour of charging lasts you as much as 50 minutes or more. 
FAQs
How close does it shave?
As close as it requires to make you feel comfortable. You can get a clean shave, trim or styling without feeling discomfort. So you'll get lesser irritations.
Is it gentle enough for sensitive skin?
Yes, since it doesn't move too close to the skin. The fast-moving cutter and the dual-protection are there to save you!
When should I replace the blades?
You'll need to replace it when the green bar on the blade is visibly high. There's an indicator on it. Also, replace it after 4 months or less.
Bottom Line
So our Philips OneBlade review concludes that it is a well-priced, basic, adaptable hybrid trimmer that lets you do good things but the battery is a drawback. However, if you need to use it for trimming only and for occasional purposes, it is a great basic option to have.
Related posts: