When you consider the most versatile brands in terms of reach and collection of watches, no other company surpasses Seiko. You would be hard-pressed trying to find any other watch brand that offers a reliable automatic watch at such an attractive price.
They also have high-end products that cost a kidney if that is more your thing. Whatever you choose, Seiko is your best friend. It makes durable, high-quality watches and also provides you with a lot of flexibility in the budget.
In this article, we will be taking a look at some of the best Seiko watches reviews that you can buy the next time you are out looking for a watch.
Top Sellers on Amazon (This
Mon
th)
6 Best Seiko Watches Review
Here are our top picks for the best watches you could buy from Seiko. We handpicked these watches taking into consideration all the tiny details to make them suitable for almost anyone.
1. Seiko Men's SGF204 Two-Tone Watch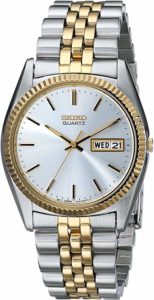 If you are looking to buy the best watch within your tight budget, look no further than the SGF204 Two-Tone men's watch from Seiko. The watch not only comes with a reasonable price but also delivers the perfect blend of functionality, beauty, convenience, and overall satisfaction.
The item looks dazzling, especially in sunlight, with its circular silver dial set and golden coin edge bezel. Furthermore, the case is two-tone, and it has a diameter of 35 millimeters. The three watch hands are luminous, with the dial set enfolded by Hardlex crystal and shows day and date along 3 o'clock.
This watch is perfectly proportioned so that it feels just right on your wrist, neither too heavy nor not too light, not too small or too big. There is a motley stainless-steel band with a width of 19.5 millimeters. The day-date window reading comes in two languages, English and Spanish, so you can choose whichever you find comfortable.
Another noteworthy feature is its protective perks. It has a hurdle crystal dial window that keeps the watch secure, which is also repellent of scratches. A double locking clasp is used in the timepiece. Also, you can stop worrying about rainwater wearing the look off of the item, because it is as much as 100 feet water repellent.
The Japanese quartz movement is used for the function of the watch. It has a stationary bezel, and it is an analog watch, but it is as elegant and as comfortable they come. So, quit wasting time looking up a ton of watches, and buy this one because it is one of the best Seiko watches that you can find under 500$.
Pros
Level of time precision is remarkable
Watch is gorgeous and comfortable to wear
It is 'Rolex-style' but cost-effective
The components used to make the watch are of high quality
Cons
Taking out links can be tough sometimes
2. Seiko Men's SGF206 Gold-Tone Stainless Steel Dress Watch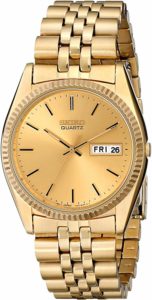 A lot of us have been there, where you want a quality dress watch, and your wallet says, "I don't think so." But in the case of this stainless-steel dress watch, you don't have to bother spending a whole lot of money or sacrifice quality for cost.
The watch is gorgeous, with its golden color-changing tone with light. Its bezel is fixed and coin-edged, and the item has a fold-over clasp and a day-date window at 3 o'clock. The markers, as well as the clock hands, are luminous in the dark. Overall, it is in no way shabby but not too flashy either.
One of the exciting traits is how light the watch is. It weighs only 1.6 ounces. The case is 8 millimeters deep and has a radius of 18 millimeters while the band is 20 millimeters wide. The watch has a linked bracelet.
The product comes with some features to protect itself. It has a Hardlex crystal dial window, which keeps the watch secure. Also, there is no need to worry if you spill water on it or drop it into a pool because it is water-resistant to 99 feet. Just remember to pick it up as soon as possible.
Although it is an analog watch with a stationary bezel, it is worth the purchase for the ease of wearing and accuracy. Besides, it is one of the best and most beautiful Seiko wristwatches you can buy under 500$.
Pros
The watch has a very dependable time accuracy because of Japanese Movement
It is water repellent to about 30 meters
It looks far more costly than it is
The day-date feature comes with dual language
Cons
The clasp can be a bit tricky to lock
3. Seiko Men's SSG010 COUTURA Watch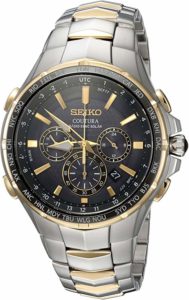 Longing for one of those fancy radio-directed watches with a bunch of time-zones featured, but afraid that you might go broke? Well, fear not, Seiko has just the thing for you. The SSG010 COUTURA watch comes with all of these and more.
With the case, bezel, and band made of stainless steel, it weighs 11.2 ounces. It has a circular case with a radius of 12.5 millimeters, a depth of 11.5 millimeters, and a branded glass back. The band is about 26 millimeters wide and has a fold-over clasp.
The watch is flashy and eye-catching. It comes with three sub-dials and a two-tone case. Made of synthetic sapphire; the black dial looks excellent with gold-toned luminous hands and markers.
It has a jewel Cabochon crown that can be screwed down. There's a 24-hour hand at 3 o'clock and a diagonal date window between 4 and 5 o'clock.
This product boasts a bunch of cool features, the radio signal compatibility being one of those. Setting it up is no hassle; all you have to do is leave it by the window at night before selecting your time-zone.
It automatically aligns with your hand position and has a quick start. The chronograph is sure to leave you more than satisfied, which in 1/5 seconds can gauge 60 minutes.
You can swim, snorkel and soak yourself in rainwater and not worry about damaging it since it is water repellent to 330ft. It is solar-powered and can prevent overcharging. Once the charge is full, it boasts a six-month power reserve. It is one of the best Seiko watches to cost less than 500$.
Pros
The item looks stunning with its two-tone
It has an impressive battery life and prevents energy waste
The watch can be set up quickly with radiofrequency
It ensures time accuracy and chronograph precision
Cons
The clasp does not feature adjustment
4. SEIKO PROSPEX Men's Watch Diver SBDC033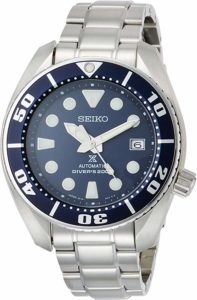 Trying to find a swimmer's watch that is accurate, stylish, durable, and packed with other good stuff can be a fuss. But trust us when we say that the SEIKO PROSPEX SBDC033 will be sufficient to meet your needs and more.
The product has tons of cool features. Visibility in dim light? Check. Diver's extension? Check. Automatic but able to be hand-wound? Check. It has a 23 jewel 6R15 movement, which gives high accuracy of time.
It also has an insane power reserve of 50 hours. Being an air diver's watch, it is water repellent to 200 meters with a unidirectional bezel.
With its matte mariner blue dial and bezel, the watch is stunning to look at. The silver band is brushed in the middle and polished near the edges. Also, the bezel is sunken into the case. Hardlex mineral crystal has been used for the watch. It has luminous markers and clock hands that give off a beautiful tidewater teal glow in the dark.
This one is a large stainless-steel watch. The case has a diameter of 45 millimeters, a thickness of 13 millimeters, and a solid back. The item weighs about 10.58 ounces. It has a circular dial and a 20 millimeters wide band. The crown is across from 4 o'clock and can be screwed down.
Aside from water resistance, the deployant-clasp has double locking that gives the watch a protective edge. In fact, with all these functions, it is one of the best Seiko sport watches you can buy under 1000$.
Pros
It can measure elapsed time for swimmers
Its time accuracy is +25 seconds to –15 seconds per day
The watch has a robust construction
It contains diver's extension
Cons
The date window doesn't display the day of the week
5. Seiko Men's Presage 23 Jewel Watch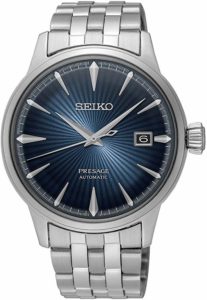 Not being able to decide which watch goes well in which occasion can be annoying. But you cannot go wrong with the Presage 23 Jewel watch in almost any case. It is one of the best Seiko watches you can buy under 500$.
The watch has a case of 20.25 millimeters radius and 12 millimeters depth. The band is 22 millimeters wide. Both the case and the band are made of stainless steel. It is an analog watch with a circular dial.
It is simply a beautiful watch, with its silver-tone case and crown. The clock hands, band, and markers are also silver. You'll find the watch appealing as the band has a mixture of brushed and polished steel rows.
The most beautiful feature in this watch is the blue sunburst dial. It has a Hardlex crystal domed dial, and it changes tone with the alignment of your hand. The crown is muffin-shaped, and the date window stands at 3 o'clock. This watch also has a see-through case back, which is a delight to observe.
This item comes with some fantastic features. It is automatic and winds itself but also offers hand turning capability. Another one of its perks is that its second hand can be hacked. It can resist water for up to 50 ATM.
You'll be glad to know that this product does its part in protecting itself. The water resistance feature ensures that you need not worry if you forget to take it off in the rain at times. It has a fold-over clasp. Moreover, the band has hidden pushbuttons, which gives extra protection so that it does not fall off your wrist.
Pros
The watch has a stunning dial which changes tone with light
It has double push buttons which firmly locks it to your wrist
Its versatility is impressive, can be worn in formal or casual or even dressy occasions
The quality of this item exceeds its price
Cons
Sometimes it is hard to take out the metal strap and replace it with another or a leather one
6. Seiko Men's Solar Recraft Watch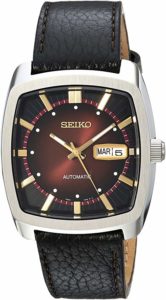 If you are looking to buy a classic style watch with a modern spin on it, the Solar Recraft watch could be the one you want. This elegant stainless-steel wristwatch is one of the best Seiko watches you can buy for less than 200$.
This watch is retro-inspired, with a rectangular shape and buckle clasp. The case has a radius of 20 millimeters and a depth of 13 millimeters. It is light, weighing less than 9 ounces.
More so, the dark brown leather band is 22 millimeters wide and 9.25 inches long. It has a beautiful Hardlex crystal dial with branding and a day-date window at 3'o clock.
The item's inexpensiveness does not make it look anything less than fetching, with its sunburst brownish-purple dial, gold-tone markers, and silver bezel. Furthermore, the back of the case is transparent and gives you the remarkable experience of being able to watch the gears rotate inside.
It uses a Malaysian automatic movement, and you need not wind it manually, and its bezel is anchored. The watch has a dual-time feature, and it can save power as much as for 41 hours. You can exchange the leather strap for a metal one if you want a heavier band. The time accuracy is top-notch.
Although it is comfy to wear, the watch is not prone to be damaged easily. The timepiece is water repellent to about 165ft, which means that you need not worry about ruining it if you forget to unbuckle it before swimming for a short while.
So, get yourself a treat and buy this high-grade watch that exceeds its cost with effectiveness by a great deal.
Pros
It is of high quality and comes at an affordable price
The watch is stunning to look at with its fantastic color combination
You can easily replace the strap, and it is comfortable to wear
It is water repellent to about 50 meters
Cons
The markers and clock hands are not luminous
What to Look for Before Buying a Seiko Watch
As with any affordable watch brand, you need to be careful about your purchase. Keep in mind that the manufacturers ship out thousands of products and cater to a lot of people of varying needs. So, you need to be sure about what you want before you start browsing through the catalog.
As with any purchase, the first thing you should consider is the build quality of the watch. Although Seiko watches have a reputation for having a decent construction, you can never be too careful. Take some time to look into the materials used in the creation of the watch. Check if the case is made of stainless-steel and also the water-resistance level, among other things.
The quality of the strap that comes with the watch is another vital point to consider. When it comes to watches, the first thing to go is usually the band. Although it can be replaced in most watches without any hassle, you still want a decent use out of the timepiece before needing it.
Seiko watches feature a wide range of movement options. You should go for the one that is more suitable for you. Solar-powered watches maybe a good choice for you if you spend a lot of time in the sun. Or if you want the good-old battery-powered watches, you have the option to go for a quartz movement.
Frequently Asked Questions
Is Seiko a good brand of a watch?­­­­­­­­­­­
The company gathered an excellent reputation as one of the best watch brands for everyday people. They make fantastic affordable watches that are highly durable and reliable. However, its high-end products do lack a little when compared to other luxury brands.
Do Seiko watches require a lot of maintenance?
Seiko watches typically do not require a lot of maintenance and can be handled easily by anyone without technical knowledge. This quality resulted in them achieving a loyal group of customers, which catapulted this brand to infamy.
Where are Seiko watches made?
Seiko is an affordable Japanese watch brand of the highest quality. The company has its subsidiaries in Singapore, China, and Malaysia. Furthermore, its movements are made mostly in Shizukuishi, Ninohe, and Shiojiri of Japan.
What's the difference between Seiko and Grand Seiko?
Although both are part of the same company, Grand Seiko is aimed more towards the luxurious side of the industry. Seiko has a range of affordable watches.
Due to massive production, it becomes difficult to maintain the highest quality. Grand Seiko, on the other hand, takes much more care when it comes to checking the quality and is also a bit more expensive.
What are the movements used in Seiko watches?
These watches come with a wide range of movement options like Solar, Kinetic, Quartz, and Automatic. Solar movements require charging in the sunlight, and kinetic movements rely on the motion of the arm and wrist to keep the watch running.
Final Thoughts
This company is proof that you do not need to be expensive to be of high quality. A Seiko watch can give you the subtle elegance that you crave from a decent watch at a fraction of the price.
Now that you know about the best Seiko watches that you can buy, maybe it is time for you to go out and get one for yourself.